A train ride symbolizes childlike inquisitiveness and wonder associated with travel. The magical thrill of exploring beautiful hinterlands – the excitement of reaching your destination – the delight of spending time with your loved ones – a train ride embodies it all.
You may have witnessed the luxurious train travel featured in movies like The Darjeeling Limited and Harry Potter and probably said, "I wish I could do that too". Luckily, you can! So, for your next holiday, why not try something different and experience the grandeur of a luxury train?
India offers some spectacular luxury train rides that take you back in time and spoil you with a royal treatment. Here are the 3 of best and most popular Indian luxury trains in India:
1. Maharajas' Express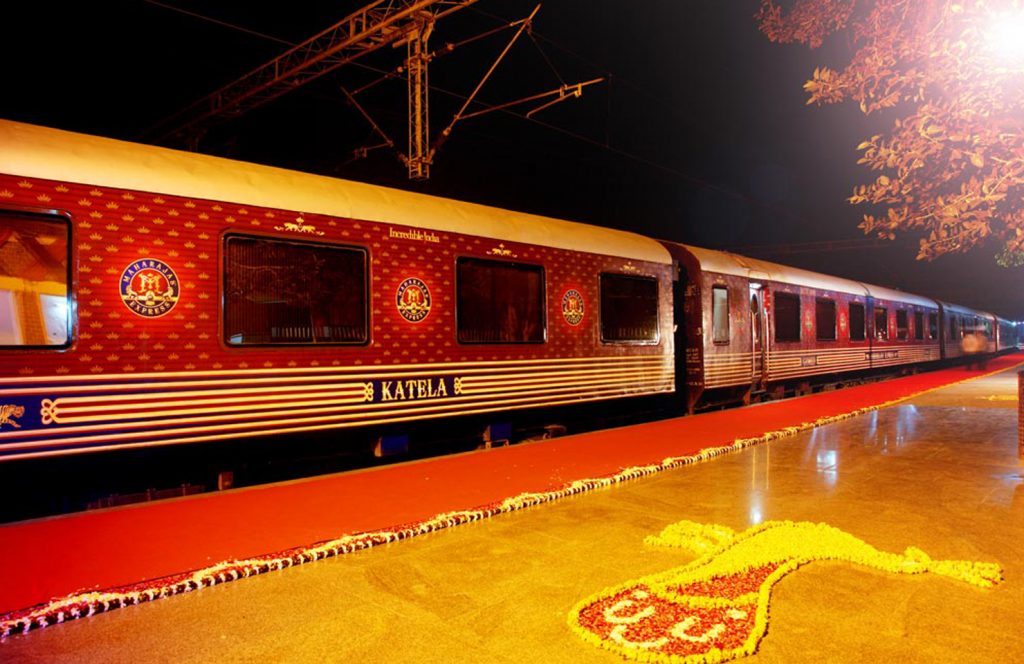 The train follows 5 routes ranging from 4 to 8-day journeys between October and April. These routes cover many popular Indian cities like Delhi, Agra, Mumbai, Jaipur, Ranthambore, and Varanasi. The Maharajas' Express arranges off-train excursions where you can experience India's cultural beauty and visit monuments like the Taj Mahal and go on a safari in Ranthambore.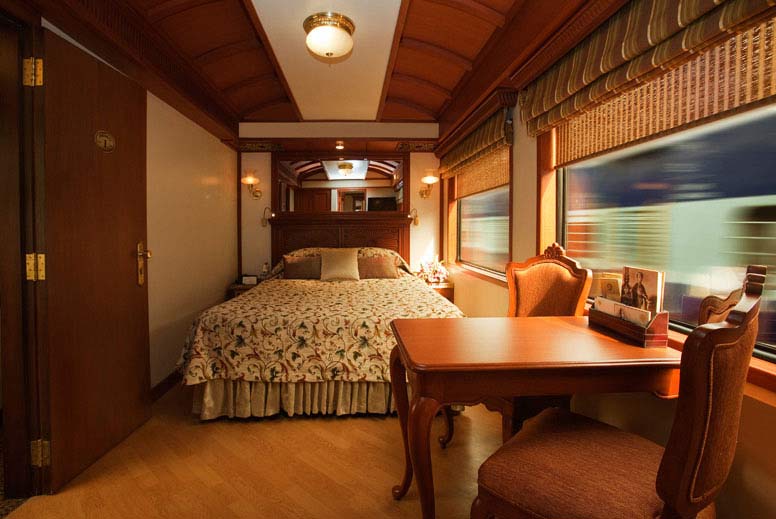 Your journey will include a twin bedroom or suite, bathrooms, all meals, 24-hour butler service, Wi-Fi, and English-speaking guides. You will also have access to complementary house brands of the finest wines, beers, and spirits. Transportation will also be provided for the outdoor excursions by the staff.
2. Royal Rajasthan on Wheels

Royal Rajasthan on Wheels takes you to India's most popular tourist destinations while offering unmatched on-board comfort. The train rightly captures the extravagance of Rajasthan, the land of maharajas.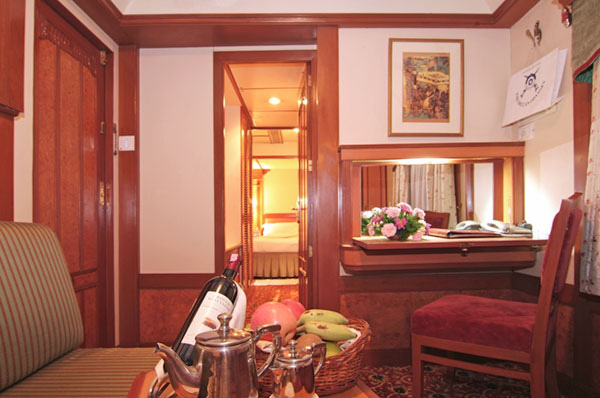 The train has 14 ultra-luxurious cabins designed after palaces. The spacious cabins are decorated in colours of regal gems like pearls, rubies, and sapphires. You can also find multi-cuisine restaurants, bars and even spa services on the train.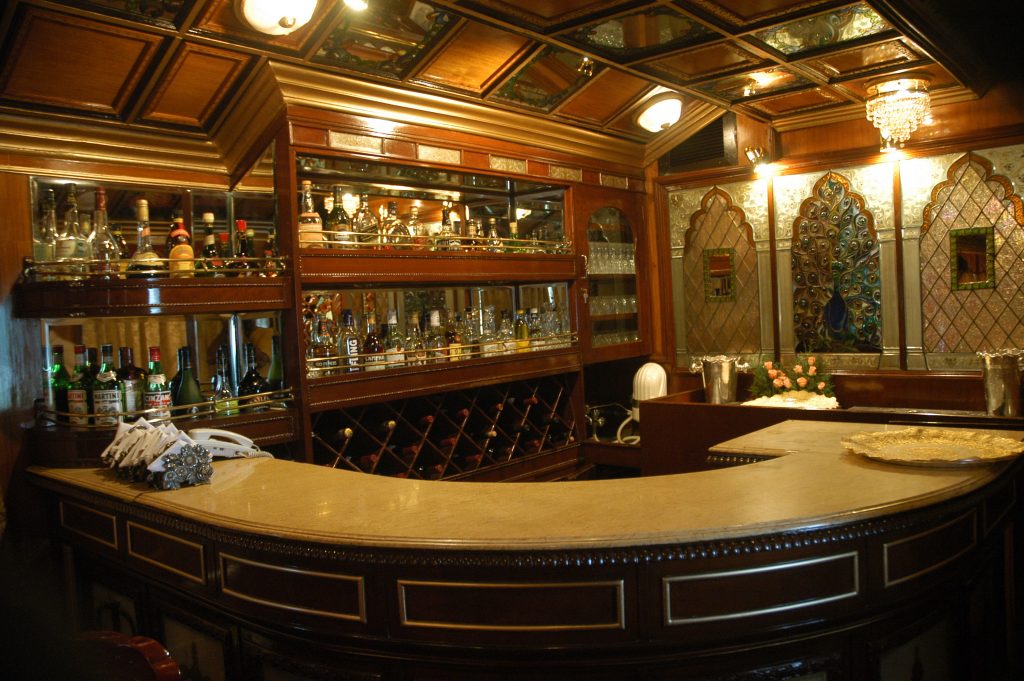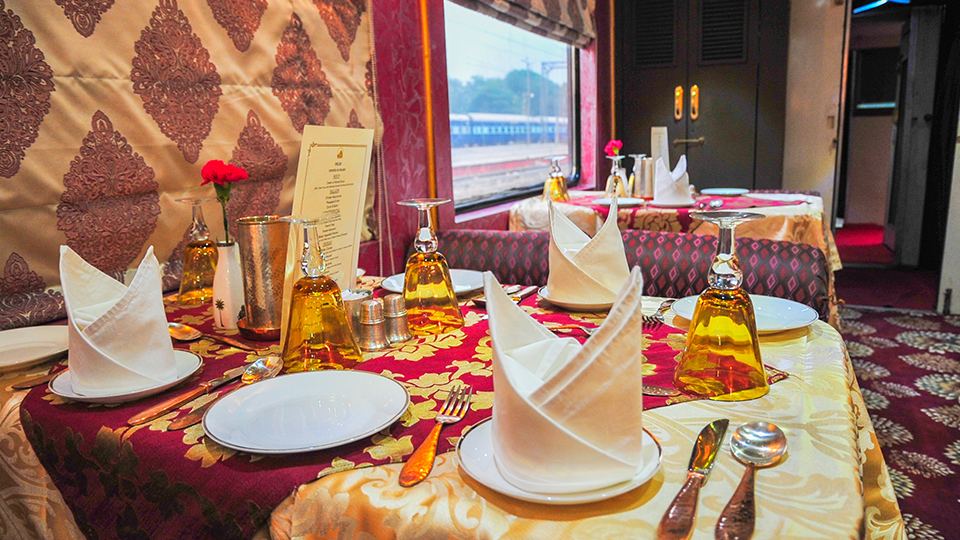 The memories of one ride on this elegant train can last a lifetime. The duration of the tour is 7 nights and 8 days, during which you will see iconic monuments like:
Delhi: India Gate and Lotus Temple
Jaipur: Hawa Mahal and Jantar Mantar
Sawai Madhopur: Ranthambore National Park
Chittorgarh – Chittorgarh Fort
Udaipur – Jag Niwas and Lake Pichhola
Jaisalmer – Yellow Sandstone Fort
Jodhpur – Mehrangarh Fort
Bharatpur – Keoladeo Ghana National Park
Agra – Fatehpur Sikri and Taj Mahal
You can expect your every whim to be taken care of. The staff is extremely helpful and maintains hospitality standards of 5-star hotels. Modern amenities like Wi-Fi, electronic safe and souvenir shops are also available on board.
3. Palace on Wheels
Palace on Wheels recreates the remnants of the bygone era. It offers a replica of plush and graceful means of transportation used by kings to the discerning traveller. It was started as an initiative to promote railway tourism in India. Refurbished and relaunched in 2009, it was voted the 4th best luxurious train in the world a year later.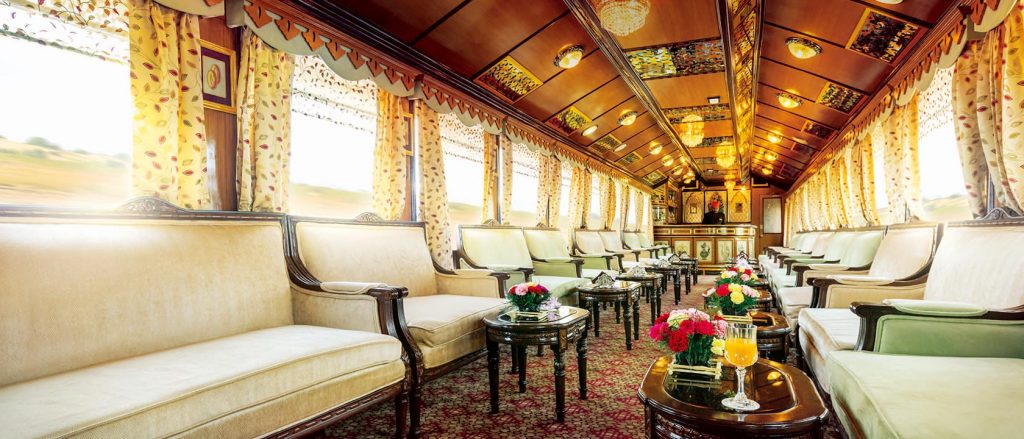 The journey on Palace on Wheels lasts for 7 nights and 8 days. On the 2411-kilometre long (approx.) journey, you will see Delhi, Jaipur, Sawai Madhopur, Chittorgarh, Udaipur, Jaisalmer, Jodhpur, Bharatpur, and Agra. Detailed itineraries are prepared for each location where passengers are taken to popular tourist destinations and shopping.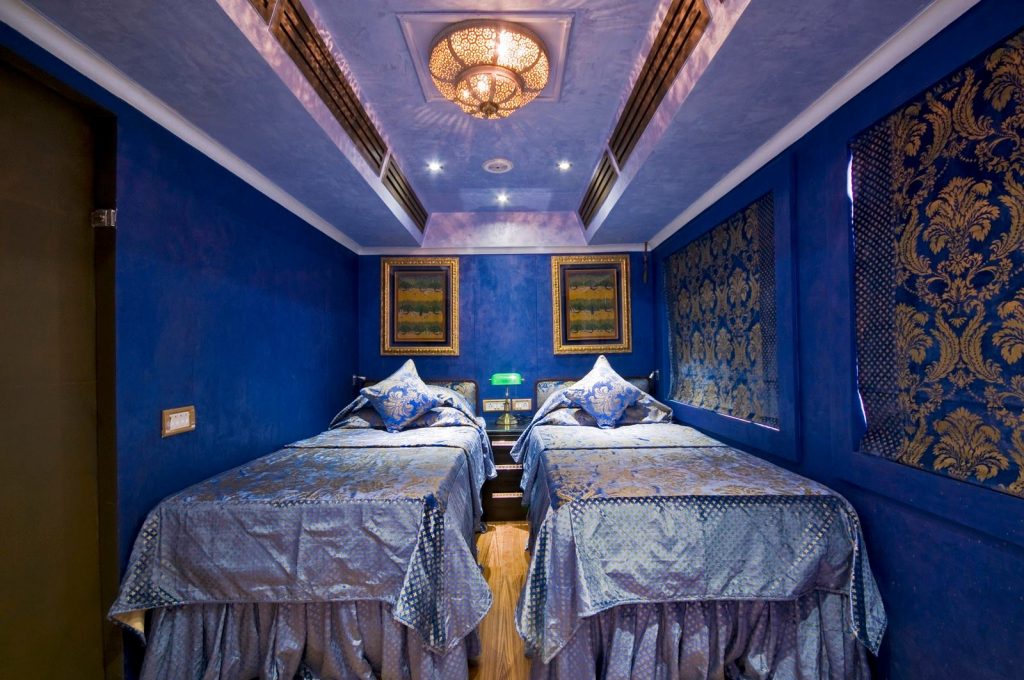 Palace on Wheels has 14 luxurious cabins with opulent and suave interiors. The cabins are named after Rajasthani provinces like Alwar, Bharatpur and Jaipur, among others. The train also houses two restaurants and a spa.
The unique rail voyage filled with exquisite décor, state-of-the-art amenities, and traditional Rajputana hospitality makes it an unforgettable experience.
So, climb aboard and set forward on your way to rediscover the art of elegant travel and experience an era of decadence, leisure, and romance.