Nestled cozily on a quiet street called Via Gesu', just off Milan's most fashionable and sleekest shopping district, is a 15th century convent that has been magically transformed into The Four Seasons Hotel. We arrived early at this luxurious sanctuary of warmth and comfort where a smartly dressed doorman welcomed us to our home in Milan for the next 5 days.  We were delighted to see our friend Martina Beretta, the Sales manager at the Four Seasons Hotel, Milan, waiting for us. Laveena mentioned to her that this was our first ever visit to the city. Martina said that we were going to fall deeply in love with the world's most fashionable capital.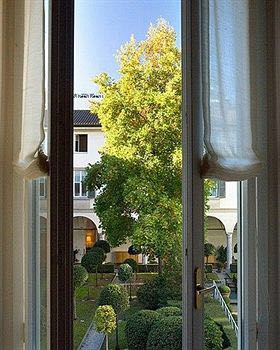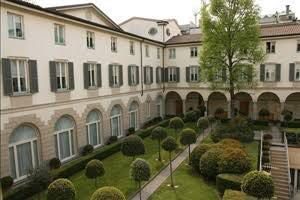 We were shown to our room which overlooked a handsome and well landscaped courtyard. Natural light streamed through the tall glass windows giving the room a bright summery feeling and a meadow like freshness. Chic interiors decorated in a palette of celadon green, cream and terracotta, a high ceiling, a walk-in wardrobe, a comfortable living space, a writing desk and a good size marble bathroom made up what was the Junior suite category of the 118 rooms at the hotel. We were lucky with the weather. A cool gentle breeze tickled my face when I opened the window to look out onto the courtyard. The sun was hiding behind a cloud which didn't appear dark or menacing. This was a cue for us to step out right away and we did. The wonderful Francesca Gioia from the concierge desk at the hotel, recommended we walk to the Piazza del Duomo  or the "Cathedral Square" which was a short 1 km walk from the hotel.
We stepped out onto Via Gesu' and found ourselves in a thriving couture scene with landmark brands beckoning fashion lovers at every turn. Prada, Gucci, Armani, Fendi, Dior, Chanel, Dolce and Gabbana and every other renowned and coveted fashion label in the world had their flagship stores in this area. As we walked toward the main piazza (city square) of Milan, we felt like we were attending a fashion show. Believe it or not, even the pavement had a royal blue carpet on it and everywhere we looked, we saw impeccably dressed locals walking into stores, sipping on their espressos or simply chatting.
As we walked toward the square, my mind wandered. I couldn't wait to see the magnificent Cathedral, the one I had heard about often. The Duomo, took six centuries to complete. Far more than Gaudi's La Sagrada Família, in Barcelona which the present architect is confident will be finished by 2026, nearly 150 years after work began. When we neared the square, the Duomo came into view. Standing tall in all its Gothic magnificence, the Duomo Cathedral truly is breathtakingly beautiful. Dedicated to St Mary of the Nativity, the Cathedral, the second largest in Italy after St Peter's Basilica in Rome, is the seat of the Archbishop of Milan. Since this was our first day in Milan, we preferred to delay our visit to the inside and to the roof of the Duomo, as both required ample time and attention and since we had only arrived in Milan that morning, we were not in the mood to sightsee. Instead, we chose to step into a street cafe for lunch and indulge in some local Italian fare. While Laveena opted for a gluten free pasta, I had a pizza. I asked Bellina, the lady serving us, to recommend a good gelato place in the area. Without hesitation she directed us to Cioccogelateria Venchi, a short walk from where we were and recommended we try the 'cuar di cacao with biscotto di meliga', her favourite. I feasted on her recommendation and loved and relished every bite. Laveena had her favourite, the cafe espresso and loved it too.
We returned to our hotel for an afternoon siesta and looked forward to dinner that evening at Al Coniglio Bianco (The White Rabbit). Our table reservation was at 8:30 so we decided to first do aperitifs during the famous Happy hour in Milan, something deeply engraved in the DNA of this vibrant city. Our concierge recommended 'Dessio' in the Corso Sempione area. We got there at 6:30 pm and found it packed with youngsters. We ordered our wine and walked to the buffet set up where cold cuts and cheeses, pizza, pasta salads and a host of other Italian appetisers in bite sizes were well laid out. We didn't want to eat too much as our dinner reservation time was nearing. We hailed a taxi and headed to the area of Navigli, known to be a trendy area right by a canal. When we got there we were delighted to see the place pulsating with a life of its own. Vibrant and colourful, locals and tourists were seen happily mingling in the crowds, while some street musicians entertained all with their cellos, violins and clarinets. There was an almost tangible feeling of happiness everywhere with squeals of joy and intermittent laughter amidst the alcohol induced chatter. Laveeena and I found our restaurant easily and were warmly welcomed by whom I thought was  'Mr owner'. A loud Italian welcome, a gesticulating hand accompanied by a wide smile, 'Mr Owner' directed us to our table. I had the tagliatelle with a wild boar ragu, Laveena the pesto and rocket ravioli. Both were excellent. Our server recommended a wine to accompany our dinner. From the village of Montefalco in Umbria, he described the grape Sagrantino and confidently said that we would love the 'Sagrantino di Montefalco' with our selection of dinner. And how right he was. Our meal was fabulous and for this we have to say a big thank you to a very dear friend of ours from back home in Mumbai, Pallavi Shetty, who had recommended Al Coniglio Bianco to us. We walked along the canal after dinner and as we often do, met with some of the local folk outside a bar and introduced ourselves. Gianna and Stefano, Rosa and Mario and Angela and Marco were all from Milan and while Marco and Angela were married, the others were dating. They were friendly and insisted we sit down and have a drink with them. They were all ex-students of economics from the University of Bocconi in Milan and were best friends. They were deeply interested in knowing more about India and said that they had heard stories of magic and mysticism of spiritual enlightenment and exotic foods, of cows on the roads and monkeys performing tricks and we in turn enlightened them with tales about the India we know.
We woke up to a beautiful morning, with the sun hiding behind the clouds and temperatures at a lovely 18 degrees. We decided to eat breakfast in the courtyard. The Four Seasons Milano has a nice breakfast spread with freshly baked Italian breads, fresh fruit, a variety of cereals and honey, made to order eggs, smoothies, freshly squeezed juices, garden fresh lettuce, a choice of meats and Italian chocolate. Since I skipped my morning coffee in our room, I started by requesting Barbara, the lady waiting on us, for a hot brewed coffee, to help kickstart my day. Barbara poured my coffee and offered me some 'fette biscottate' with it. Couldn't have had a better start to my day. Laveena said that her freshly squeezed orange juice was delicious. A plate of bright red, blue and black mixed berries followed. I soaked my cereal in eucalyptus honey, feasted on some hot muffins and then asked Laveena if she would share an Italian Frittata with me. I was so pleased when she said she would and what the Chef cooked up in the kitchen was beyond delicious. We had a 11 o'clock viewing of The Last Supper at the Santa Maria Delle Grazie, which was a 15 minute cab ride away. After breakfast we asked for a taxi and headed to view Leonardo da Vinci's masterpiece.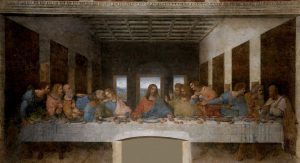 When we arrived at the venue, we were shown to the Dominican convent adjoining the church of Santa Maria delle Grazie. Da Vinci's "Last Supper" is a fresco which was painted between 1494 and the 1498. We were told that Leonardo substituted the usual method of the fresco with a new technique called "a secco" to paint the Last Supper on the dry wall of the convent's refectory. Since Leonardo had used a new technique to paint one of the world's greatest masterpieces, he was unaware of the harm environmental factors would gradually cause to the fresco. Sadly his original work slowly deteriorated and underwent several restorations during the years. In an effort to further protect this great work and to maintain the room at a certain temperature,  a maximum of 25 people can enter the refectory every 15 minutes. It is hard to describe what one feels when standing in a room with one of Da Vinci's greatest works. It has to be seen at least once in your lifetime. Even though it is only a representation of Christ, there is something remarkably spiritual about the painting. One almost feels as if the apostles and Jesus, actually posed for Leonardo. Not only does the size of the fresco make one feel humble, but the subject itself, spiritually captivates your thoughts and leaves the viewer spellbound.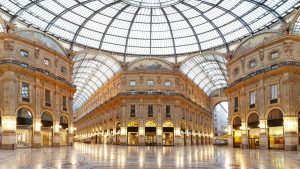 On our way back to our hotel, we detoured and returned to the Duomo as we wished to walk around the piazza. The piazza was originally created in the 14th century and has been gradually developing ever since. A structure which stands out and deserves attention is a monumental building called the Galleria Vittorio Emanuele arcade. Designed and built by architect Giuseppe Mengoni, the Galleria is one of the world's oldest shopping malls. The structure consists of two glass-vaulted arcades intersecting in an octagon covering the street connecting Piazza del Duomo to Piazza Della Scala. The street is covered by an arching glass and a cast iron roof, a popular design for 19th-century arcades. On the ground of the Galleria Vittorio Emanuele, there are four mosaics portraying the coat of arms of the three capitals of the Kingdom of Italy (Turin, Florence and Rome). The fourth is that of Milan's. The Turin Coat of Arms has a Bull (Toro) and tradition says that if a person spins around three times with their heel, on the testicles of the bull, it will bring them good luck. Laveena and I both tried it and like all the other excited tourists waiting to pirouette on the Il Toro's testicles, we too hoped for luck.
It seems as if the three spins did send luck our way, for when we returned to the fabulous Four Seasons Milano, there was a note from Chef Marco inviting us to dinner at La Verandah. Dressed for the occasion, we were welcomed at the restaurant at 8:00 pm, the time on the invite. Antonio the wine sommelier at La Verandah poured each of us a glass of Ca'del Bosco 2011 and said it paired perfectly with our soon to arrive appetiser. Chef Marco arrived with the Tuna Tartare with Capers, Piquillo Peppers and Almond Milk and wished us both "Buon Appetito". The wine Antonio served us next, was Jermann, a 2015 Pinot Grigio. He said it complimented the Scialatielli Pasta with Saffron and Lobster, our first course. Next we were served Apricot-Stuffed Quail with Roasted Goose Liver Escalope and Celeriac and we were offered a choice of two wines to accompany our main course. A 2014 Girlan Aime' and a Costa Di Amalfi 2014 Rose'. I opted for a taste of both and being the wine lover I am, not surprisingly I enjoyed them both. I was looking forward to dessert when Chef Marco stepped out from the kitchen once more with two plates of risotto for us to try. He grandly announced the Risotto with Porcini Mushrooms and Iberian Pork Chorizo. Antonio with equal flair brought forward a wine which he said was special to him, the Masone Mannu Roccaia. From start to finish, the grand theatre of it all and of course the more than delicious food and wine, completed our evening. At the very end, the dessert wine, a 2015 Saracco, was brought out for us to try along with the "La Meringata" with Strawberries and Cream. The dinner so fabulously designed by Chef Marco, was fit for kings and what better place to feast and fine dine in Milano than at the Four Seasons La Verandah. Despite having had our fair share of wines with dinner, on our way back to our room, we were drawn by the sounds of the piano to the Il Foyer lounge. Our concierge had casually told us about the brilliant skills of mixologist Luca and I was tempted to have a night cap. We sat back on a comfortable sofa to appreciate the talents of the pianist and Luca served us with a gin based cocktail with thyme twigs and wild strawberries. A perfect end to a more than perfect evening.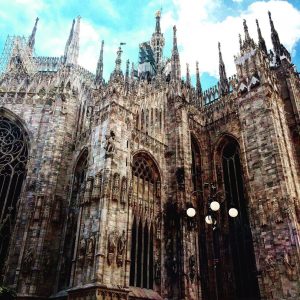 The next few days we spent falling more and more in love with this enchanting city. The more we explored, the more I was beginning to think of Milan as Italy's neglected child. While much attention was repeatedly showered upon Rome and Florence, the cultural beauty, the quaint charm and the architectural marvels of Milan, was much too often overlooked. Yes Milan has breathtaking views from the roof of the Duomo cathedral, it has the Quadrilatero d'Oro which houses Milan's thriving fashion district and then there is Navigli and the La Rinascente at Piazza Duomo where we had lunch and champagne with a bird's eye view of the spires of the Duomo. Beyond all of these precious jewels, there are many hidden wonders in this marvellous city. There is Isola, an interesting trendy area with  scores of new restaurants,
There is Isola, an interesting trendy area with  scores of new restaurants, bars and shops, a place where Laveena and I soaked in the funky charm of the neighbourhood and added it on as a scene in our version of an exciting Italian Opera. A place which had an equally positive impact on us was the Brera district. Known well for its leaning toward the talents of artists, Brera is a place where there is a strong feeling of bohemian freedom and culture. The bars are fun to hang out at, as are the colourful street markets, the booths of fortune tellers and the many restaurants in the area.
We so fell in love with Milan that we promised to return soon. After all there were many parts of this captivating city we were yet to discover. For us this first ever visit of ours was Act One, Scene One and The Four Seasons, Milan was the perfect opening act. We couldnt help but think though that our night at the theatre was far from over and that scene two was waiting for a curtain rise with new and exciting experiences, left for another day and another time.