Last summer, from the beautiful swiss village of Gruyere', Laveena and i journeyed by train to the valley of Chamonix, a commune located in the Rhone Alpes region in south eastern France,  home to the famous Mont Blanc or White mountain. We had heard from friends that Chamonix was not only renowned for its alpine skiing but also for it's breathtakingly beautiful panoramic views of Aiguille du Midi, Pointe Helbronner on the Italian border and Le Brévent.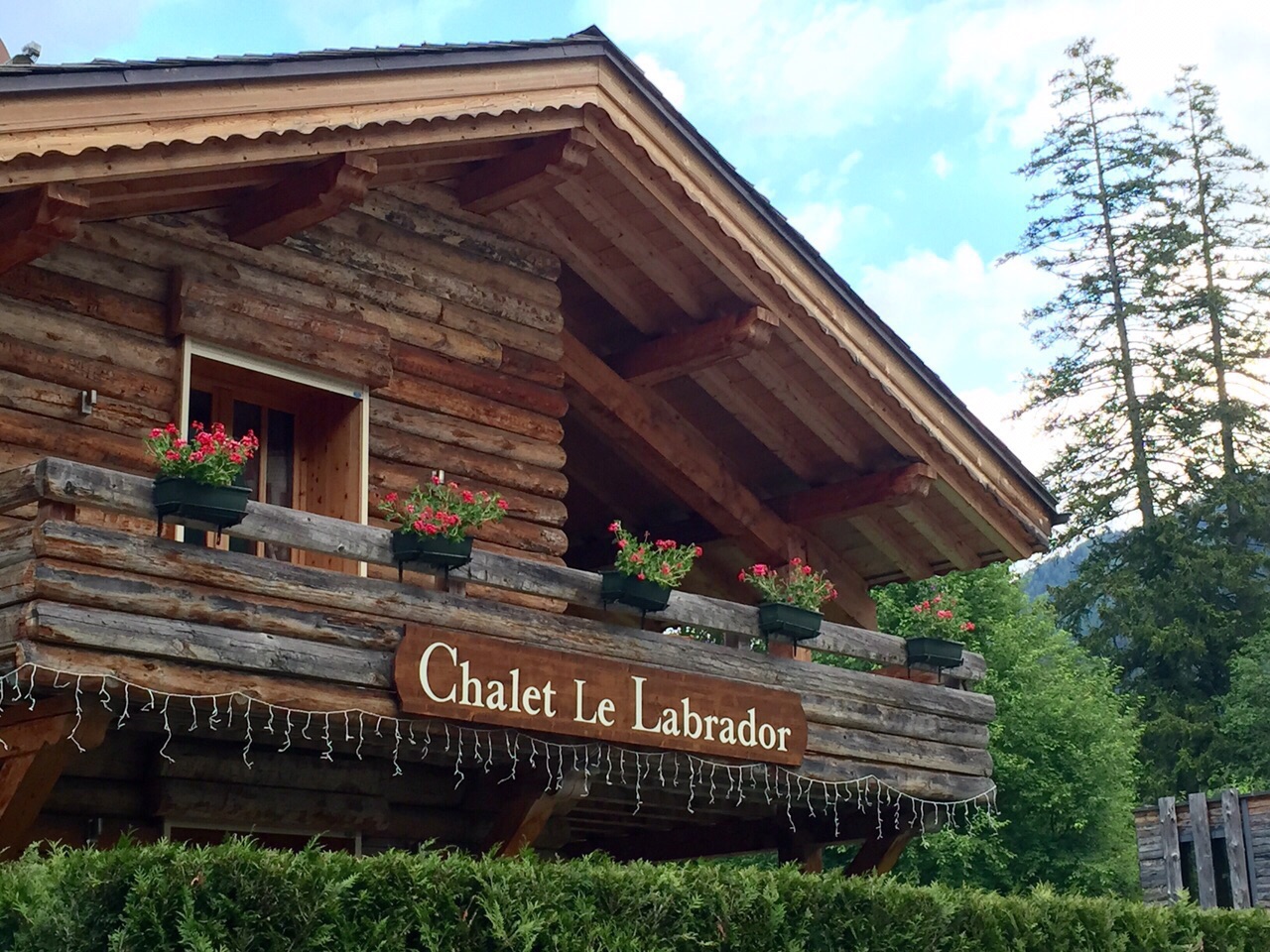 The hotel we shortlisted, the Labrador Boutique Hotel in Chamonix is outside the main town and offers stunning views of Mont Blanc. Views of the Aiguille du Midi and the Drus mountains from the property are also quite spectacular. What makes the hotel even more special is the fact that it is built on a golf course with clear and unparalleled mountain views.
When we checked in, we were told by the hotel owner, that the golf course was first opened in 1934, with just 4 holes. The course now has 18 holes and is popular with local and holidaying golfers.
We were shown to a stand alone Savoyard chalet, 'Chalet Le Labrador', authentic to look at from the outside and even more warm and traditional in it's look and feel from the inside. When we walked into our room, we were greeted by that unique smell of pine wood interiors. The bed looked very cozy and comfortable and a glass door with wooden frames, led us to a patio with our own private garden. We decided right away that dinner that evening would be fresh salad, sandwiches and local french red wine on our private table for two on our garden patio. The bathroom was also of a fairly large size with a jacuzzi tub and a window with fabulous mountain views.
After settling in and resting for a bit, we decided to set out for an early evening walk. We started in the direction of the main town and came upon a beautiful church. As we often do on our travels, we went inside the church, prayed with all our heart in the almost electric silence that enveloped this house of God, lit a candle and then stepped out to explore more of Chamonix. From the grounds around the church you have clear views of Aiguille du Midi. The name translates literally to "Needle of the Mid-day." We were informed by some townsfolk that when the sun passes over the summit, it is noon. We found the local french people around Chamonix to be very friendly and eager to share information about their lovely town, with tourists. A resident we stopped for directions said that the town centre was quite a distance away and it would be best to take a bus to town. He also recommended a few nice local restaurants and bars we should visit. Since the evening sun was setting, we decided instead to shop for dinner and return to our chalet for our private garden meal. After an early dinner of freshly baked smoked and white cheddar panini, green garden fresh salad and some delicious red wine, a Syrah from the Rhône region, we stepped out again for a post dinner walk on the gorgeous grounds of the hotel. As we walked through the golf course, we enjoyed the breathtaking views of the glistening snow on top of Mont Blanc. I am not sure what you call the swirling mist like formation on the top of the peak, but I think it is virgin snow dust, riding the waves of the strong winds at that high point, 4,807 m above sea level. As we continued to walk the grounds of the pristinely green golf course with the air so fresh, we could hear sounds of a gurgling brook serenading us. We were drawn to the sound and as we walked toward it, hand in hand, giggling like two teenage kids in love, ripples of happiness crept through our bodies. After spending an hour walking underneath the bright stars, we returned to our chalet and retired for the night.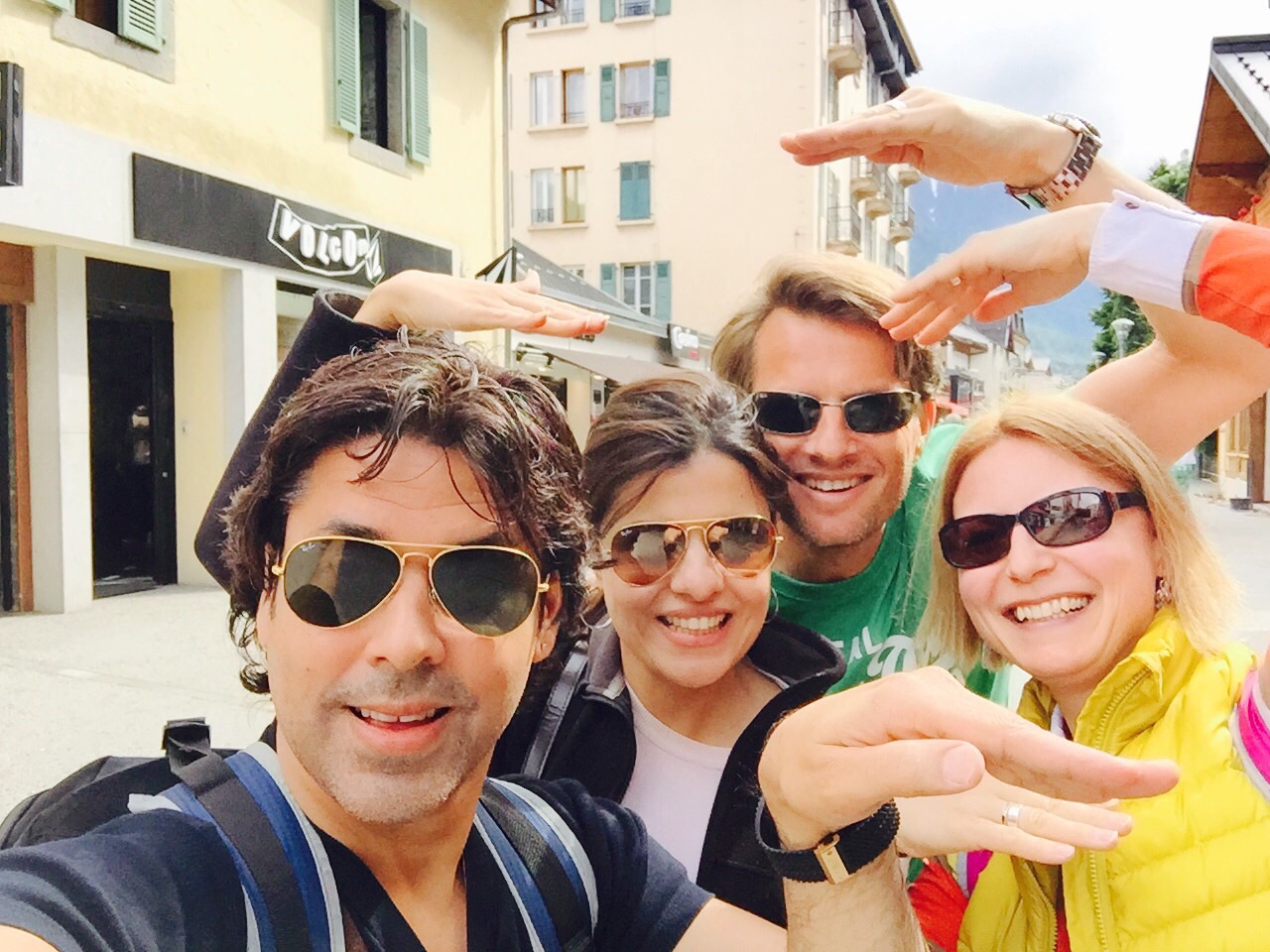 We were excited about the next day and were looking forward to it, as our dear German friends, Lydia and Olli were to join us. They drove into Labrador around noon and were as awed by the mountain views from the property as we were. Lydia recommended we immediately plan a visit to the top of Mount Blanc and we did. We drove to the base of Aiguille du Midi from where we took the cable car to a height of 3842 meters, the closest we could get to Mont Blanc without hiking or climbing.
In the cable car there was a french skier who told us that he would get off at a station called, Plan de l'Aiguille (2,317m), a mid station which was ideal for skiing. He said this was a point which was popular for hiking, rock climbing and paragliding.
The cable car traversed past the Les Pelerins glacier before rising up the North Face of the Aiguille du Midi at the top station (3778m). We then climbed onto a footbridge which lead us to the Central Piton terrace. To get to the highest point possible for visitors, we had to ride an elevator inside the rock which took us 42 m higher to the top terrace which was at an altitude of 3842 m. Temperatures plummeted to below zero at this altitude and some of those present here were finding it hard to breath. Oxygen is thin at these heights and it takes the body time to acclimatise itself to the many changes you experience at this altitude. Blanketed in pure virgin white snow, the views from this point are unimaginably fantastic. Groups of brave heart winter sportsmen were seen adorning their gear as they stepped out over the edge to explore the unknown. The faint at heart gasped in amazement hoping that these thrill seekers would return home safe as a tiny misstep could cost them dear, despite all the ropes and safety harnesses seen dangling from metal clips attached to their thick waist belts.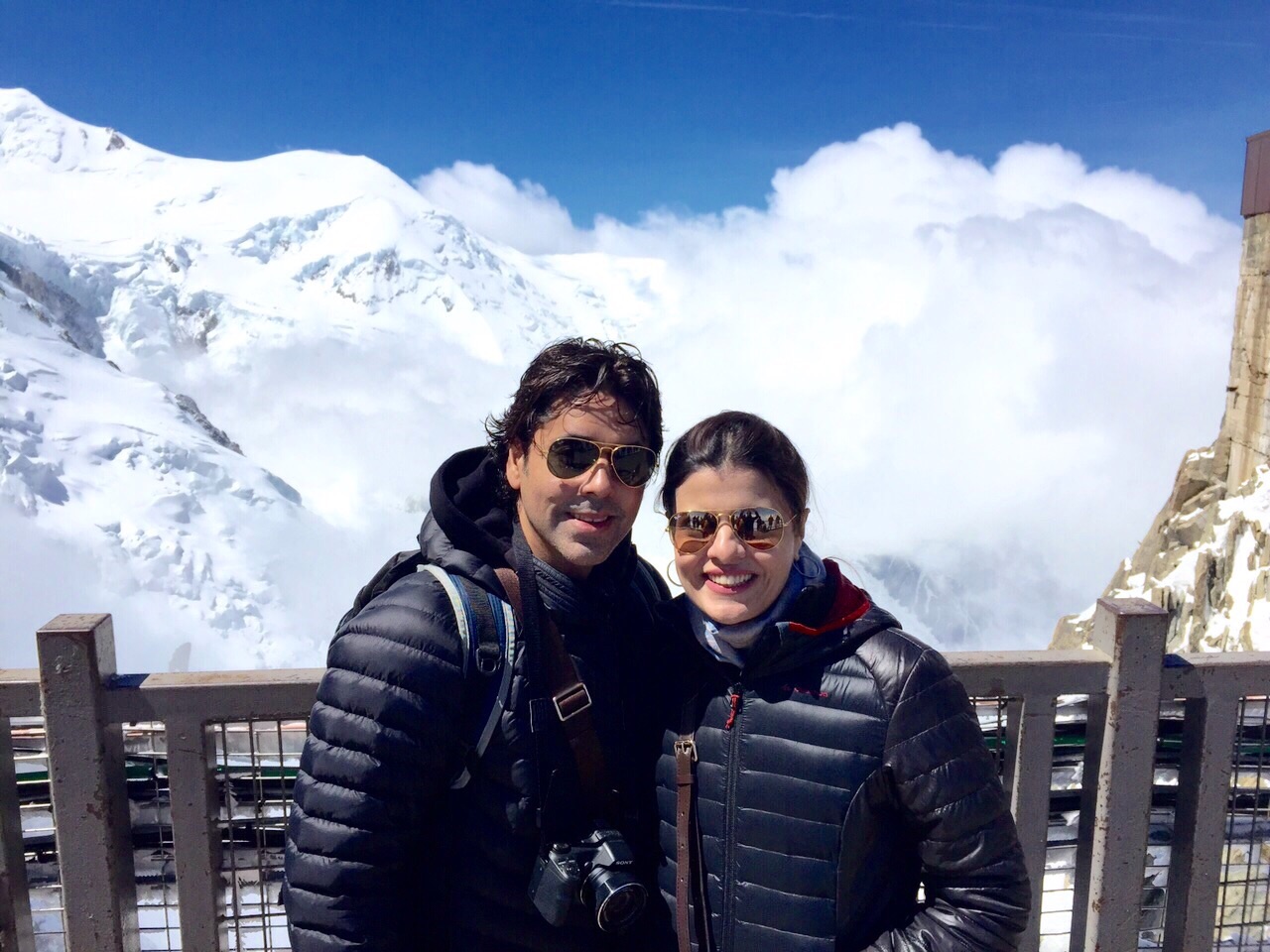 The one thing I real was looking forward to but sadly it was closed for maintenance, was the Aiguille du Midi Skywalk, "Step into the Void", a glass room with a glass floor, situated off the uppermost terrace of the Aiguille du Midi at an altitude of 3842 metres. I had read that this was "the highest attraction in Europe". It has three glass walls, a glass floor and glass ceiling panels. And once here you can experience in the safety of this glass shell, the greatest descent in Europe (4810m – 1440m). I was terribly upset to learn that this attraction would start up again a couple of weeks after we returned home.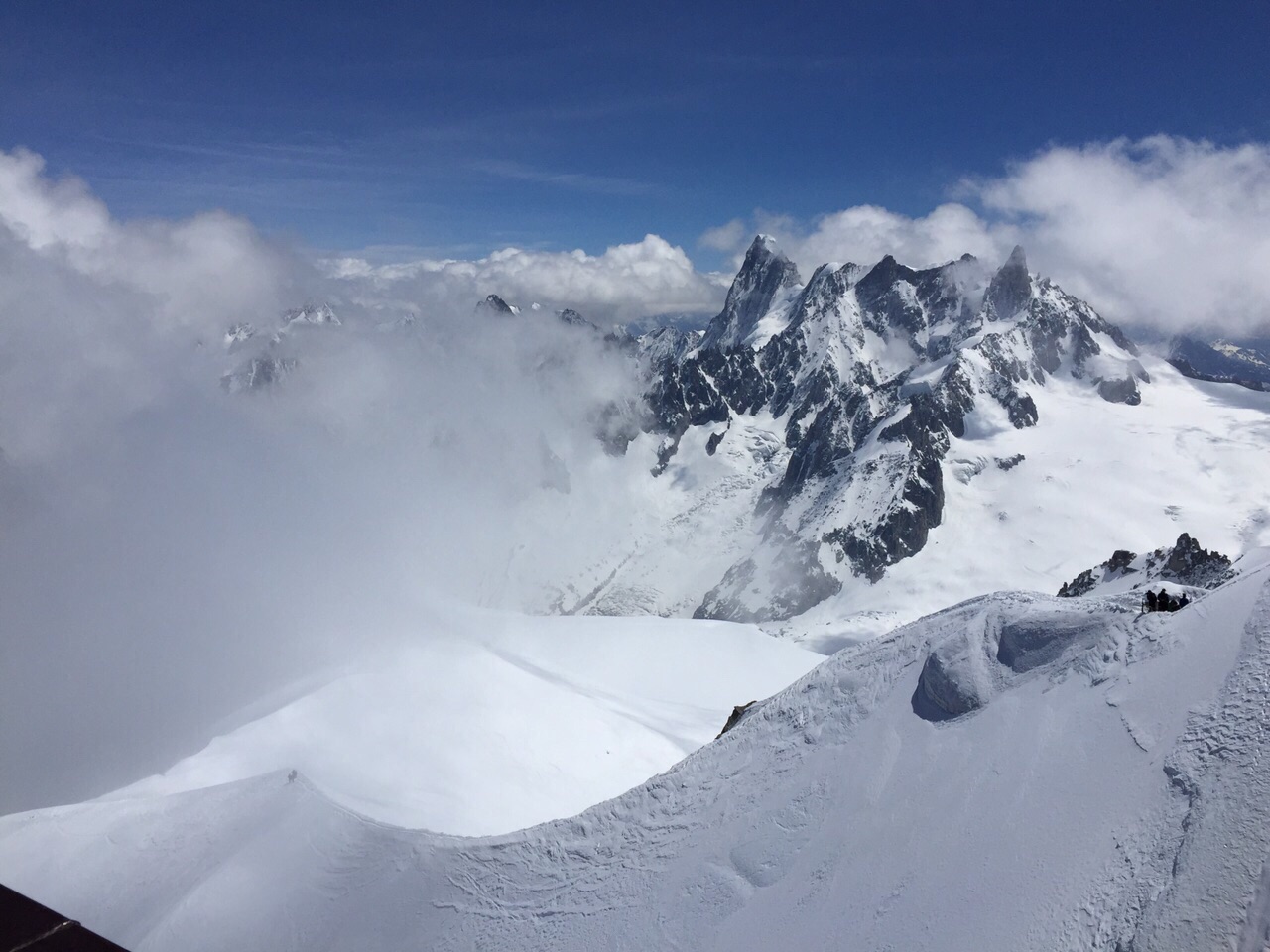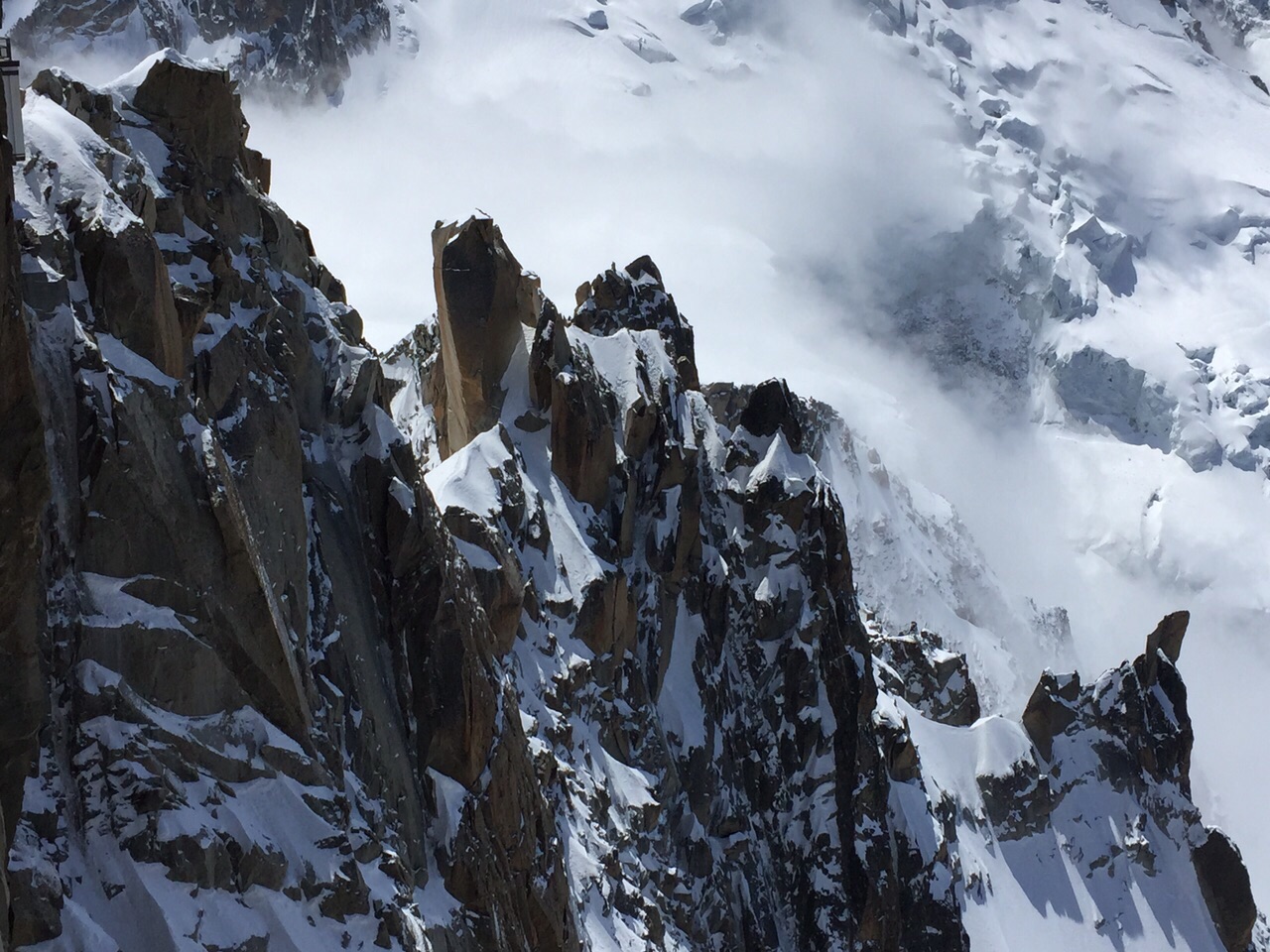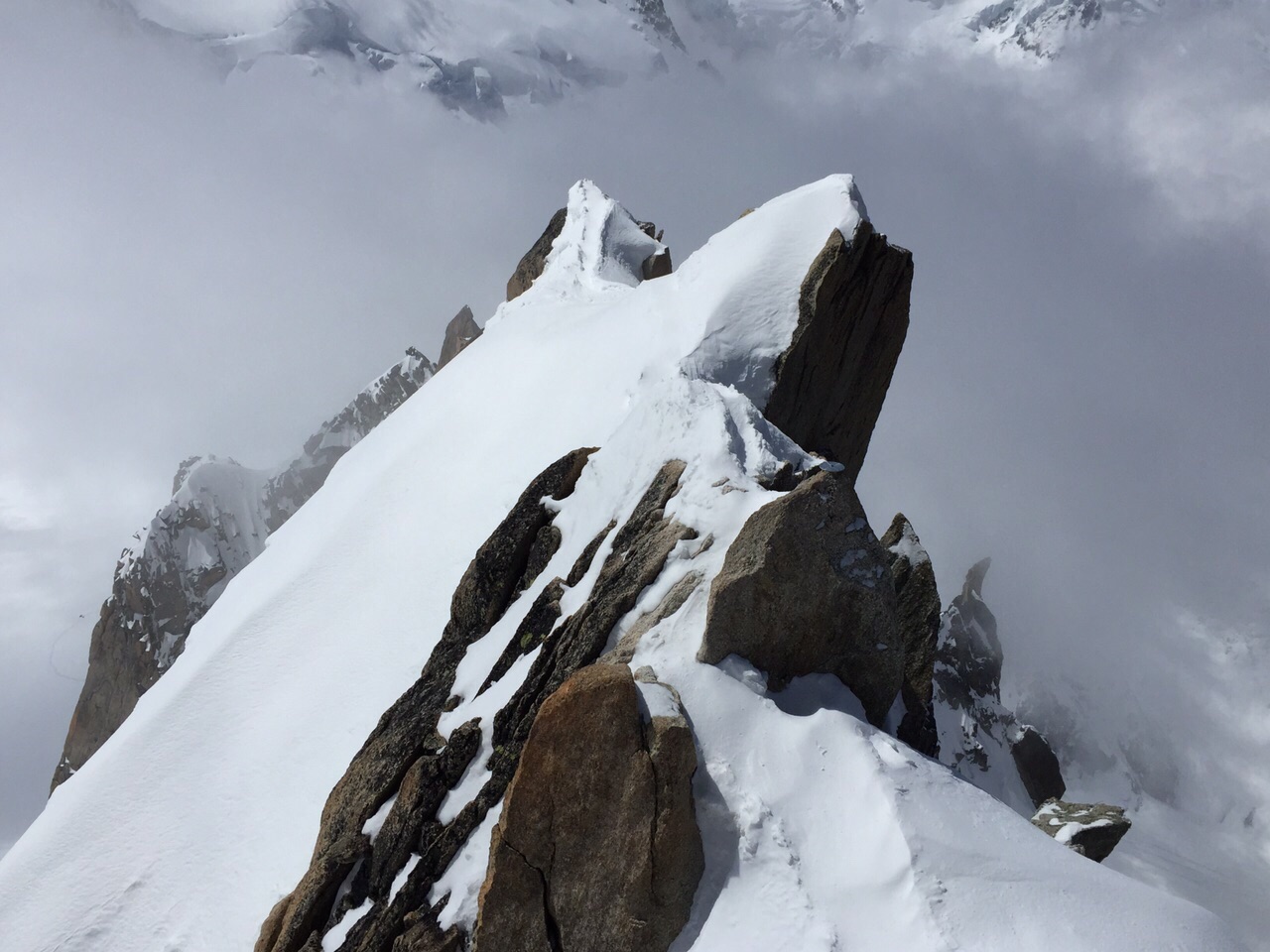 While on the mountain top, lines from PB Shelley's famous poem 'Mont Blanc: Lines Written in the Vale of Chamouni', came to mind. Far, far above, piercing the infinite sky, Mont Blanc appears,—still, snowy, and serene—Its subject mountains their unearthly forms Pile around it, ice and rock; broad vales between Of frozen floods, unfathomable deeps, Blue as the overhanging heaven, that spread And wind among the accumulated steeps;
After taking 100s of photographs of the surrounding peaks, we returned to the base of the mountain and drove to a bar in town to wash down our experiences with some local beer. The MBC is Chamonix's first Micro Brewery & Restaurant. Four Canadians who loved beer dreamed of opening a pub in the valley, a place where locals and tourists would meet and interact. The food was delicious and the local brews were fab. We walked out a little tipsy and returned to our hotel soon after. But rather than retire to our rooms, we decided to explore the wide open course and the surrounding forests and we did so revelling and singing with not a care in the world. In these quiet surroundings with only the mountains and trees watching us, we had little to be embarrassed about. As Lydia awed us with her gymnastic skills, her handstands and cartwheels, Olli practiced his golf swings with an imaginary club while Laveena and I ball room danced and made up fun steps as we went along. We finally called it a night and went back to our beautiful chalet where we fell asleep after spending an adventurous day in the mountains.
After breakfast the next morning we headed down to Chamonix town. The local shops were fun to visit and we did enough shopping to build up an appetite. We walked around for a bit, watched some street performances and finally found a charming little french restaurant where we sat on the pavement, ordered some fabulous local beer and some really delicious french food. The rest of the day was spent discovering the town of Chamonix, it's culture and some of its local history.
The next day we had a train and then a bus to catch to the quaint french lakeside alpine town of Annecy, known for it's cobbled streets and winding canals.