NOVEMBER 06, 2014 BY SAJJID MITHA
Spiritually seduced by the Last Shangri-la. Bhutan (Part 2)
After spending an extraordinary two nights at the Taj Tashi in Thimphu, we set out early on Tuesday for Gangtey. We had been pre-warned that across Bhutan there are hectic road widening projects underway as a result of which one has to carefully time ones commute from one city to the next as many roads are being widened and access through these roads are based on government set timings.
Dochula Pass: Jichu Drake View

Dochula Pass: Druk Wangyal Chortens-108 stupas
The country's primary road is the Lateral road or the East-West highway. This is the road we had to take on our journey from Thimphu to Gangtey. Enroute we visited the Dochula pass, just 30 Km's away from the capital city of Thimphu. The Dochula pass is approximately 3200 meters above sea level. As we arrived at the pass, we witnessed one of the most jaw dropping and astoundingly beautiful himalayan mountain views we had ever set eyes on. Our driver Topgey informed us that it was rare to have a day as cloudless as the day we were driving through and that we should consider ourselves very lucky. We stepped out of our 4X4 and immediately felt the freshness of the crisp and chilly mountain air lightly whisk our faces. Against the backdrop of the Himalayan mountain range including breathtaking views of the Jichu Drake at 6809 m, we took several photographs and then walked to the Druk Wangyal Chortens-108 stupas, built by the eldest Queen Mother Her Majesty Ashi Dorji Wangmo Wangchuk. There is also an important temple located on the crest of Dochula pass.  has been built to honor His Majesty the fourth Druk Gyalpo, Jigme Singye Wangchuck. The Lhakhang tells a story of a supreme warrior whose vision pierces the distant future. After a coffee at the cafe with a view at the Dochula pass, we set out for our onward journey to Gangtey.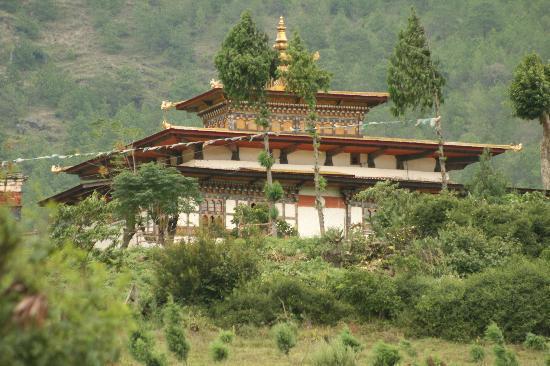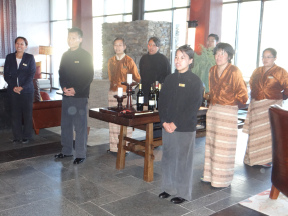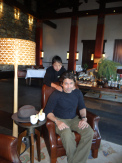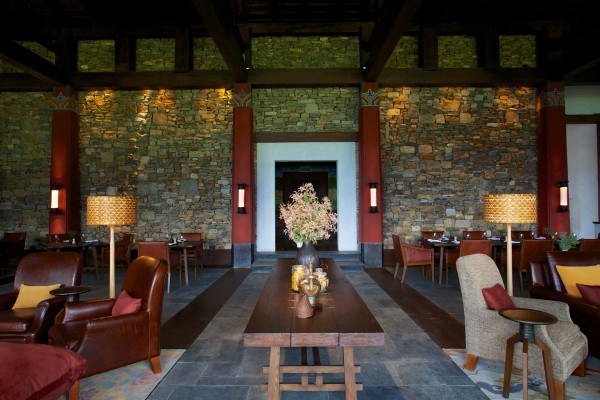 As we drove across uneven winding mountainous terrain we continued to appreciate the natural beauty of the last Shangri-La. From time to time our guide Vijay would fill us in with some trivia about his country. After a tiring road trip which lasted over six hours, with three stops along the way, including one for lunch at a local restaurant from where we could see the Chimi Lhakhang temple, we arrived in Gangtey. Laveena and I had heard from friends that the Gangtey Goenpa Lodge where we were to stay for the night, was an exceptional property with astounding views of the Phojikha valley. When Topgey negotiated a rough turn onto a dirt road which would lead us to the lodge, I craned my neck in an effort to find an entrance to what I was told was to be a remarkable experience. Our 4X4 stopped in front of a nondescript gate. We stepped out and stretched our legs after the long journey, apprehensive about what lay behind that closed door. But before we could knock, it was opened by an elegantly dressed gentleman, who gave me a warm hospitable welcome handshake and introduced himself as Ateeb Shreshtha, the General Manager of the Gangtey Goenpa Lodge. He lead the way down a flight of steps and through the door of the lodge. The moment the doors opened, we were greeted by the local staff, who had congregated to welcome us with a song. The song was sung in Dzongkha, the local language, but when translated it went something like this, " It is a very happy day today, which has brought us all together. We are here to give a warm welcome, to our honoured guests…we welcome you. Bhutan, our Buddhist country, is like heaven, Gangtey Goenpa Lodge, beautiful from both inside and outside, located in Gangtey Valley, welcome, welcome." This was followed by the brightest, happiest, most sincere and welcoming smiles. It lightened our hearts and filled us both with a feeling of happiness which is hard to describe. I was delighted and just as I was soaking in the sheer beauty of this wondrous haven, Ateeb said that along with our welcome drink, a short welcome shoulder massage awaited us both. We sunk into our comfortable soft leather chairs and the masseurs started to work their magic, helping us both ease our tensed muscles, tired after the long and bumpy car journey. When the massage was done, I looked around and appreciated the astounding interiors. Ateeb informed me that Mary Lou Thomson, the exceptionally talented designer responsible for the stunning interiors of the Aman Stefi Stefan in Montenegro had been commissioned to design the lodge. And what a stellar job she had done as the Gangtey Goenpa Lodge was simply exceptional. The natural stone flooring, the dark wooden beams, the prodigious glass windows offering uninterrupted views of the Gangtey valley, the brick walls and the two fireplaces, all perfectly aligned to make for a complete luxury experience with subtle nuances of traditional Bhutanese farmhouses.
Every year this part of Bhutan is witness to a sensational migration. Black-necked cranes visit in large numbers every winter, usually during late October to roost. They stay on in the Phobjikha Valley until February. It is said that the cranes circle the Gangteng monastery three times on arrival and repeat this circling when they return to Tibet. The area has been declared protected for the cranes and from what Ateeb told us, it was a magnificent sight, one which was worth flying especially to Bhutan to witness. Which meant that we would have to return as when we were there, sadly, the cranes were yet to fly in from Tibet. We were asked if we would like to proceed to our room to rest. We declined and chose instead to sit down on the comfortable chairs in the outside verandah from where we had outstanding views of the valley. As far as our eyes could see, it was wonderfully green. The air was fresh and crisp and as the sun started to set, the evening temperatures began to rapidly drop. We were offered blankets, a soft hot neck wrap and a hot water bottle along with our cinnamon, ginger, honey and lemon tea. Once the sun set, we decided to head to our room where our travel bags had already been placed.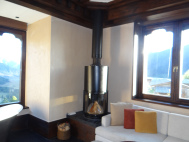 The lodge has only 12 rooms, 6 in each wing, 3 on each level, spread across two levels. The moment the door to the wing where our room was located was opened, our olfactory receptors were treated to the most hauntingly seductive smell of freshly cut wood and pine, the kind of fragrance which greets you in the mountain lodges of the swiss alps. We loved it and deliberately slowed our walk to our room. When we let ourselves into our room, we were unsure how to react. It was far more beautiful than we had imagined. To begin with the room size was large. It was done up in dark wood and stone, had a walk in closet space with a cupboard on the right side and a wet area with two wash basins on the left. The bed room had a large king sized bed, a tub near the window with a valley view, a fire place and ample seating. The shower area and the WC were separate. I was thrilled to learn about the free Wifi and also liked the fact that the heated flooring ran through the entire lodge.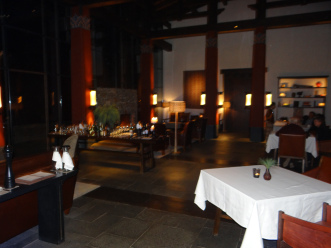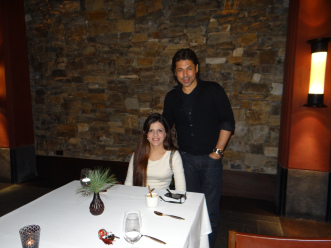 Gangtey Goenpa Lodge : Main Lounge Area
Before dinner we thought we would run a bath for ourselves and boy are we glad we did. The bath salts and bath oils soothed us and helped us relax in this perfect mountain lodge. We dressed for dinner soon after and walked back to the main lounge area where a table was set up for two. The soup served that evening was exceptionally delicious, while Laveena's gluten free pasta and my perfectly cooked steak were also delicious. Thank you to Chef Sara Rezgui who came up to our table for a chat and told us how she continued to be fascinated with the beauty of Gangtey and despite being here over a year, she still loved to walk over to the verandah with her camera and take endless pictures of the gorgeous valley and the mountains. Our meal was followed by the most delicious dessert we had ever tried. Without a hint of exaggeration, the young but immensely talented pastry chef from the Phillipines, Ms. Tracy Navarro, created desserts for the two of us, coffee for Laveena and chocolate for me, which were instant tickets to sweet gastronomic heaven, a place we enjoyed being in for several minutes of extreme pleasure. When she came to our table, we both wanted to hug her, but instead said that we would have the exact same desserts for lunch the next day as they were truly delicious.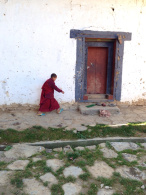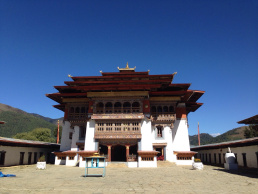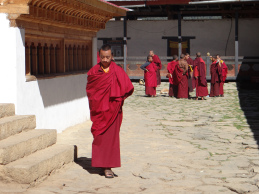 The Gangteng Monastery also known as Gangtey Gonpa or Gangtey Monastery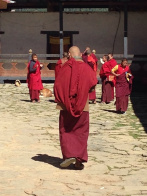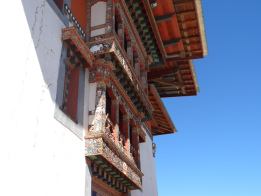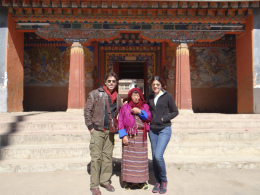 We woke up the next morning to gorgeous views of the valley from our bedroom window. From where the tub was placed in our room, we had endless views of the green valley, clear blue skies and a few scattered Bhutanese farm houses. From the window on the side of our room we had clear views of The Gangteng Monastery also known as the Gangtey Gonpa. Post breakfast, our guide Vijay and driver Topgey were waiting to drive us to the monastery. On arriving there we were immediately drawn in by the peace and quiet of the place. There were many young monks, students, who were at the monastery who we took candid pictures off. The place is is an important monastery of Nyingmapa school of Buddhism. The Monastery's history traces back to the prophecies made by the well-known Terton (treasure finder) Pema Lingpa in the late 15th century.
We returned for lunch to the lodge and were yet again treated to Sara's menu which was followed by Tracy's repeat magic show for our sweet slaved pallets. Post lunch we were ready to leave for Punakha, but were sad to bid goodbye to the Gangtey Goempa Lodge. Ateeb was there to bid us farewell as we made our way to the door with heavy hearts as our stay was too short but one which will remain close to our hearts for a lifetime.
( Our visit to Punakha and our stay at the Uma Punakha will be featured in my next blog)
---
Spiritually Seduced by the Last Shangri-la. Bhutan (Part 2)
---
• Location:
Google Maps
• Address: Samten Lam, Thimphu, Bhutan • Hotel website:
Taj Tashi
---
Our Rating
---
Location: 9/10
Food and Cuisine: 8/10
Design: 8/10
Rooms: 8/10
Service: 9/10
Overall experience: 8/10
---
Articles you May Love To Read
---
Spiritually seduced by the Last Shangri-la. Bhutan (Part 1)
---
Spiritually seduced by the Last Shangri-la. Bhutan (Part 3)
---
Spiritually seduced by the Last Shangri-la. Bhutan (Part 4)
---
Follow me on
Facebook
,
Instagram
and  
Twitter
 for some amazing travel posts
---