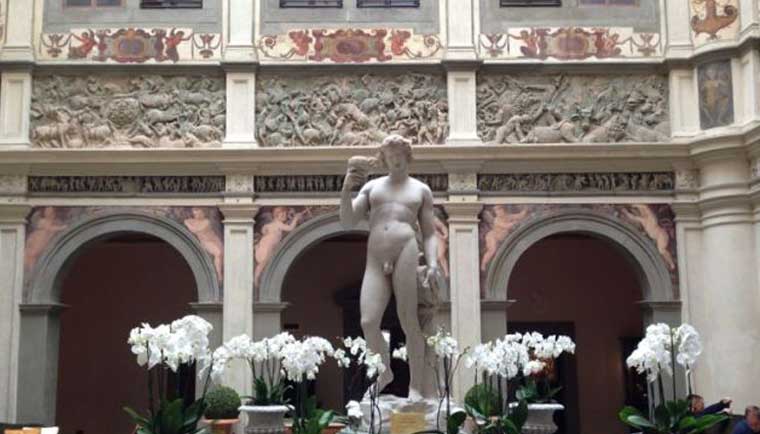 JULY 30, 2014 BY SAJJID MITHA
Vacanza con la famiglia a Firenze
Last year was special. Dad celebrated his 75th and it was mum and his 50th wedding anniversary. The family, my brother Aiyaz, his wife Shamira, Shahzain my nephew and his girlfriend Medina flew into Florence from Dubai while my folks, Laveena and I joined them from Mumbai.We spent four nights at the Four Seasons Firenze. The hotel is set in a former 16th-Century convent near one of the largest and most elegant Florentine gardens in the city. Our room was the Renaissance suite with a frescoed ceiling and opulent décor. The large bathroom with a victorian sofa overlooking the perfectly manicured lawns, sprawled generously across 11 acres, seemed like it was designed for royalty. Facilities at the hotel included a luxurious spa and an outdoor pool with a Gatsby like feel.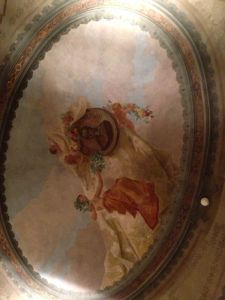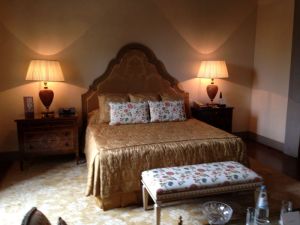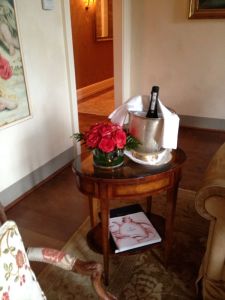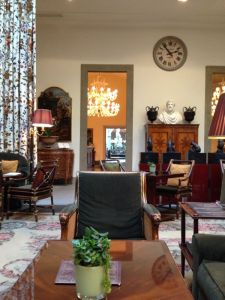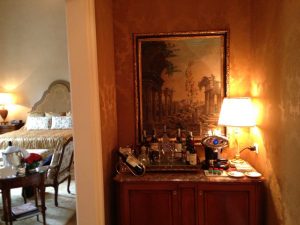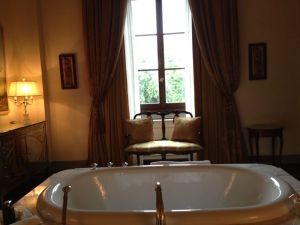 Although Florence has endless choices of high quality eating destinations, the Four Seasons hotel boasts of some outstanding restaurants. Il Palagio, a one Michelin star jewel, offers a menu which is both impressive and eclectic. This was where the family met each morning for breakfast. I usually ordered Egg-White Frittata with Green Asparagus and Ricotta Cheese, avocado, heirloom tomatoes, arugula, and a big order of French Toast with lots of real butter melted on top, whipped cream and of course powdered sugar, served with dollops of maple syrup. We ate breakfast like Kings and Queens as we soaked in the vaulted ceilings, the french doors and lovely views of the inner gardens.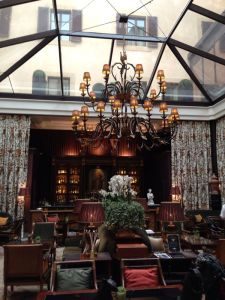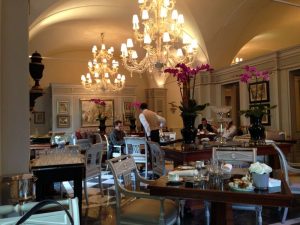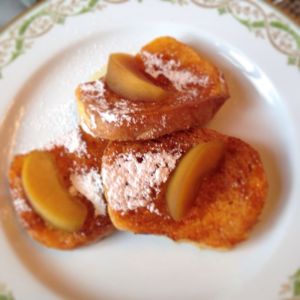 It's hard not to do pizzas when you're in Italy and yes Firenze does have an extensive list of pizzerias one can visit. But at the hotel itself, set in the beautiful Giardino della Gherardesca, is Al Fresco. Chef Vito Mollicas trattoria offers some mouthwatering Italian fare including the crustiest and most divinely delicious pizzas.
On day one the Famiglia celebrations were hosted at the Cantina at Il Latini, located at Via Palchetti. The cantina is in the cellar where the finest Italian wines are stored. It is away from the tourist crowded salas and the decor here offers a true sense of Italian authenticity. We were treated to some delicious local meats, traditionally flavoured mouth watering cuisine accompanied with crusted freshly baked breads and olive oil. Il Latini is a way of getting acquainted with the local region of Tuscany, its wonderful friendly people and its exciting and alive culture.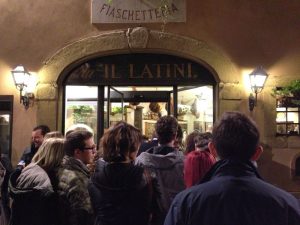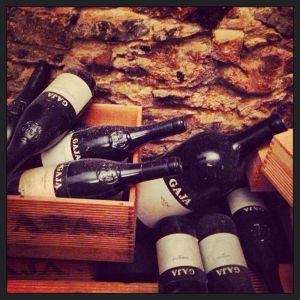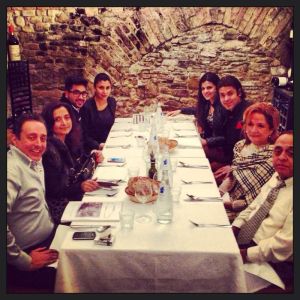 The next day dinner was hosted at the Trattotia Cammillo. Located at Borgo S. Jacopo, Cammillo is a home styled tuscan kitchen serving up some mouthwateringly delicious fare at truly moderate prices. Anti pasti, rich crostini and Tuscan fritto misto , tender meatballs and zucchini blossoms, fresh olive oil and white creamy sauce on bed of delicious linguine with parsley for taste. They also serve gluten free pastas which Laveena said was the best she had ever had. Dad settled for a thick and moist veal chop while I had the Florentine rib steak and my nephew the savory braised squab.
The following night we visited Obika. With a wide variety of Italian dishes on the menu, this restaurant which is done up in contemporary design, is definitely worth a visit and is known for it's Mozzarella inspired dishes. We started off with the buffalo mozzarella sampler which consisted of three softball-size portions. We then tried the burrata, a creamy mozzarella served with a delicious spicy Calabrian salami on the side. On the Chef's recommendation we tried the mozzarella wrap around salmon and we loved it. The meats that followed were cooked to perfection and melted in our mouths finely accentuating the Chef's skills.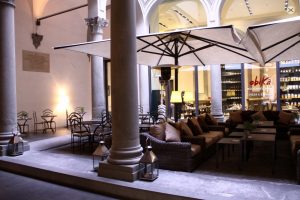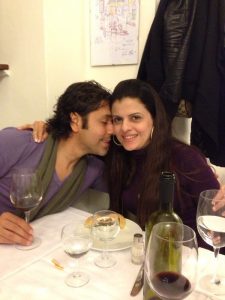 When not out for meals, we spent family time together at the La Villa Garden Suite. This was where Aiyaz and Shamira were staying. The villa opens onto a private portion of the park and is nestled amongst the trees in the heart of the landscaped gardens. The villa was the designated meeting spot for evening cocktails and family bonding.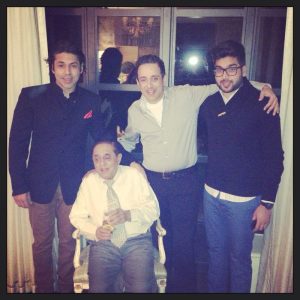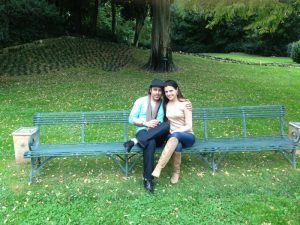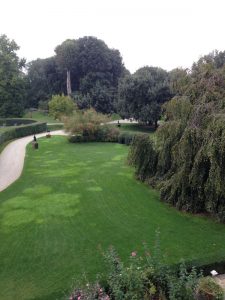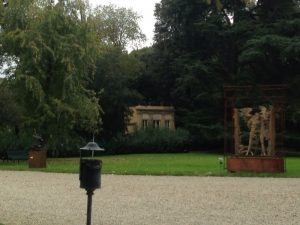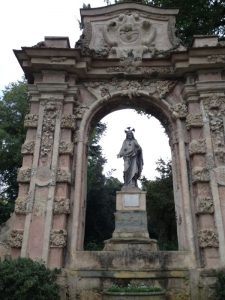 Our city walk through this stunning town took us to Il Duomo – Cathedral of Santa Maria del Fiore, the Piazza della Signoria and Ponte Vecchio which is Florence's first bridge across the Arno River and is the only surviving bridge from Florence's medieval days. We were also thrilled to visit Santa Croce, the largest Franciscan church in Italy which has the tombs of several important Florentines including Michelangelo and Dante. The vast interior contains some exceptional stained glass windows and frescoes.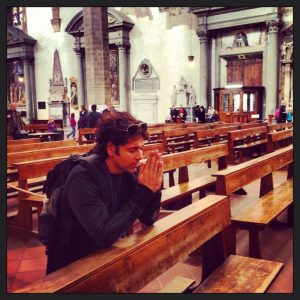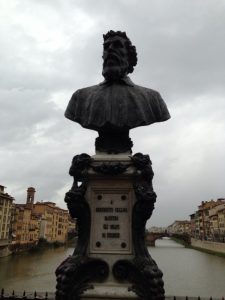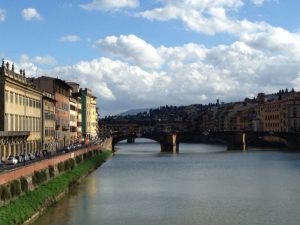 Every day we feasted on the creamiest, fruitiest, most divinely delicious gelato. The flavours we tried were insanely authentic and intense, the texture silky with each lick pure and delightfully sinful.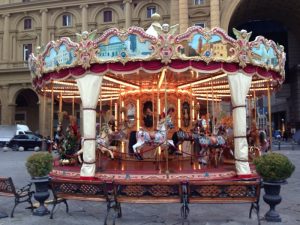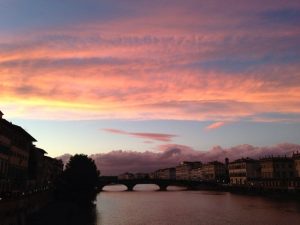 Shopping in Firenze is a must. For those seeking designer brands you have to visit The Mall. Located about a half hour outside Firenze, The Mall is a luxury outlet centre which offers customers products of excellence at extremely affordable rates. Valentino, Armani, Fendi, Cavalli, Gucci, Pucci, Ferretti, Bottega, Tom Ford, you get them all.
Firenze was only the start of our celebratory holiday. Our next stop was Borgo Di Vagli a 14th century Tuscan hamlet located in Cortona. In my next blog I will romanticise about this authentic medieval Tuscan hamlet and about our magical experiences while there for five fabulous days.