MARCH 04, 2016 BY SAJJID MITHA
A Rajasthani 'affair' to remember
'Vita Pulchra Est' is Latin for 'Life is Beautiful' and our recent stay at the Oberoi RajVilas reaffirmed the aphorism. Laveena and I visited the royal resort, built in a traditional Rajasthani fort style, last month, and fell instantly in love with what the grand property had on offer.
Beautifully landscaped gardens, pink lime plastered walls to help create that mystical feeling of the true Jaipur experience, exotic bird life including majestic peacocks with their iridescent blue and green plumages, high dome ceilings, magnificent arches reminiscent of Mughal times, crystal chandeliers and gold leaf frescoes.
Together, they perfectly decorated the thirty two acre resort, deeply connecting each guest with the luxury and charm which so distinctly reflected what the 'Oberoi' group was so well known for.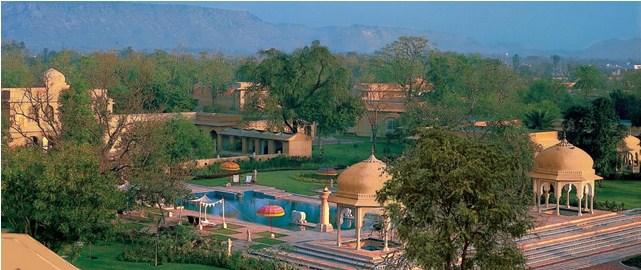 We were welcomed at this 'oasis of elegance', by Mr. Abhishek Sharma, the General Manager of the Rajvilas. Laveena and I are lucky to know many General Managers of several luxury hotel properties from across the world. Abhishek however, is the very epitome of hospitality. A General Manager who is humble to the core, yet sensitive to every need of his guests, from start to an absolute perfect finish. Throughout our stay at the Rajvilas, Abhishek personified warmth and congeniality and made our experience complete. His attention to deliver excellence was complimented and reflected in the high service standards of the amazing hotel staff. One in particular, Max, more than impressed us with his genuine commitment to help make our vacation a very special one. Max  was most charming and his pleasing personality and eye for detail made our meals at the Rajvilas, memorable.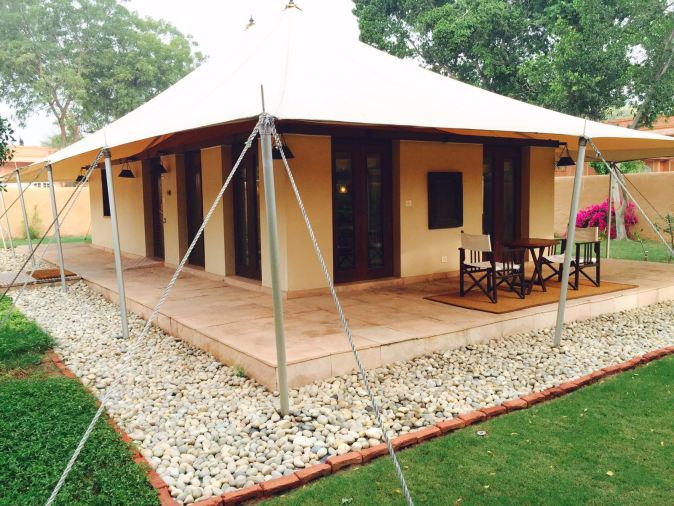 After checking in, we had breakfast and were driven in a golf cart to our 'luxury' tent by the affable Taufiq. Tastefully done up interiors with weather and heat resistant canopies, decorated with traditional Rajasthani hand block prints, made the insides of our room feel culturally rich and comfortable. The polished teak floors and grand king size bed, mirrored the comfort which the hotel promised. We could actually breath in a bit of Rajasthan through the traditionally made mud walls surrounding our tent.
Our room had it's own private garden and patio and we were delighted to see peahens and peacocks freely roaming in the garden. We took our time to settle in and enjoy the room and later headed out for an early lunch, at th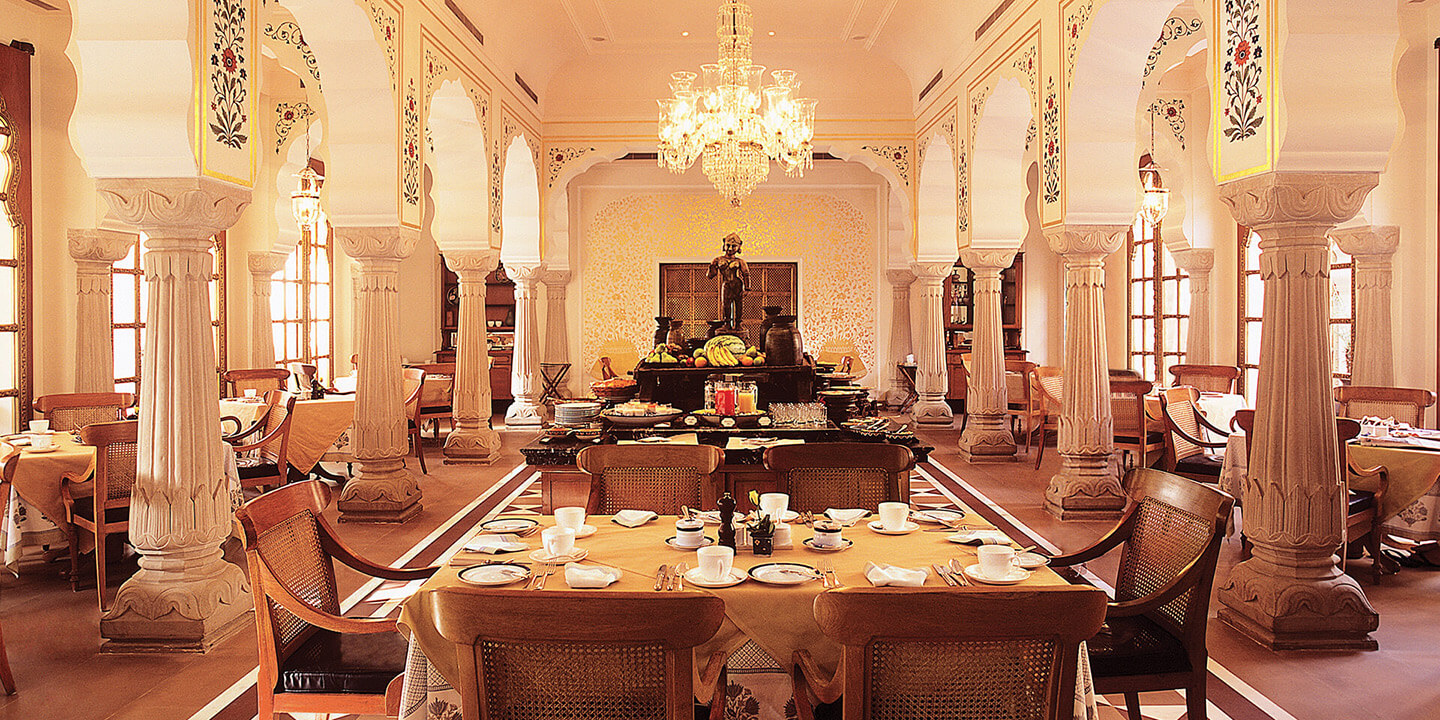 Our afternoon nap was a brief one as we had a Puja ceremony planned at the 280 year old Shiva temple, around which the hotel is built. A pundit (a hindu priest) welcomed us at the 18te 'Surya Mahal', which is a Sanskrit name for 'Sun Palace'. The restaurant is aptly named, as the space is bright with natural light flowing through the wall to ceiling glass windows.
h century temple where I was asked to perform an arti, a devotional hymn, sung in praise of God. In this haven of peace and natural serenity, the priest began to chant verses from holy ancient hindu scriptures, praising Lord Shiva. A small cup-shaped oil lamp (diya) made of metal with a handle just big enough for me to slip my finger through, was given to me. As the priest chanted, I closed my eyes and deep in devotional prayer, I firmly gripped and rotated the diya around the Shiva statue. To Shiva's right was a statue of his wife Parvati. Ganesha and Karttikeya, flanked both parents. The experience was spiritually uplifting and as the sun began to set upon the temple, we walked away, with a sense of divine peace in our hearts, away from the small island, past the exotic water lilies and mud towers standing tall and erect in the pond.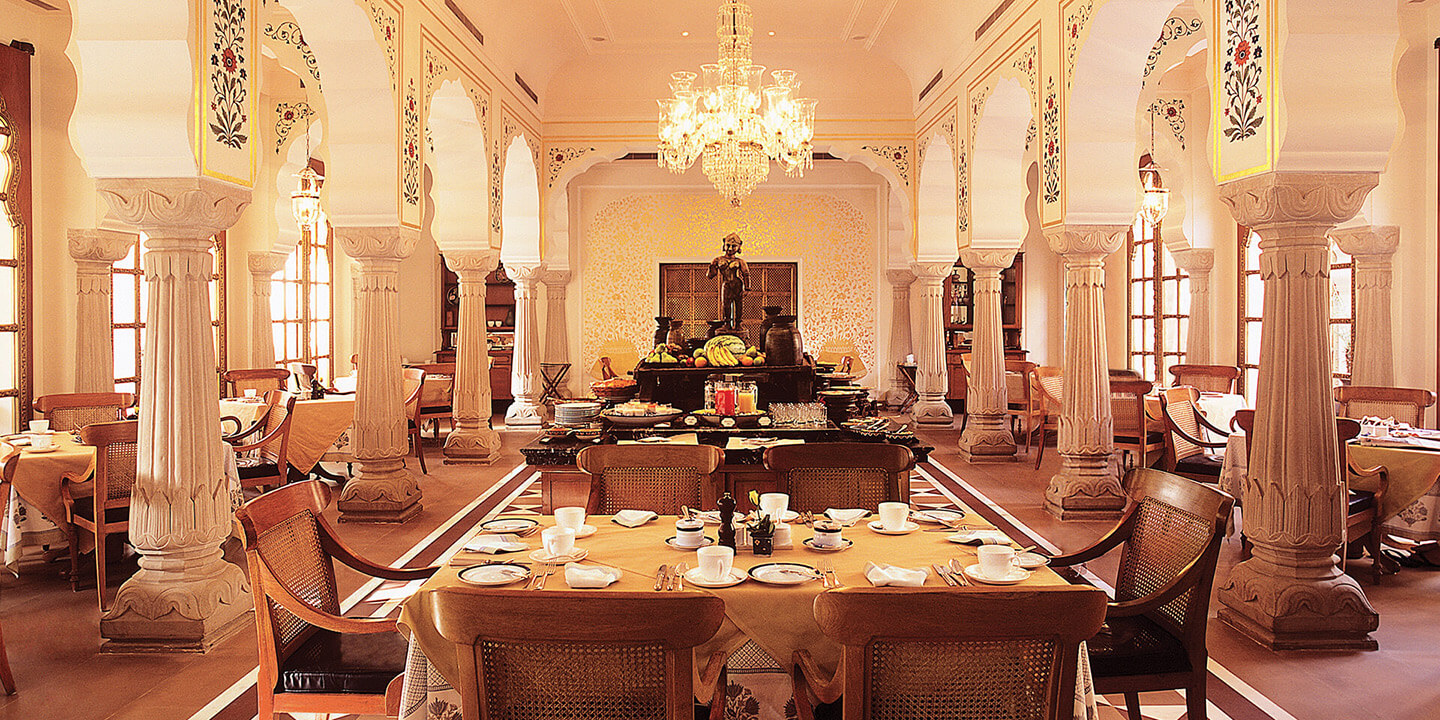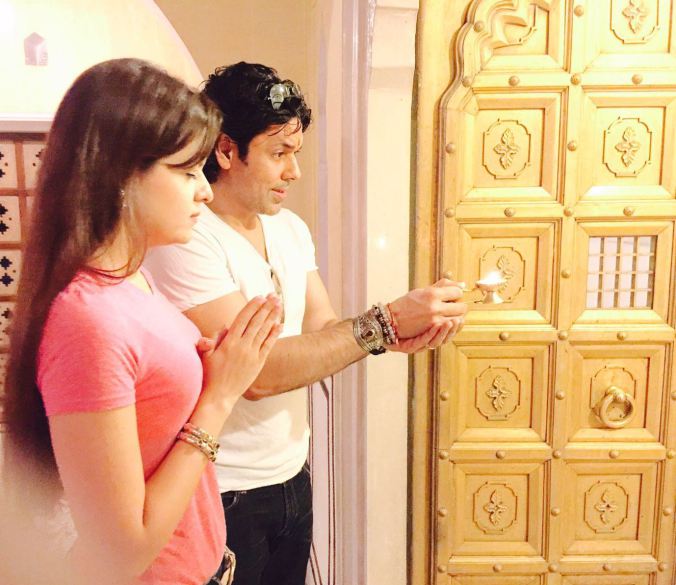 Our Puja ceremony was followed by a meet with an astrologer by the pool side. Adorned in a traditional white garb of a holy man, with a bright orange Rajasthani turban on his head and prayer beads around his neck, the astrologer sat us down on comfortable bedding with bolster like cushions. Under a pink sandstone canopy with white pillars,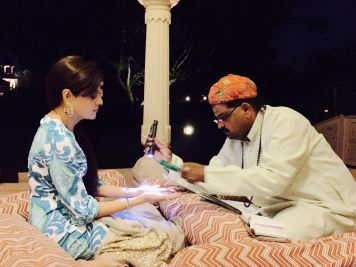 situated by the poolside, the astrologer bent forward to peek into our future. He asked for us to put out the palm of our hands and deep in concentration, with a torch in one hand and a magnifying glass in the other, his reading glasses precariously balanced on the bridge of his nose, he explained the position of the planets and attempted to delve into the intricacies of our lives and what the future had in store for us. He was strangely accurate of the past and had some rather interesting things to say about our future. We were thoroughly entertained, amused and mystified, all at the same time.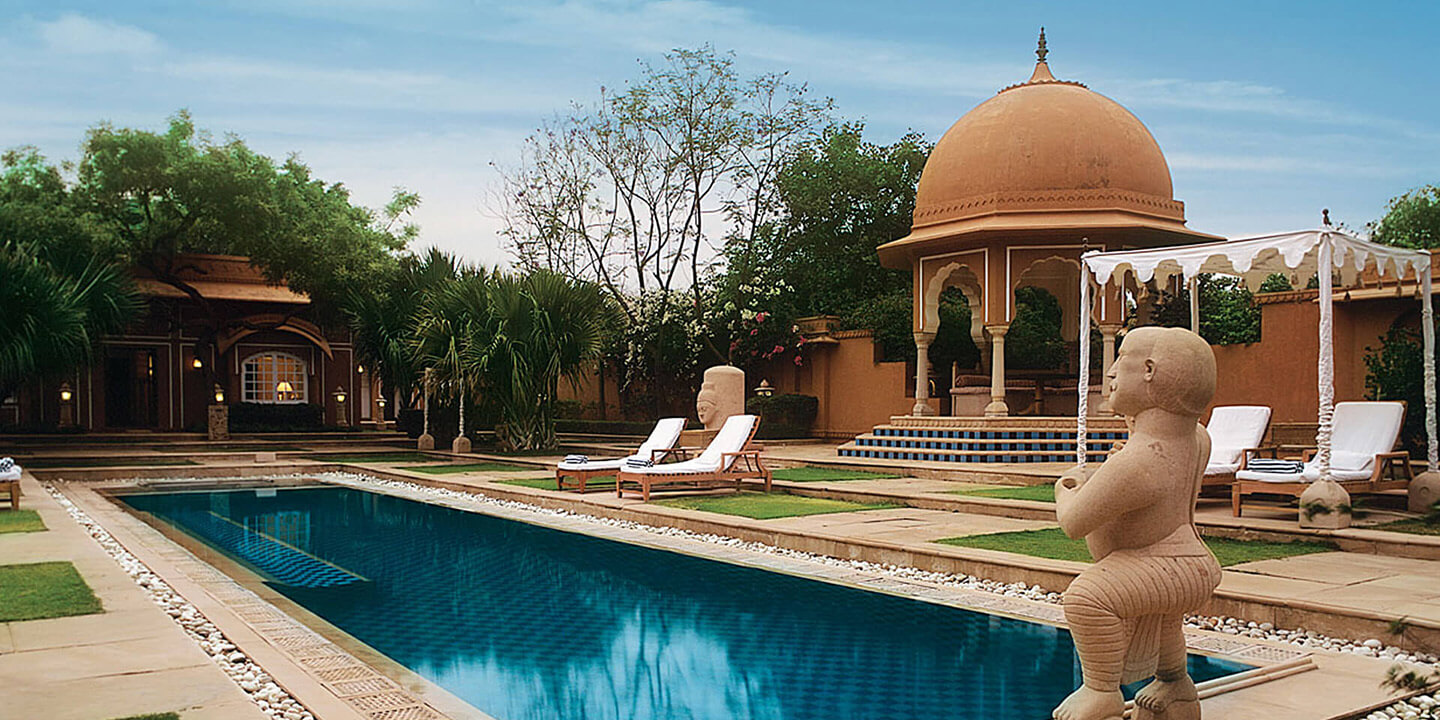 At 6:30 pm, we had a couples appointment at the hotel spa. Located in the restored 18th century haveli in front of the temperature controlled hotel pool, the spa is decorated with vegetable dye frescoes and has white marble and red sandstone floor tiles. From the list of treatments, we chose one called, 'Romance of Rajputana'. Created as a tribute to beauty, this signature experience offered us a perfect harmony of healing therapies which included a steam bath, a gentle pomegranate body exfoliation, followed by a heavenly massage and a soak in an exquisite bath. After the soothing and holistic treatment, we felt revitalised and rejuvenated.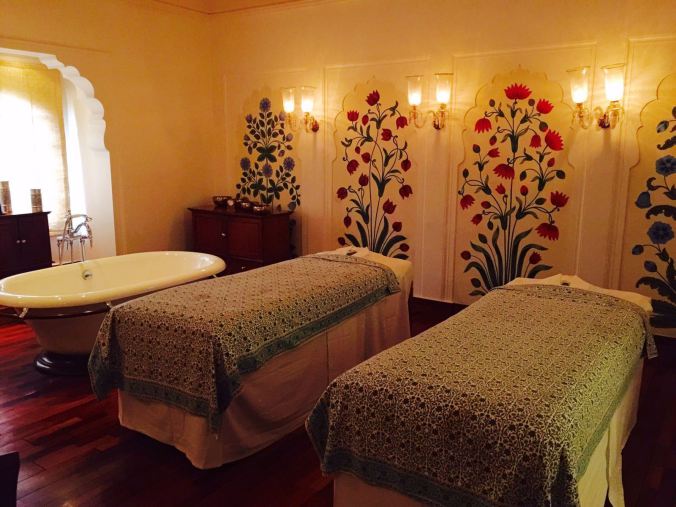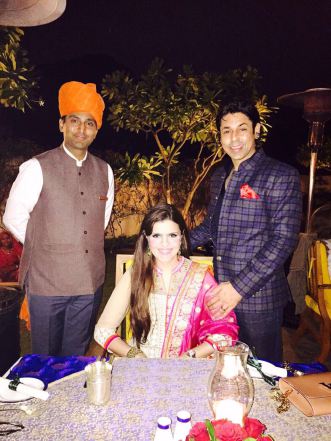 At dinner, Chef Ajit Raman, put together a menu, he christened, 'Taste Of India's Culinary diversity.' Seated at a well adorned table, with a blue linen cover, a green table runner with intricate gold zardozi like embroidery on it and a vase with fresh smelling red roses, we had our hands washed in milk and rose water. We were first served papdi chat, a tian of savoury gram flour crisps topped with potatoes and dressed with sweetened yoghurt and sweet and sour tamarind chutney. The kebab samplers followed with a malai jhinga, an achari machhi tikka, a kachhi mirch ka murgh and boti kebab. A few decadently delicious, melt in the mouth bites later, we were served an aam panna sorbet, as a palate cleanser. As we watched a troop of graceful Rajasthani lady dancers skilfully balance a pot of fire on their heads, we relished the raw mango and cumin slush which was flavoured with a hint of mint. A light drizzle of rain surprised us all and came as a blessing from the heavens. As if on cue, a few diners were drawn to the dancers and joined them in performing the folk dance of the dessert people.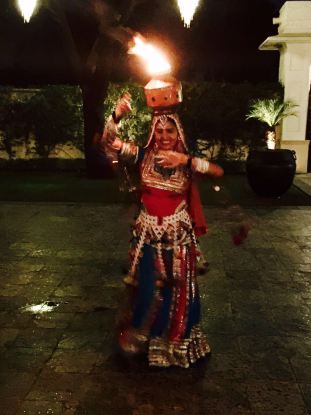 Accompanying this fascinating balance of mesmerising music and dance, was the food which followed as our main course. Chef Ajit prepared the famous Rajasthani laal maas, succulent pieces of tenderised meat, marinated in a variety of spices and served in a delicious Indian red curry. We were also served murgh bajre ka soweta, palak mangodi, dal panchmel and smoked aubergine raita with esoteric whole grain breads and bati made on an open charcoal flame. After devouring the delectable spread, Chef Ajit announced with much fanfare, an array of royal desserts which included the paan sasmali, the baddam aur khajoor ka halwa and the besan choorma. Surrounded by soft sandstone floors, an outdoor fireplace and ornate Mughal arches and columns, we could feel the pulse of grandeur beating through every tile and intricate corner of the grand Raj Mahal.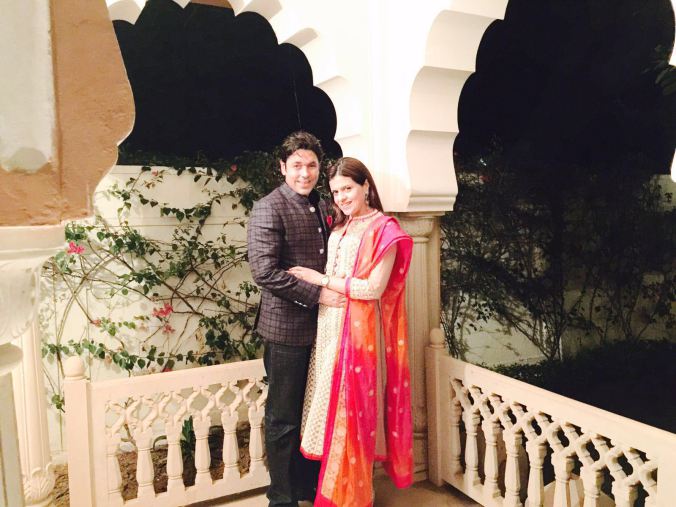 Temperatures were down at a very pleasant 18 degrees celsius that night. After the royal dinner spread, Laveena and I decided to walk around the landscaped grounds for an hour before returning to our room. The peacocks and peahens had retired for the night and the sounds of nocturnal insects kept us company, as we walked under the bright dessert moonlit night, hand in hand, appreciating the good fortune we were blessed with to experience the magical wonders of the Oberoi Rajvillas. We had a number of activities planned for the next day, including a sight seeing tour around the pink city. I was excited about a visit to Amer fort after which we were to partake in a pottery session, block printing on textiles and a nature walk through the property.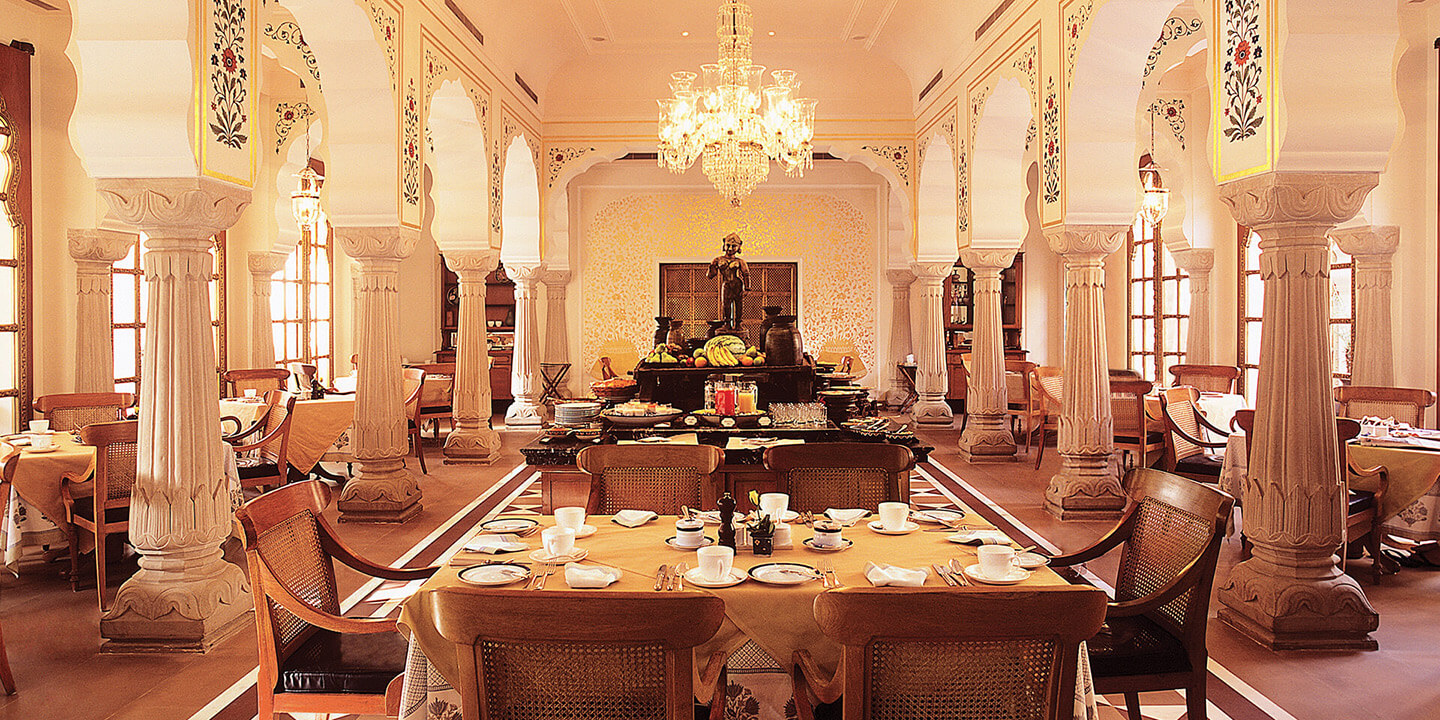 After a quiet nights rest, we were up early the next morning. On the property there is a magnificent ancient Haveli. On the outside, it has been restored to it's former glory. The hotel spa is located in the haveli and here is where we met our yoga instructor.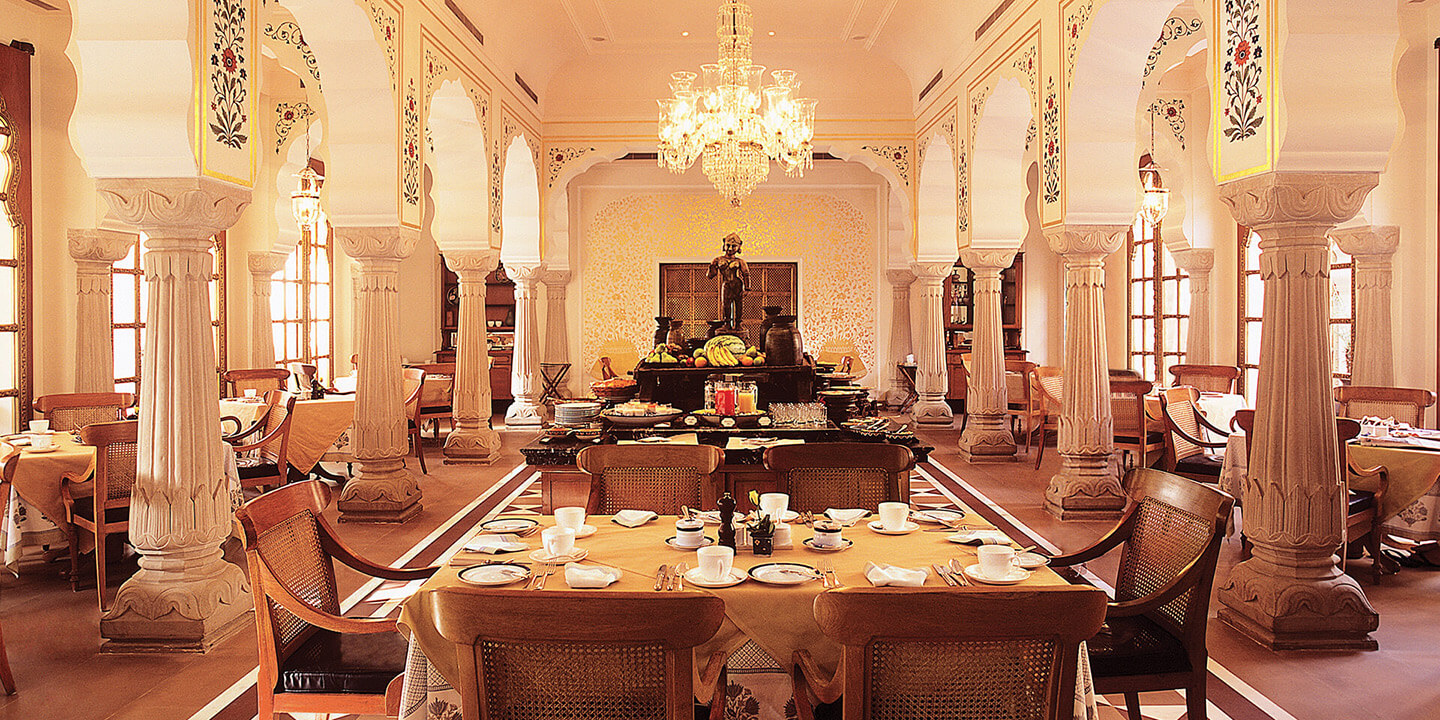 We were offered freshly laundered cotton kurtas and pajamas and were escorted to a section on the lush green lawns, near the lily pond. Over the next 30 minutes, the instructor helped revitalise our bodies, using ancient pranyam (breathing) techniques. He helped relax our minds through meditation and healed our thoughts by making us aware of our surroundings. The experience was as rejuvenating as it was unforgettable and we both looked forward to another session the next morning. After yoga, Laveena and I had a light breakfast and then visited Tijori, the store at the lobby of the Rajvilas. There is a myth that stores at hotel lobby's display products which are over priced and usually appeal only to tourists. This certainly wasn't the case with Tijori, which was a treasure trove of surprises. For a few of my business associates in Europe and London, I purchased some Rajasthani printed textiles and some handcrafted jewellery.
The afternoon was spent touring the bazaars of Jaipur with our guide, the well read professor Malik. We visited the Amer Fort which overlooks the Maota Lake. Known for its artistic Hindu style elements, the fort with its many gates and cobbled paths, is constructed of sandstone and marble. Professor Malik is a powerhouse of knowledge. As we walked through the grand fort, we visited the Diwan-e-Aam or "Hall of Public Audience", the Diwan-e-Khas, or "Hall of Private Audience", the Sheesh Mahal (mirror palace), and the Sukh Niwas. The professor took us on a fascinating journey through the corridors of history, patiently explaining to us in detail, how the walls of the fort played a significant and key role in the lives of the Rajput Maharajas and their families, way back in the 17th century.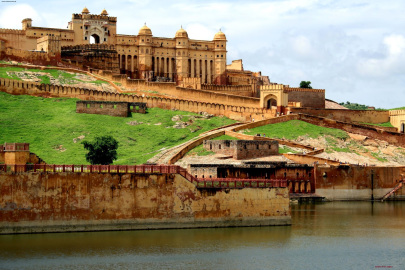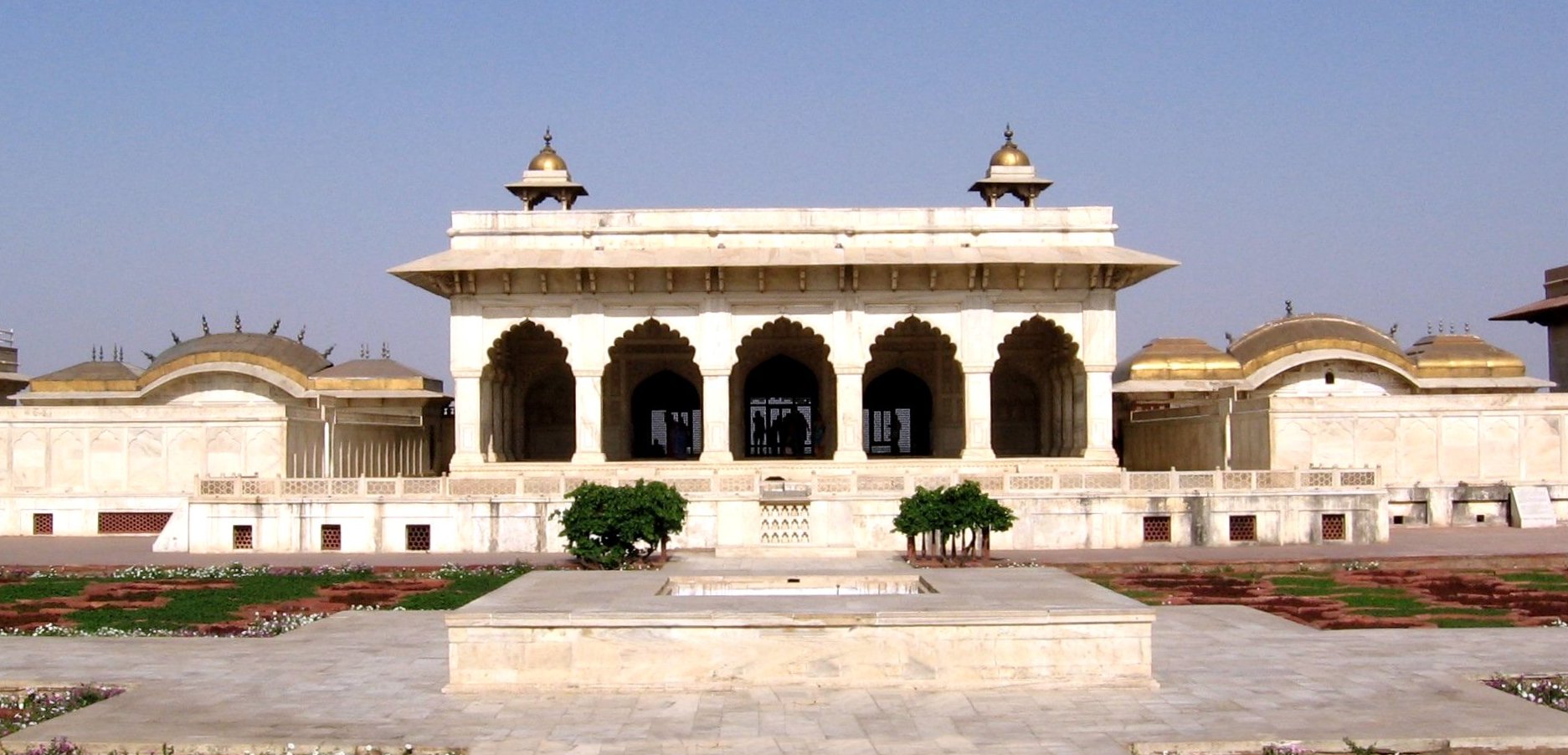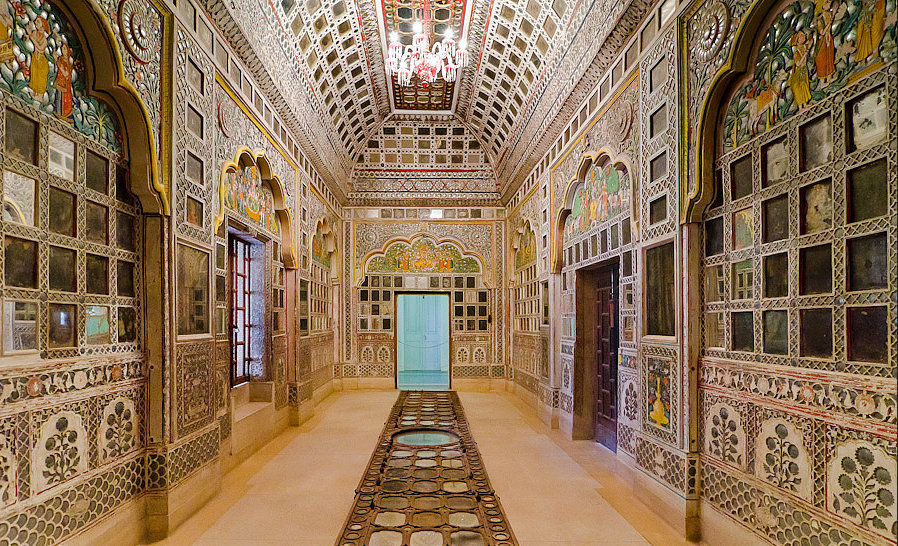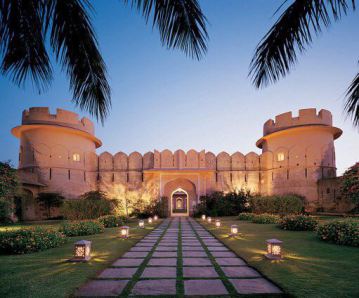 When we returned to the hotel, there was a surprise waiting for us. A note from the General Manager read that Laveena and I would be driven to Mr. PRS. Oberoi's private residence for an exclusive sundowner for two. The pottery lesson, the block printing and the nature walk planned for us, was rescheduled for early the next day. We were delighted with the invitation and at 4:30 pm, we were driven to Naila Fort. Perched on a steep, rocky precipice in the Aravalli mountains, the fort is grand by any standards. We were greeted at the brass studded antique entrance door by the young talented chef Phonica Yadav and a member of the waiting staff, Pawan Chandra. The moment we stepped into the 150 year old restored fortress, we were handed glasses of sparkling wine.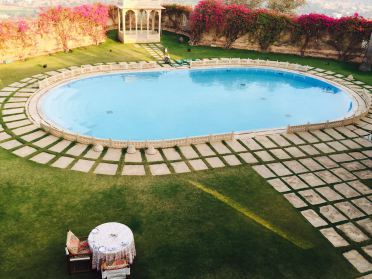 I instantly connected with the appealing aura of remoteness and feudal romance which seemed to surround us at the fort. Naila Fort we were told by Mr. Oberoi's personal staff member, was built as a garrison to defend the village of Naila and the land in the valley beyond. In the courtyard, we got to see Mr. Oberoi's personal collection of seventeenth and eighteenth century swords and shields. These hung on the wall above what we were told was an antique Gujarati chest. We were taken on a guided tour round the fort and were directed to the lawns near the swimming pool, where a table for two had been set up.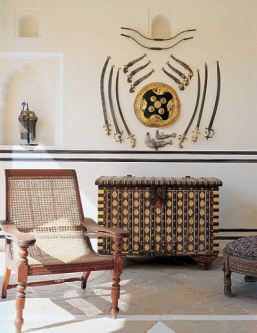 Perfectly manicured and lush green, the garden around us had roses, palm and fruit trees. While Pawan ensured our glasses of sparkling wine never dipped below the halfway mark, the eternally smiling and charming young Phonica, served us a bento box with sandwiches, rice paper rolls, a salad, a kathi role and cookies and cake. Guests at the fort should not miss the views of the majestic sunset. We climbed the stairs of the fort to the terrace and looked beyond the depths of the valley to the mountain ranges afar. As the sun began to set, the skies across Naila turned into the most magnificent hues of oranges, reds and yellows.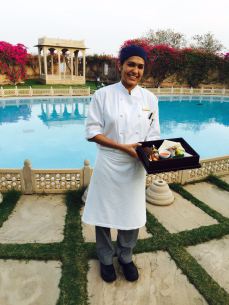 A mix of vibrant bright colours so glorious, that it made us shut our eyes in awe and wish for happiness for all. We knew we were scheduled to return home late tomorrow and we were going to miss the solitude of Naila, the comfort and luxury of Rajvilas and the magic of the vibrant pink city of Jaipur.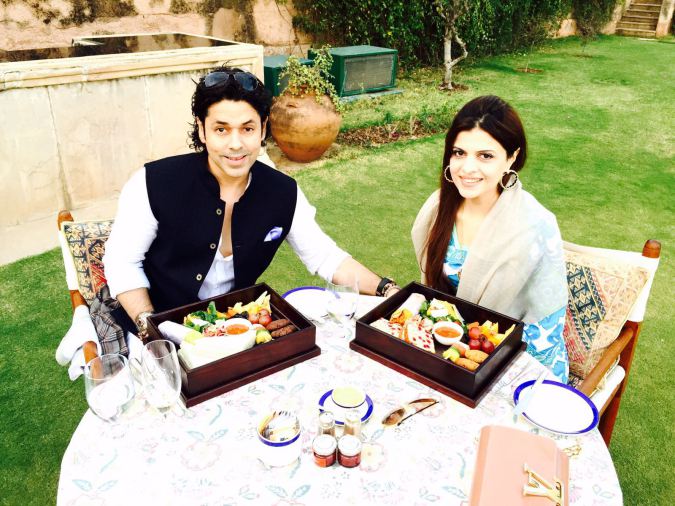 We returned to the hotel at 8 pm and although we were not ready for dinner, we were informed that a private table for two had been set up by the pool side as a celebration for my birthday. Chef Ajit had put together a contemporary, Indian menu, encapsulating a mix of magical flavours and showcasing his skills in multi sensory cooking with a more than interesting molecular twist.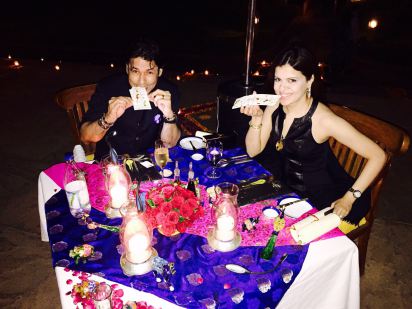 On a table decorated with a blue and pink coloured table cloth made from woven silk with a brocade design and little toy elephants and peacocks, our menu for the evening was an edible one. We got to dinner at 9:30 pm and started with a pearl millet jhalmuri (vegetarian millet puffs with onions, tomatoes and gram flour vermicelli dressed with mustard oil and lemon vinaigrette). This was followed by a khade masala crusted rare seared mini tuna with cucumber, fennel and tomoto verge, a tamatar adrak ka sherba (a flavourful tomato broth flavoured with ginger and coriander),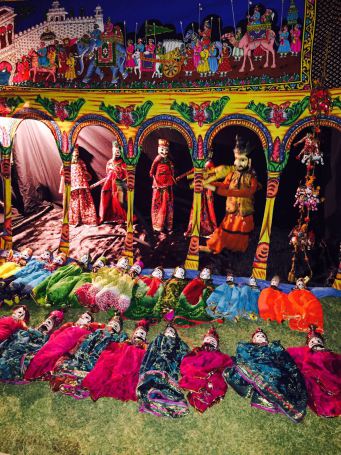 a betel leaf wrapped steamed chicken parcel with sous vide glass noodles, a narangi sorbet, home made with black salt and mint, dhoongar maas (a traditional Rajasthani lamb stew flavoured with garlic, coriander seeds, smoked with cloves, pearl millet porridge and wilted spinach), a selection of cheese with bajra and corn meal chips and apple crisps and traditional indian desserts including gajjar halwa, rose kheer, a panacota, and a coconut and jaggery ice cream. Even though these were tasting portions, by far the most delicious we had ever eaten, we were full beyond imagination. We needed to walk around the grounds to help us digest the delectable feast. As we walked past the poolside, we noticed a puppet stage had been set up for hotel guests.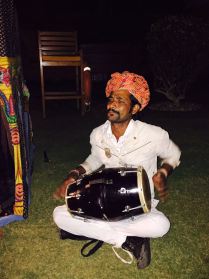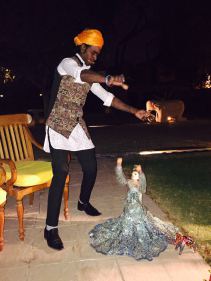 The puppeteers asked us to be seated as they were keen to put up a performance for us. In perfect english, which he said his father had taught him, the young puppeteer introduced us to the many colourful characters on display. He went on to sit cross legged and began to drum on his tabla as he sang in the language of marwar, folk songs of ancient times depicting an elaborate story of war,  love and peace. His partner skilfully made the puppets prance, dance, fight, leap and embrace, all to the accompaniment of marwar tunes and music. And as the puppets prepared to call it a night, Laveena and I too thanked the talented puppeteers and walked hand in hand, underneath the moonlit sky, back to our luxury tent for another beautiful night of peaceful sleep and romance.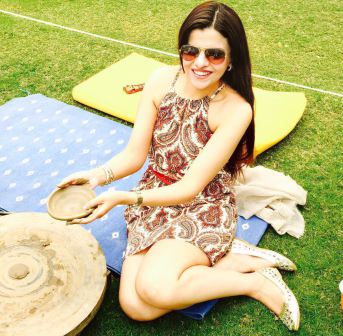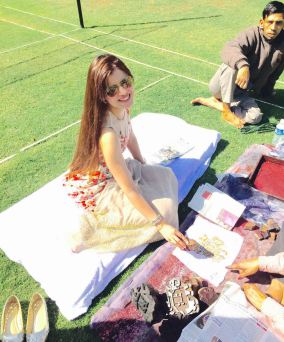 We have been back home since a fortnight and we haven't stopped thinking or talking about our love affair with the Rajvilas. It has in an extraordinary way, appealed to every alluring and seductive sense of ours. We cannot wait to return and have recommended it to every friend we know, as we would like for all to live the wonders of the Oberoi Rajvilas, just as we did and hope to do again in the not so distant future. After all....the turbaned astrologer with the prayer beads did say that we would return soon.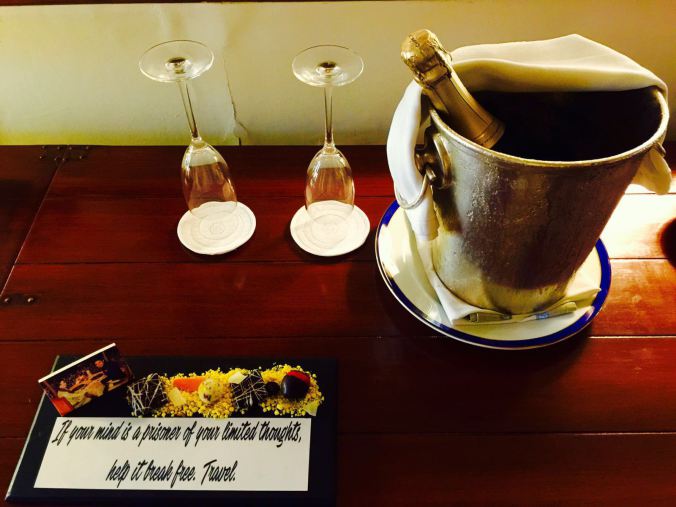 ---
Oberoi RajVilas (India)
---
• Location:
Google Maps
• Address: Babaji Ka Modh, Goner Rd, Jaipur, Rajasthan 302031 • Hotel website:
Oberoi RajVilas
---
Our Rating
---
Location: 9/10
Food and Cuisine: 8/10
Design: 9/10
Rooms: 9/10
Service: 8/10
Overall experience: 8/10
---
Articles you May Love To Read
---
THE OBEROI DUBAI
---
The Oberoi Amarvilas
---
Follow me on
Facebook
,
Instagram
and
Twitter
 for some amazing travel posts
---