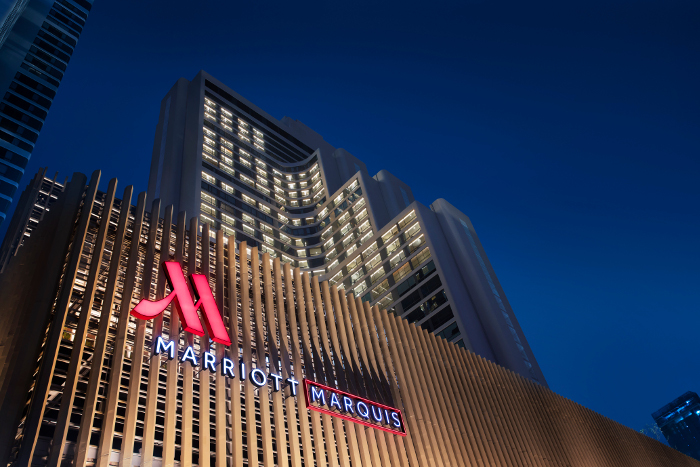 JULY 10, 2017 BY SAJJID MITHA
The Finest 'Value for Money' luxury Hotel in all of Bangkok
In February this year, one of our dearest friends, Nikita Sanyal, celebrated her 40th birthday in Bangkok and we were invited to spend a night at the Bangkok Marriott Marquis Queen's Park. We had arrived in Bangkok a day earlier as we didn't want to miss out on staying at our favourite city hotel in the world, The Siam Kempinski. On the day we were to shift, I remember telling the staff at the executive lounge at the Siam Kempinski, that we were sad to be leaving to stay at another hotel in Bangkok, but we did tell them that we would be back in a day. When our taxi arrived, the Bell Captain at The Siam Kempinski, while loading our bags asked, " we hear you are moving to another city hotel Mr. Mitha. Why?" We explained it was only for a night, for a friend's birthday celebrations and promised we would be back.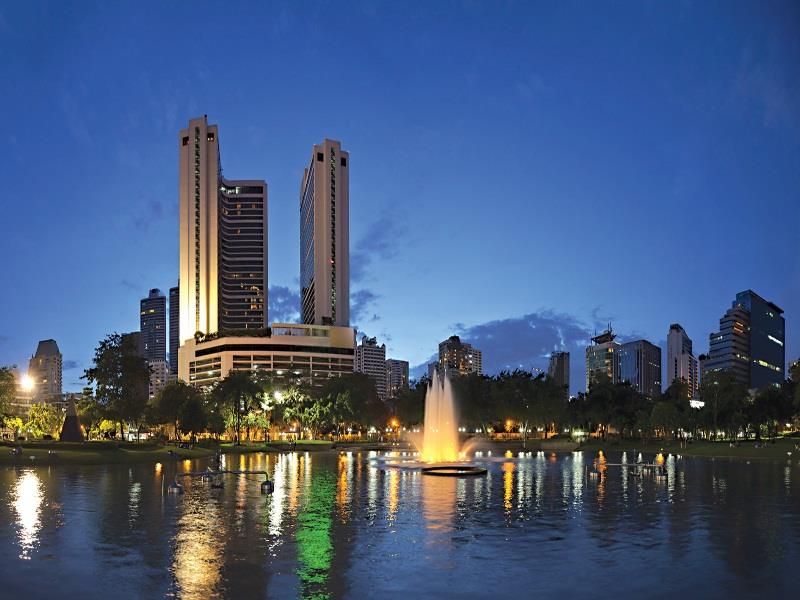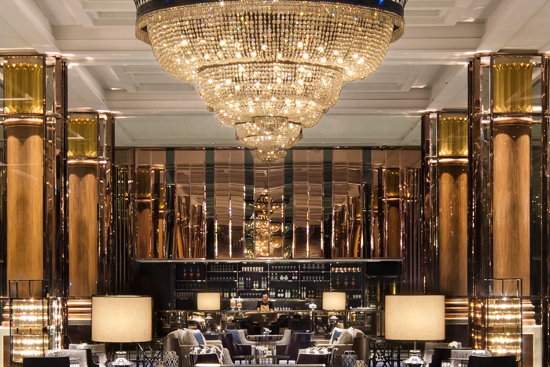 Located on Sukhumvit Soi 22, the Bangkok Marriott Marquis Queen's Park was earlier knowns as the Imperial Queen's Park Hotel. Following a multi-million dollar renovation, the hotel was relaunched in late 2016 and is the first Marquis branded property of the Marriott in the Asia Pacific region. To earn the 'Marquis' brand, the Marriott hotel not only has to be grand and luxurious, but it also has to have over 1000 rooms along with top of the line meeting and banquet facilities . The ground floor lobby at the hotel is indeed a grand one. It has brand new furnishings, giant chandeliers, luxurious columns and a lot of mirrored glass and wood. Our stay at the hotel was short, but we were so caught up in Nikita's fabulous birthday celebrations, we didn't get a chance to appreciate the hotel enough, as most of our time was spent out partying. But Laveena and I were impressed enough to want to return and return we did in June of this year.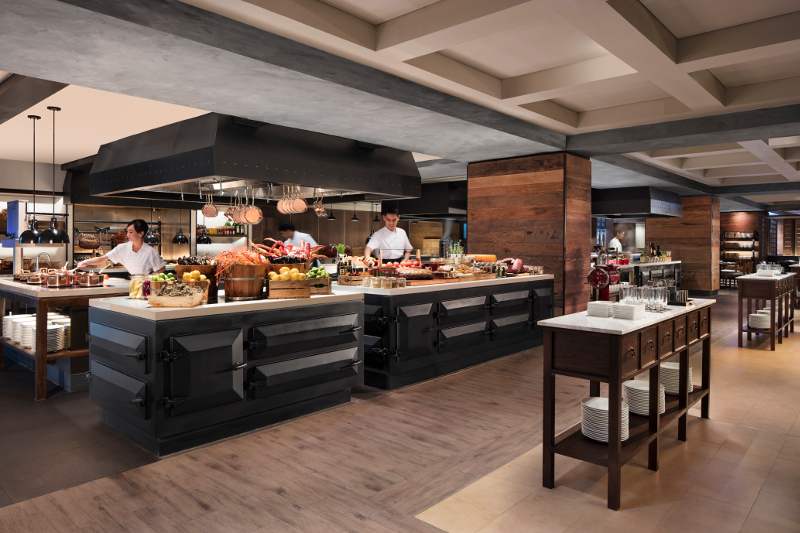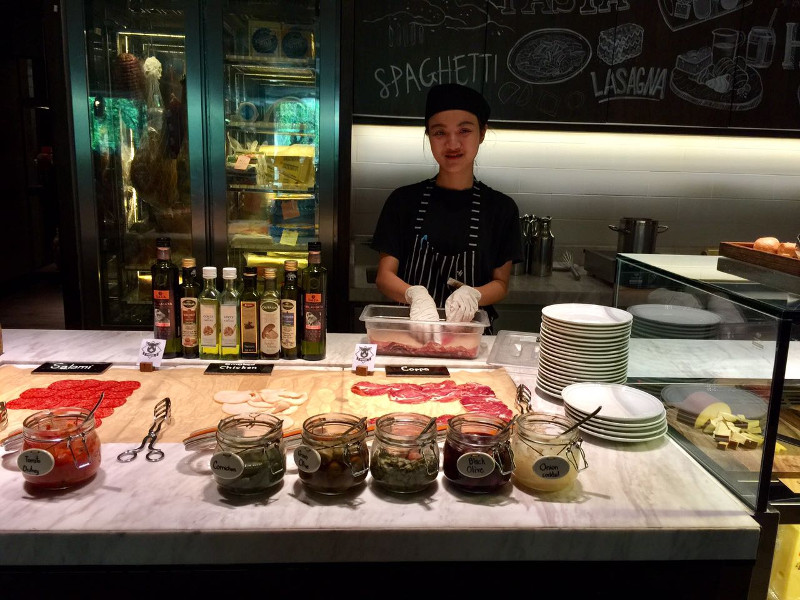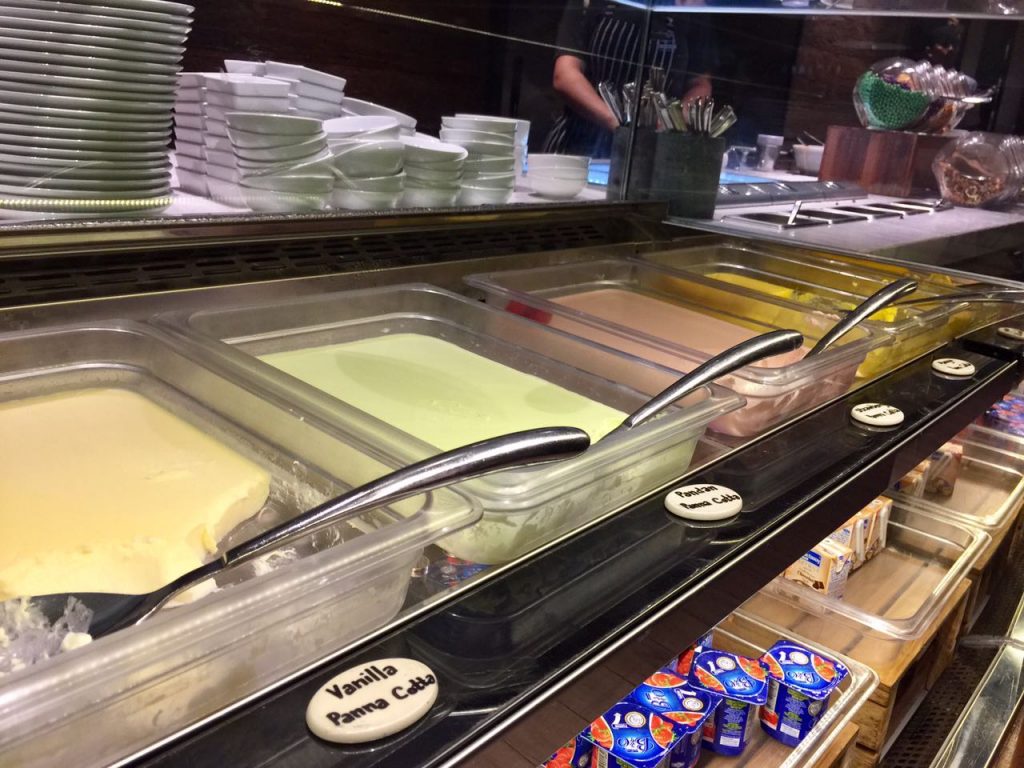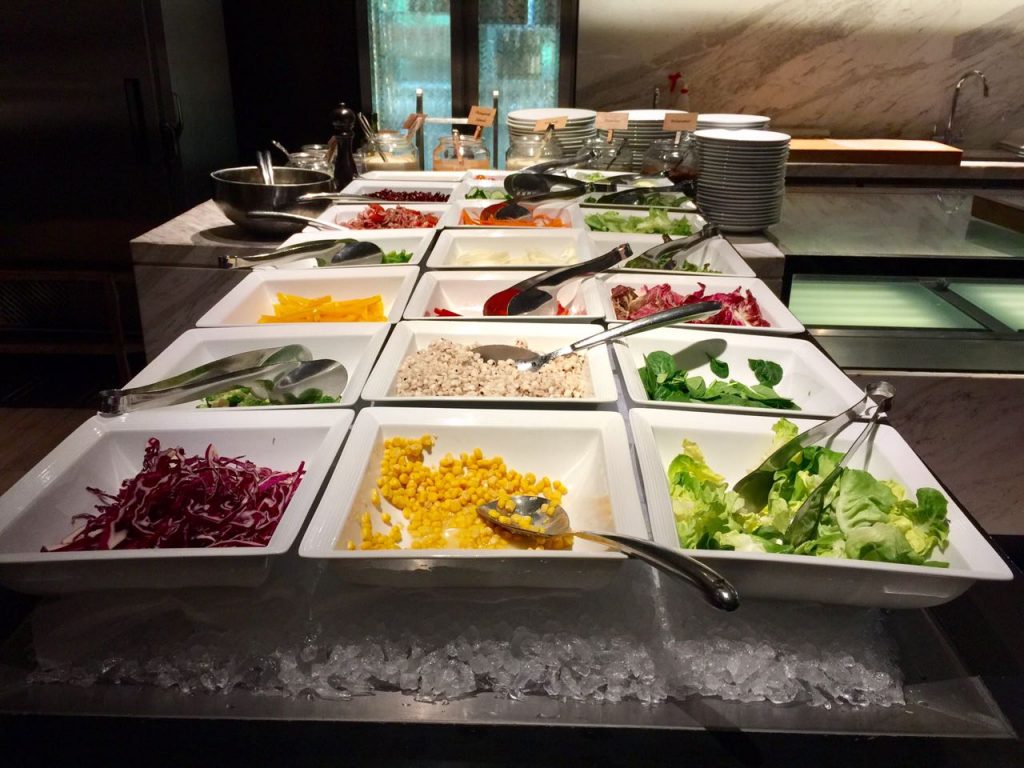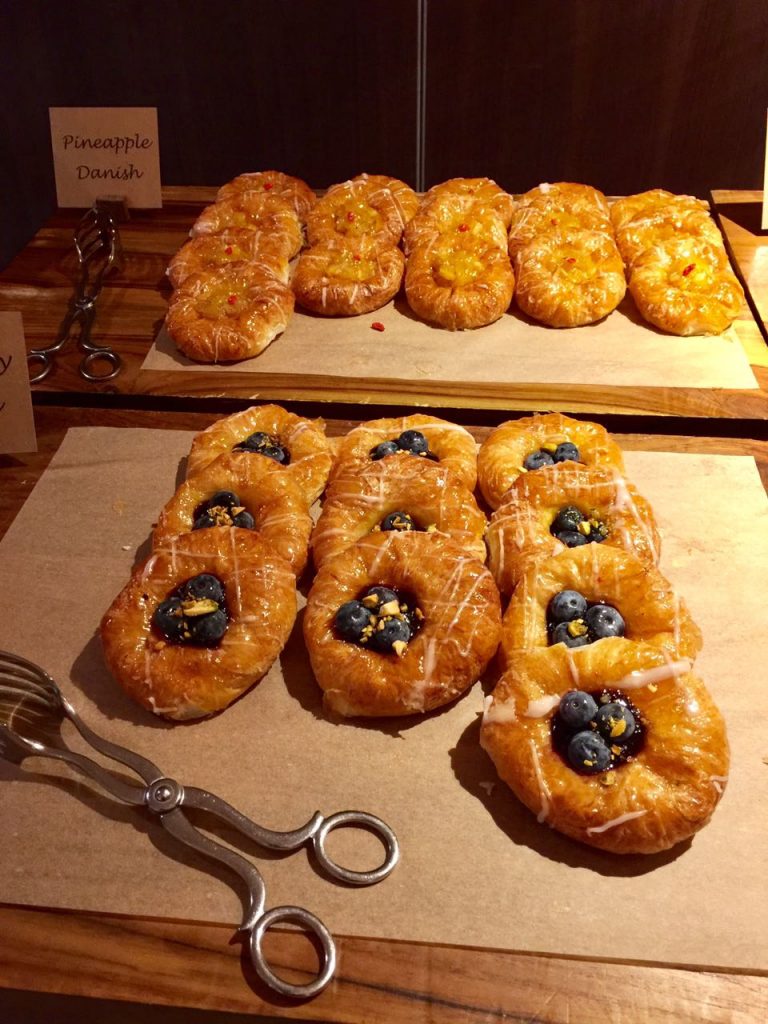 We were checked in by Khun Golf, early on a Saturday morning at the spanking new hotel which has a total of 1360 rooms, making it the largest hotel in Bangkok. I have to say that this was by far one of the friendliest check-ins we have ever experienced. Once the formalities were completed, Khun Golf walked us to Goji Kitchen + Bar for breakfast and didn't leave till he had us seated by the window, overlooking the Benjasiri park. Now the breakfast at Goji Kitchen + Bar isn't like any ordinary buffet breakfast we have experienced. It is by far the most elaborate and largest cuisine selection ever, be it delicious local Thai street food, Continental, American, Chinese, Indian, Japanese, Vietnamese, Korean or Indonesian. The choices are endless and to start with, I found it difficult to select my favourite cream cheese spread and preference of salmon on a toasted bagel. I was further amazed at the number of live cooking stations and was told that they were proud to have more live stations than any other restaurant in Bangkok. There was a fresh egg station, freshly squeezed fruit juices including sugar cane, watermelon, kiwi, pineapple, mango, coconut and orange on offer, 5 types of Panna Cottas, freshly baked cheesecake, an ice cream parlour, hot Vietnamese soup with your choice of meats and noodles, Chinese vegetables, Fried rice, Dimsums, Pancakes and waffles with a variety of toppings, a cheese counter with Ementhal, Gouda, Boursin, Edam, Brie, Pecorino, Cheddar, Camembert and Manchego, a bakery counter with a choice of freshly baked breads, croissants, muffins, pretzels, brownies, cookies, scones and oat bars. They even had a salad cooking station offering an endless mix of colourful green, red and yellow veggies with a remarkable choice of dressings. Never before did we feast like we did that morning and we slowly began to fall in love with this amazing new iconic hotel in Bangkok.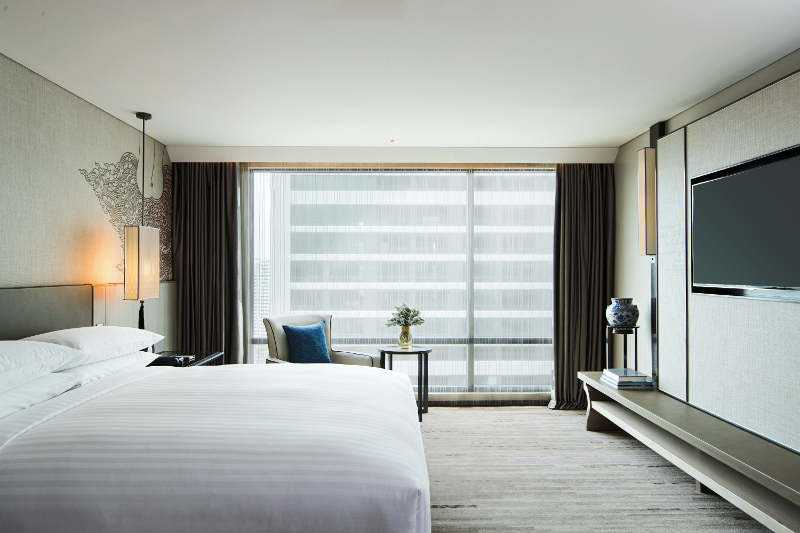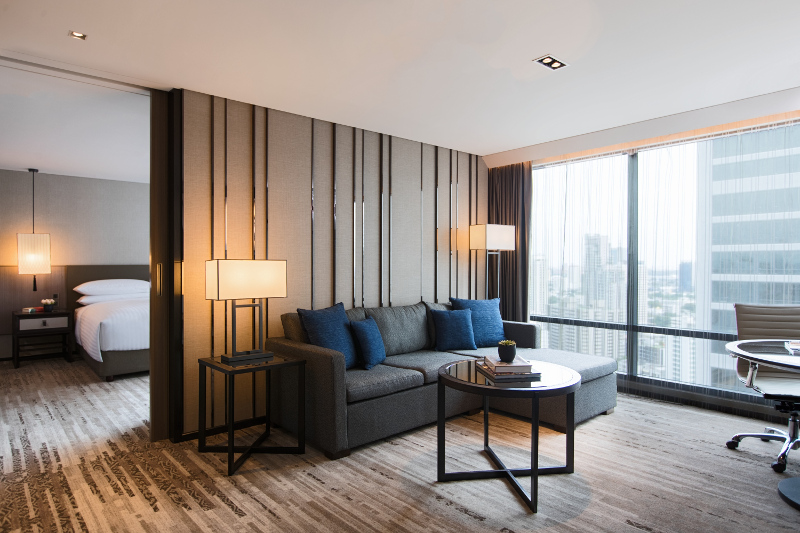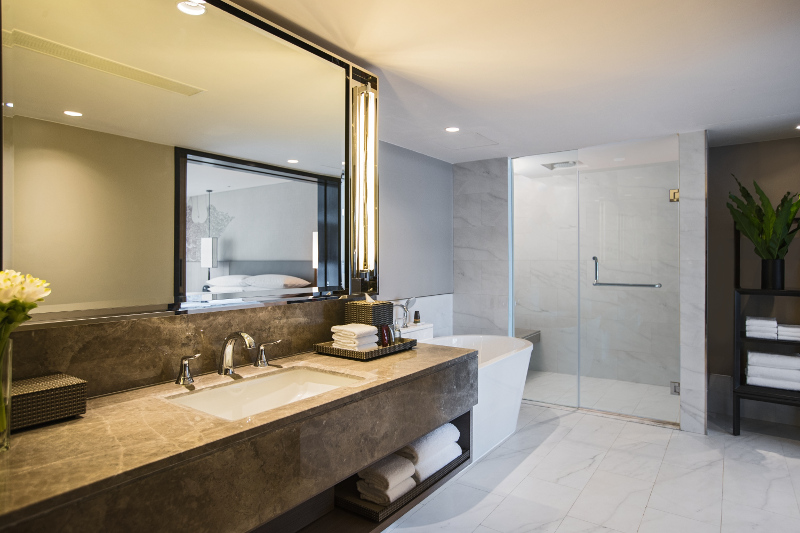 Post breakfast, an attentive hotel staff member walked us to our room, the M-suite on the 29th floor of the North Wing. Tastefully done up with warm earthy colours, our room overlooked both the hotel pools. The bath area was spacious with ample storage space and the in-room amenities were of a high quality. This was to be our home for the next week. Laveena looked at me and said, " somehow I don't think we're going to miss the Siam Kempinski as much as we thought we would." Another attraction for us was the fact that the hotel was a short walking distance from Phrom Phong BTS station. This distance would be further shortened if the hotel offered access through the park. We were told that permissions were sought and the paperwork was underway. The hotel, however, does offer a shuttle bus service for those who prefer not to walk.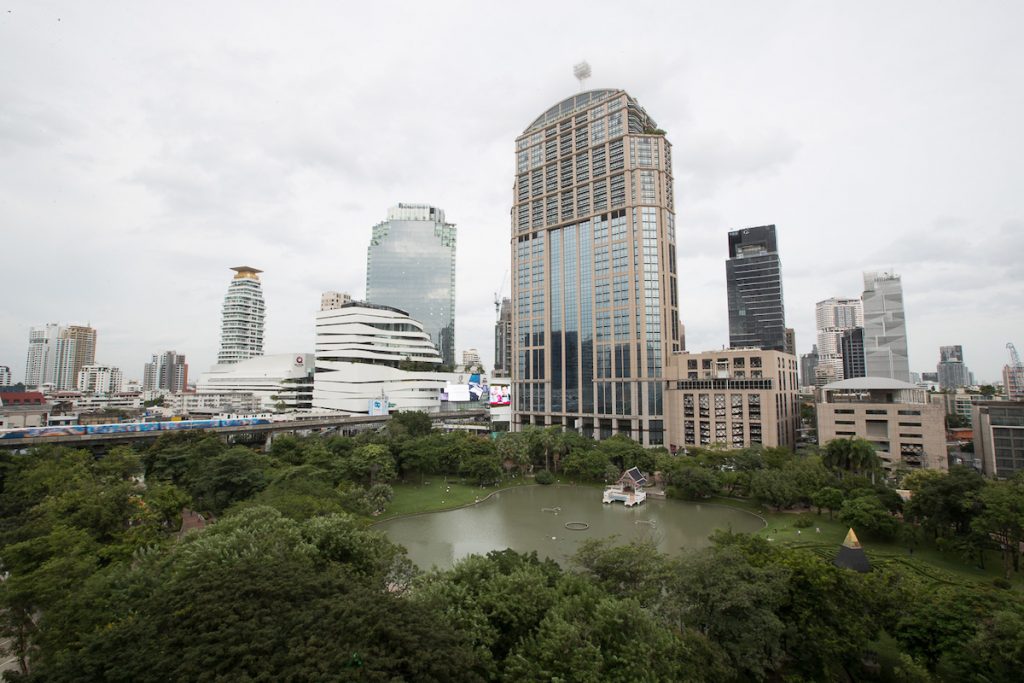 After a quick nap on the Marriott signature 'Revive' bed, we stepped out to explore the area. Given the innumerable times we have traveled to Bangkok, we do know this area, but do not frequent it as often as we do the Ratchaprasong and Pathumwan areas. We were therefore excited to be living in this part of the city for a change. The grand high-end mega mall, EmQuartier is located a short walking distance away and is connected to one of Bangkok's older yet well-known luxury malls, Emporium which recently has seen a complete refurbishment. Visitors can spend an entire day at the Em District which comprises of Emporium, EmQuartier and the still under construction EmSphere, a futuristic glass dome-shaped structure next to Benjasiri Park, tipped to be ready by early 2018.a Top-end fashion branded stores like Louis Vitton, Prada, Valentino, lower end brands like Zara, Uniqlo, HnM, Morgan, Jaspal, Forever 21, beauty shops, restaurants and the cinema are all housed under one uber luxury roof. Although it was our first day in Bangkok, we couldn't avoid shopping and after spending a couple of hours at our favourite stores, we walked over from the Glass Quartier to the Helix Quartier for lunch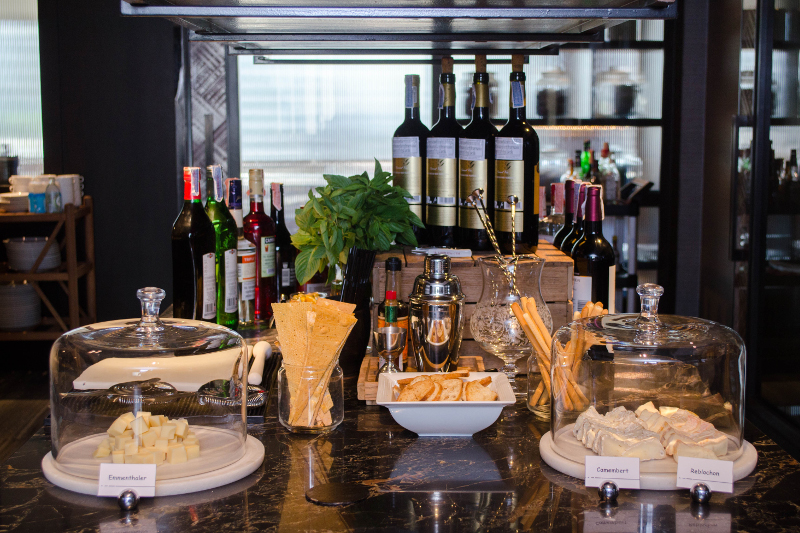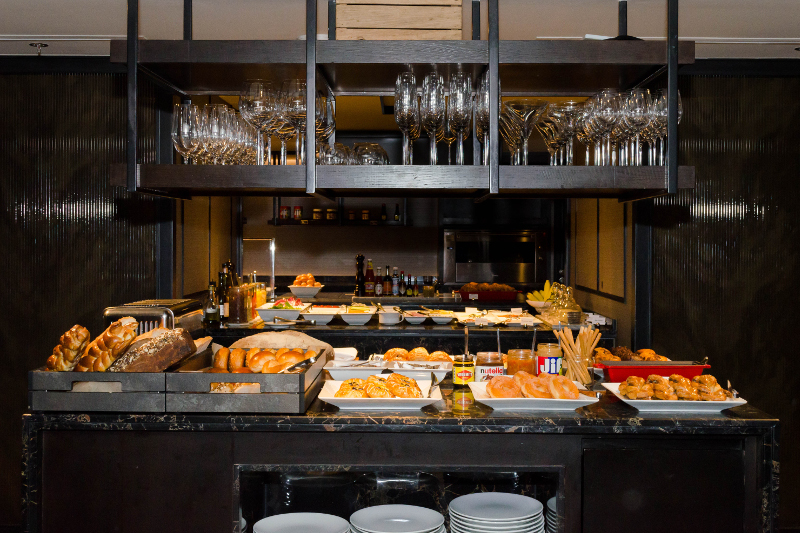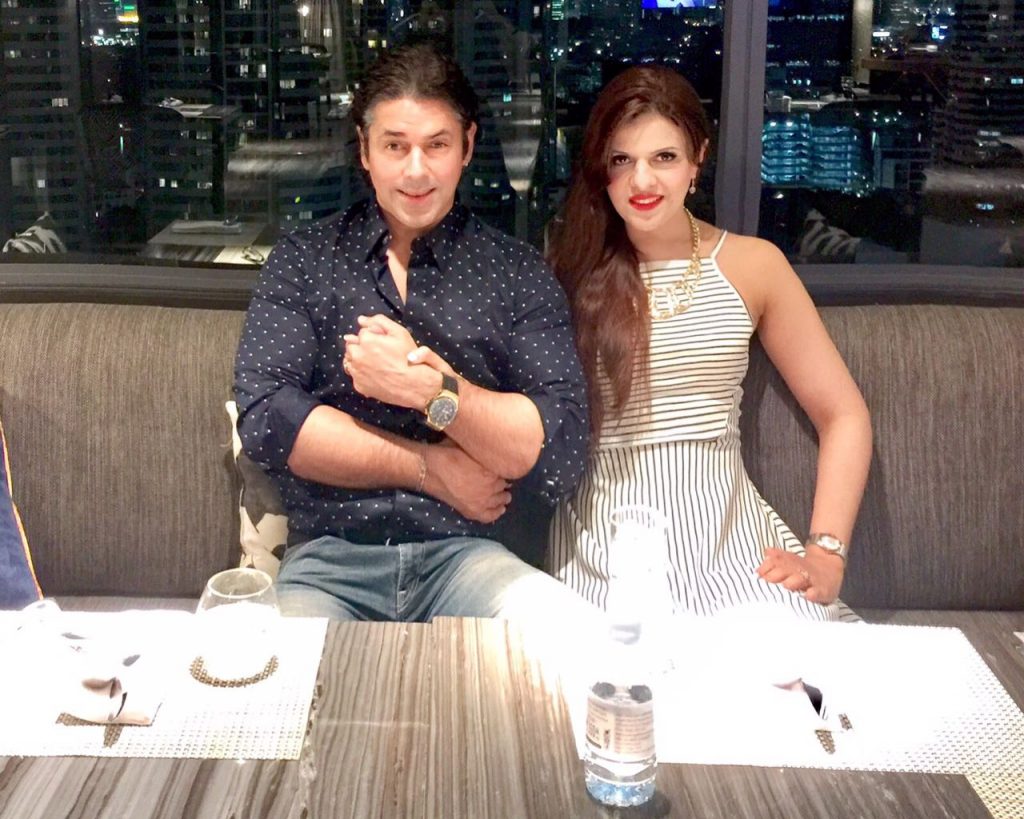 We returned to the hotel, dropped off our shopping in our room and walked over to the M-lounge, located on the 27th floor of the South Tower, for cocktails. Hors d'oeuvres hour at the M-Lounge begins early, at 1730 hours and stretches on all the way until 21:30 hours. That is a generous four hours on offer by the hotel, a gesture which many guests we spoke with said they truly enjoyed and appreciated. There is an open air section at the lounge with impressive design elements and mesmerizing panoramic views of the city. The staff at the M Lounge are beyond fantastic. With ever genuine smiles, these lovely ladies take such extreme pride in serving and in making sure that you are well looked after, that it makes your time spent at the lounge very special indeed. Our glasses were never empty and we had a chance to try most of the delicious horsd'ouvres while there.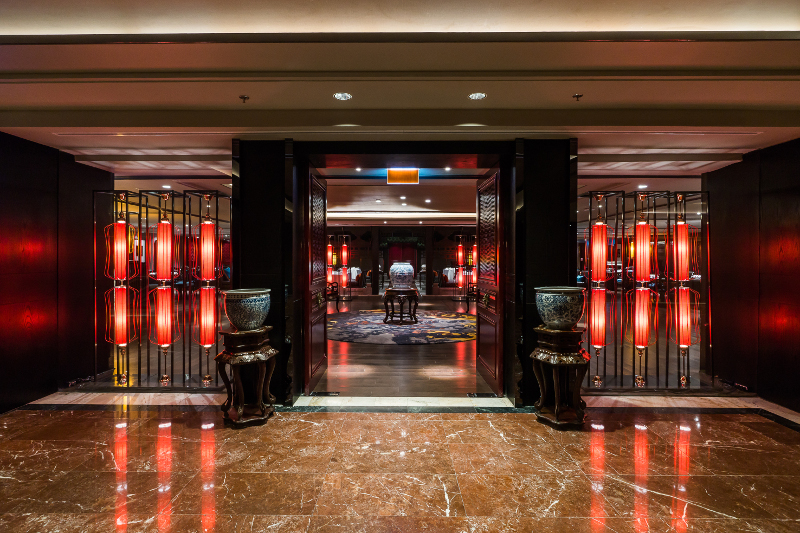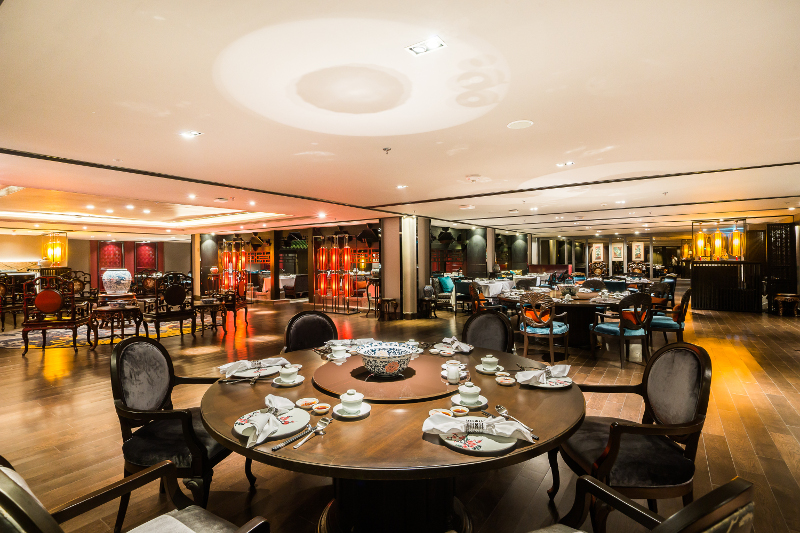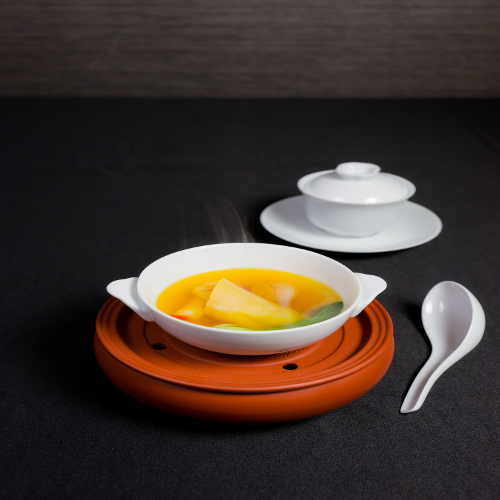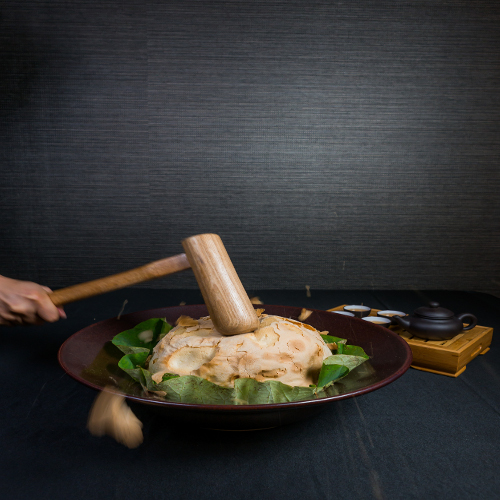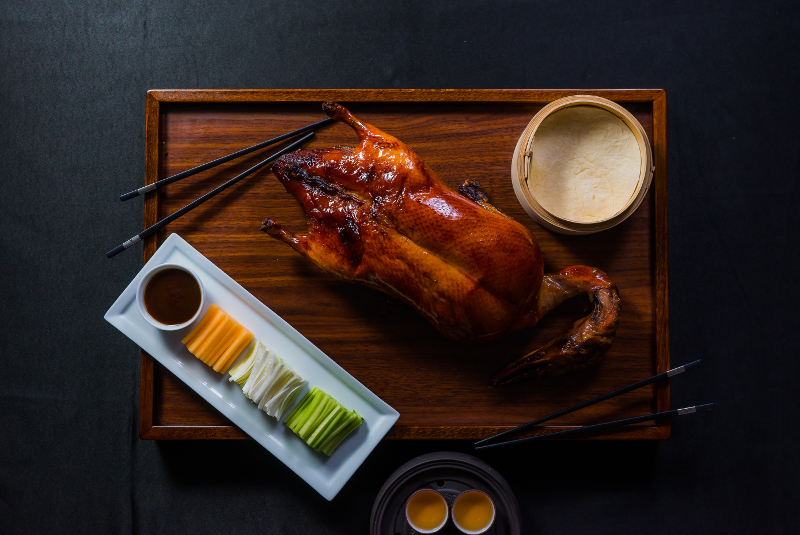 For dinner, we were booked at The Pagoda Chinese Restaurant, a fine dining Chinese restaurant with a menu put together by an award winning Chef, Oscar Pun. We had heard about the remarkable culinary experience of other guests at The Pagoda and looked forward to sampling the Chef's twist on classic Cantonese Cuisine. The luxurious Chinese decor we were told is inspired by the timeless grace and elegance of the Middle Kingdom. Red lanterns, high ceilings and the typical touches of chinoiserie added flavour to the opulent ambiance. I consider myself to be a bit of a Chinese food connoisseur and was suitably impressed with the dishes which were recommended that evening. We particularly loved the Fish Maw Soup with Morel Mushroom, the chicken wrapped in lotus leaf and the sticky rice with crab in a bamboo basket and the Hong Kong Style Barbecued Peking Duck.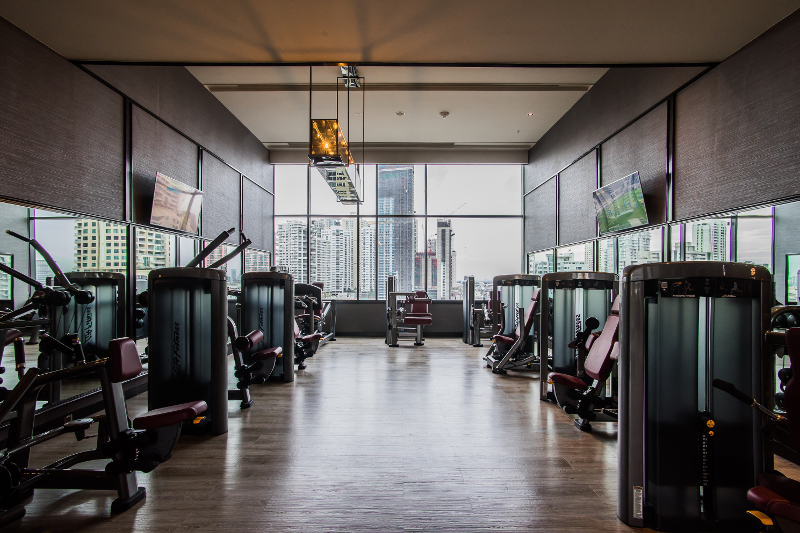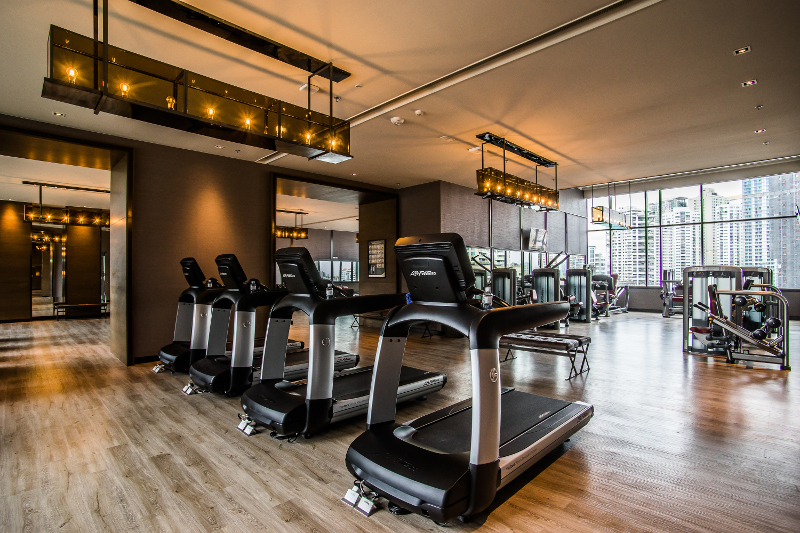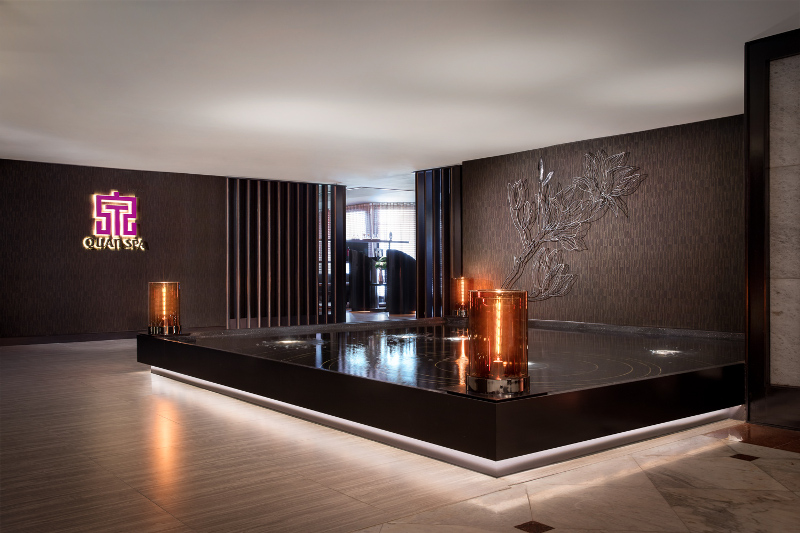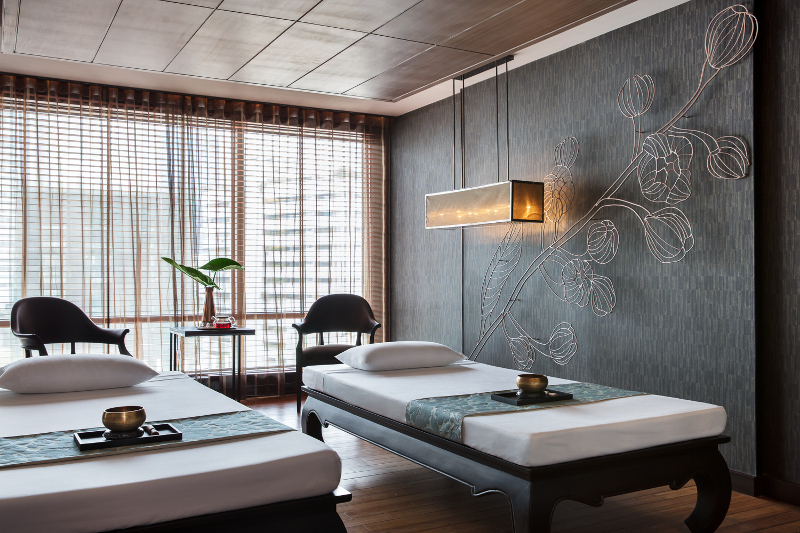 The next day, Laveena and I experienced the magic of the hotel's Quan Spa. After a vigorous work out at the very well equipped 24-hour gym, located in the North Tower, we walked over to the Quan Spa where we were booked for a 3-hour long signature treatment. The sensual fragrances which greet you when you enter the spa area help you to instantly relax. We were introduced to our female therapists who carefully explained the different nuances of the royal treatment we were about to have. What followed over the next three hours was nothing short of extraordinary, almost like a master class in extreme relaxation, a tryst with divinity, within a mystic haloed realm, surrounded by soothing and evocative spa music accompanied by the soft and gentle touch of highly trained masseurs. We both emerged from the couple's room energized and feeling younger.
The Marriott Marquis Queen's Park maybe a larger than life hotel, however, we never found it to be chaotic or overcrowded at any point of time during our stay. There is an almost invisible harmony amongst the guests, a silent secret code of camaraderie and the staff has that distinct warmth that Thai hospitality is so well known for, with a perfect blend and balance of American effervescence. They are all super friendly, kind and above all, caring. I can imagine the lengths the hotel must have gone through to perfectly train them. The telephone instruments in the guest rooms have an option to dial up an "at your service" option. Although this isn't new to us as we have experienced it at a number of different branded hotels, never before has the response been as prompt and efficient as was experienced at the Marriott Marquis. If we dialed for ice, within minutes the ice would be delivered and there was always a follow-up callback inquiring if the service was satisfactory and if there was anything else they could help us with. No doubt these services are often taken for granted in this day of high competition among luxury hotels, but for the cost of a room at the Bangkok Marriott Marquis Queen's Park, is the best value your money can buy. And Travelmango certifies and backs that wholeheartedly.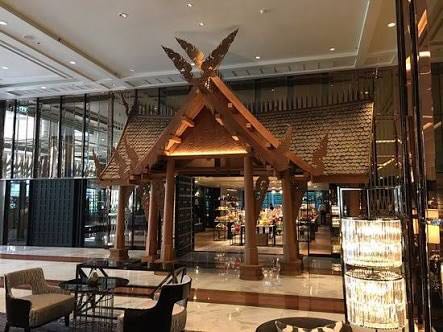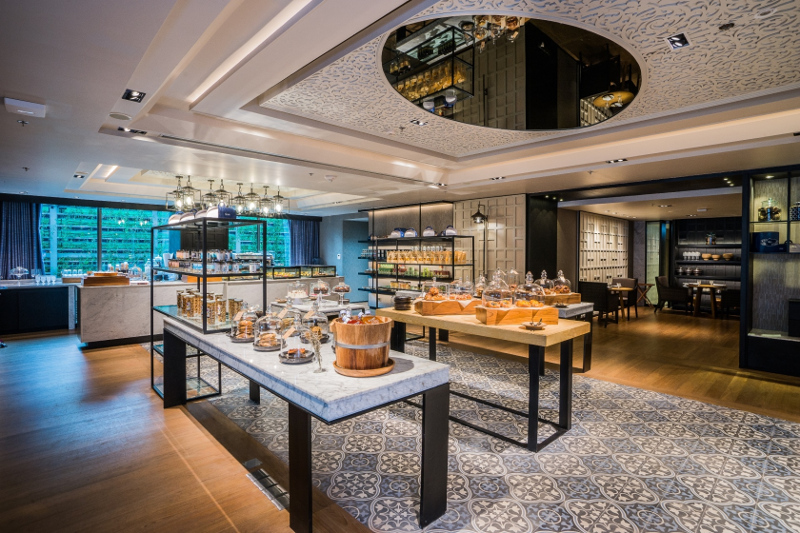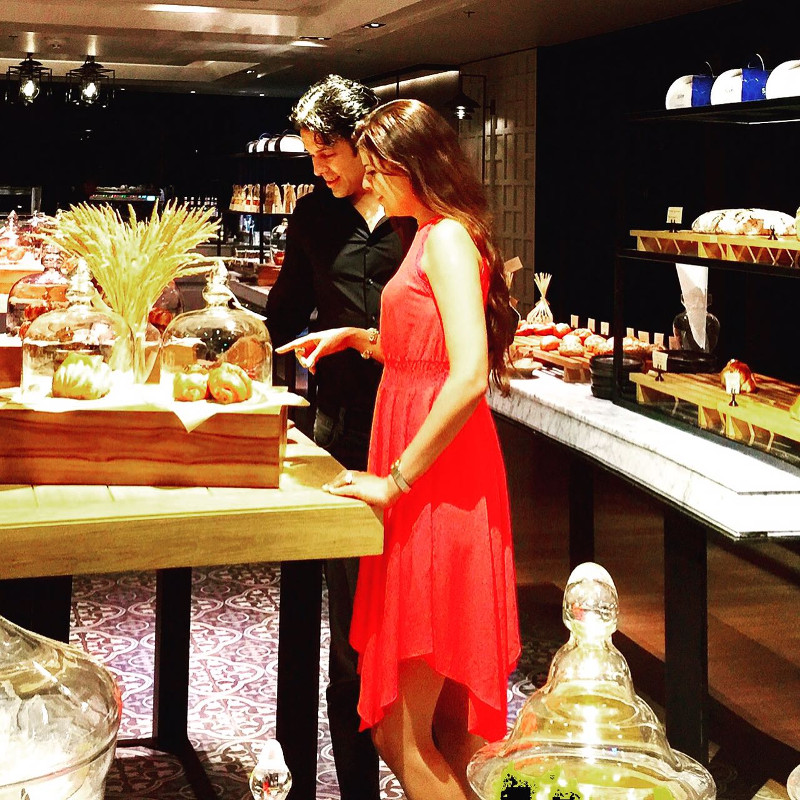 Although we missed dining at the Japanese Soba Factory which we have heard is truly fantastic, we did feast at The Siam Tea Room, which far surpassed our expectations. The sophisticated decor is Thai contemporary with an eye-catching wooden sala for an entrance, designed by a prominent local artist Khun Thawan Duchanee. When you walk in, you first think you have entered a delicatessen. There are freshly baked goodies, fluffy hot cakes drizzled with castor sugar and swirls of ricotta cream cheese and toast slathered with pandan and coconut custard. These are enticingly plated and presented. However, the restaurant manager guided us past all these goodies into the main restaurant where Head Chef Khun Anukul Poolpipat cooked up some delicious Yum Som Chun (Spicy salad), Tom Kha Khai (coconut milk soup) and some mouth waveringly yummy, Pad Kaprao for us. For dessert, the Chef recommended the Kanom Pang Sangkaya ( toasted brioche with young coconut and pandan custard).
In December, we have planned our 111th visit to Thailand. After a 5 night stay in Kho Yai, we will return to Bangkok. And although Siam Kempinski did serve us remarkably well for years on end, Laveena and I now have a new home in Bangkok. And I am proud to say it is indeed the Bangkok Marriott Marquis Queen's Park, a hotel which we both love and recommend highly, to all our readers.
---
The Bangkok Marriott Marquis Queen's Park (Thailand)
---
• Location:
Google Maps
• Address: 199 Sukhumvit Soi 22 Klong Ton, Klong Toey Klong Toey Bangkok, 10, 10110, Thailand • Hotel website:
The Bangkok Marriott Marquis Queen's Park
---
Our Rating
---
Location: 8/10
Food and Cuisine: 9/10
Design: 9/10
Rooms: 9/10
Service: 8/10
Overall experience: 8/10
---
Articles you May Love To Read
---
THE DHARA DEVI IN CHIANG MAI THAILAND
---
THE SIAM KEMPINSKI BANGKOK
---
Follow me on
Facebook
,
Instagram
and  
Twitter
 for some amazing travel posts
---