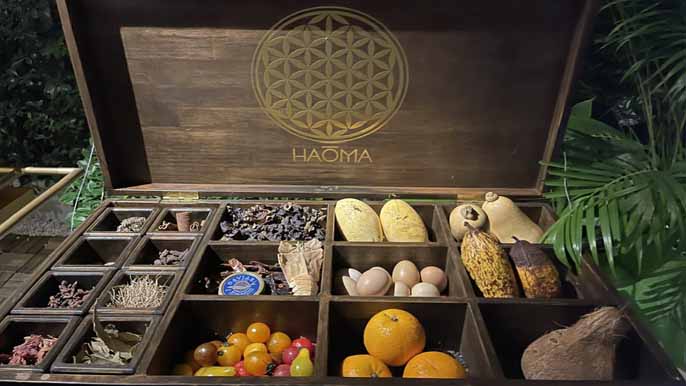 AUGUST 19, 2023 BY TRAVEL MANGO
Haoma - Chef Deepankar Khosla's gift to the culinary world
While in Bangkok, Laveena and I celebrated our country's Independence Day by embarking on a fascinating culinary journey through incredible India. Each of our courses at the Single Michelin Starred Haoma, Thailand's first urban farm and zero waste restaurant, was remarkably unique. Every taste we were treated to, accentuated the rich and diverse cultural nuances of India, a distinct reflection of one of the world's most ancient and beguiling civilisations.
Chef Deepankar Khosla (DK), is infinitely talented. He is recognised, respected and celebrated in Asia and beyond as a sustainable genius. At Haoma, he shared his artistic presentation of a variety of Indian flavours, each reflective of his intimate and personal connection with different locations in India.
Through colourful postcards at his tastefully done up restaurant, and with an exciting wine paring menu which held ample promise, DK and his team of merry waiting staff, set out to amaze us.
Our gourmet journey lasted 3 extraordinary hours. Each bite had cleverly balanced and perfectly seasoned tiny bursts of explosive flavours which instantly connected us with parts of India's unique and celebrated epicurean past.

From Benaras to Goa, Rajasthan to Madras, from re-invented street favourites like chaat and vada pav to richly flavoured specials favoured by royalty like Kakori Kebab, Haleem and Nali Nihari, DK made sure we experienced it all.