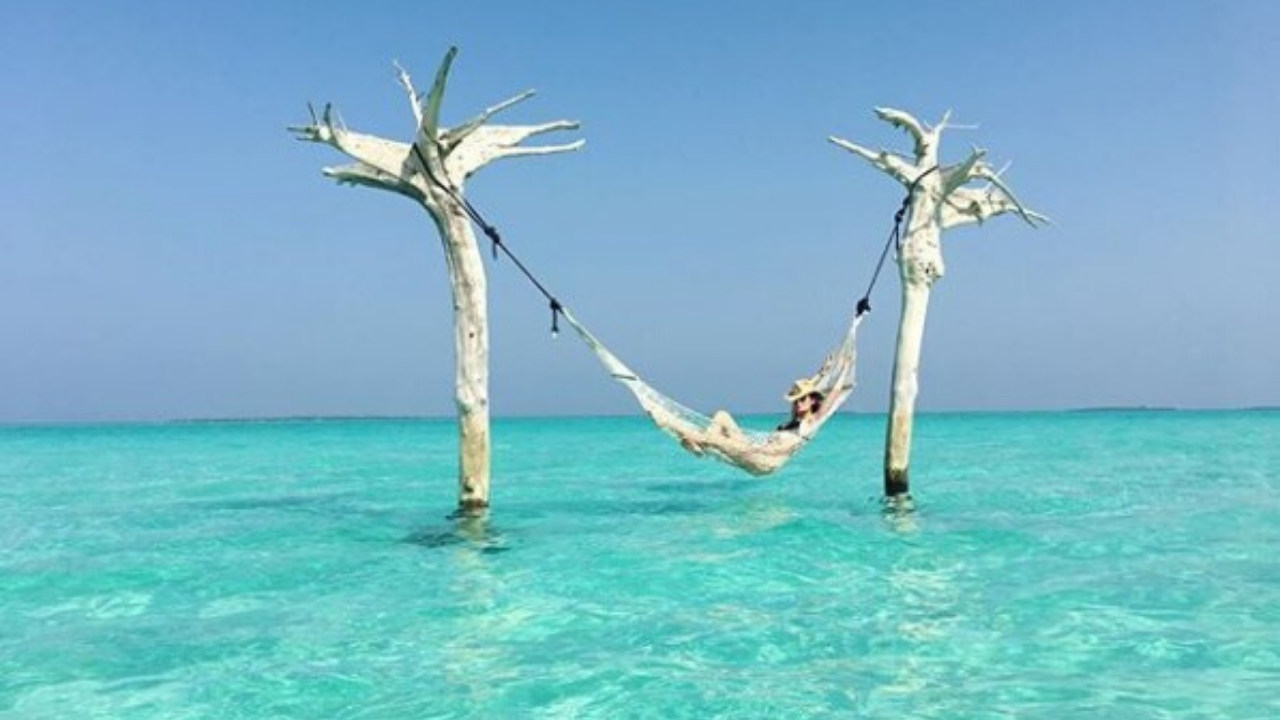 JULY 01, 2020 BY SAJJID MITHA
Soneva's New Buyout Offer Lets Guests Truly Experience the Castaway Lifestyle
Guests can "buy out" Soneva Fushi's One Island One Resort starting and USD 100,000++ per night in the Maldives
July 1, 2020: Have you ever wanted a whole island in the middle of the Indian Ocean all to yourself? Does the idea of a tropical resort in the Maldives devoid of anyone save your nearest and dearest, fill you with a sense of calm during these uncertain times?
Soneva's recently announced a limited-time Island Buyout Offer, valid for stays between now and September 1, 2020 at Soneva Fushi. The Island Buyout Offer lets guests truly immerse themselves in the castaway luxury holiday. Enjoy Soneva's spacious villas, gourmet dining, and unforgettable experiences in the utmost privacy and seclusion for USD 100,000++ per night at Soneva Fushi in the Maldives. Charter a private jet, gather together your favourite people and escape to your private island or resort for sun, sand and sea.
The price is inclusive of accommodation in any of the one- to nine-bedroom villas for as many friends and family as desired, and does not include any meals, experiences or transfers. Create fully bespoke itineraries or make it up as you go along, depending on how many castaway experiences you wish to enjoy. Soneva's resorts and islands transform into personal havens with empty beaches. Watch your favourite films at Cinema Paradiso beneath the stars where every screening is private, and tempt your palate on international gourmet cuisines as Soneva's restaurants become your personal kitchens. Indulge in all the ice creams, sorbets, chocolates, cold cuts, cheeses and preserves without wondering if anyone has noticed this is your eighth ice cream that day.
Resort buyouts are perfect for going ahead with your family vacation, reunion or private celebration, and making sure it is just the way you want it to be even during these challenging times. Each resort is operating as usual, but without the worry that the restaurants or experiences might be booked out before you get there. Cycle trails through the island jungle or have the beach or sandbank all to yourself for cocktails at sunset at Soneva Fushi.
Due to the COVID-19 outbreak, travel restrictions do apply for guests arriving in the Maldives and transiting through certain countries. It's best to check Maldives Immigration requirements regularly for the latest travel advice. Soneva is closely monitoring the evolving COVID-19 situation and has implemented a robust prevention and management action plan to safeguard the health of our guests and Hosts during this time.
Our prevention and protection plan includes a comprehensive sanitisation programme across the resorts and enhanced sanitisation protocols, emergency quarantine and containment procedures, screening and a detailed awareness programme for our Hosts. A detailed FAQ is available at this link.
Soneva also has a flexible cancellation policy during this time. For more information about Soneva, visit
www.soneva.com
- Ends -
About Soneva
Soneva is a pioneering family of hospitality properties, offering holistic encounters in luxurious and inspiring environments – from world class resorts to outstanding natural locations.  Soneva Fushi, Soneva Jani and Soneva in Aqua in the Maldives, and Soneva Kiri in Thailand rebuke the traditional concept of luxury and instead promise the luxury of time, purity and solitude. Every day, guests are encouraged to discover sandy feet, inspired minds and full hearts. Combining luxury with a conscientious approach to sustainability and the environment, and proactively changing the nature of hospitality, it delivers intuitive service and meaningful experiences to the guests. 
For more information, please contact:
Terry Dehdashty
Communications Director
Soneva
19/F Two Pacific Place, 142 Sukhumvit Rd., Bangkok 10110, Thailand
T: 66 (0) 2631 9698 | F: 66 (0) 2631 9699 | E: terry@soneva.com | www.soneva.com
Articles you May Love To Read
---
---
---

Follow me on Facebook , Instagram and Twitter for some amazing travel posts