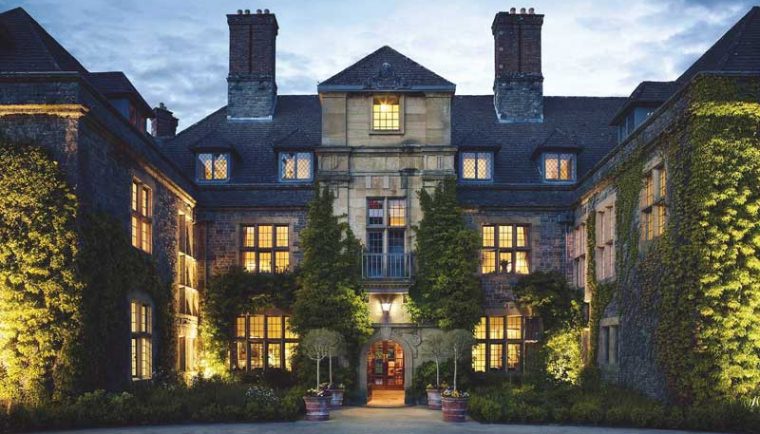 AUGUST 05, 2019 BY SAJJID MITHA
A designer stay at llangoed hall – laura ashley's stunning welsh country home
On the site of the first Welsh Parliament, stands an Edwardian country house hotel. Llangoed Hall was the last of our stops during a recent summer trip to Wales. Of all the remarkable properties we experienced while in the United Kingdom, Llangoed Hall in Llyswen, Powys, was the best in terms of showcasing an ideal mix of a perfect countryside location, a fine dining restaurant on-site, vast manicured grounds, tasteful interiors and exceptional service.
While checking-in, we were told that although LLangoed Hall was built in 1632, it was first converted into a hotel by Sir Bernard Ashley, husband of British textile Czarina Laura Ashley. We were also informed that Prince Charles loved the place and hired Llangoed Hall for one week every year. The place is also a favourite with the Duke and Duchess of Cambridge, with a letter of appreciation from William and Kate displayed at the entrance hall.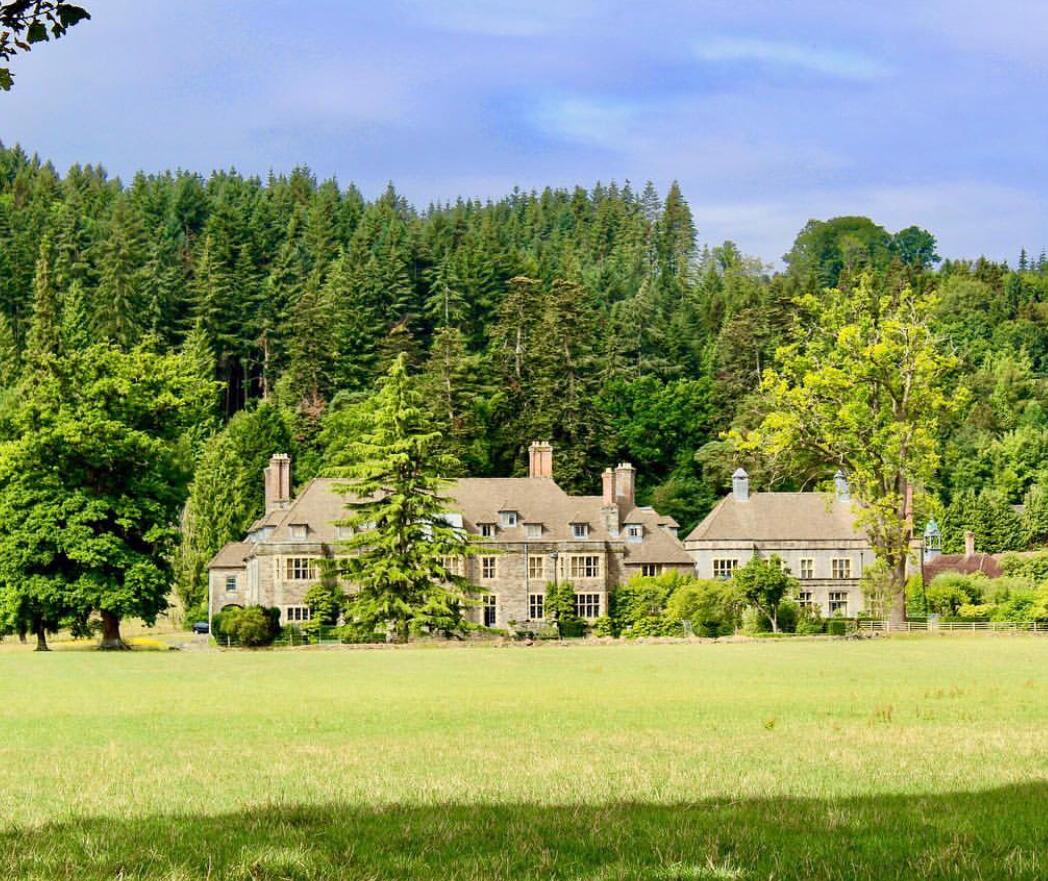 The warmth and hospitality of the service staff is evident from the moment your car drives up the gravelled path, to the main entrance of this magnificent country home. We were welcomed and directed to the tastefully decorated living area where we were asked to be seated. As we sank into the soft comfortable sofas and stretched out our weary legs, we were offered tea in fine bone china. Surrounded by an impressive art collection, a roaring fire place and large windows overlooking the perfectly manicured lawns and the wildflower meadows beyond, we sipped on our hot tea while being checked in.
Before long, we were shown to one of the 23 guest rooms at Llangoed Hall. Ours was a very tastefully decorated stateroom with a four poster bed, bespoke heritage-style floral tapestry and subtle yet chic fabric and furnishings which made up for a rich and aristocratic country room. It all seemed to come together in perfect harmony, creating an ensemble with that inimitable yet distinct flair of Laura Ashley. The bathrooms had parquet flooring, walk-in showers and Branch d'olive toiletries.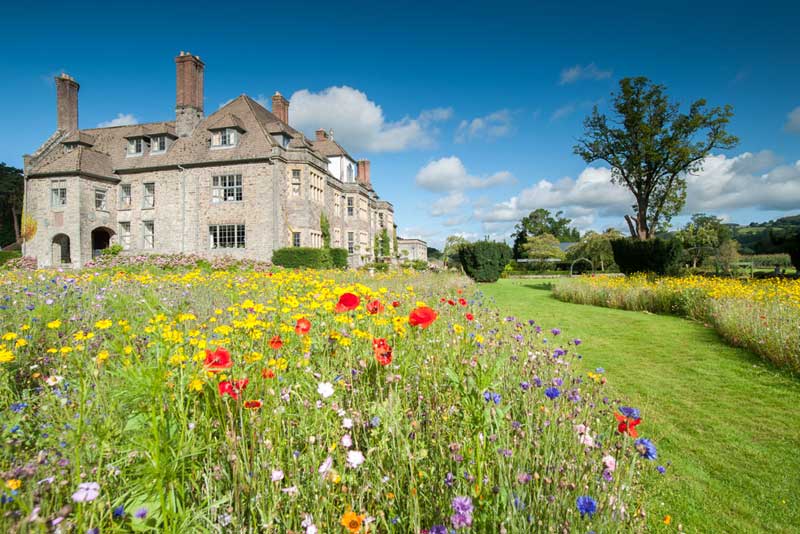 We were happy to see on our table by the window, a decanter of Madeira, with a basket of fresh fruit and bottles of elderflower, our complimentary welcome pack. From a row of windows, we had uninterrupted views of acres upon acres of perfectly landscaped gardens beyond which lay an endless expanse of lush green fields. As Laveena and I sat down to enjoy a glass of sherry, light rain began to fall and we saw the sun peep out from behind two heavy vapour laden clouds. What followed was one of natures most beautiful miracles as a perfect rainbow formed in front of our very eyes. The kind of rainbow which fairytales describe end at a spot where a pot of gold guarded by a leprechaun lays buried. This rainbow arched over the River Wye with the wooded Brecon and the Welsh landscape in the background, completing a divine and colourful Welsh canvas.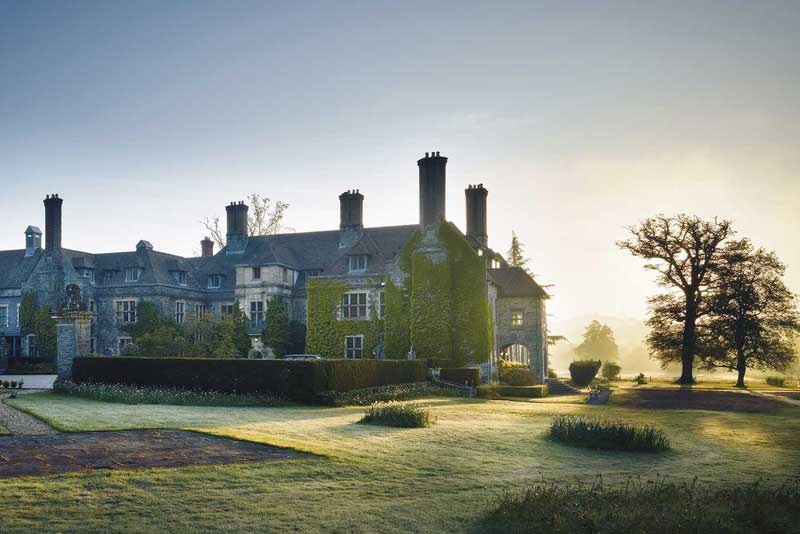 Dinner that evening was at a marvel of a restaurant at Llangoed Hall where the dishes were simply enticing, in both taste and presentation. Chef Nick Bodie is known to use the freshest of local produce, which has won him recognition and ample praise including a coveted mention in the Good Food Guide's top 50 UK restaurants. We feasted on the Lamb tartare, the caramelised duck with Llangoed honey and the black bomber truffle. For dessert we had the chocolate marsala cremeux. We found the menu to be imaginative and cleverly crafted. The dishes we ate were well balanced, delicious and used only the finest of ingredients. And when paired with the freshly baked breads and the home made butter from the smokery on site, you had a meal which deserved to be described in poetic couplets.
Our time at Llangoed Hall was brief, only for a night, and most of this time we spent between our room and walking the vast green perfectly manicured outdoors. When on our walks, we couldn't help but appreciate the Jacobean chimneys and the stately presence of the country house. Thankfully, it wasn't too ostentatious but instead showcased tasteful interiors and Laura Ashley designs which deserved a second and even a third look.
Laveena and I had a long drive back to London the next day and as we were loading our suitcases into our SUV to leave, we looked at Llangoed Hall and together decided that we must return one day to further experience this Breconian haven.
---
Articles You May Love To Read
---
LAKE VYRNWY HOTEL & SPA – A HIDDEN WELSH PARADISE ON EARTH
STYLISH ELEGANCE AT THE FOUR SEASONS HOTEL, SEOUL
---
Follow me on Facebook , Instagram and Twitter for some amazing travel posts
---
Sharing is Caring