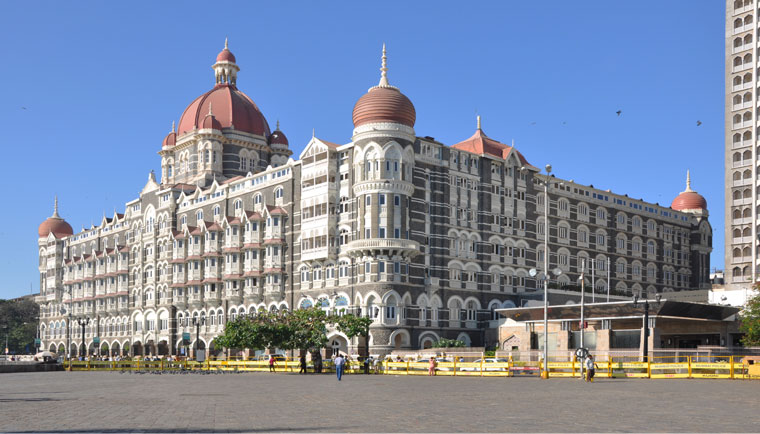 DECEMBER 10, 2014 BY SAJJID MITHA
A very special night at the magnificent Taj Mahal Palace
An evening at the magnificent Taj Mahal Palace never disappoints. And if that evening is followed by a nights stay at this architectural marvel of a property, you are sure to feel special. With its hand woven silk carpets, crystal chandeliers, a cantilever stairway and tall columns and archways, the Taj Mahal Palace is a perfect venue for any grand occasion. And yes, they do make you feel like a true Indian Maharajah. We were here to celebrate Laveena's birthday.
We stayed at the palace wing of what we call the Old Taj, a hotel where many of us friends who were born in Bombay, have fabulous growing up memories of. This historic structure with its glorious 240 foot dome, stands majestically opposite the Gateway Of India. It has 560 rooms, which include 44 suites.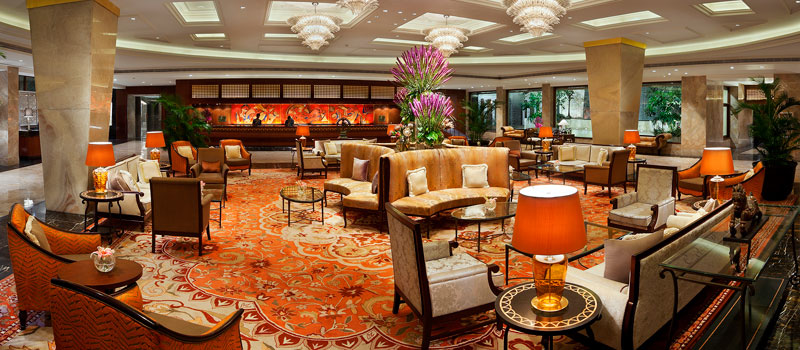 The Taj Mahal Palace has a series of firsts to it's name. The Taj Palace was the first building to be lit by electricity in the city of Bombay, it was the first with an all day dining restaurant, Blow Up was the first discotheque in the city while the first licensed bar in Bombay was also at the Taj.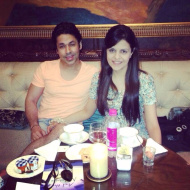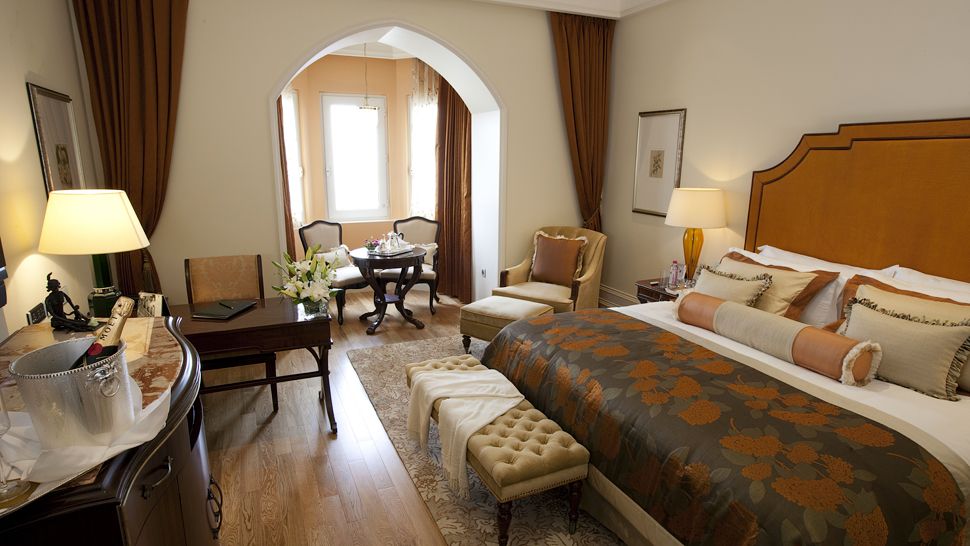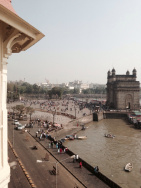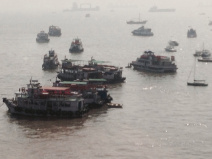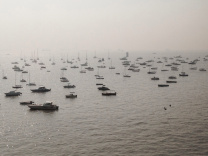 When we arrived at the hotel, Gunjanpreet Sehdeva, the affable assistant manager guest relations at the Taj Mahal Palace, greeted us with a traditional welcome. She garlanded us both with jasmine flowers and on our foreheads she put a red tilak. She then guided us to the lounge at the Palace wing. Since cocktail hours were on, we treated ourselves to some tea and hors d'ouvres before being guided to our room by Gunjanpreet. From our room we had a stunning view of the Arabian Sea and the Gateway of India. Scores of boats bobbed up and down in the murky sea waters of the bay while a handful of gleaming white yachts owned by the very rich and famous could be seen parked in the distance. Hundreds of tourists crowded around the Gateway of India. The women dressed in their colourful sarees mingling with the street photographers amidst the fluttering wings of the pigeons, made for a beautiful sight.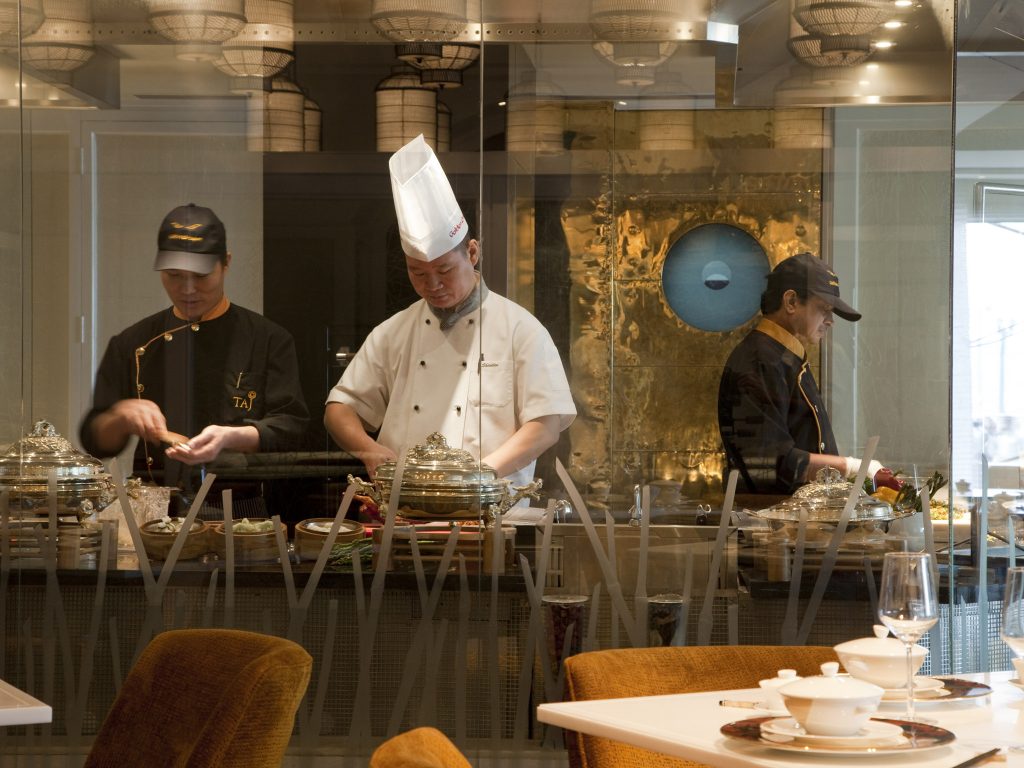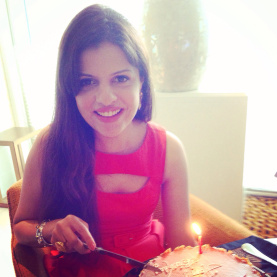 That evening, dinner was at the Golden Dragon. One of our favourite Chinese restaurants in this maximum city. Harsh Champawat, manager of the restaurant went out of his way to make us feel special. The spread we ordered would make a native Chinese drool and we took our time to relish and savour each dish. Since Laveena and I are big fans of Masterchef Australia, our conversation describing the dishes was quite amusing as we both commented on the perfect balance of acidity, spice and sweetness, the crunch and the colours before us on the plate, the texture and presentation of the dishes etc. Dinner was followed by a specially made wheat free birthday cake for Laveena. Beautifully crafted by the talented pastry chef, it tasted as good as it looked. We returned back to our room which the housekeeping staff had decorated with colourful balloons. Generous as they are at the Taj Palace we did not expect more dessert, but the floor staff had another cake waiting for us in the room. This too we were told was wheat free. Rose petals were strewn around the room while a laced pillow with the words happy birthday intricately sewed on was left on the bed with a sweet message from the hotel staff wishing Laveena. On the writing desk, chilling in an ice bucket, was a bottle of champagne from the management.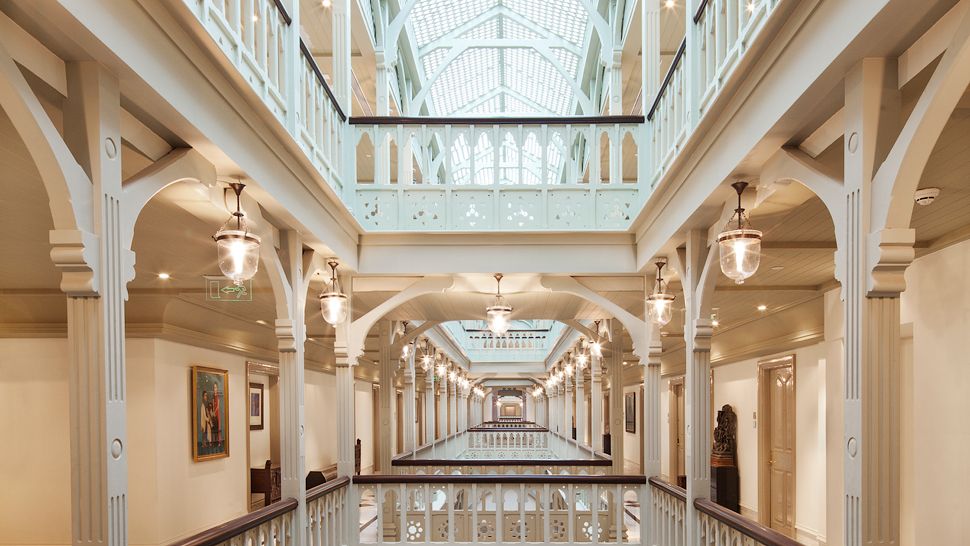 There is something mystically exciting about spending a night in a hotel in the very same city you live in. And when it's the Taj, the levels of excitement climb several notches. The thought about a post dinner walk down the corridors lined with treasure troves of invaluable memorabilia, photographs of royalty, US Presidents and hollywood stars, excites. You walk past high fashion stores, some new, others as old as we are, and continue to walk until you reach the poolside where a sign reads - for hotel residents only.  Then there is that pleasing sense of being a resident and not just a casual hotel visitor which makes you sigh with happiness. Soon after, as a resident, you take the elevator right back to your bedroom where you are ready to spend a very special night. All of this simple adventure was every bit as thrilling as experienced before. Since we are members of the Taj Inner Circle, one of the perks offered is a free weekend night at a Taj property of your choice. We have stayed at the Palace a few times before, twice at the Vivanta Taj President and once at the Landsend. But our all time favourite is the Taj Palace.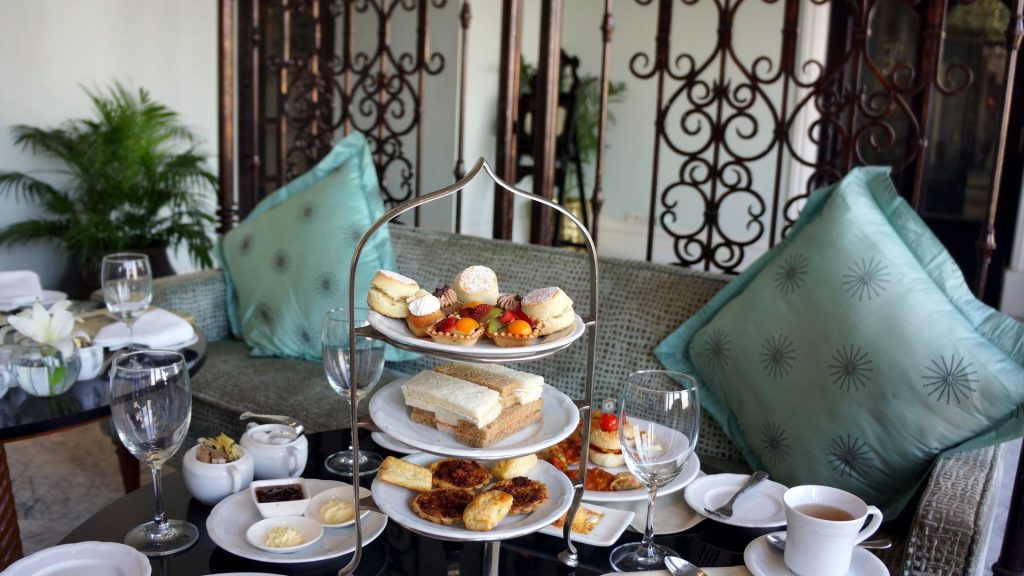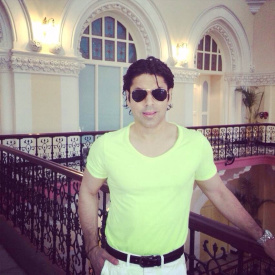 The next morning, breakfast was at the sea lounge. A steaming hot pot of freshly brewed coffee was served by the waiters who, although not young , are very experienced and polite almost to a fault.  They make you feel like royalty and never say no for anything. The dosas we were served tasted like they had been cooked in butter. They were golden brown and crispy and tasted absolutely delicious. More so when dipped in the coconut chutney and sambar. Fresh orange juice, Swiss toasted muesli and farm eggs cooked the way we liked with side orders of smoked salmon and grated cheddar, made for a complete and yum breakfast.
After our heavy meal we went back to the poolside and lay back reading our novels, in one of the cabanas. We interspersed these literary interludes with quick dips in the cool inviting pool water. A couple of lengths and we were back on our lounge chairs. We had massages booked at the Jiva spa at noon and did not wish to be late for these. Inspired by ancient healing, the therapies on the menu are many and difficult to choose from. As soon as the therapists with their holistic skills started the Jivaniya treatments we chose, our stresses were eased as we allowed our bodies to be scrubbed with herbs which we were told were from the hills of India. This was followed by a heat stimulating wrap and a revitalising massage. We embraced the fragrances of jasmine and wild flower and drifted into a space somewhere between heaven and earth, a space I called oblivion, devoid of any worldly tensions, a space where each breath you took was one of extreme happiness and calm.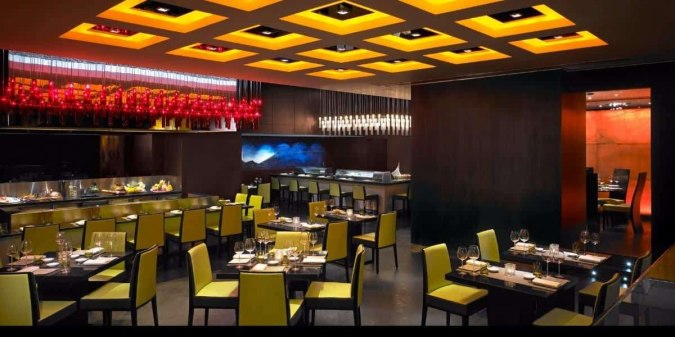 Post our very relaxing massage by our highly skilled therapists we showered and dressed. Lunch that afternoon was at Wasabi. Despite devouring a heavy breakfast, we couldn't wait to feast on our favourite appetiser, the white fish carpaccio and the black cod miso and the teppanyaki sea bass as an entree'. For dessert it had to be the chocolate takoyaki. Wasabi has been recognised by San Pelligrino as one of Asia's 50 Best Restaurants in 2013 and the many treasures on the Wasabi menu from Chef Morimoto's repertoire, never fail to disappoint. We had a late check out, generously granted to us by the hotel General manager, Gaurav Pokhariyal. After a long afternoon nap, we decided to head down for evening tea at the lounge. We were served that evening by Jezan Limzerwala, manager Palace services. Jezan with his ever so charming personality made sure that we were truly well taken care of. His commitment to his job was evident in the fact that his smile never for a minute abandoned him. He was keen to make this experience of ours a memorable one and he even spent time recommending to us a list of exotic must try teas.
An hour later we were ready to check out. Not having a flight to catch to get back home, gave us a sense of ease. A familiar city, a few kilometers from our home, our car and chauffeur waiting to drive us to our home and a hotel in the same city as that in which we lived, all made for a perfect weekend celebratory getaway opposite the gateway.
---
Taj Mahal Palace
---
• Location:
Google Maps
• Address: Apollo Bandar, Colaba, Mumbai, Maharashtra 400001 • Hotel website:
Taj Mahal Palace
---
Our Rating
---
Location: 9/10
Food and Cuisine: 8/10
Design: 9/10
Rooms: 9/10
Service: 8/10
Overall experience: 8/10
---
Articles you May Love To Read
---
A unique 'Runway' stay-cation at the fabulous Taj Santacruz
---
Weekend indulgence at The Taj Mahal Palace, Mumbai
---
The Taj Campton, San Francisco
---
Follow me on
Facebook
,
Instagram
and  
Twitter
 for some amazing travel posts
---