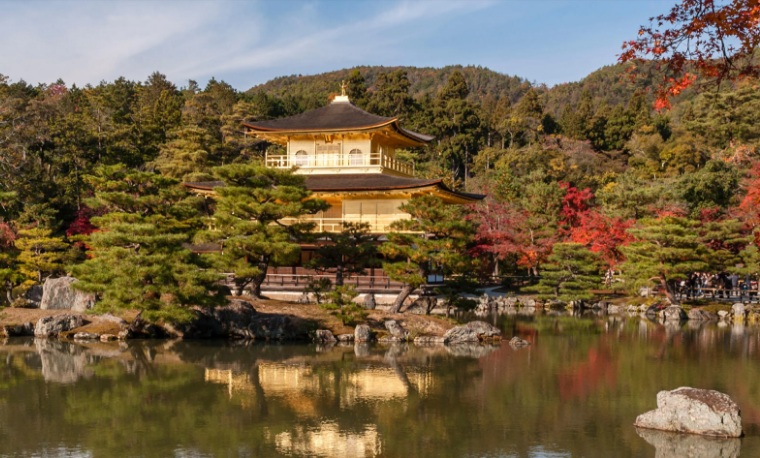 JANUARY 20, 2019 BY TRAVEL MANGO
Aman announces the launch of Aman Kyoto: A secret garden in Japan's ancient imperial capital
Aman is pleased to announce its third resort in Japan with the launch of Aman Kyoto, scheduled to open on 1 November, 2019. Situated in a hidden garden close to Kinkaku-ji Temple (Golden Pavilion), the resort, with 24 rooms and two two-bedroom villas, draws on the country's ryokan (traditional inn) and onsen (hot spring) concepts to provide an authentic yet contemporary Kyoto sanctuary surrounded by nature. Unlocking the secrets of Japan's ancient Imperial capital, Aman Kyoto and its secret garden are just a stone's throw from the city's 17 UNESCO World Heritage Sites, yet feel a world away.
Aman Kyoto is situated in a once-forgotten secret garden that provides a secluded retreat moments from the centre of beguiling Kyoto. Hidden at the foot of the symbolic Mountain of Hidari Daimonji in Kyoto's north, the resort is nestled in forested grounds in the district of Takagamine, within walking distance of the iconic UNESCO World Heritage Site of Kinkaku-ji Temple.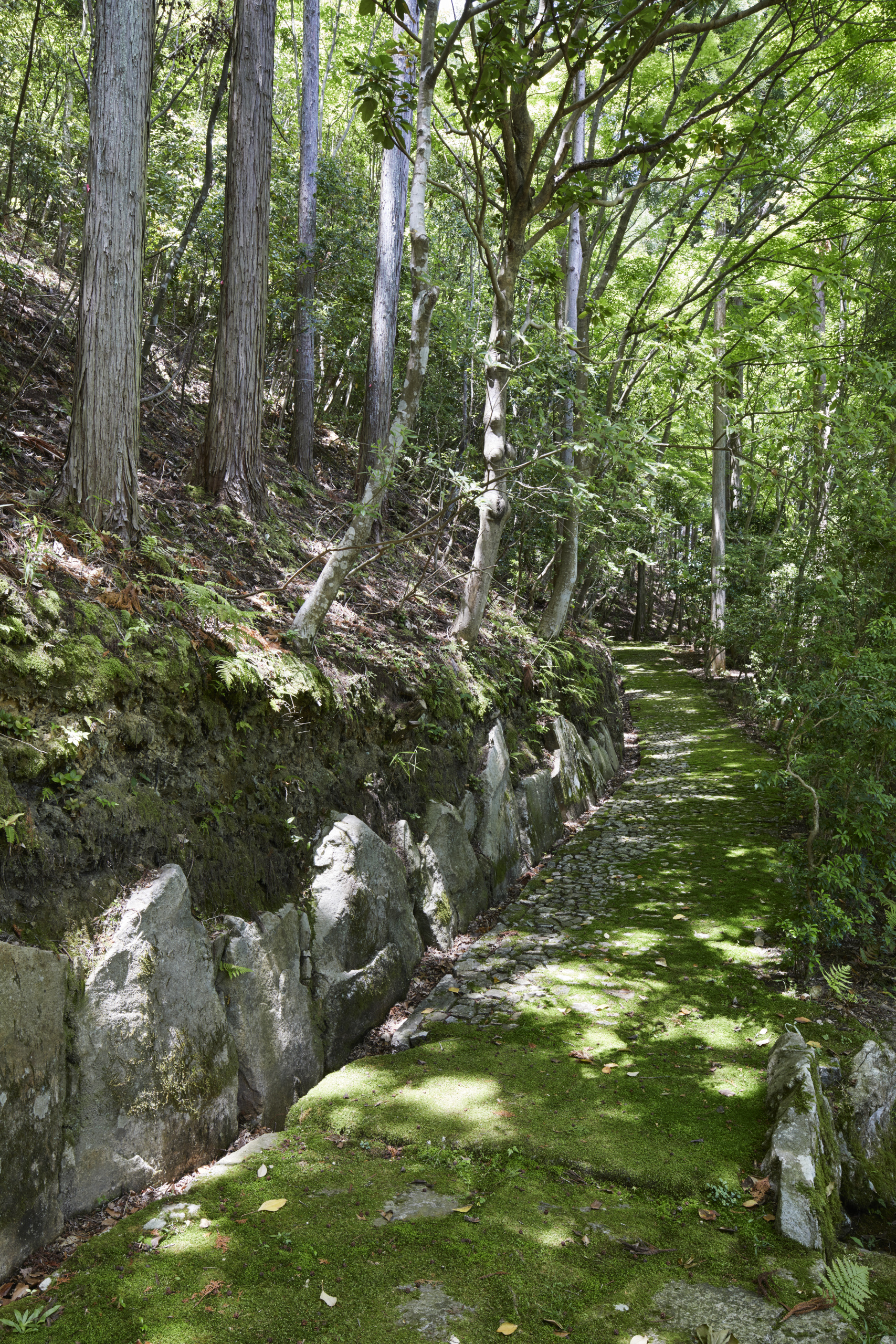 The 80-acre Aman Kyoto site comprises 72 acres of permanent forest and eight acres of exquisite gardens lovingly tended over many decades by the previous owner of the site, who was one of Japan's most respected collectors of the obi (the ornamental sash for a traditional Japanese kimono). His unrealised aim was to house his collection in a textile museum to be built within the garden. Aman is honoured to be the garden's next custodian, giving it a fresh lease of life and protecting its fragile grounds for decades to come.
The garden is formed as a series of manicured platforms, impeccably kept through the years, within a hidden valley, enclosed on one side by a small stream, and on another by a wooded hill. An ethereal landscape of mature trees, which change colour through the year, transports the garden from one season to another. The platforms, originally intended as locations for the buildings of the museum, now provide the foundations for the sensitively designed pavilions of the resort.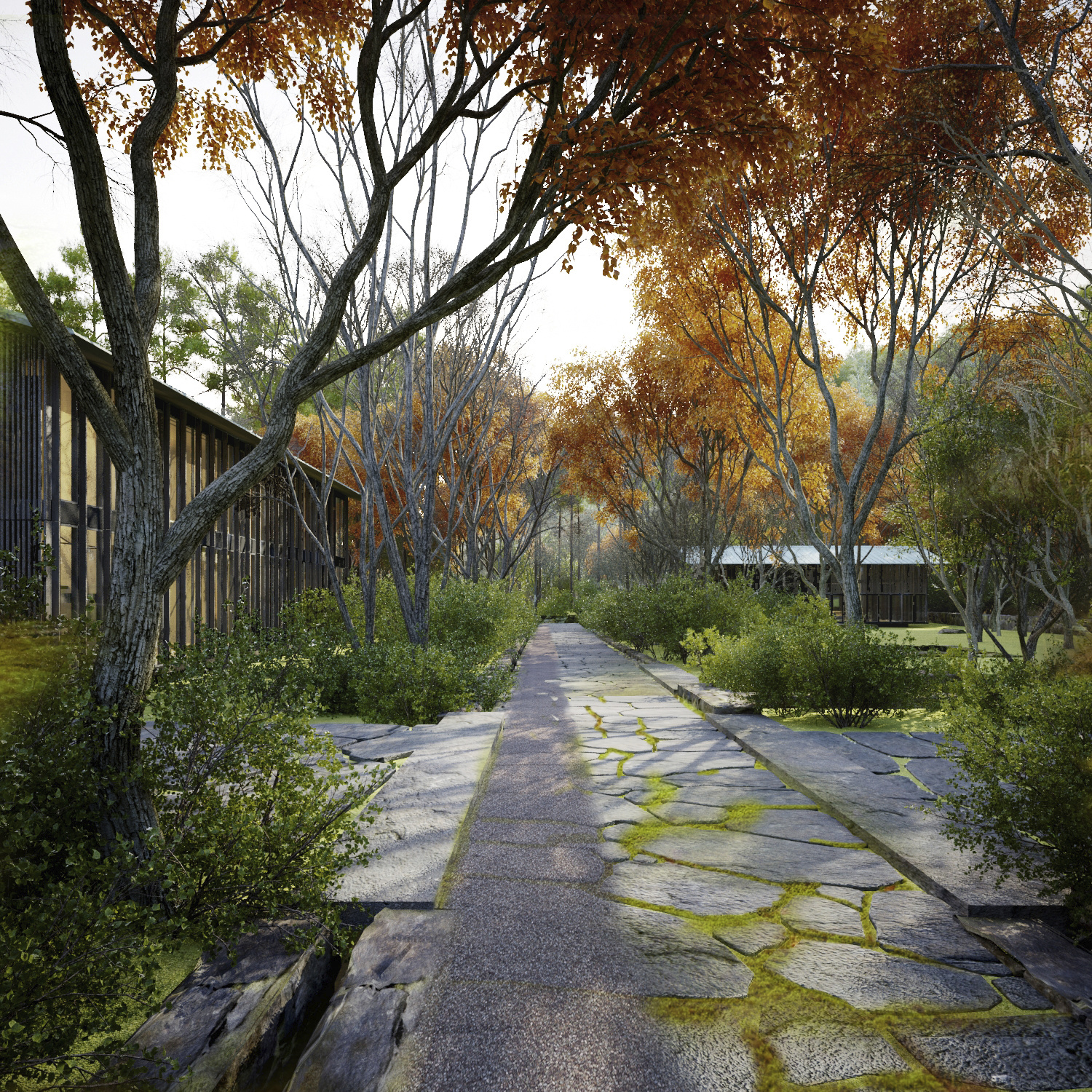 Moss-covered stone pathways laid down by the creator of the garden, some edged in massive cut- stone borders, traverse the site. Graceful garden stairways and pathways lead guests to the upper platforms, and are bordered with colourful yama momiji maples and kitayama-sugi (Japanese cedar) planted in avenues. The garden is cleverly designed to self-irrigate through the collection of rainwater via the site's numerous hidden caves and water tunnels.
Within the formal lawn in the peaceful centre of the site, large granite boulders, originally selected as sculptures by the former owner, define and hold court over the space. The tranquillity and drama of this setting, magnified by the breeze in the trees, has inspired the respectful architectural design of Aman Kyoto.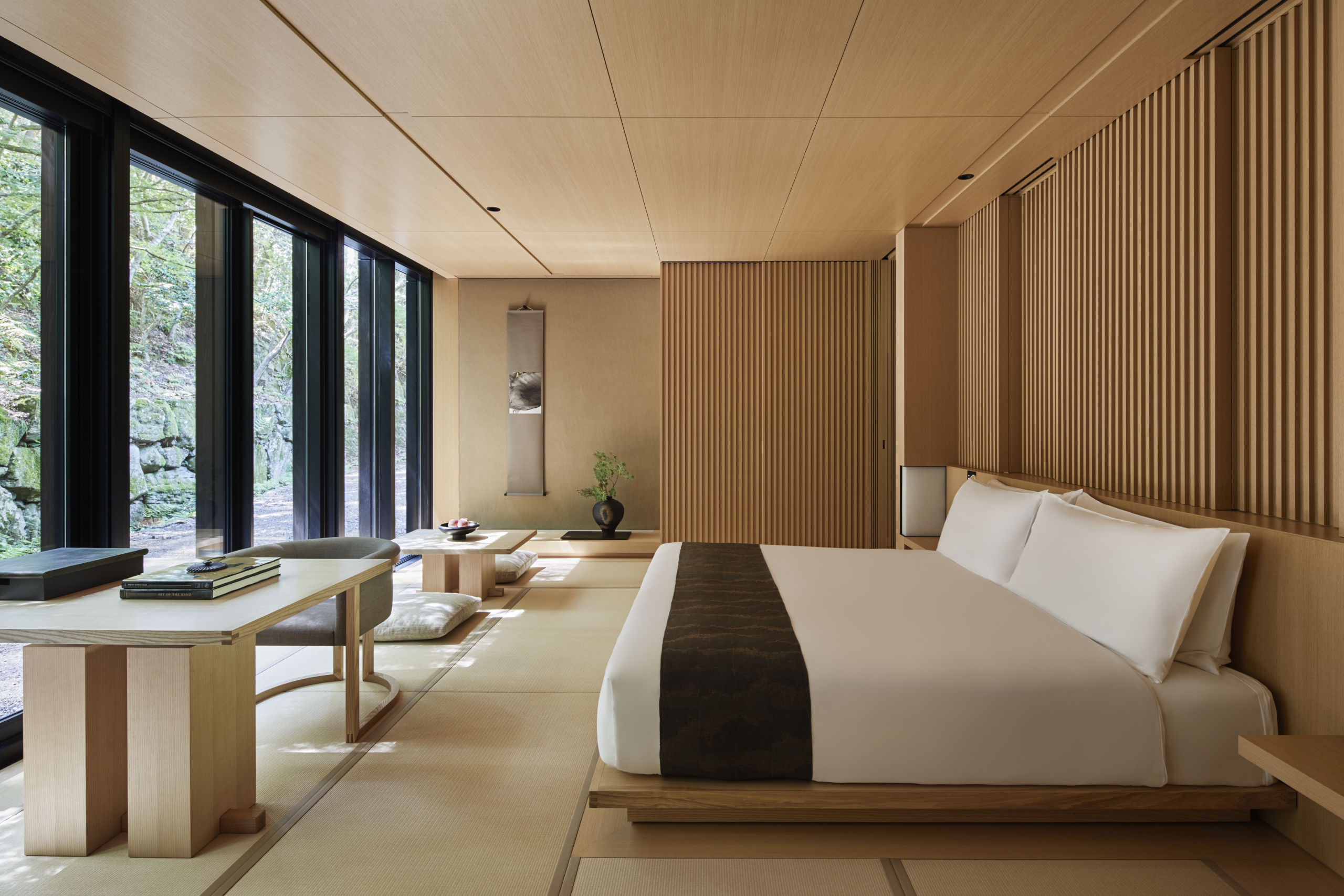 Exemplary in its simplicity, the resort is an architectural masterpiece brought into being by Kerry Hill Architects, who designed both Aman Tokyo and Amanemu. Consisting of a series of standalone pavilions, each with a distinct function, Aman Kyoto includes separate Arrival, Living, Dining and Spa Pavilions, four Guest Pavilions housing 24 guest rooms offering leafy seclusion with garden- or-stream views, and two separate Pavilions overlooking the forest canopy housing a pair of two- bedroom villas of unparalleled luxury.
The intimate scale of the pavilions, with their considered detailing and careful placement within the garden, respects, on one hand the simplicity and appropriateness of traditional Japanese architecture, while on the other allows these contemporary buildings to exist and breathe with the landscape. Calm is always evident; a guest here is free to wander, contemplate and explore.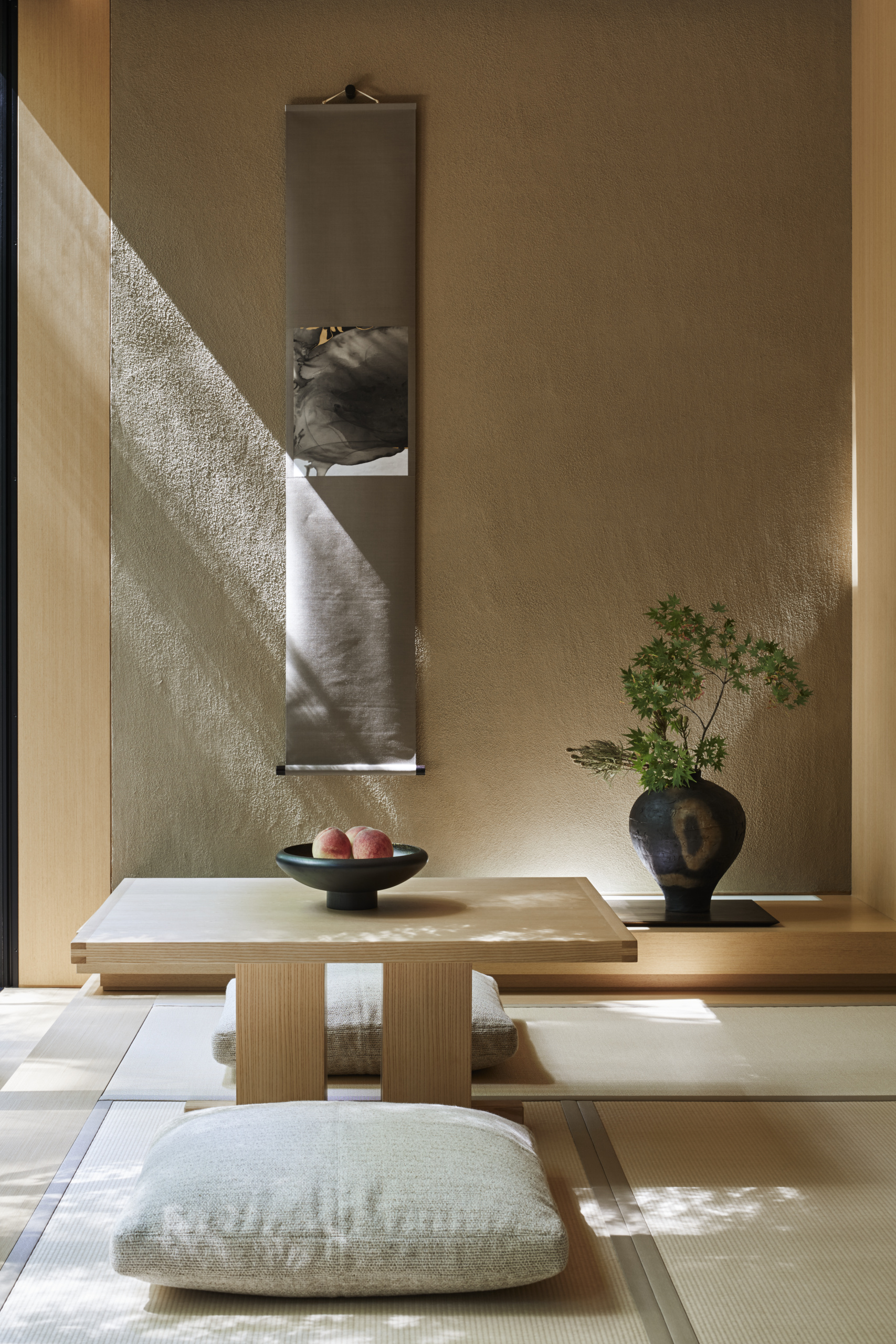 Each of Aman Kyoto's 24 guest rooms and two villas is a contemporary reimagining of the traditional ryokan. Strikingly minimalist in their design, the rooms have floor-to-ceiling windows framing the spectacular natural surroundings, tatami mats covering the floors, and tokonoma (alcoves where items for artistic appreciation are presented) providing a subtle focal point. The interiors are spacious and light-filled – ingeniously crafted to foster peace, relaxation and contemplation.
The colour palette for interiors is neutral, complementing the work of local artisans: handmade raku tile panels grace the Living Pavilion and custom-made ceramic tiles decorate the restaurant. The ofuro bathtubs in each guest room are made of hinoki cypress wood, native to central Japan. All furniture pieces, including traditional Japanese lanterns, have been custom-designed and are exclusive to Aman Kyoto. Carefully selected artefacts, whether vases, artworks or antiques, have been individually selected for each space, celebrating the refined aesthetic and creative values of Japan.
Aman Kyoto's signature restaurant in the Dining Pavilion will be a landmark addition to one of Japan's most celebrated gastronomical regions. Showcasing Japanese haute cuisine, multicourse dining experiences will make use of the finest hand-picked local produce. The convivial Living Pavilion with its central fireplace and glass doors opening onto the zen (ornate stone garden) will be no less inspired. Home-cooked Kyoto obanzai-style cuisine will be served throughout the day, and guests can also enjoy afternoon tea and reserve bamboo picnic hampers to be enjoyed al-fresco in the garden or forest glades. The garden itself is ideal for outdoor events, from small private dinners and functions, to weddings, yoga and mindfulness sessions.
The natural spring water that flows near Aman Kyoto is central to the philosophy at the resort's Aman Spa, and something of great rarity in the region. Traditional onsen bathing facilities, using the water from a local spring, deliver relaxation and healing in their purest forms, while a range of treatments tap into Japan's plentiful natural apothecary – including Kyoto green tea, Tanba kuromame (black beans), local saké, and cold-pressed tsubaki (camellia) oil.
Vladislav Doronin, Chairman and CEO of Aman, said, 'Following on from the success of Aman Tokyo and Amanemu, Aman Kyoto will add another distinctive facet to our continued journey – and commitment - to Japan. Aman Kyoto will embody the true spirit of Aman, blending our profound respect for nature with adherence to simple, yet striking, principles of aesthetics and structure, masterfully brought to life by the late Kerry Hill and his team. We look forward to unveiling the many dimensions of Kyoto through the eyes of Aman and sharing the secrets of our enchanting garden.'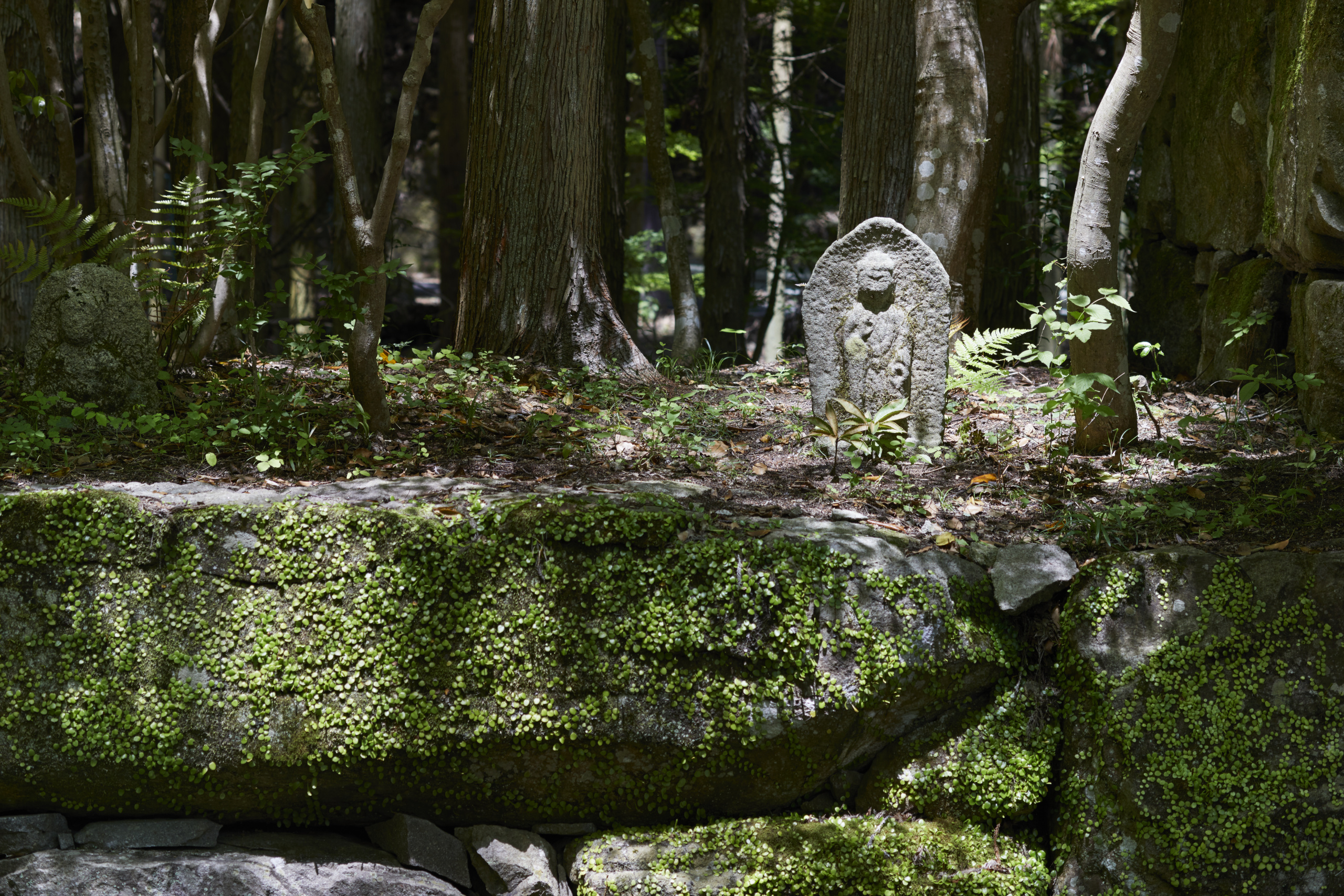 Part of its Japanese portfolio, Aman Kyoto is owned by Kyoto Resorts, a subsidiary of the Chartered Group, which has been the driving force behind this project. Mr Eyal Agmoni, Chairman of the Chartered Group, said 'With the utmost care, craftsmanship and dedication, this garden sanctuary has been over two decades in the making so we can open its doors as an Aman. I am especially grateful to the late Kerry Hill and his team who created an architectural language that not only respects traditional Japanese design, but also celebrates, protects and brings back to life the unique gardens in which Aman Kyoto is housed. I have no doubt that this resort will be met with positive global interest, and will set a new hospitality standard in Japan.'
Aman Kyoto demonstrates the brands commitment to Japan, which will be further strengthened with future announcements pertaining to the Chartered Group's continuous investment in Japan, with a strategic alliance with Aman, which will include the introduction of Residences at Aman Kyoto (2020).
The distinctive and enthralling journey that Aman now presents in Japan includes Aman Tokyo, a sleek sanctuary at the top of the Otemachi Tower in the bustling megalopolis that is Tokyo, to the calm and serene hot-spring resort of Amanemu on Ise Shima's Bay of Pearls, and as of 1 November 2019, the culture-laden ancient Imperial city of Kyoto.
---
AMAN KYOTO
---
• Location:
Google Maps
• Address: 1, Okitayamawashiminecho, Kita, Kyoto, 603-0000, Japan • Hotel website: AMAN KYOTO

(Click Here)
---
Articles you May Love To Read
---
MUSASHI BY AMAN DEBUTS AT AMAN TOKYO, JAPAN
---
AMAN CONTINUES ITS HOLISTIC JOURNEY WITH THE LAUNCH OF AMAN SKINCARE
---
AMAN-I-KHAS; A HAVEN WHERE WILDLIFE AND 7-STAR LUXURY, EMBRACE EFFORTLESSLY.
---
Follow me on Facebook , Instagram and  Twitter for some amazing travel posts
---