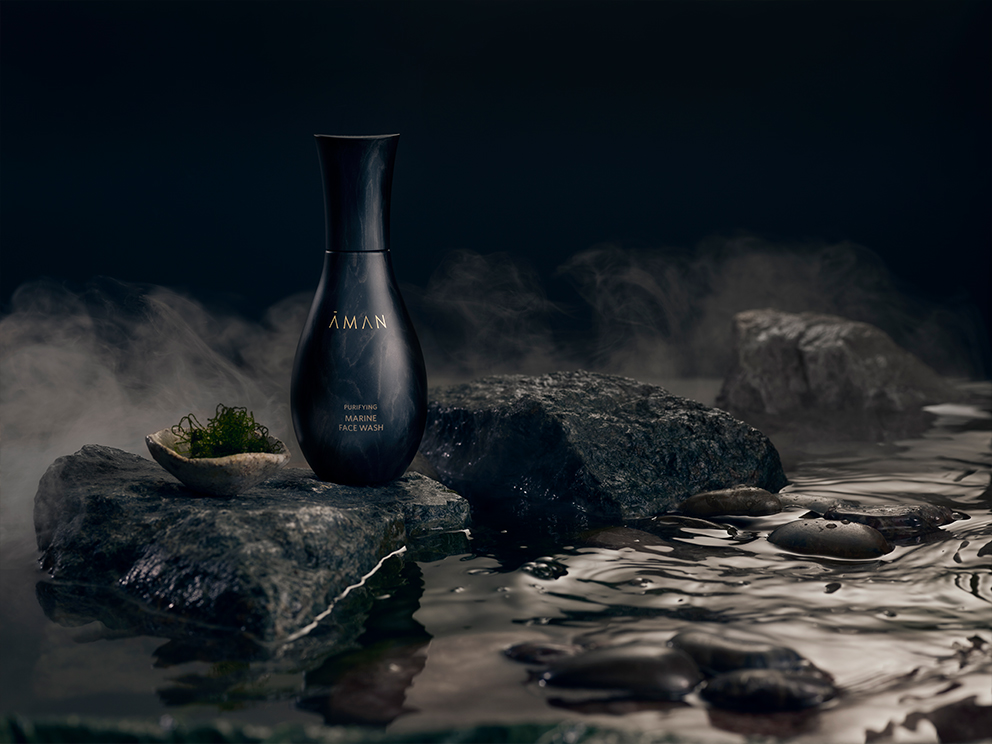 OCTOBER 10, 2018 BY TRAVEL MANGO
Aman Continues its Holistic Journey with the launch of Aman Skincare
October 8: Aman announces the launch of a skincare collection, made bespoke for the brand, which not only embodies and celebrates, but is also inspired by its constellation of hotels and resorts. Introducing a collection of 30 products on the occasion of the brands 30th anniversary, Aman Skincare has been formulated using an exotic roll-call of natural, rare and precious ingredients, many of which have been wild-harvested in various Aman destinations.
The new skincare collection - which includes hydrating face creams and serums, nourishing face masks, upliCing body oils, calming milk baths and pulse-point remedies - represents the spirit of Aman in a bottle, offering a soothing journey to a place of beautifully scented repose and respite from the everyday grind.
The sense of peace, the intrinsic connection with its beguiling locations, and the becalming architecture for which Aman is so renowned, define the design aesthetic for the collection's bottles and jars. Acclaimed architect Kengo Kuma masterfully blended these attributes with Aman's Eastern roots and channelled them into striking vessels, a beautifully craCed reimagining of Japanese porcelain.
For more than 30 years, Aman has created an opportunity for guests to cast aside quotidian distractions and explore the possibilities of a better, more wholly nourished self from a place of serenity. From jungle to desert, countryside to city, Aman welcomes its guests into a comforting and holistic space to connect body and mind. The new Aman Skincare collection inspires a similar journey following the three distinct pathways that harness the natural settings of Aman's locations: mountains and deserts, Grounding and earthy in their essence; oceans and seas – fresh, Purifying and fluid; nature, forests and lush greenery – Nourishing and renewing in the energy they offer.
Vladislav Doronin, Chairman and CEO of Aman comments, "Aman has always delivered a transforming and holistic spa experience, one made all the more profound by the meditative yet dramatic surroundings of our resorts. As a pioneer of resort spas, we are experts in the field of wellness. Creating a bespoke range of skincare products was a natural step in our evolution and is born of many years' experience and research.''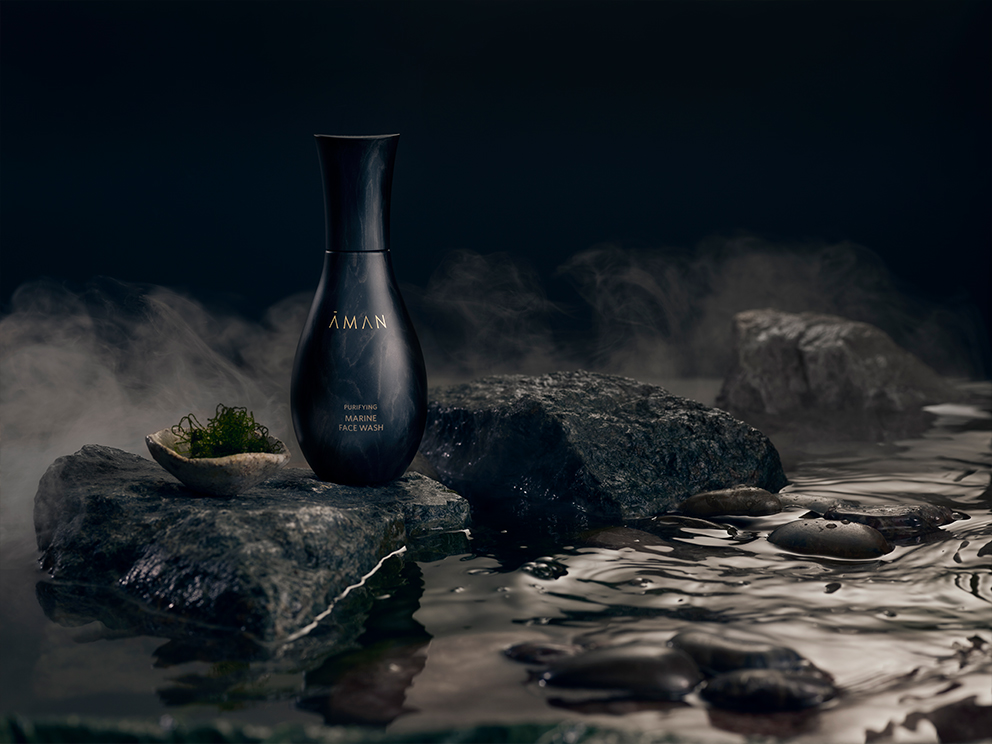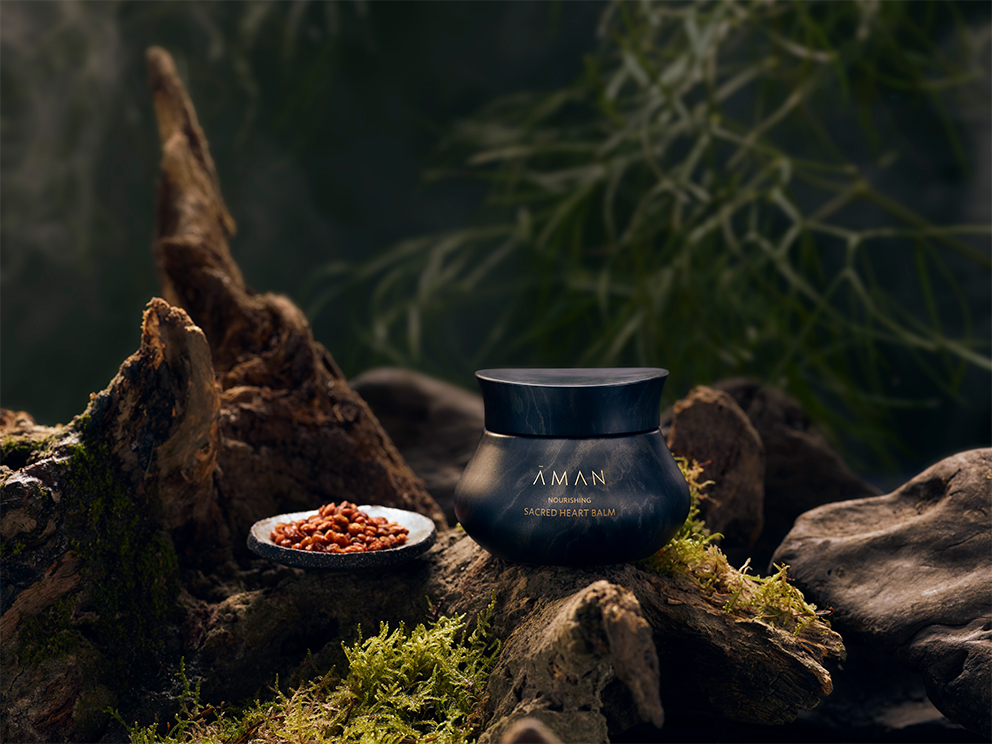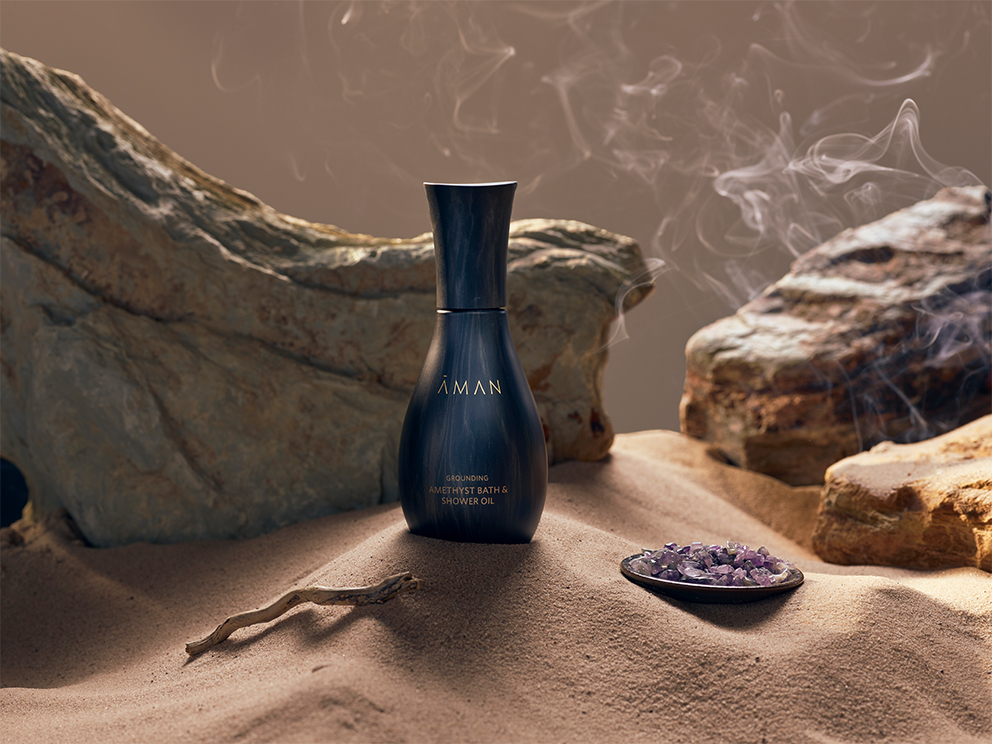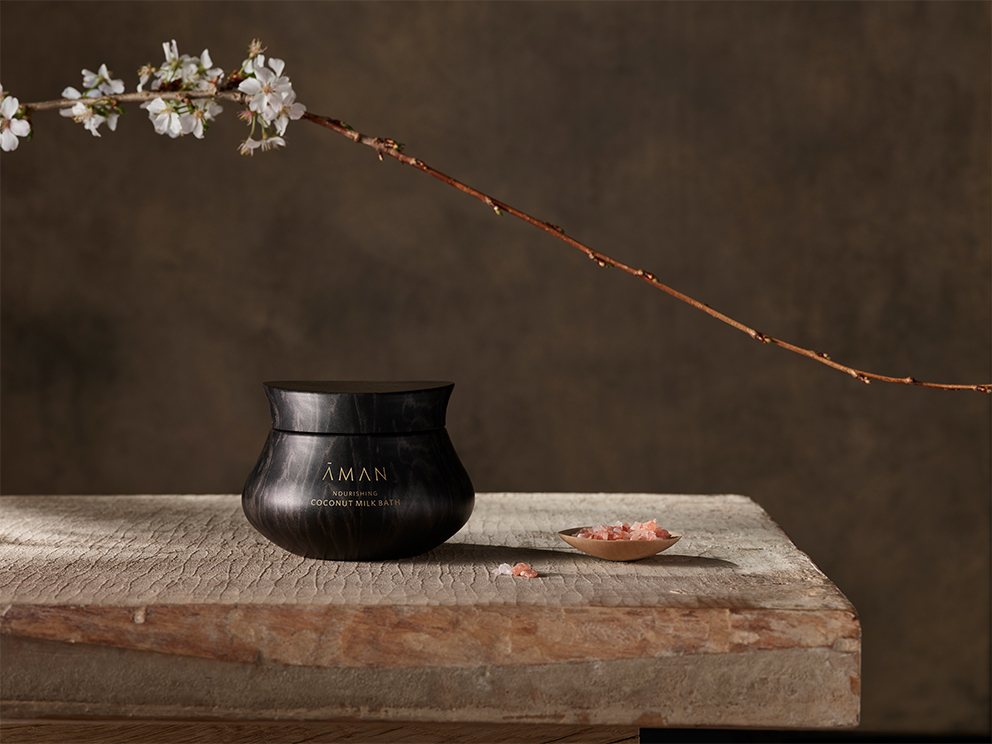 The Earth's Apothecary
The brand-bespoke formulations have been consciously conceived in alignment with nature, to ground, purify and nourish. The collection of 30 products was formulated to address specific physical and emotional needs, whilst reflecting the unique and varied landscapes found in Aman's locations: deserts; rainforests; lagoons and oceans. Many of the ingredients are sourced from and inspired by Aman destinations, from Bhutan to Morocco and from Venice to India.
Mr. Doronin continues, ''Each Aman is inherently connected to its location and situated in an outstanding, otherworldly and spiritual setting. It was from these varying landscapes that we drew inspiration and sourced the purest natural and organic ingredients. The result is an entirely bespoke collection of skincare, offering tangible and long-term benefits, as well as a ritualistic moment of calm. You could say that Aman Skincare represents the spirit of Aman and is a faithful extension of our soul."
The Collection
The word Aman means "peace" in Sanskrit. Aman has elevated the idea of the resort as a sanctuary of peace to an apogee of healing and calm, offering a naturally inspired holistic approach to wellbeing. It has approached creating skincare with the same rigour, values and integrity as it does running its sanctuaries: with much meticulousness, supremely high standards and the greatest respect for the bounties of the natural world. The Aman Skincare collection is informed by ancient wellness traditions and specifically formulated to combine the treasures of the Earth with truly transformative efficacy. The precious ingredients utilised include pearls, homeopathic metals, healing tree oils, amethyst, jade, frankincense and palo santo, in addition to alkalising, oxygen-rich spring water, wild-harvested Amazon butters and rainforest muds.
Sandalwood, a precious, healing oil with a soC, embracing aroma, is the unifying ingredient found throughout the Aman Skincare collection. It has been used for centuries in the Ayurvedic system of medicine thanks to its ability to help calm, soothe and centre.
Focused on rituals that reach far beyond mere quotidian cleanliness and into the realm of calm, peace and spiritual rejuvenation, Aman Skincare is designed to have a holistic effect on soul and body alike. The skincare collection and its three pathways to wellness – Grounding, Purifying and Nourishing – can be used either individually or in conjunction with each other to heal, calm, soothe and rejuvenate: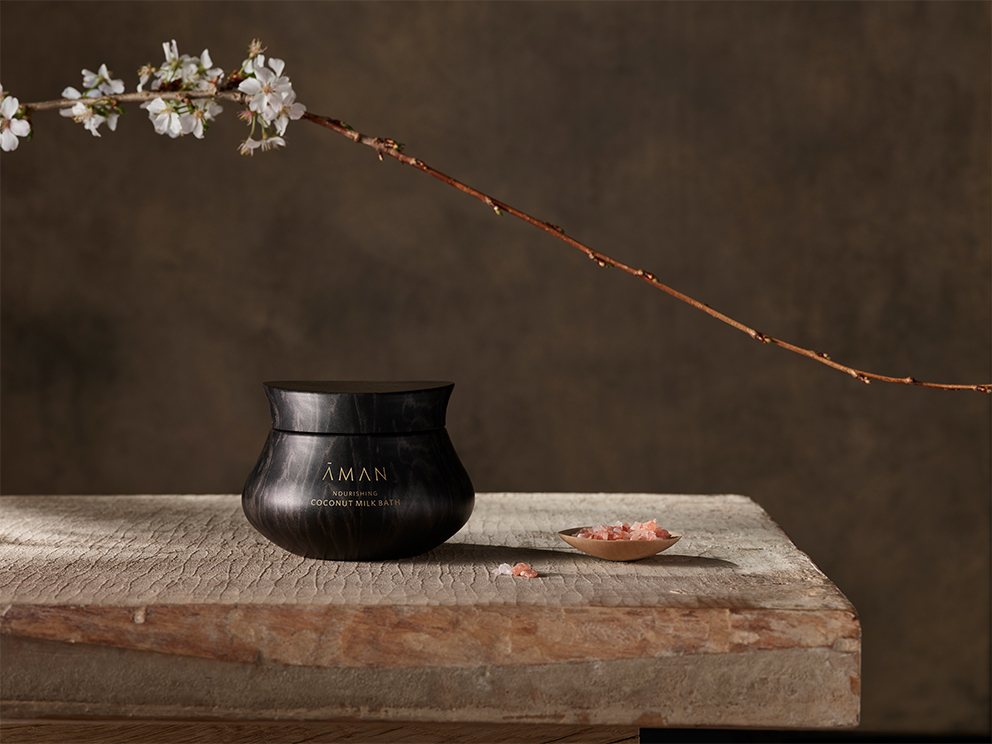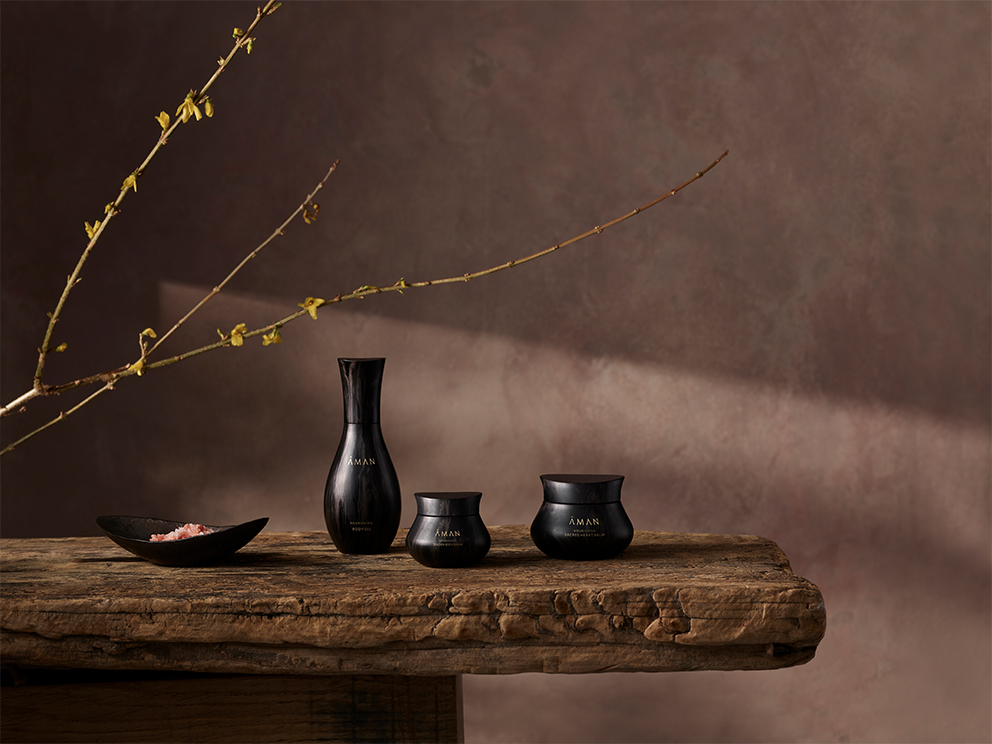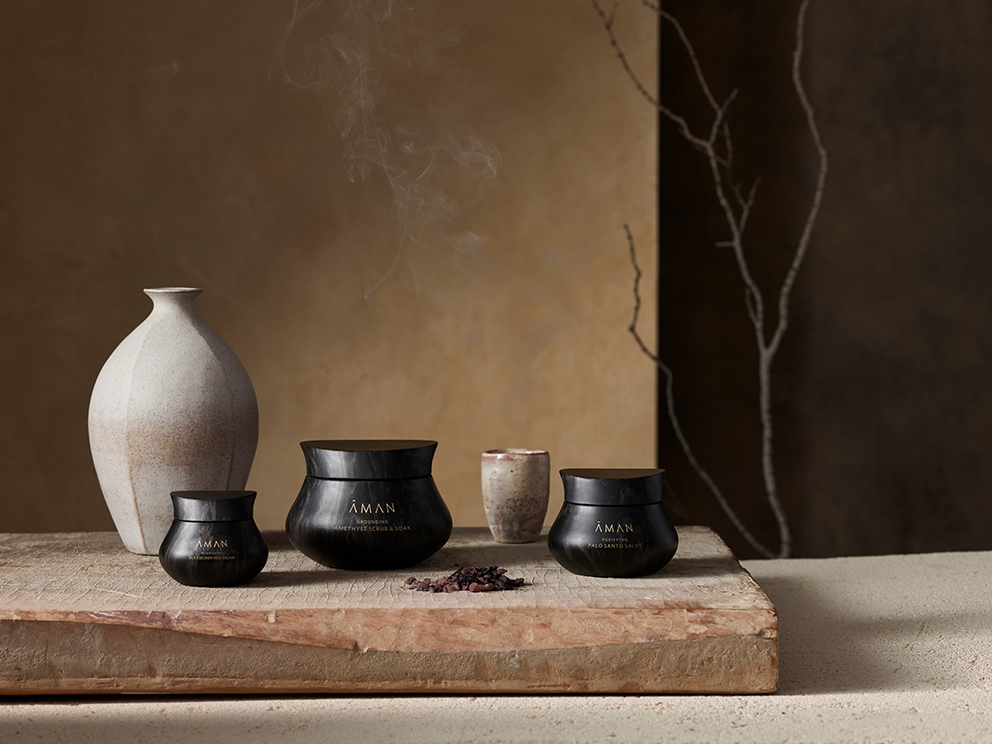 Grounding
The products in this pathway have been formulated to mitigate the effects of stress and anxiety, to centre, regenerate and reconnect to the stillness and solidity of the Earth. This capsule collection provides a healing balm with a profound aromatherapeutic effect for both body and soul. Signature products: Maca Cleansing Powder, Smoked Body Butter, Desert Dew Face Mist. Ingredients such as amber oil help to relax the brainwaves while sandalwood assists in calming the nervous system. Other ingredients include hyaluronic acid, argan stem cells, rose, maca, silver and amethyst.
Purifying
These refreshing preparations have been specifically designed to upliC, invigorate and reenergise. Signature products: Hyaluronic Face Hydrator, Active Marine Mask, Palo Santo Salve. Ingredients include algae, pearl powder, lilac stem cells, colloidal copper, seaweed and marine extracts to effect a deep, enlivening cleanse, which also soothes and rejuvenates.
Nourishing
These healing formulations have been specifically designed to cosset and nurture skin and soul alike. They are intended as a nourishing ritual for body and mind, enriched with indulgent and hydrating aromatic balms and creams. Signature products: Silk Cocoon Face Cream, Golden Body Serum, Sacred Heart Balm, Coconut Milk Bath. Ingredients include jade, gold, honey, sea buckthorn, rosehip and silk – the very finest, most precious treatments that nature has to offer.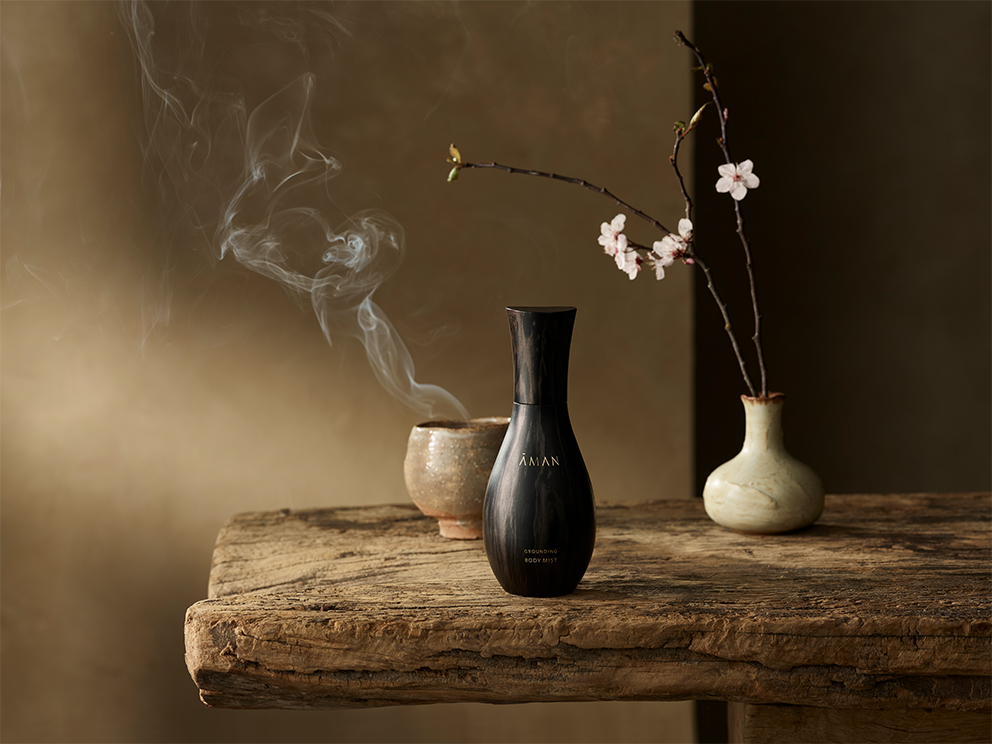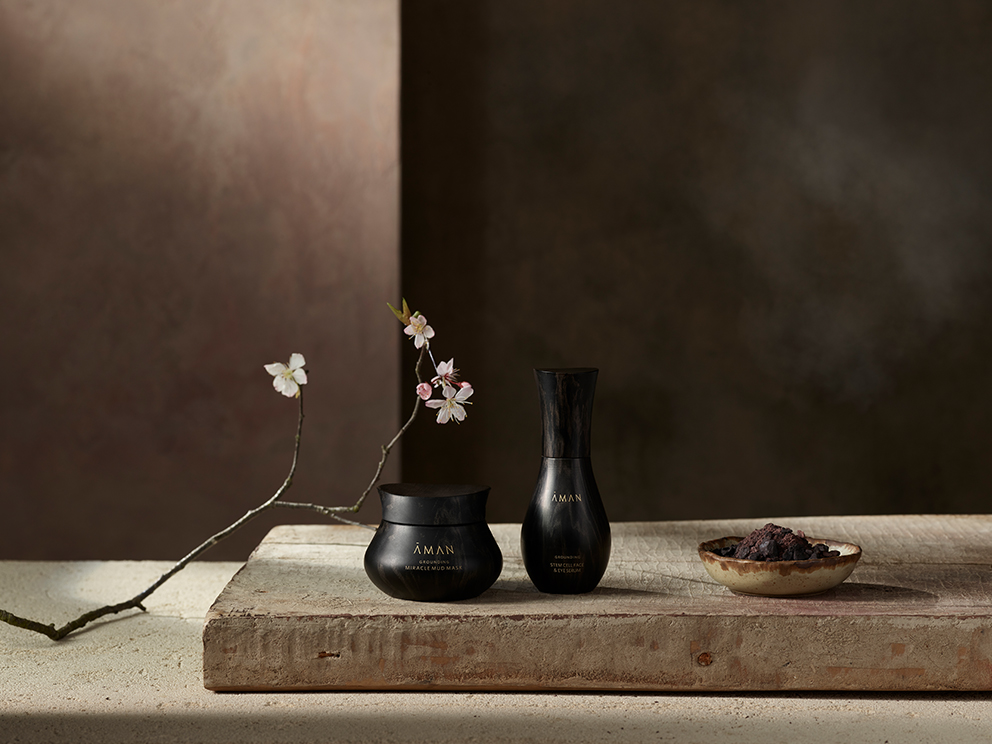 The Aman Spa Signature Menu
Alongside the unveiling of this collection of skincare, at each of its resorts Aman has created a new menu of spa treatments that utilise the products and complement the existing spa treatments which are influenced by local holistic traditions.
The Aman Spa Signature Menu is available at every Aman, and reflects the Grounding, Purifying and Nourishing pathways. There are four treatments available within each pathway: Massage, Body Polish & Wrap, Face Ritual and Journey, the last of which includes all three aforementioned treatments and which is designed to amplify their effects. Each treatment is tailored to the individual to target specific concerns and help attain personal wellness goals.
The ethereal Aman spirit, which instils a sense of peace and belonging and provides a home away from home has come full circle: now, you can finally bring Aman home.
Aman Skincare is exclusively sold online via Aman.com/Skincare and across the collection in the resort boutiques.
W:
aman.com/skincare
Instagram:
@aman.skincare
@aman
---
Articles you May Love To Read
---
EXCITING ACTIVITIES CALENDAR OF THE VARIOUS AMAN RESORTS – 2018
AMAN-I-KHAS; A HAVEN WHERE WILDLIFE AND 7-STAR LUXURY, EMBRACE EFFORTLESSLY.
INCREDIBLE INDIA. INCREDIBLE AMANBAGH
---
Follow me on
Facebook
,
Instagram
and
Twitter
for some amazing travel posts
---