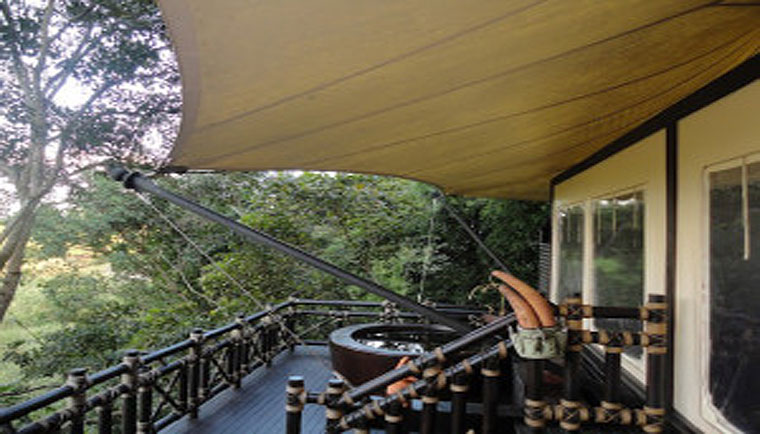 MAY 19, 2014 BY SAJJID MITHA
Four Seasons Tented Camp
In October of 2011 we visited the all-inclusive, exquisite Four Seasons tented camp in Chiang Rai, Northern Thailand, just South of Burma and west of Laos.  We love the Four Seasons brand having experienced it in Bangkok, Kohsamui, ChiangMai, Chicago, Singapore, the Maldives and Mumbai and were not in the least bit worried about the service aspect of this adventure even though it was located in the infamous Golden triangle, once known for its opium trade. At the airport, we were greeted by the Four Seasons tented camp staff and were transported to the Ruak river where our magical journey to paradise began. From the moment the long tail boat set off along the muddy river toward the tented camp, we knew that this would be a holiday adventure like no other. The boat ride was a thrill in itself and as we went past the exquisite bamboo jungles, we began to see the camp tents in the distance, neatly tucked along the sides of a hill. Soon we reached our destination and were met by the super attentive and polite staff, so typical of the Four Seasons brand, who welcomed us with a drink at the Burma Bar, well-known for its stunning sunset views and amazing cocktails, often served in unique hand carved bamboo glasses.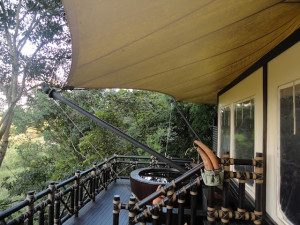 Once done with our welcome drink we were whisked away in a typical jungle safari jeep,  toward our tent and as the vehicle meandered its way up the concrete pathway lined with lanterns, we almost believed that we would chance upon the shooting of the sequel to the 1985 romantic drama, 'Out of Africa',  starring the ruggedly handsome Robert Redford and the stunningly talented Meryl Streep. Our racing minds were already beginning to script our own version starring the two of us, in this part of Jungle paradise.
And then we were shown to our tent. Uber luxurious and unbelievably comfortable. Interestingly, hanging on the open concept cupboard rod in our tent, were mahout outfits for both of us, with special elephant commands neatly tucked into the pocket. This was a teaser to the camp activity which awaited us during our stay.
Meanwhile, the views of the river, the plains of Laos and the mountains of Burma beyond were absolutely breathtaking and as we lay in our four-poster lavish bed and looked out at the endless beauty of the horizon we couldn't help thinking that no architectural rules applied to God when he created this incredibly beautiful world for all of us to enjoy. The open air showers area promised us a chilly treat in the evenings and later as we soaked in the hot water tub on our patio, we were overcome by that distinct feeling of being one with nature. The only sounds we heard were those of the mating insects, crickets, toads and frogs and several we were hearing for the first time ever.
Having worked up an appetite, we were ready for dinner. The moment we stepped out of our Tents which are reminiscent of 19th-century adventure expeditions with hardwood floors, the hotel guard was waiting with lanterns to guide us along the walking path toward the main restaurant.
We arrived at the Nong Yao restaurant, an open-air thatched-roof pavilion offering Thai, Laotian, Burmese and Western cuisine. We were shown to our table, right by a fire-place.  Since the north of Thailand is hilly, temperatures late October and November drop a tad below the twenties and the mountain air can get a little nippy.  The sound of the crackling wood and the warm burning embers comforted us greatly. The Four seasons tented camp has only 15 tents in all, so there is a very keen sense of friendliness and bonding amongst the few guests who are on the property. Polite greetings and introductions came our way, the moment we were seated. The tables are decorated with local hill-tribe artefacts.  Stoneware and silver cutlery from the local area are used for serving.  As we got acquainted with our new friends, all kinds of cuisine suggestions were made and we settled for the Traditional Laotian Papaya Salad, tom Khaa Gai – Chicken in Coconut Milk Soup,, Mok Pla – Grilled Fish in Banana Leaves, Pad Kana – Wok-Fried Green Baby Kale and the Choo Chee Pla Kao – Mekong River Fish in Red Curry with jasmine flavored rice.  For dessert we had the Khao Neaw Ma Muang – Mango with Sticky Rice.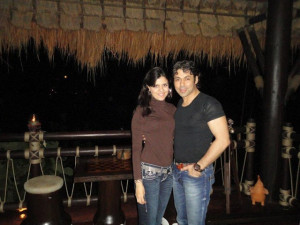 After feasting like Royals, we finished with a nightcap with our new-found friends by an open fire pit which is adjacent to the restaurant and is surrounded by hurricane lamps adding to the camp like feeling.  With stars for company and the esoteric sounds of the forests we finally called it a night and made it back to our tent to soak in the luxuries of what would be home for the next 3 days.
On Day 2 the excitement started with the rising of the sun. As the first rays beckoned us out of bed, we stepped out onto our patio, the wood cold on our feet and yet to be heated by the morning sun.  As our eyes feasted on the boundless beauties of the triangle, we looked at each  other and nodded in agreement as our draw that morning was not breakfast alone but to feed the baby elephants. At the camp we are given an easy timetable to follow. Each line reminds you that you are on holiday and that everything can be done at your own leisurely pace. We showered, put on our mahout outfits and off to breakfast we trekked.  We were greeted by two adorable, playful and gentle  elephant calves. We patted them, fed them, kissed them and braved up for what lay ahead post breakfast. An elephant training experience followed by a bare back ride, not on baby elephants, but on full-fledged adults. Of course we are those who are adventurous and like the odd adrenalin rush. But a lone bare back ride on an elephant, that too one which responds not to English, but Thai commands, now come on. This maybe the Four Seasons, but even one of the best hotel chains in the world couldn't possibly train us to mount, ride, command and dismount by ourselves in just a few hours, could they? Our minds moved to breakfast as we selected our preferred choice of Fresh Juices, seasonal Fruit Plates,  Fresh and natural Yoghurt, a golden Triangle Smoothie,  fresh eggs, muesli and smoked salmon, bagels and dill whipped cream cheese.  We hoped that feasting on all of the above would prompt the elephants to think of us as their kin and that they would take more kindly to us. At breakfast our mahout trainer, Khun Rain greeted  us with the biggest smile we have ever seen on a man his size. He told us to prepare for a thrill of a life time as he guided us to the elephant home on site and introduced us to our rides for the day – Yuki and Phet, possibly two of the most famous celebrity elephants in Thailand, having featured in a number of television commercials and product launches.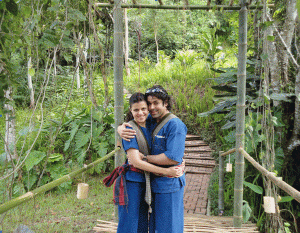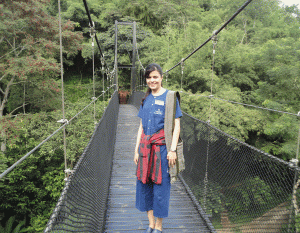 Over the next few hours we were taught commands like pai (move forward), soak (move backward), Baen (turn) and How (stop). We were then asked to shout 'tak toon' and as the elephants lowered their trunks and heads we were asked to mount the gentle creatures from the front. We then trekked along in our own little jungle book adventure and as we called out with confidence our newly learnt commands, a quiet yet strong bond developed between human and animal. A bond which is hard to explain and can only be experienced. One which we so enjoyed over the next two days that we rode the elephants without harness, through the forests, along the hillside and even bathed them in the pond as fear abandoned us and flew away into the distant mountains. Phet and Yuki became our friends and the next day we couldn't wait for our jungle trek with them.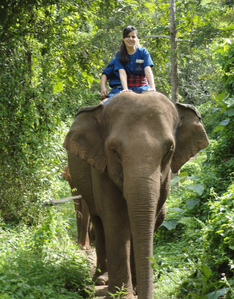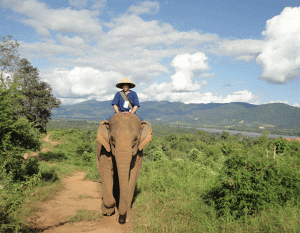 Tired after our adventure we went back to our open air shower in our tent and this was followed by something special. We wanted another piece of this paradise and headed to the spa. Nestled amidst the bamboo forests of the camp is the spa. It houses two open-air salas  with spa beds in a room surrounded by the fragrances of lemongrass and warm aromas of pleasing spices. As we lay down, overlooking  the jungles, we both shortlisted the mahout recovery treatment, much-needed to relax our sore muscles. As a light breeze wafted past the rustling jungle leaves, we both surrendered our bodies to the gentle yet well-trained hands of the thai Masseurs who seemed to use the powers of the surrounding mountains to heal and massage us.
That night there was a party at camp, thrown by a wine sommelier from Spain who boasted that the reds he recommended had  perfect body and balance with light tannins and complexity. The campers sang and danced and downed endless bottles of reds and whites and partied until the jungle reminded all that it was way past bed time.
The next day we set off on our golden triangle excursion, our three country visit. First by long tail boat and then by a luxury van through Chiang Rai, to the border of Mynamar. We crossed over and visited some exquisite temples, the local markets and then went along the mekong river to Laos. We were back at camp just in time to see the breathtakingly beautiful sun set from the Burma bar.
The evening had something special planned for my lovely lady. Her birthday was a few days away and a pre-birthday celebration was carefully crafted by the Four Seasons staff at the Wine cellar at the tented camp. The cellar goes beyond just storing an impressive collection of international and Thai wines. Its rustic-looking structure serves as a perfect venue for a romantic and very private dinner. The cellar was decorated to perfection. If romance had to be photographed, this would be the perfect setting. The floor was encrusted with a carpet of marigold flowers and there were colourful Thai orchids everywhere. We were offered a very impressive menu of Thai and Laos cuisine, with a fine choice of wines and were waited upon by a white-gloved butler with a personal visit by the Chef who in detail described the delectable  dishes we would be treated to that evening. Yam Tua Plu – Wing Bean Salad with Shrimp Chili Paste and Coconut , Kaow Soy Gai – Chicken with Northern Style Noodles in Curry ,  Panang Pla – Mekong Catch of the Day in Thick Yellow Curry , Nua Pad Kaprow, hot beef with basil, Gai Rue Goong Pad Med Mamuang – Wok-Fried Chicken or Shrimps with Cashew Nuts , Kao Samun Prai – Hot and Spicy Rice And then the dessert.  Carefully put together by the chef, visually appealing and heavenly to taste. After feasting on dessert the camp staff opened the heavy wooden doors as if on cue and together sang a very melodious happy birthday rendition with a hint of a mix of thai and lana undertones, topped with dollops of love and affection.  The celebrations were not to end as the camp guests then trickled into the wine cellar, one by happy one and greeted Laveena, showering her with flowers and hugs filled with the warmth of a long-lasting friendship.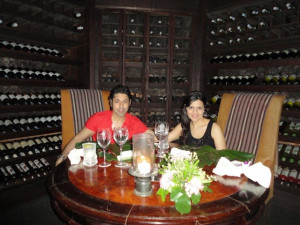 When we returned to our tent post dinner, there was a note on the bed awaiting us. A single clue for a short treasure hunt  guided us to our patio where we  saw that the hot tub had been prepared with rose petals and leaves inviting us for a night soak. A chilled bottle of champagne with two flute glasses waiting to be clinked awaited us. Without wasting a moment, we stepped in and allowed our bodies to be soaked by the warm bath water.  Surrounded  by  rose petals and caressed by the light mountain and jungle breeze we both toasted to us and thought to ourselves………if we were experiencing this on earth, we wonder what it would be like to be with each other until eternity in paradise.