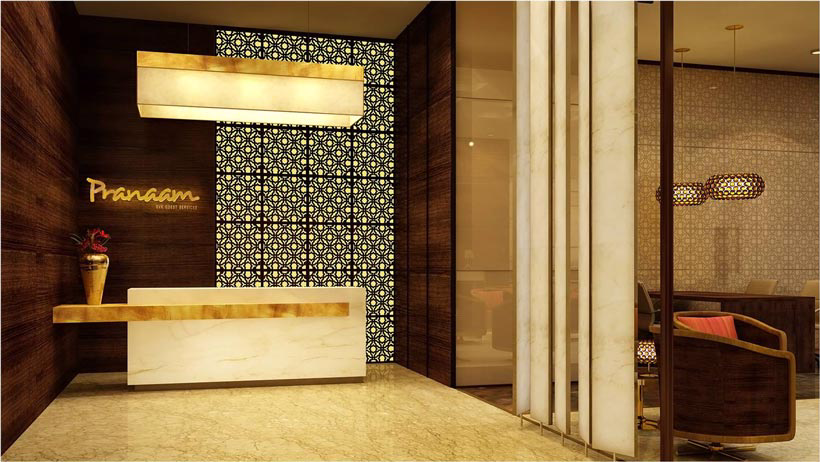 NOVEMBER 16, 2018 BY SAJJID MITHA
Pranaam GVK Guest Services - our new and preferred way to begin and end our international journeys
Months ago, when Laveena and I traveled to Calgary in Canada, from the Chhatrapati Shivaji Maharaj International Airport in Mumbai, we decided to experience the Pranaam GVK Guest Services, popular with Bollywood celebrities, sportsmen, famous singers, wealthy businessmen and travellers wanting a seamless and stress free departure and arrival experience.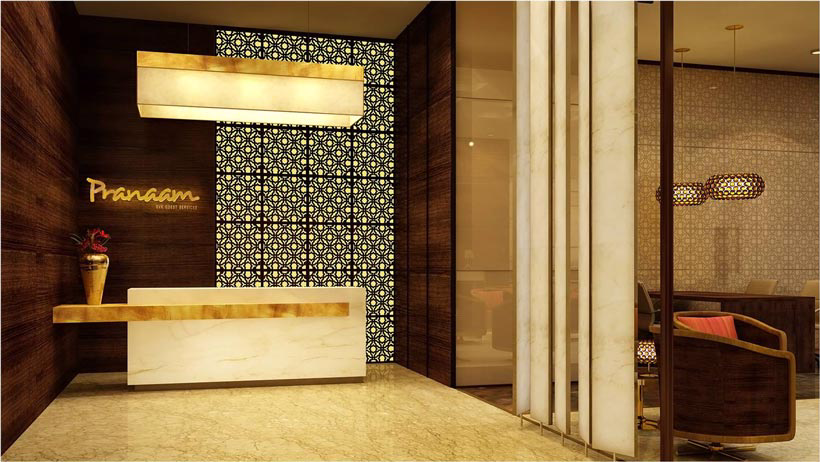 We were so very impressed with the high level of service commitment shown by the Pranaam team, that we decided that this was indeed the best way to begin and end a vacation and that the premium rate one paid for the service, was well worth the spend.
What stands out in this unique service, is the smooth overall procedural flow, the personal greet by a Pranaam representative at your vehicle, handling of both your check-in and hand-held baggage,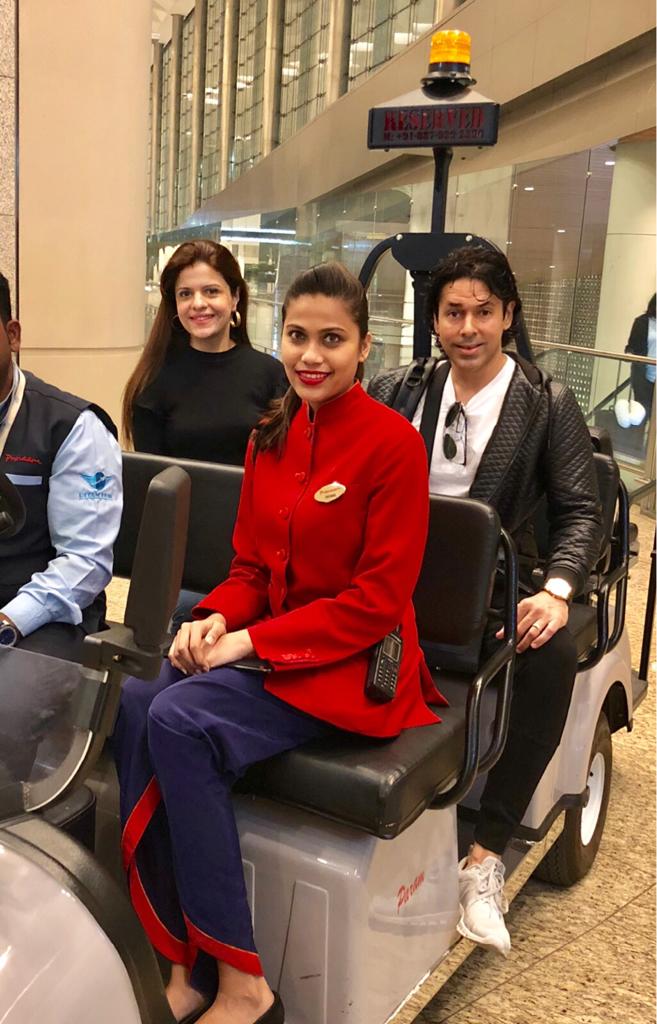 the dedicated golf cart to drive you to the airline check in counter, onward to security, the assistance through immigration, a personal shopper on request, a guided tour through the 'Jaya He' GVK  Museum at the Airport and the personal buggy drop-off at your gate.
For our Diwali vacation, without a hint of hesitation, we booked the 'Premium Elite Service' with Pranaam as we wished to begin our holiday on a high note. Waiting to greet us at the curb side, with her uniformed team, was a Pranaam hostess, Priyanka, who was attending to us for the first time.  Priyanka is a perfect ambassador for the Pranaam service, as she is soft spoken, articulate and takes immense pride in her work. This was evident from her keenness to take us on the 'Jaya He' safari.
When we said that our time to board the flight was limited, Priyanka offered us a glimpse into the tour on her iPad, explaining that the museum had more than 5500 artefacts, spanned 3.2 kms and had works of over 100 artists and 1000 artisans.
The museum, Priyanka explained, helped visitors, both local and foreign, interpret the history and diverse culture of the vast and beautiful country of India, in ways which left them enriched and enlightened. We decided that the next time we were scheduled to travel out of the country, we would not miss the museum tour.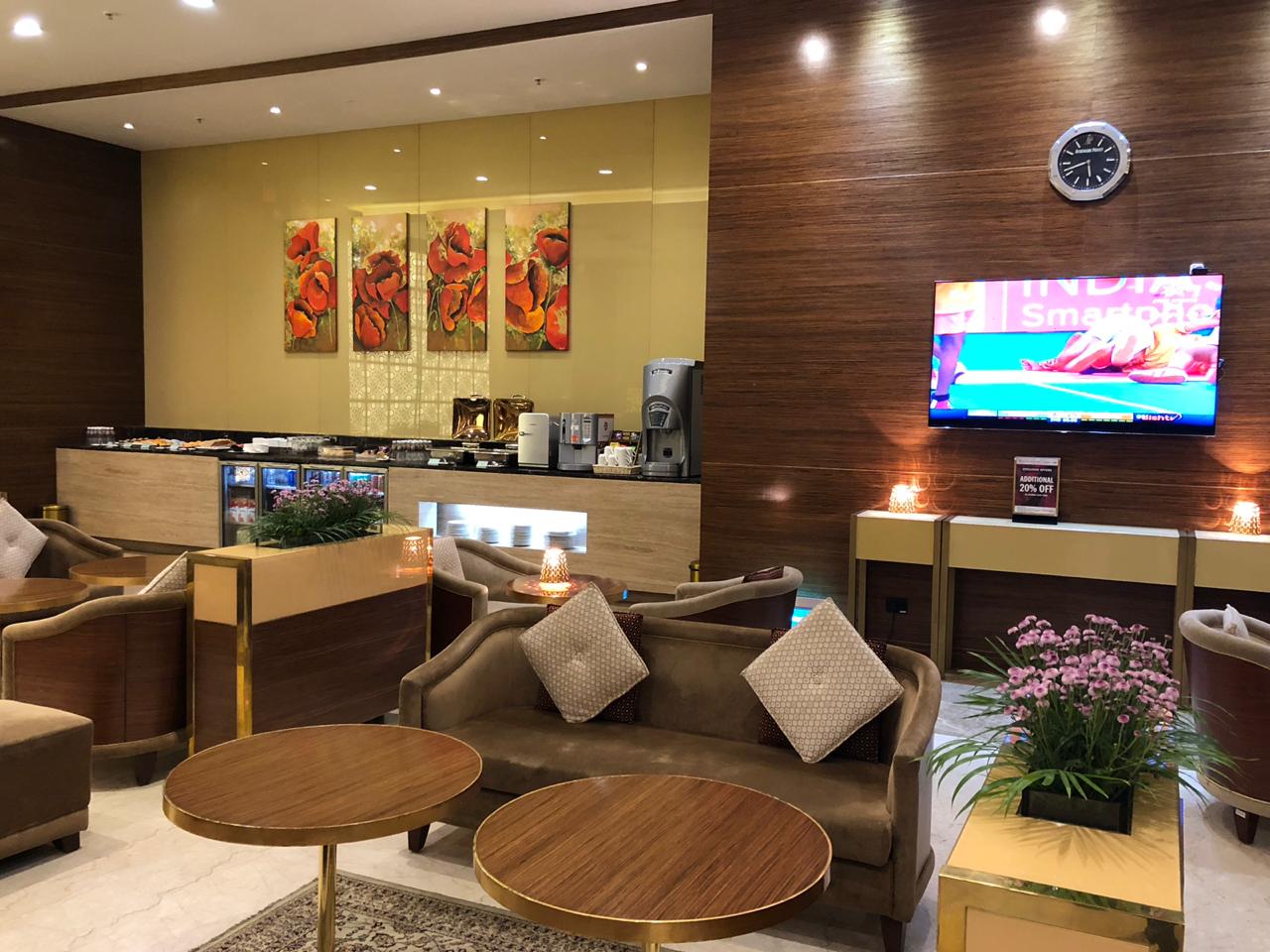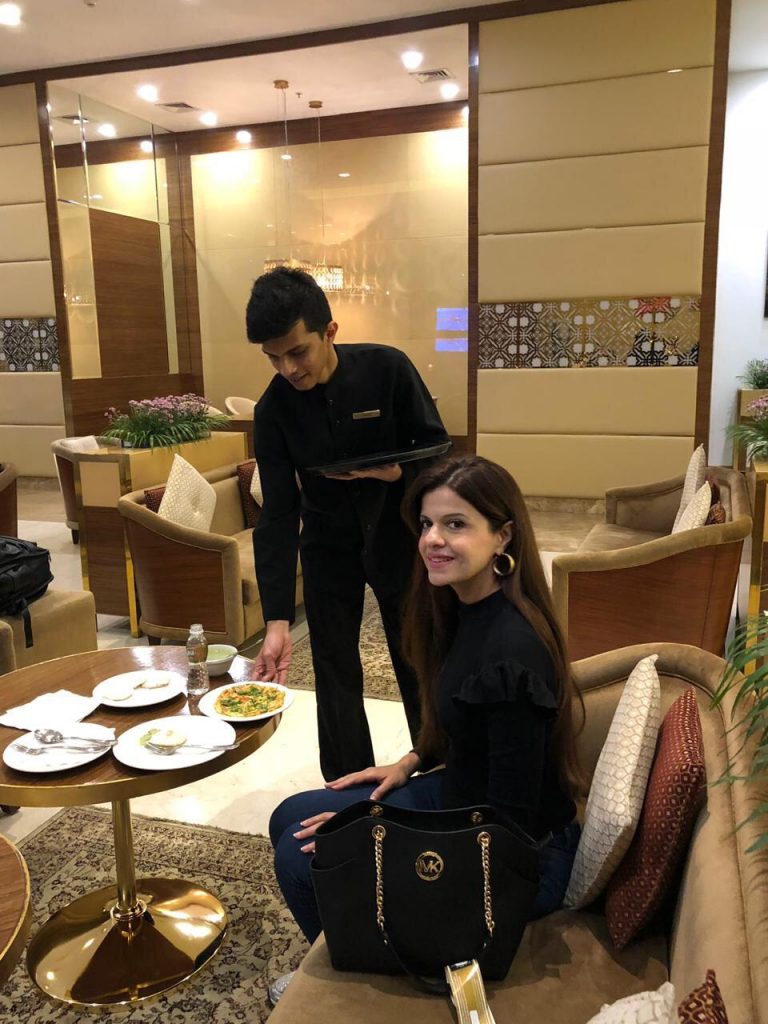 Pranaam has it's own lounge for it's guests where it offers non-alcoholic beverages and hot food. Since it was early in the morning, we opted for a breakfast made up of south Indian idlis and fresh eggs to order.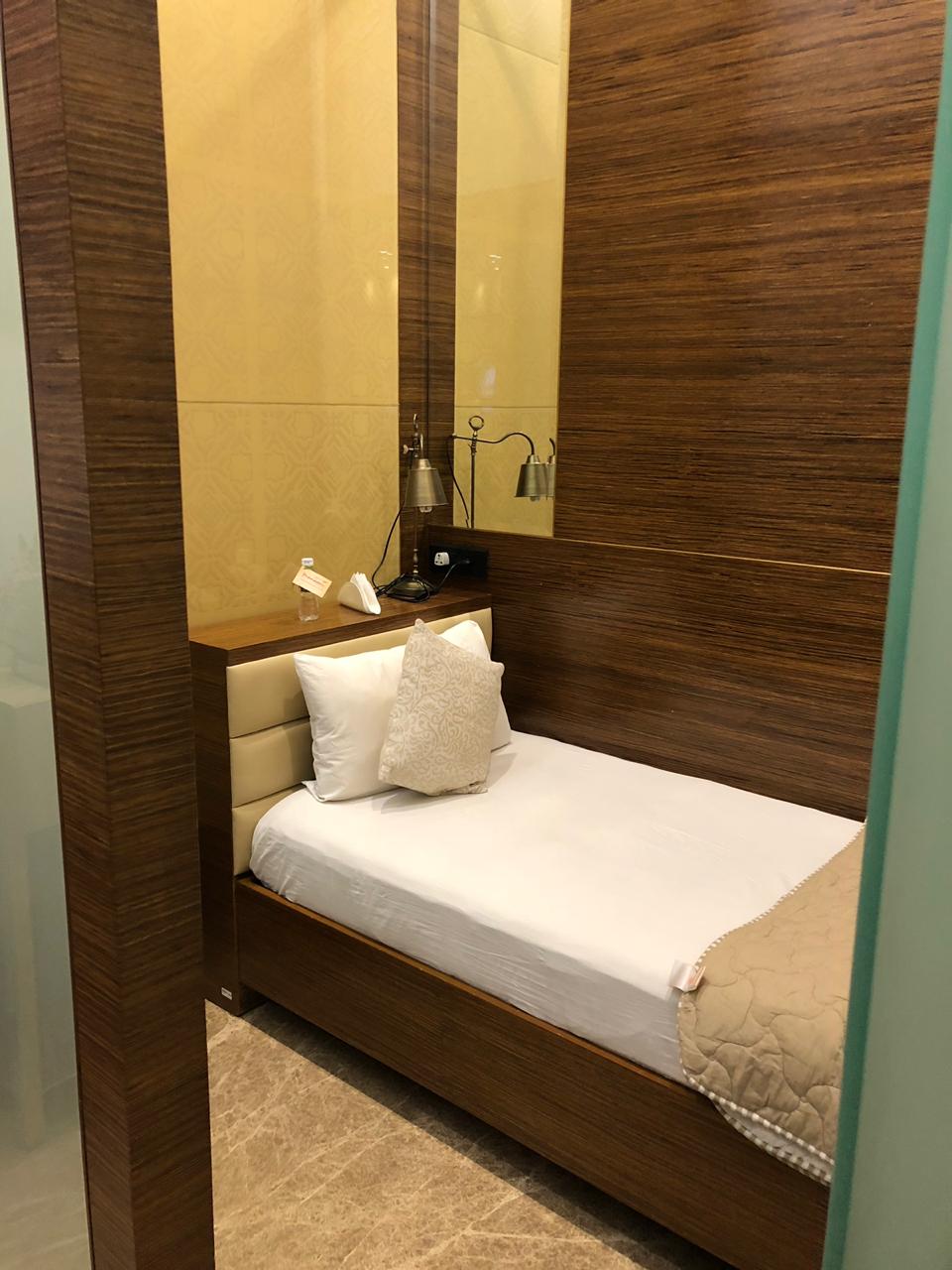 While we waited, Priyanka showed us the sleeping pod at the lounge, which she said guests with long transit times, could use for a quick power nap. After a delicious breakfast of cut fruit, idlis and masala omelettes, it was time to leave for our gate. Our golf cart awaited our arrival and as we were driving to our gate, Priyanka yet again proudly shared some trivia with us, saying that terminal T2 integrated India's national bird, the peacock into it's design in a multitude of ways which we were told were appreciated greatly be passengers who were made aware of them.

She said that the pillars and the ceilings of the foyer were designed to look like peacock feathers and the morning light which entered through the peacock shaped skylights, cast designs of peacock feathers on the pillars.
As had been promised by Pranaam, as departing passengers, we were made to feel special and important and above all, the high standards of service we enjoyed, made for an experience which was memorable, unique and one we now look forward to each time we travel.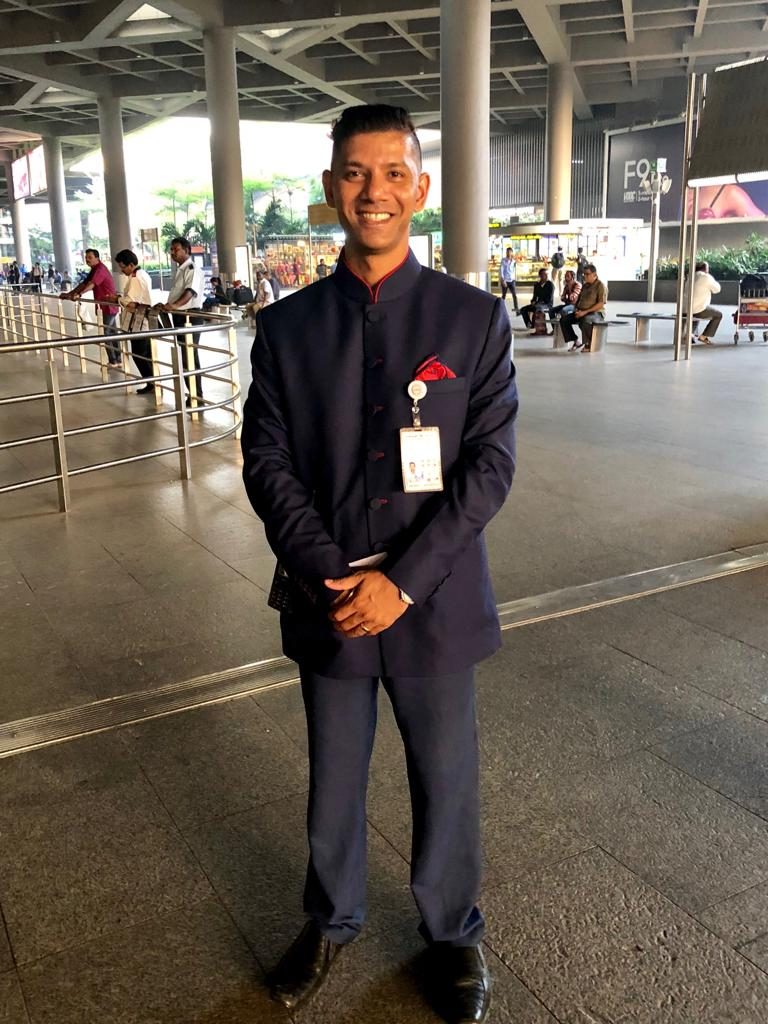 On our return from Vienna via Istanbul this morning, we were greeted, very warmly I must add, at the aero-bridge by Milton Fernandes, a Pranaam officer.  He was accompanied by not one, but two dedicated porters, who reached for our handbags and seated us comfortably in our private golf cart. We were whisked away to immigration, where thankfully the business class counter had no queue and within a few minutes we were at duty free where we picked up our pre-ordered goods and walked on to the baggage conveyor belt. When the first of our bags arrived, it was efficiently retrieved by the Pranaam porters and placed on one of two trollies, the team had lined up for our use. Milton gave us insights into the services of Pranaam, highlighting the fact that for an extra fee, the service could include a bouquet of flowers, either red roses, orchids or lilies. Two of our checked in bags were taking longer than usual, despite their priority tags and so Milton excused himself and walked over to the airline counter, with our luggage tags, to inquire about the whereabouts of our bags. It usually takes less than 5 minutes for our bags to arrive, however, things were different this time. Over the next two hours, the Pranaam team did not leave our side, even for a minute. We discovered that one of our bags had not been loaded onto the aircraft, while the other was missing. Milton's efficiency and commitment to trace our bags remained unshaken as he engaged in a lengthy dialogue with the airline staff, running from pillar to post to assist us. There was very little we had to do, given the Pranaam teams presence and until the very end, a time when we somehow successfully traced one of our bags, Milton along with the Pranaam porters were with us.
Our respect for the Pranaam service, which was already high, climbed several notches after our most recent experience. We are proud that a service of this high standard, offered by GVK, is on offer for all at the Chatrapati Shivaji Maharaj Airport of Mumbai.
It is often said that the ethics of an organisation and its employees that live by those ethics, define the success of a company. Individuals like Priyanka and Milton should be celebrated, encouraged and rewarded for their excellent people skills and their understanding of service and hospitality. Both Laveena and I will remain loyal to the Pranaam service and eagerly look forward to using it each time we travel abroad.  As Travelmango, we highly recommend the service and do not consider the expense as a frivolous spend. For us it has become an integral part of our journey. Pranaam.
---
Pranaam GVK Guest Services
---
• Location:
Google Maps
• Address: Chhatrapati Shivaji International Airport, Terminal 2, Level 4, Sahar Village, Andheri East, Mumbai, Maharashtra 400099 • Hotel website:
Pranaam GVK Guest Services
---
Our Rating
---
Location: 9/10
Food and Cuisine: 8/10
Design: 8/10
Rooms: 9/10
Service: 9/10
Overall experience: 8/10
---
Follow me on
Facebook
,
Instagram
and  
Twitter
 for some amazing travel posts
---