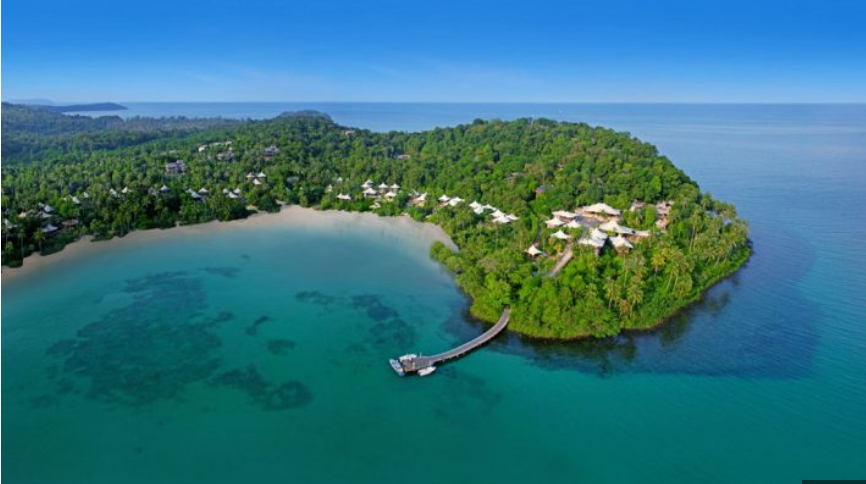 APRIL 06, 2018 BY SAJJID MITHA
Everlasting memories of a fairytale birthday celebration at Soneva Kiri
It was in 2017, that the magnificent Soneva luxury brand came into our lives. Given our penchant for travel and luxury brands, I was appointed as a Soneva Ambassador, a title and an honour which I proudly embraced. And with Soneva, came an introduction to a precious jewel in Thailand, Soneva Kiri, located in Koh Kood, one of Thailand's largest, but perhaps least developed islands. It had everything that I was looking for to make my 50th birthday, truly memorable. A luxury resort, located on a remote island in Thailand, accessible by a private jet and speed boat, set amidst a jungle of lush green trees and surrounded by an inviting calm blue ocean.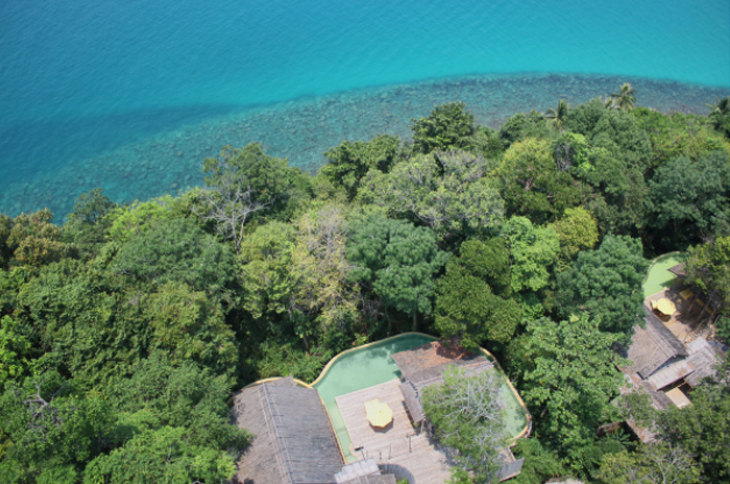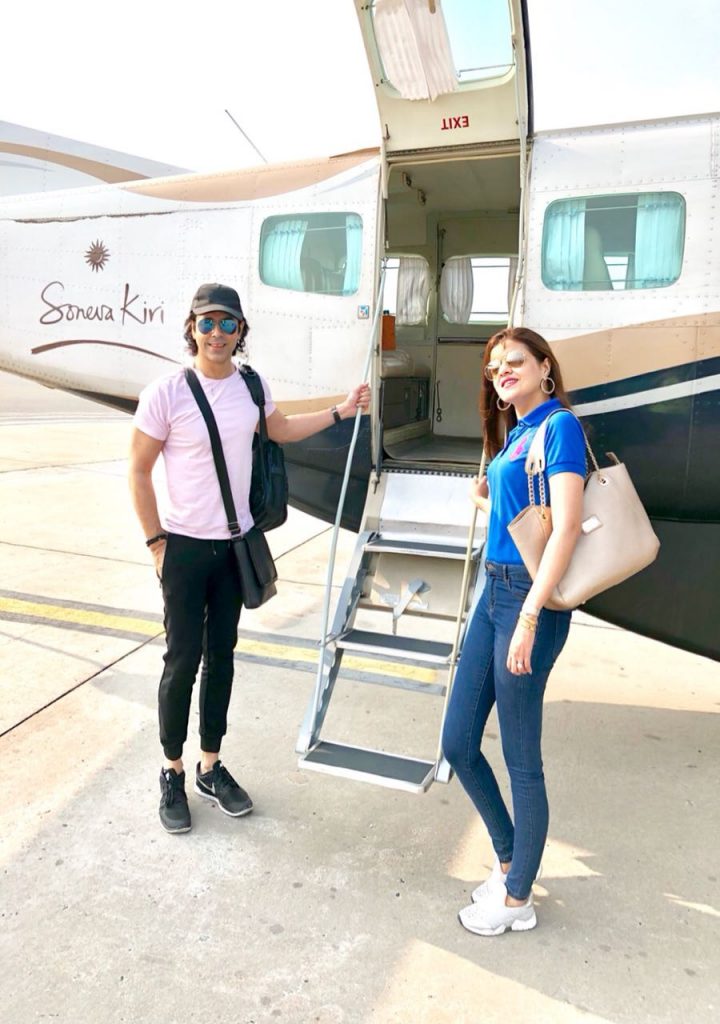 Our flight from Mumbai landed in Suvarnabhumi, in Bangkok, where we were very warmly welcomed by Soneva ground staff on exiting the aircraft. We were walked to the private Soneva counter, located at the departure terminal and were promptly checked in for our flight to Koh Kood. We were then directed to the departure gate, seated in a Toyota Van and were driven to a parking bay where a private Cessna Jet, awaited our arrival. When we boarded the 8 seater aircraft, our pilots welcomed us and instantly radioed the ATC for clearance to take off. We taxied for a few minutes to the main runway and after a smooth takeoff, were airborne, thrilled to be journeying on Soneva's very own private jet to the luxurious resort of Soneva Kiri. In a little over an hour and 30 minutes, our private jet touched down on a private airstrip, on a private island, off Koh Kood.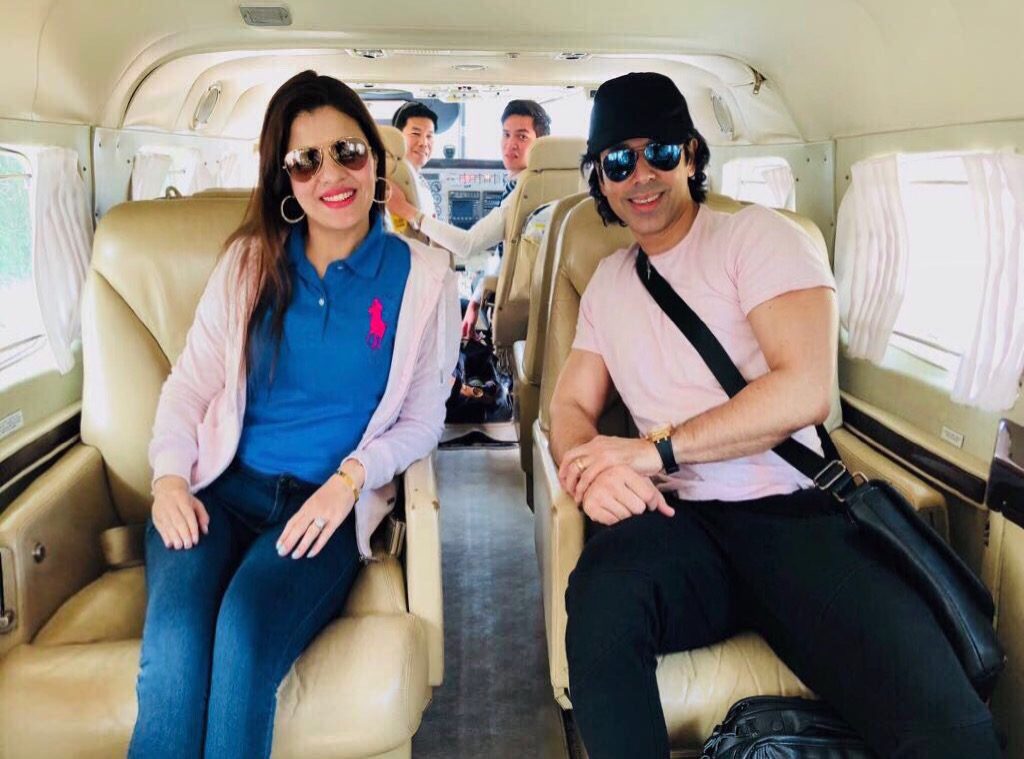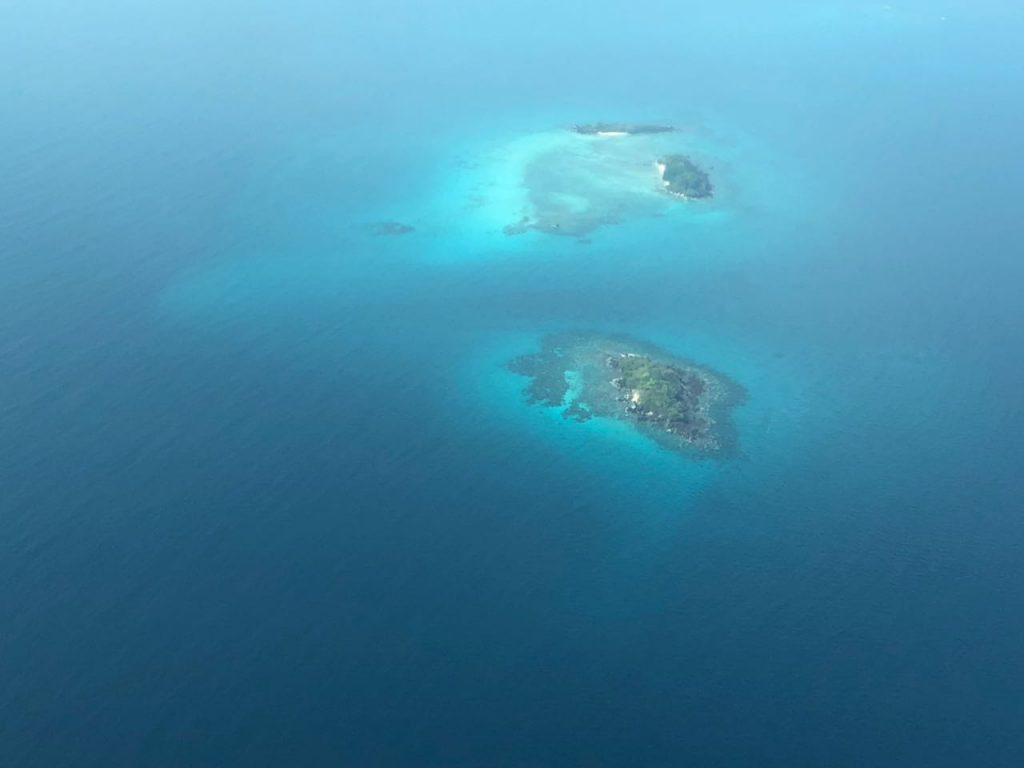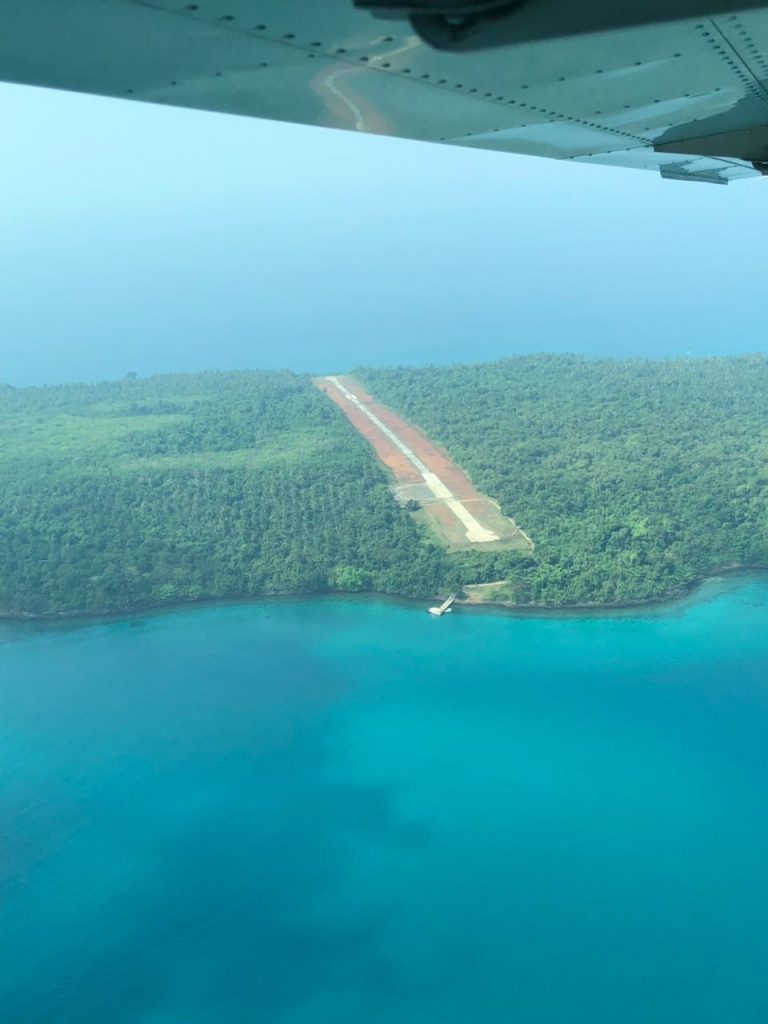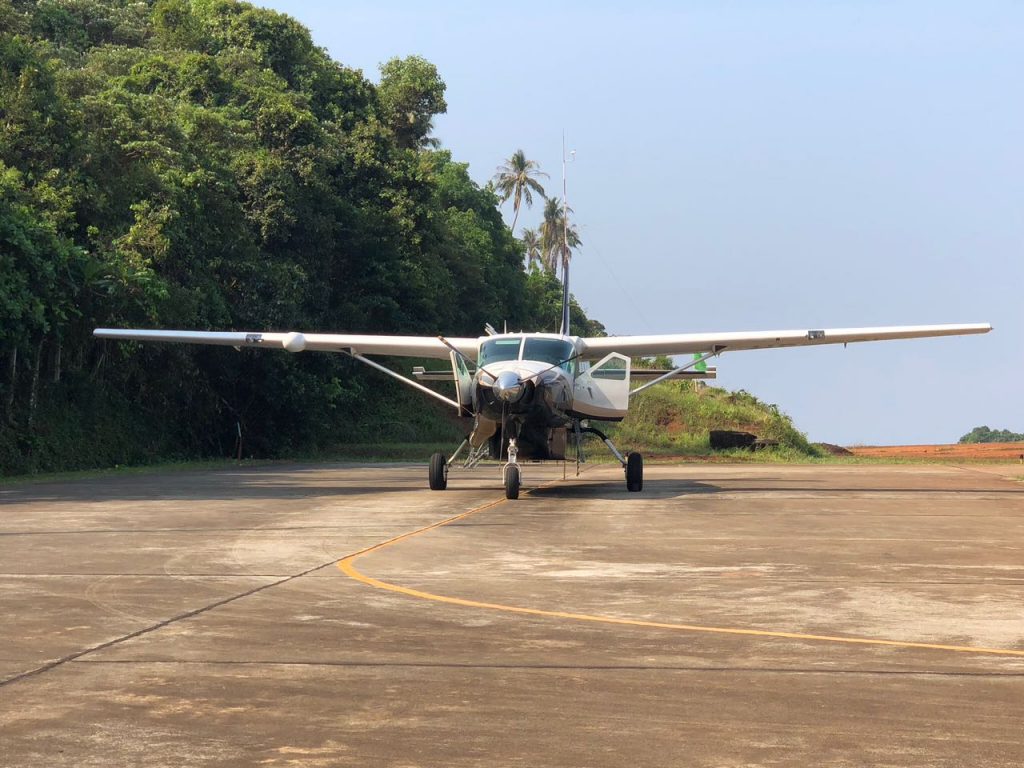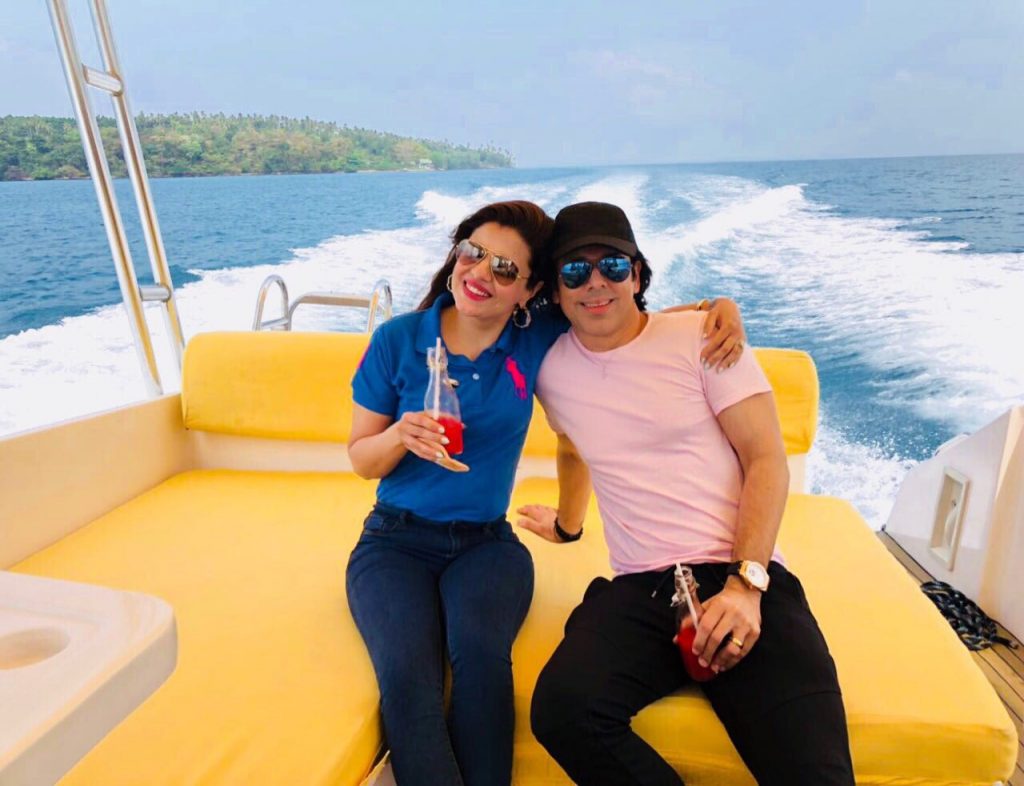 Through the window, I saw a golf cart pull up alongside us and when we stepped down from the plane, our Ms. Friday welcomed us with a very warm 'Sawadee Kha' and introduced herself as Khun Chompoo, someone who would come to become an integral part of our 5-day long celebratory holiday. After we bid our pilots goodbye, Khun Chompoo drove us to the edge of the water, where a private speed boat waited for us. Once seated, Chompoo helped us remove our shoes, in keeping with the Soneva policy of 'No News, No Shoes'. These were neatly packed in cloth bags which Chompoo held onto. She said, while on the island, Soneva encouraged guests to walk around bare feet, so as to feel closer to nature. We were offered ice-cold scented towels and fresh watermelon juice and as the boat sped to the resort of Soneva Kiri, we couldn't help but thank the Universe for this magical start to my 50th birthday celebrations.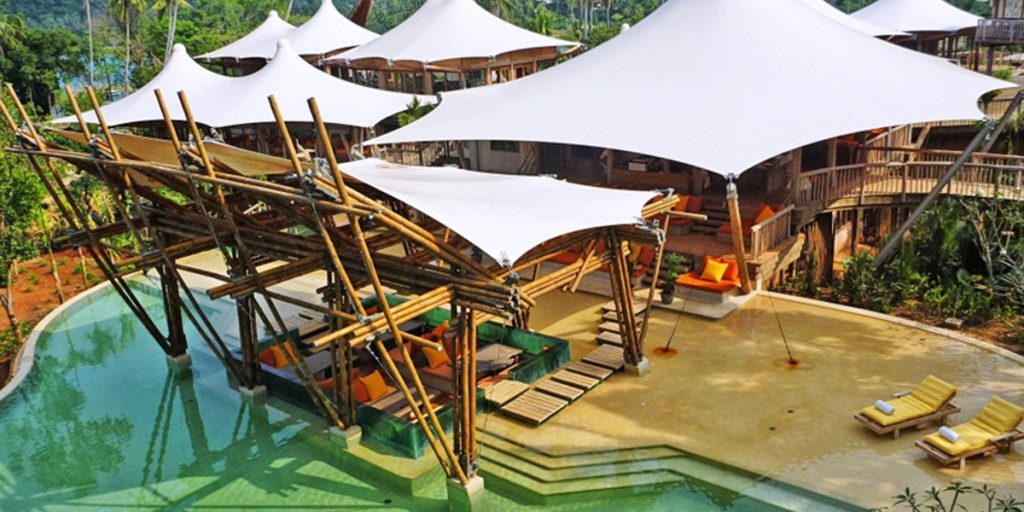 Waiting to greet us at the resort pier was the charming GM of Soneva Kiri, Godfrey Vas. He welcomed us with a warm handshake and asked if we would like to proceed for lunch to 'So Spirited', the pool side bar and restaurant at the resort. Since we were famished, we walked over to the restaurant and sat back gazing at the beautiful blue ocean. After feasting on some delicious Thai food and chilled tender coconut water, we visited 'So Chocoholic', a refrigerated room where resort guests can indulge their sweet tooth, with a wide variety of never ending decadent chocolate treats. I had some caramel infused truffles while Laveena tried the chocolate fondue and the coffee chocolates.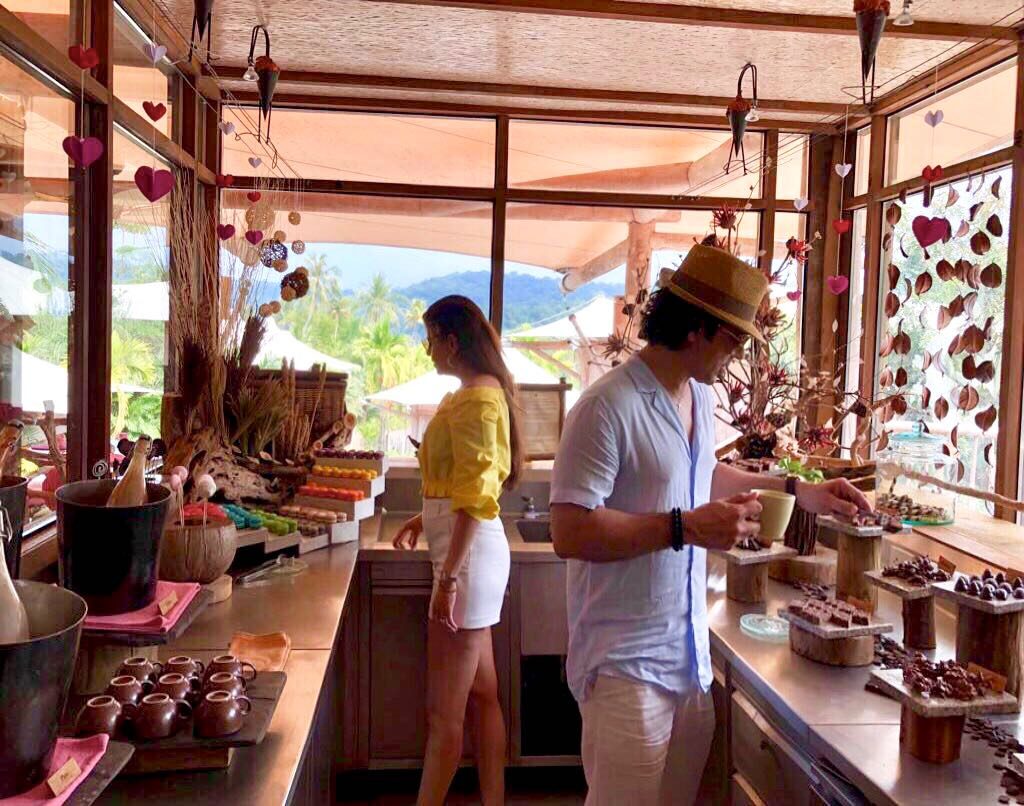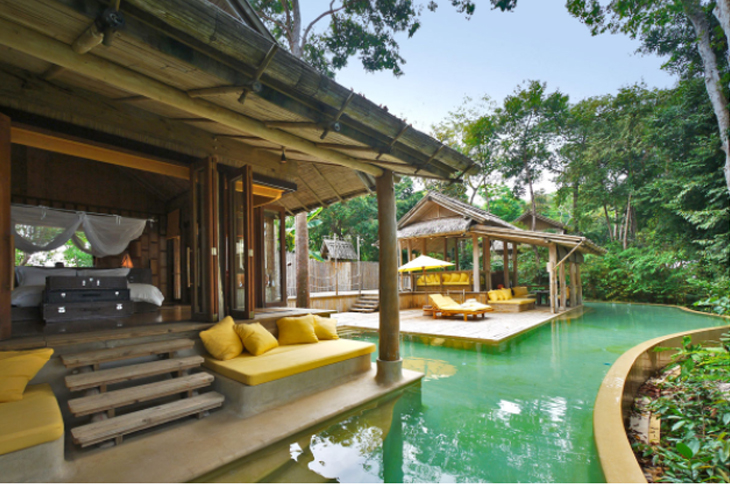 Khun Chompoo waited with our golf cart (every villa has it's own private golf cart which guests are encouraged to drive) and drove us to our Sunset Ocean View Villa. When she opened the wooden door to our villa, what lay before us was sheer bliss. Made entirely from all-natural, locally sourced material, keeping sustainability at the forefront of the overall design, a spread of luxury expanse at a scale we had never experienced before,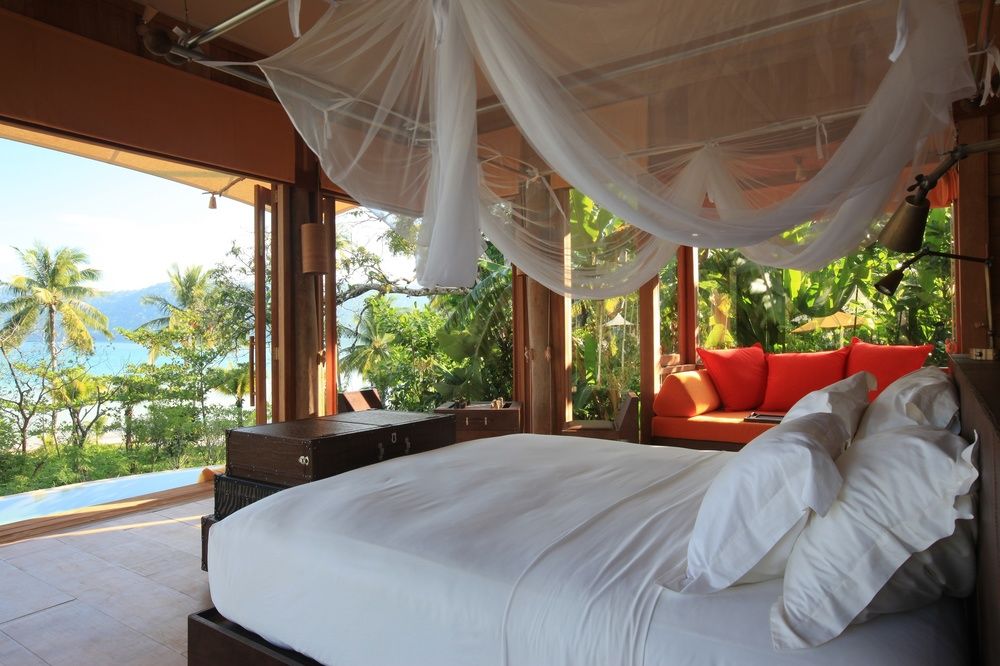 welcomed us. Nestled into the side of the leafy forest cliff, overlooking a stunning aqua marine bay, a wooden deck, a wrap around private pool, day-beds, an outdoor sitting area, a rustic yet luxurious master bedroom and the largest outdoor bathroom we had ever seen, was our villa, spread across a generous 5000 sq feet. A nice touch offered by brand Soneva, is to email guests with a request to share their personal comforts and preferences, ahead of their visit. Our favourite pillows, room fragrances and music, along with a chilled bottle of Louis Roederer Champagne awaited us at our villa, further adding to the celebratory grandeur of this very special holiday.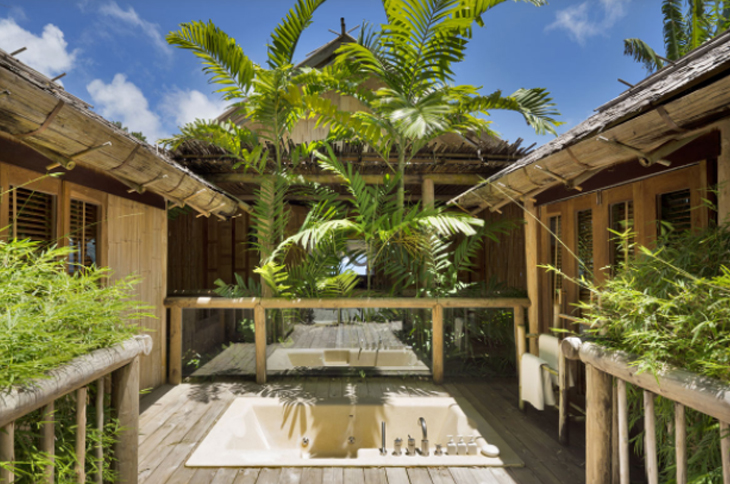 Laveena and I were left alone for the next few hours to enjoy our villa, every second of which was cherished and appreciated by us. We didn't waste any time and dipped into our pool, popped the champagne, turned up the music and ended up with a rather long and leisurely shower under the tree-lined, open-air bathroom, with the chirping of island birds for company. Being one with nature is deeply therapeutic and the large villa bathroom encourages you to sky gaze and listen to the sounds of the forest. The environmental harmony we were surrounded by, embraced our senses and helped both Laveena and I feel relaxed and elated in united symphony.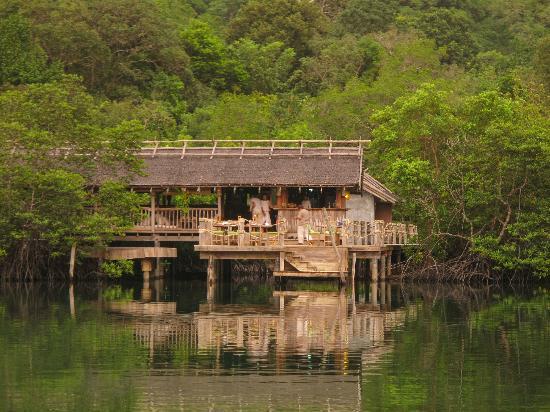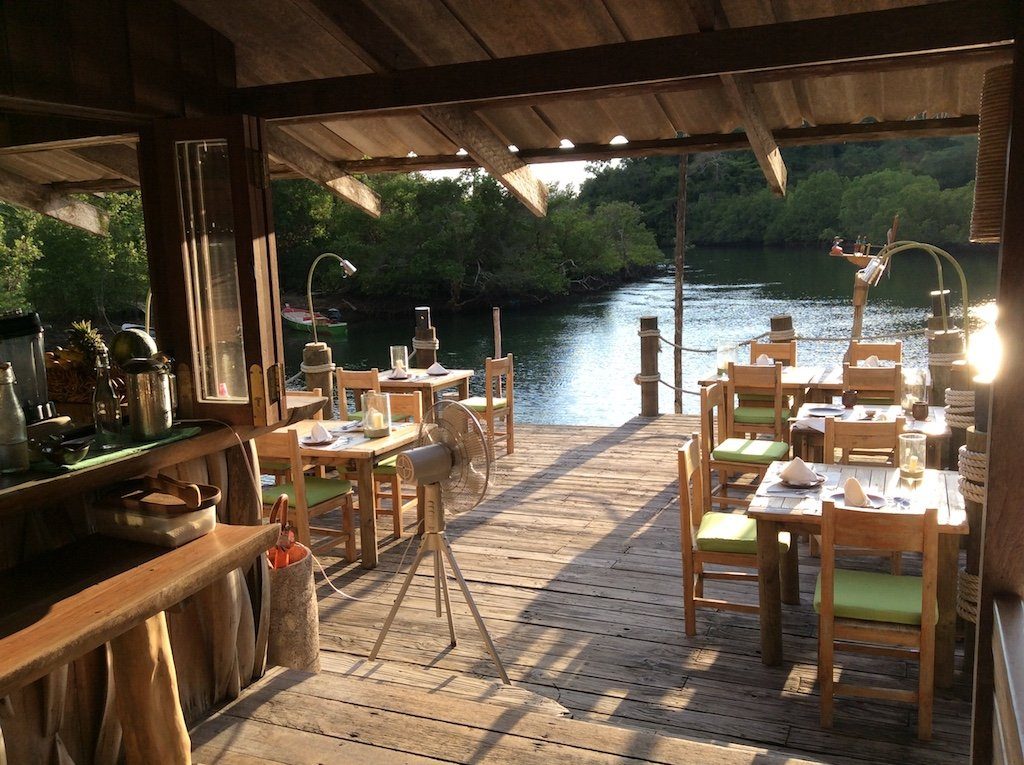 Rejuvenated and thoroughly relaxed, we asked for Khun Chompoo to drive us to the resort pier, where a boat waited to take us to the 'Benz' restaurant. Located a short boat ride from the resort, Mama Benz's restaurant is a nondescript wooden structure, tucked at the very end of a labyrinth of waterways. Although unremarkable, the restaurant sits proud on the water lagoon and is strangely appealing. When our boat came to a stop at the wooden steps leading to the outdoor patio, we were welcomed by the happy young Greek waiter, Dimitris Charitos, who seated us down and introduced us to the star Chef Khun Chirapha Kasosala, famously known as the adorable 'Mama Benz'. After sharing with us, details of a specially crafted menu, Mama Benz disappeared into the kitchen to work her magic. And Laveena and I sipped on an evening cocktail, enthralled by the peaceful ambience, as we stared out at the setting sun, holding hands and wishing for happiness for all in our beautiful world. The Thai food that followed, from MasterChef Mama Benz, appealed to every hungry cell in our bodies. The food was not only mouthwateringly delicious, but was super fresh too. The fish was handpicked by Mama Benz at the Koh Kood water front market that very morning while the ingredients used in the different courses served, were organic and grown in the Soneva garden.
We returned to our villa and with a flute glass of champagne in hand, we relaxed in our pool, looking out at the endless expanse of ocean and embracing the peace which so effortlessly came with this magnificent island setting. The next day was my 50th birthday, a milestone which I felt blessed to share with Laveena, the one individual who made every living moment of my life, a complete and joyous celebration.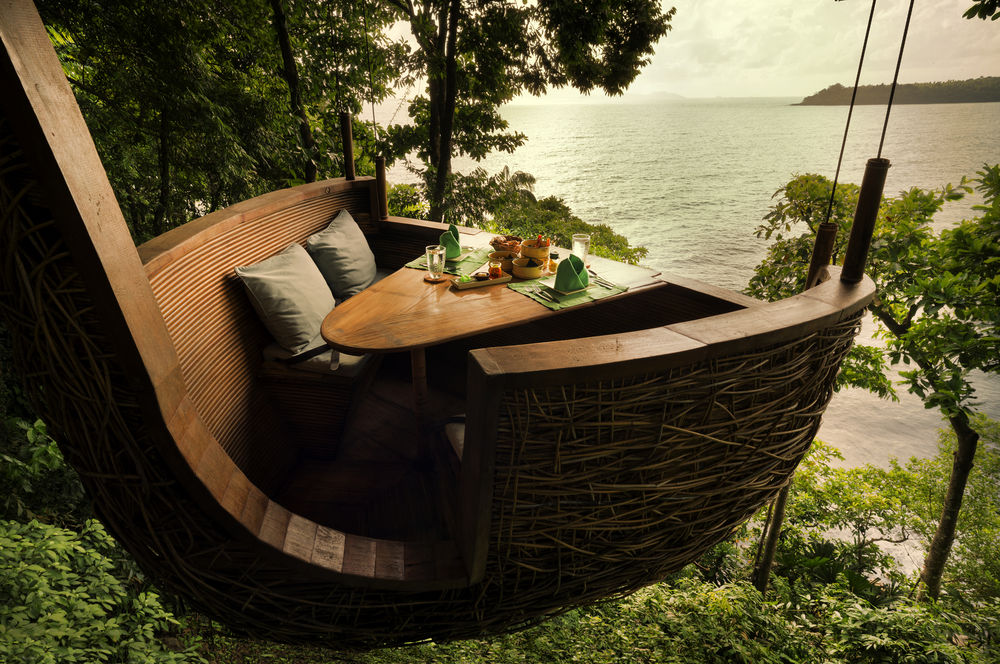 My birthday breakfast was a surprise. Laveena had a knowing smile on her face as we alighted from our golf cart and followed Khun Chompoo onto a raised wooden platform, through the lush green resort island forest.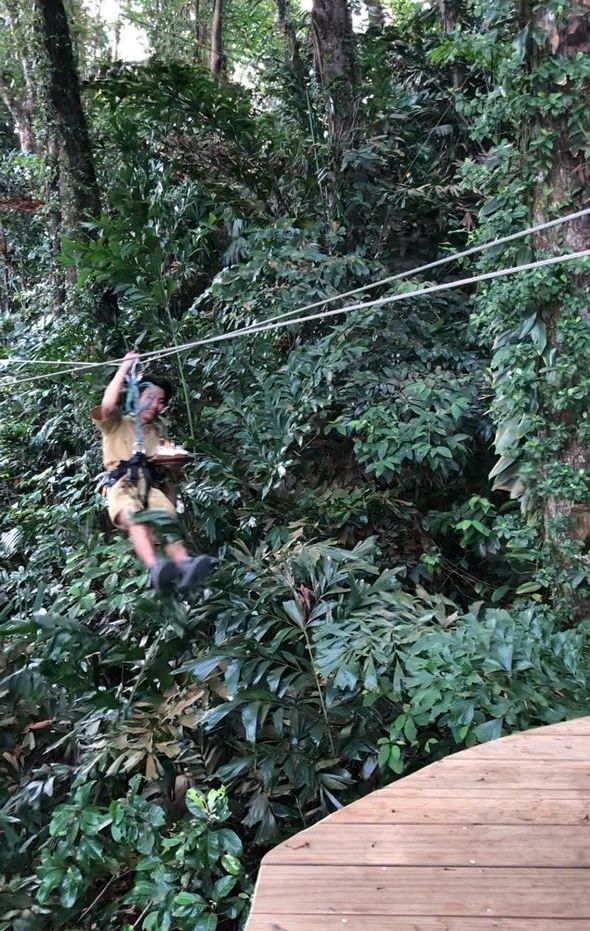 We walked over to a tree- pod, which Laveena explained would be hoisted high up into the tropical foliage of the rainforest, from where we would be treated to breathtaking island views. As we sat in the tree pod, Laveena said that the design of the tree-pod was inspired by the weaver bird's nest and that the tree-pod itself was made by a resident craftsman. Rattan sourced locally was the material used to make the tree-pod. We were comfortably seated and gently strapped down, as the tree-pod was hoisted by a complicated looking pulley system, high up into the foliage. When the private pod came to rest, we were hanging more than 20 feet off the ground. As we looked out at the breathtaking view from our bamboo pod, our waiter appeared on a zip-line and prepared to serve us a delicious breakfast with bird songs and the native Massang trees for company.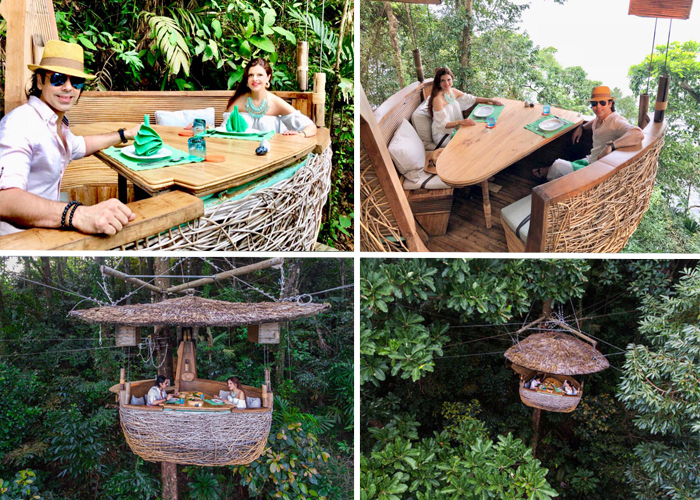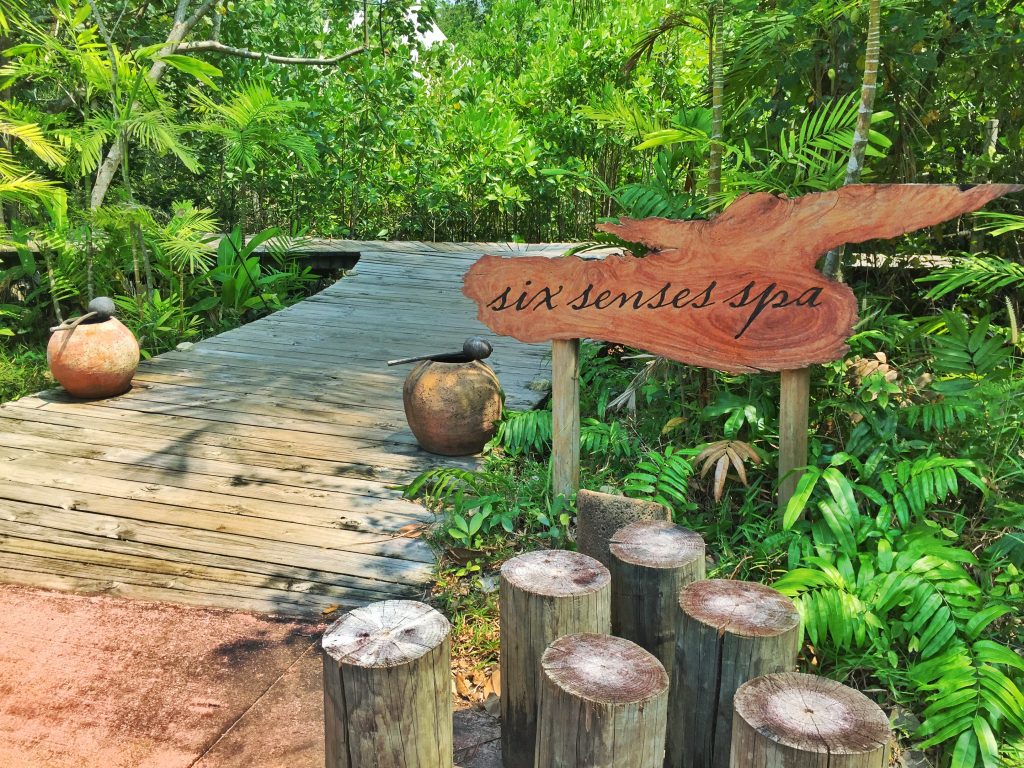 After a unique, once in a life-time kind of breakfast experience, a perfect way to start a very special birthday, Laveena whisked me off to the Six Senses Spa at the resort where she had planned a 60 minute long signature couples treatment.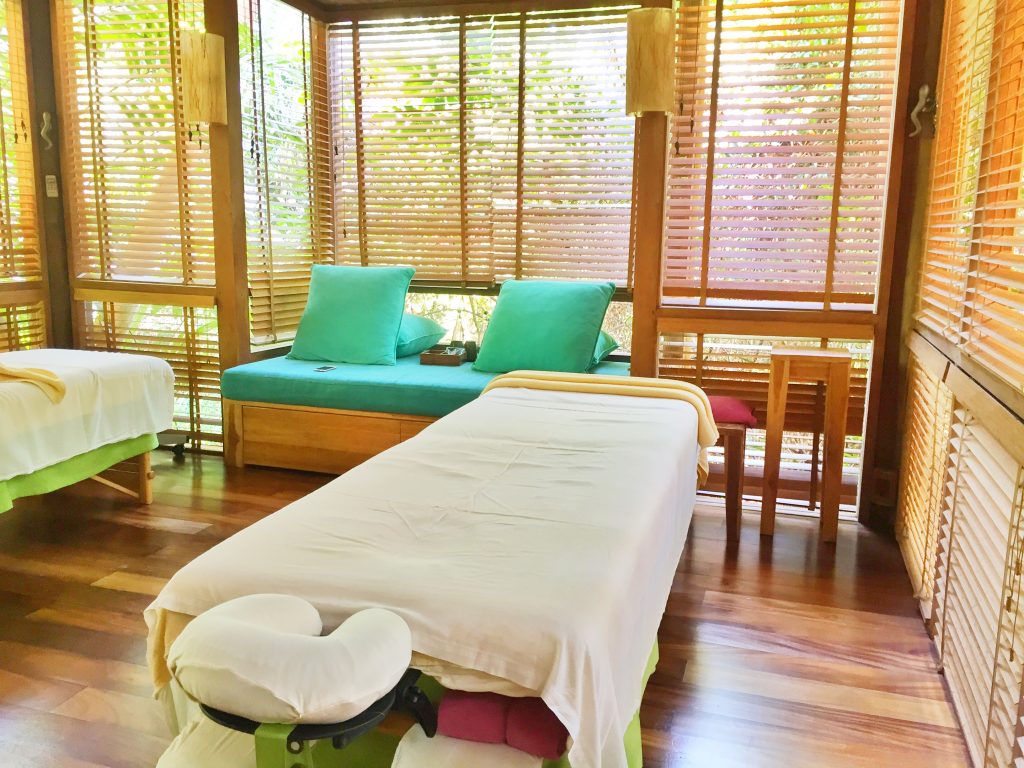 Surrounded by the serene tropical jungle, our spa room had an intoxicating fragrance of lotus blossom. We lay down on our beds and were treated to a heavenly aroma therapy massage which helped us journey to paradise. With every cell in our bodies rejuvenated and our muscles relaxed and invigorated, we returned to our villa.
Lunch on my birthday was equally spectacular as it was elaborately put together by the head chef at Soneva Kiri. Served to us at our villa, right by our private wrap-around pool, we enjoyed both the privacy of the ocean front villa and the delicious display of local delicacies, so generously put together for my special day.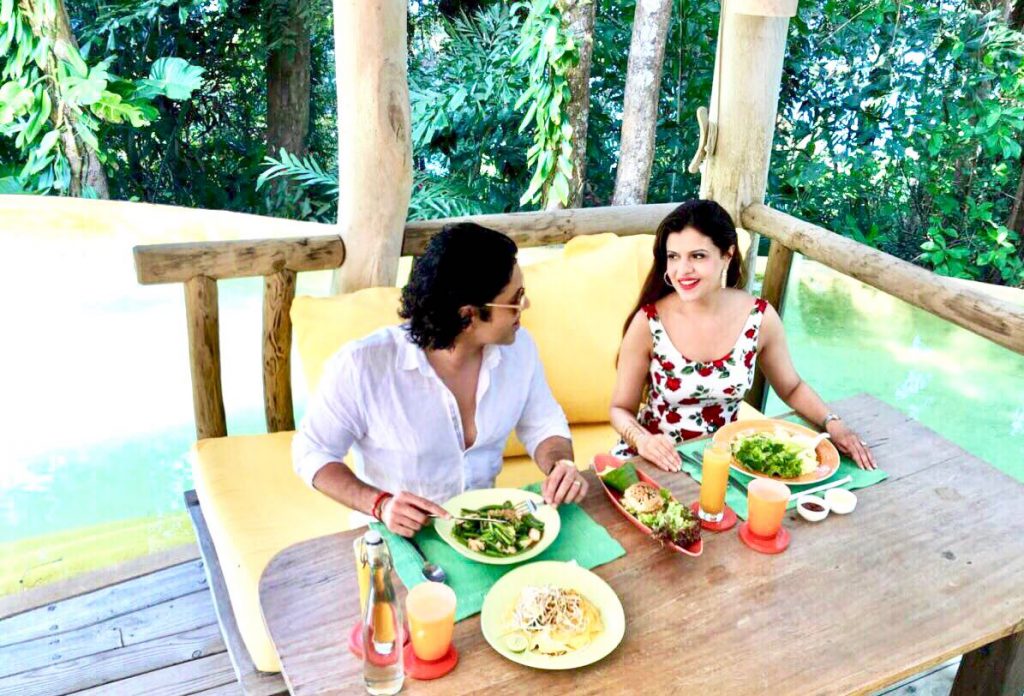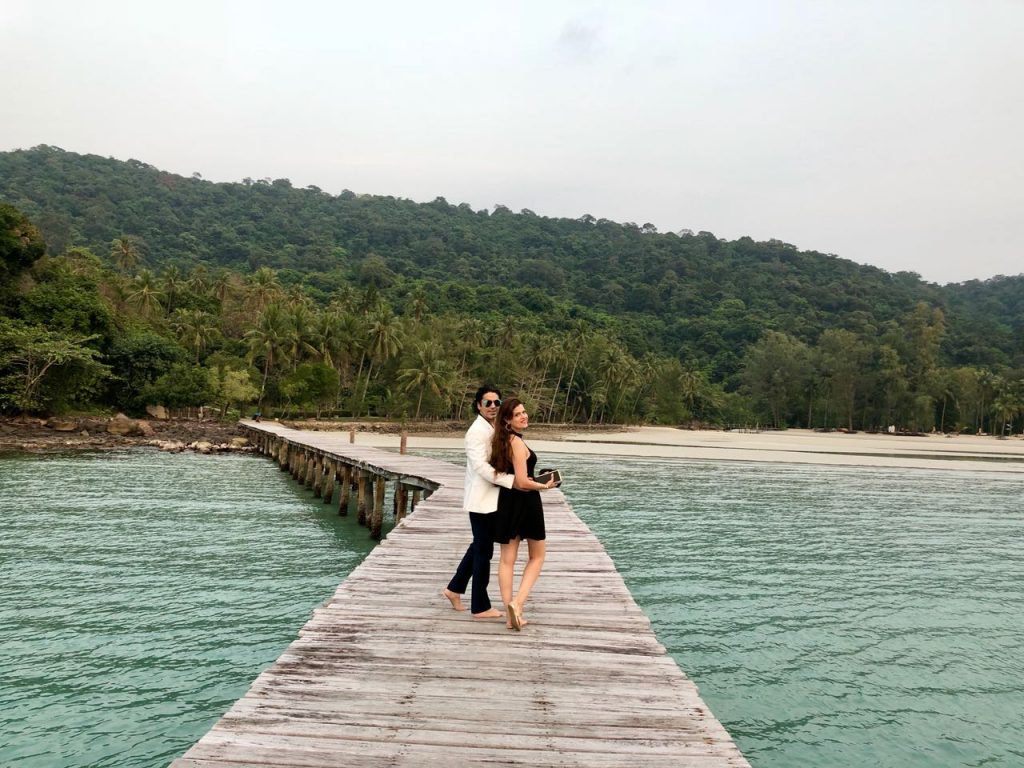 At around 6pm, while we were lounging in our villa pool, Laveena asked if I would like a pre-birthday dinner cocktail at the bar at The View Restaurant. It was an offer I couldn't refuse and we quickly showered and changed and asked to be dropped off at the bar, in time to catch the glorious sunset. However, instead of driving to the bar at The View, Chompoo steered our golf cart in the direction of the resort pier. This unexpected turn of events brought a smile to my face as I began to believe that 'maybe' there was more to Laveena's invitation for a pre-birthday dinner cocktail. I was asked to walk to the edge of the wooden board-walk, where a private speed boat awaited our arrival. Once in the boat, with the motor fired to life, we sped off in the direction of North Beach.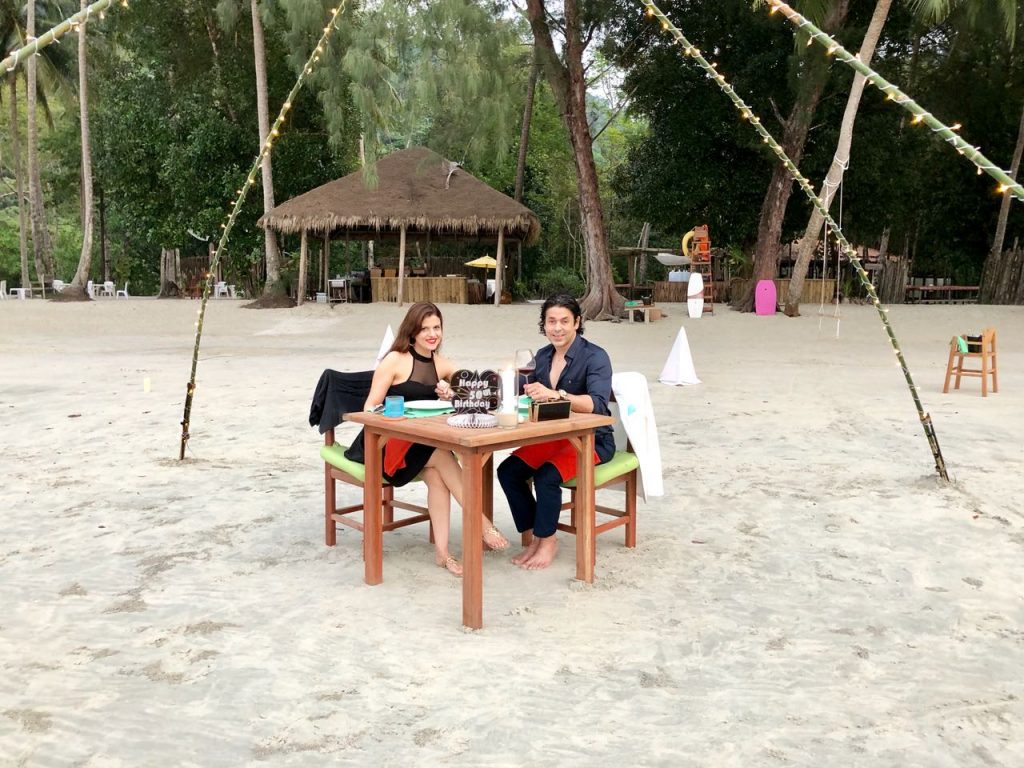 When we neared, I could see a colourful set up for two on the private white sand beach, underneath a canopy of decorations. The sublime beach layout with the sun setting in front, a grand private bar and a sea-food cart and grill, showing off  the finest catch of the day, all waiting to be served to just the two of us, was something I wasn't prepared for. I was overwhelmed, not only with the huge element of surprise, but also with the class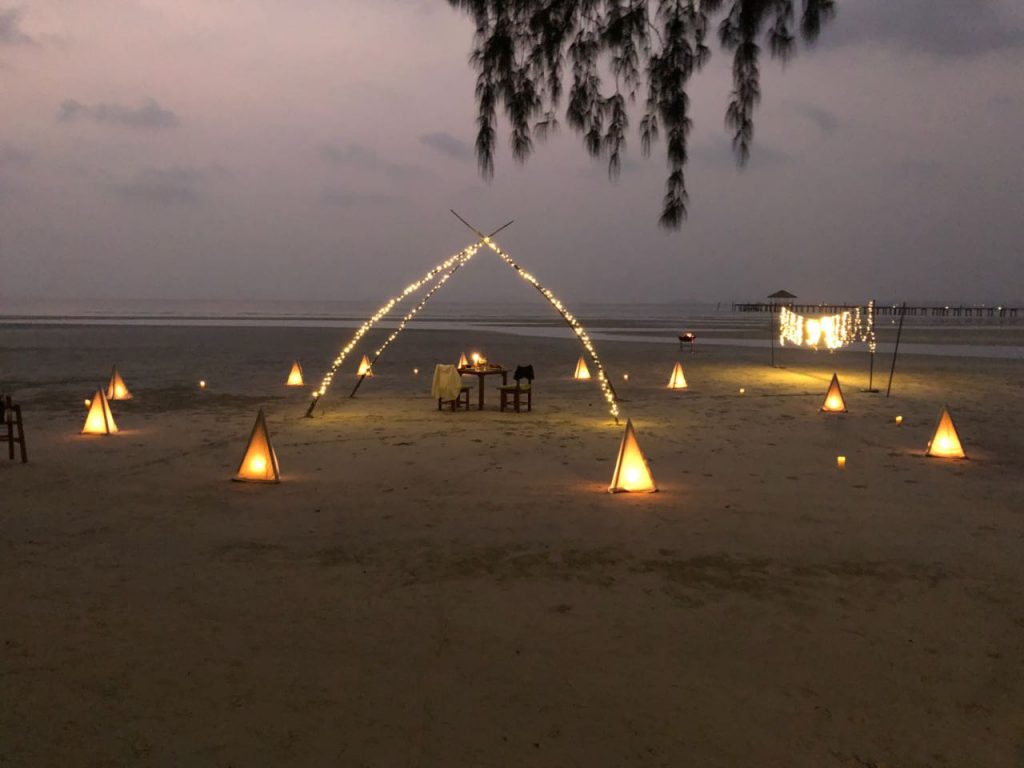 with which all of this was done. Light instrumental music played in the background as a gentle breeze blew over us. When the sun finally set, a fire was lit and fairy lights came on all around us. Lanterns placed in sand pits added to the beautiful ambience.  Laveena and I danced and walked along the beach. We dipped our feet in the cold sea water and stood hand in hand looking out at the infinite horizon. If bliss had a definition, this had to be it. I didn't want this time to end, but Laveena finally said that it was time for us to go back to the resort, where yet another surprise awaited us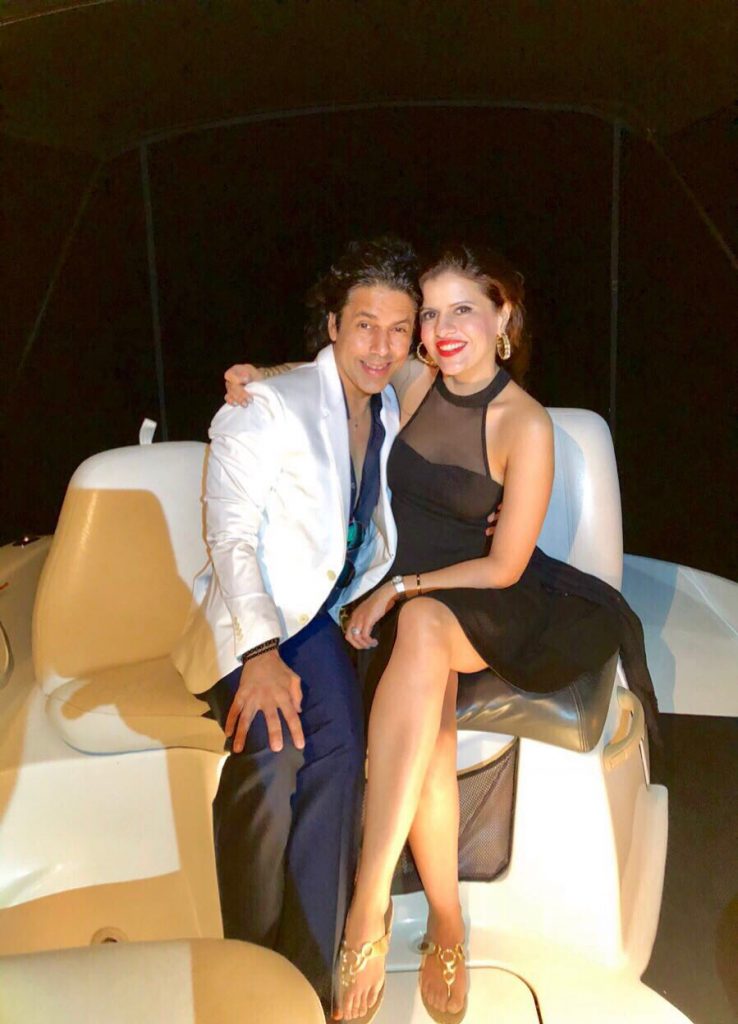 Our boat was waiting to take us back.  Instead of driving us to the villa, Khun Chompoo, took us to Cinema Paradiso, a jungle-enshrouded auditorium over the waters of a reservoir lagoon. Here we were seated on soft comfortable cushions and served a cocktail. As I looked up at the screen, it suddenly came to life, with Laveena on-screen, welcoming me to this open air theatre which she had booked only for us for the night. And then individual messages, from 50 of those closest to my heart, from different corners of the world, one by one, were played out on the giant screen as my parents, my family, my closest friends who are like my family, came alive on screen to wish me a Happy day and a happy and healthy life. I couldn't have imagined a more special place to celebrate my milestone birthday. We returned to our villa which was decorated from corner to corner, with rose petals, heart shaped baloons, ceiling danglers, flower bouquets, birthday cards, champagne and cake. Our room was scented and around our open air bathtub there were 100s of candles that had been lit, to create a complete fairy-tale birthday experience. I wished for this celebration to last forever, as it was dream-like from start to a magnificent finish, when I finally laid my happy head on my soft goose-down feather and slept like a newborn in the Soneva Kiri bed with fabulous views which I had so come to love.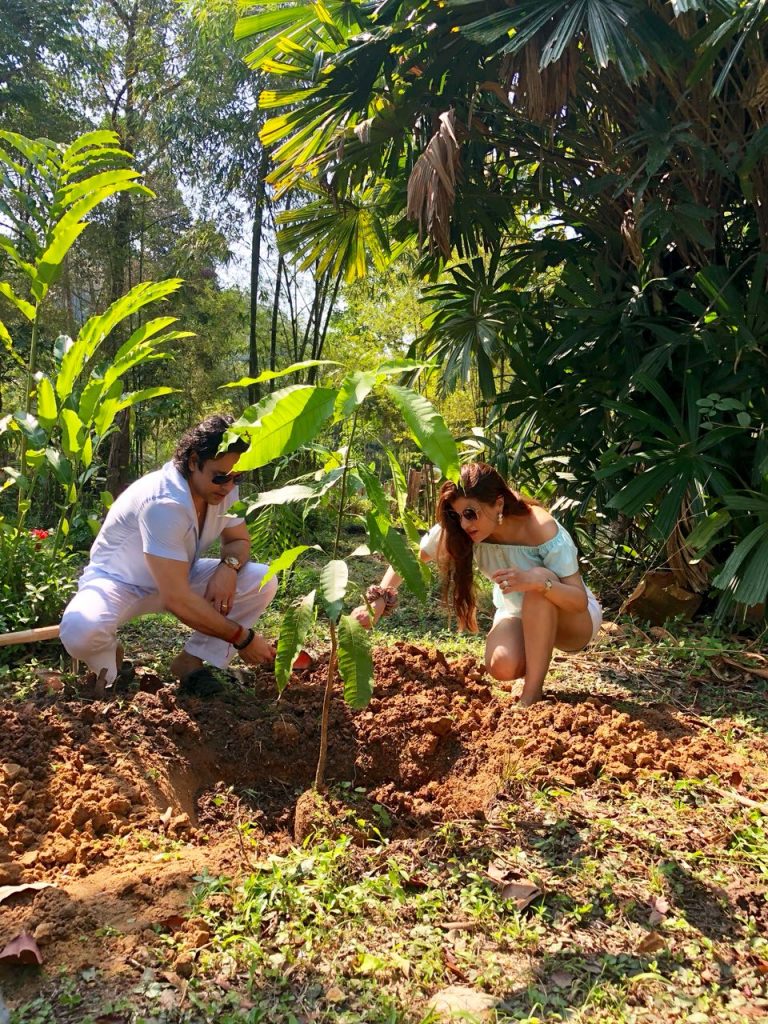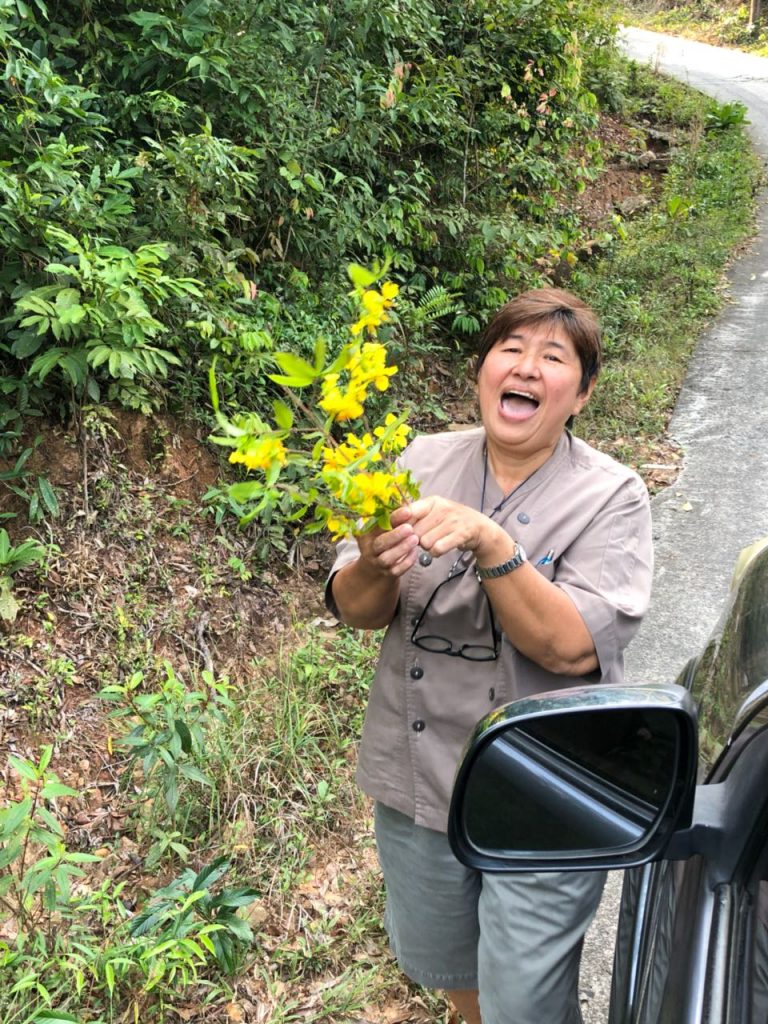 The next morning, Laveena and I were invited to plant a tree at the resort, one which we were told would have our name on it. This was indeed a great honour and we were both eternally grateful. Khun Chompoo informed us that after breakfast, Mama Benz would drive us down to the fish market at the waterfront at Koh Kood, to help her pick from the fresh catch of the day. She said that we had an exclusive cooking class planned with Mama Benz at her restaurant. This was an exciting extension of my birthday celebration and we couldn't wait to get started. While on our drive to the fish market, Mama Benz asked the van driver to halt the vehicle.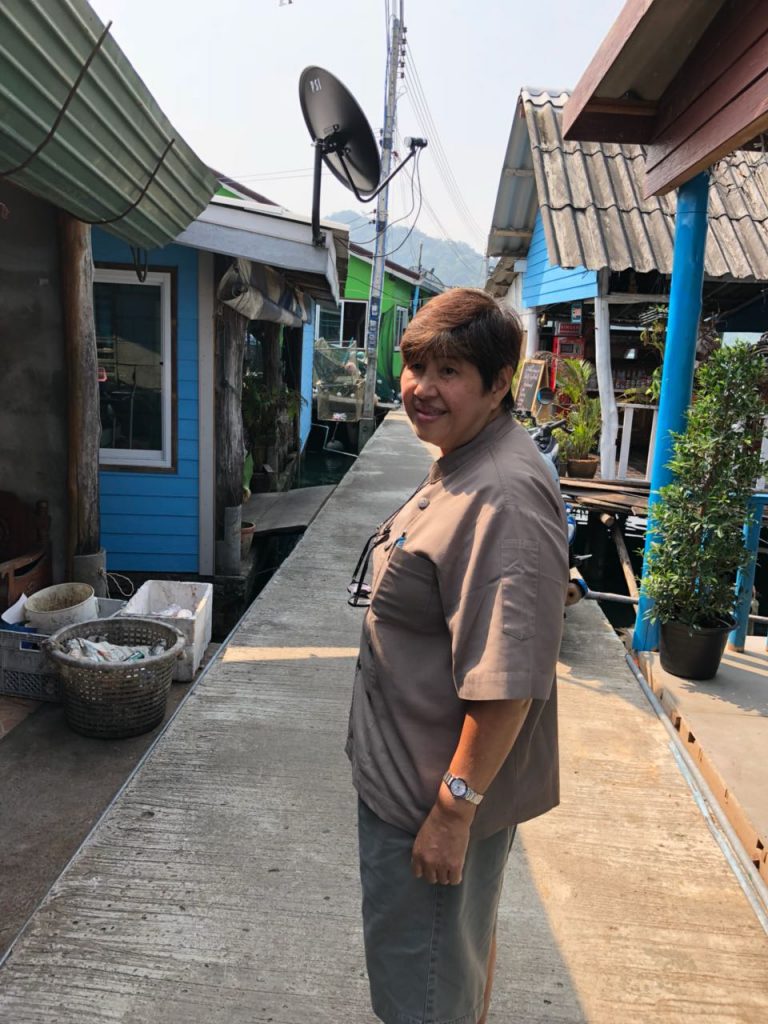 With knife in hand she and the driver stepped out of the vehicle and walked toward a tree on the side of the road. Laveena said to me that she was probably gathering some fresh herbs for our menu that afternoon. Instead, she returned with a beautiful bunch of bright yellow flowers and handed them to me while wishing me a Happy Birthday. Smiling widely, I thanked and hugged Mama Benz as we drove down to the little fish market located at the waterfront. After walking around for a short while and choosing some freshly caught prawn, Mama Benz directed us to a Buddhist Temple, where a monk was waiting to bless us. This was also part of my birthday surprise. We knelt down and bowed our head in prayer, as the smiling monk chanted and blessed us both, on the occasion of my 50th birthday.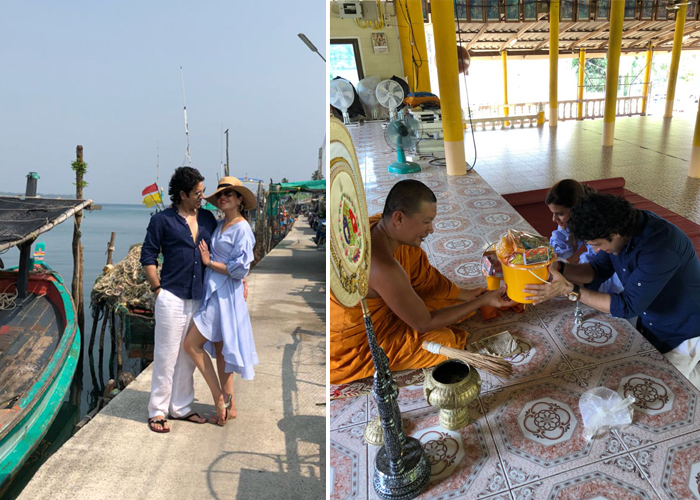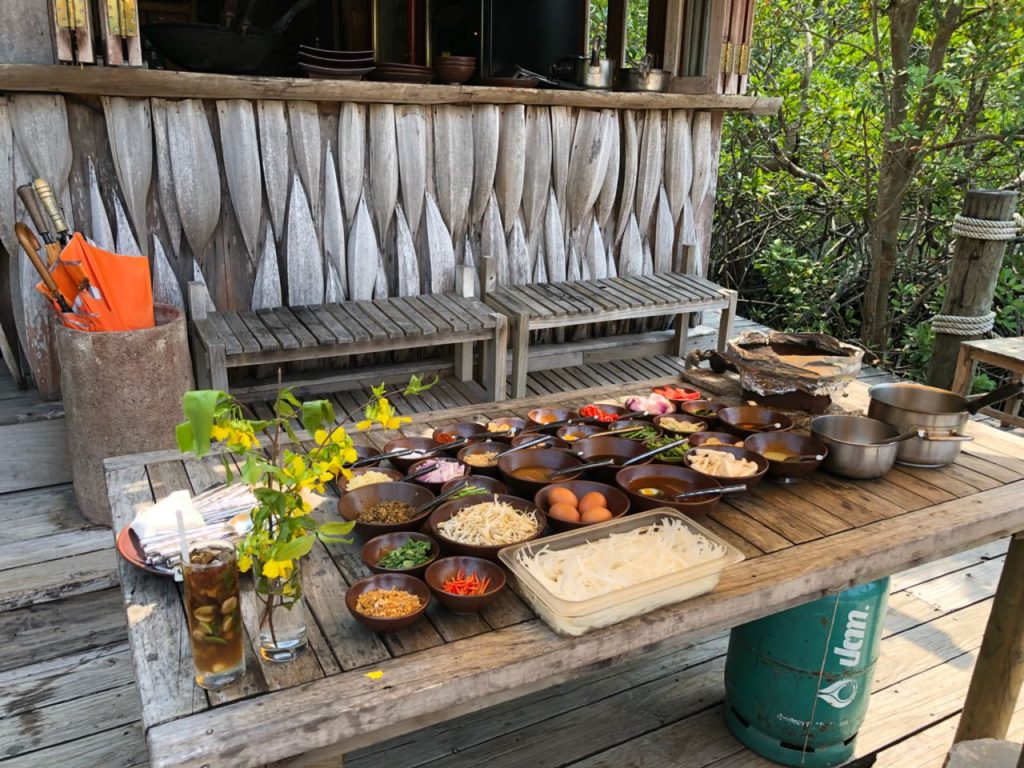 We then drove to the Benz restaurant where on the wooden patio by the lagoon, we had dined at, was a set up of a temporary kitchen. Laveena and I were made to wear aprons as we prepared to learn to cook authentic Thai cuisine under the very able tutelage of Master Chef, Mama Benz. Over the next hour, we touched, whiffed, crushed, sprinkled, stirred, drizzled, boiled, sliced and finally created magical Thai dishes which included Tom Yam Goong ( Spicy prawn soup with lemongrass), Pad Thai Goong ( Stir Fried Rice Noodle with Shrimp) and Goong Thord Kra-Thaim Prik Thai (Fried Prawn with Garlic and Pepper Sauce). We were indeed proud of what we had cooked and relished and savoured our skilfully put together Thai fare before returning back to our villa at the resort to chill.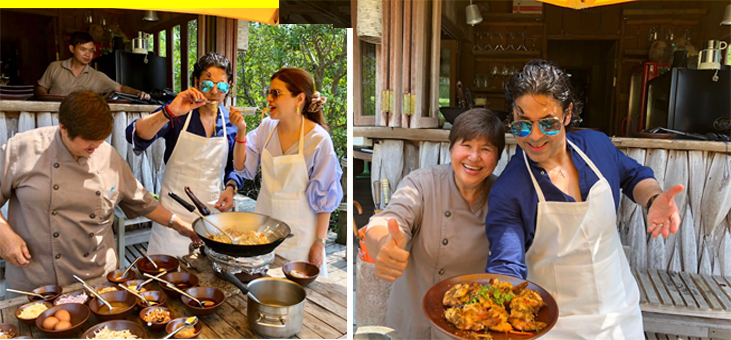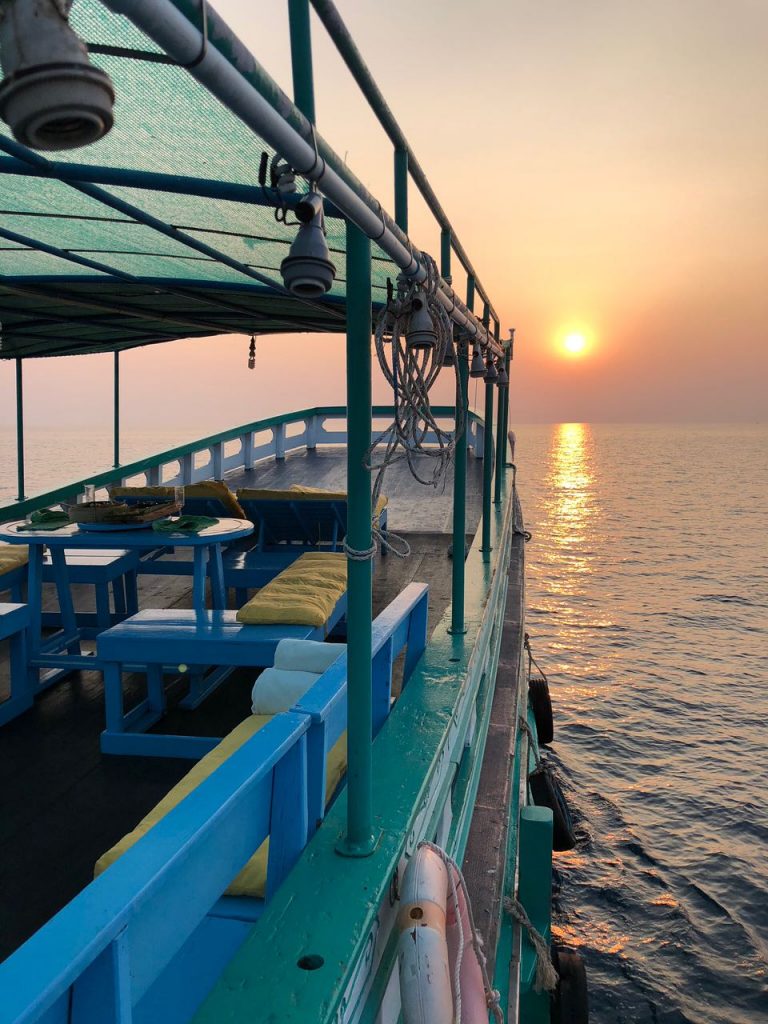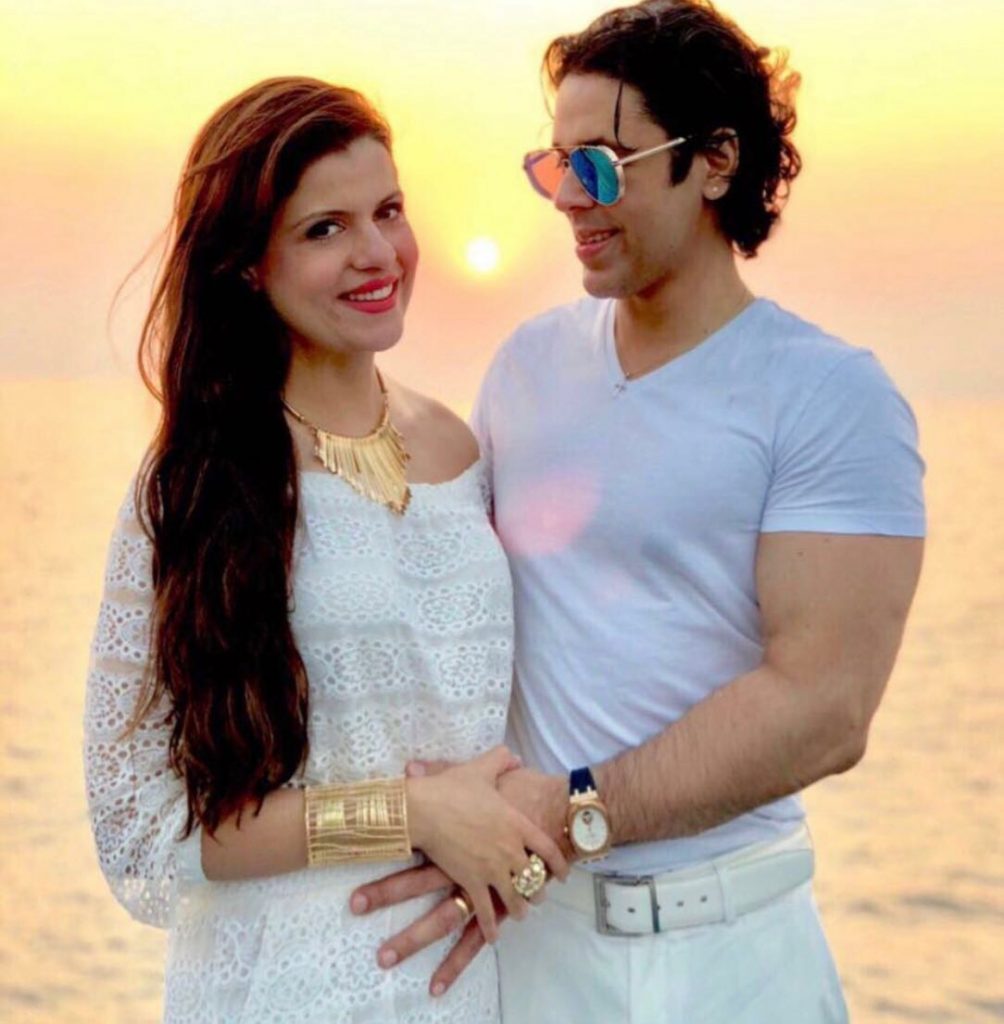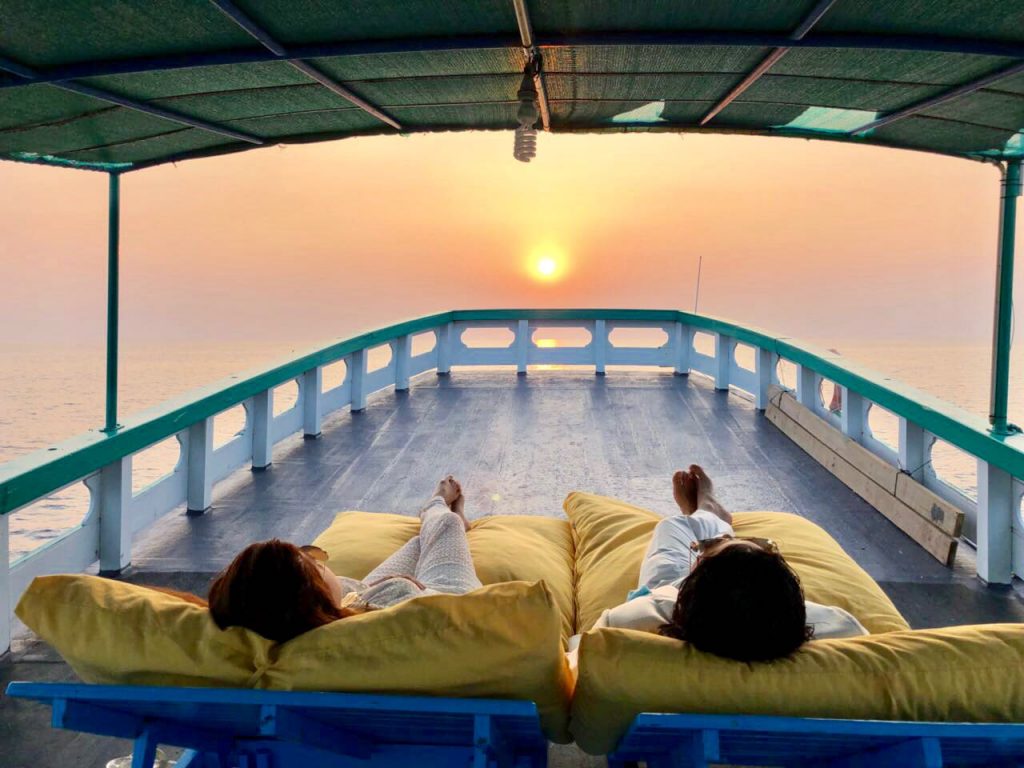 Later that evening, Laveena guided me back to the pier for the grand finale celebration of my 50th birthday year. When we walked toward the edge of the water, I saw before me a huge wooden barge, big enough to carry over 100 people on board. I asked her what this was about and she said that she had booked the boat to take us out on a priave sunset cruise. I was beyond delighted, as the sound of the roaring engines came to life and our boat set out toward the horizon. Seated comfortably on the upper deck, we looked out at the magnificent setting sun and sipped on some fresh juice and feasted on delcious fresh tropical fruits. It was a sight to behold.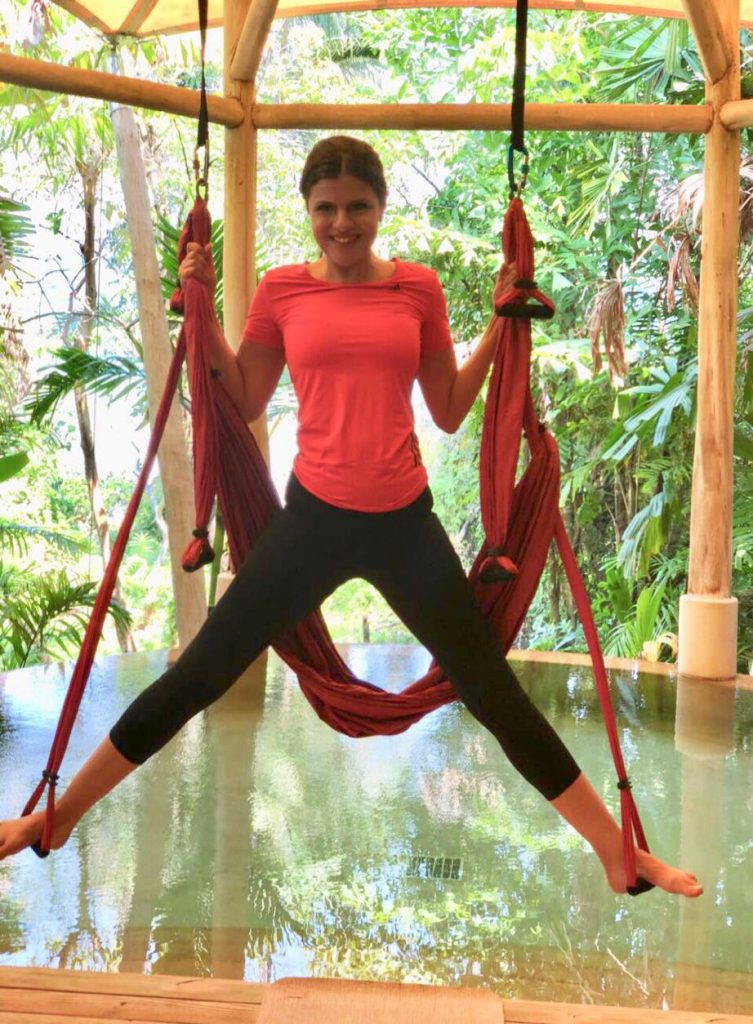 The next morning, we had an integrated wellness screening planned at the Six Senses Spa with the very affable Dr. Dinesh Singh, the charming young Ayurvedic Doctor and Wellness Consultant at the resort. We were simply asked to rest the palm of our hands and the soles of our feet on metal plates while a set of wires were gently taped to parts of our bodies. Post a quick scan, we had a total reading of our body parameters present to us.  Based on the readings, Dr. recommend Ayurvedic remedies and basic life style changes, which he said would have a remarkable impact on our total well being. Our wellness screening was followed by a real fun session of flying yoga with the Dr. Our flexibility and our spirit of adventure were tested as our bodies were contorted and twisted in ways, neither of us thought possible. And at the end of it all, we emerged feeling reinvigorated and refreshed.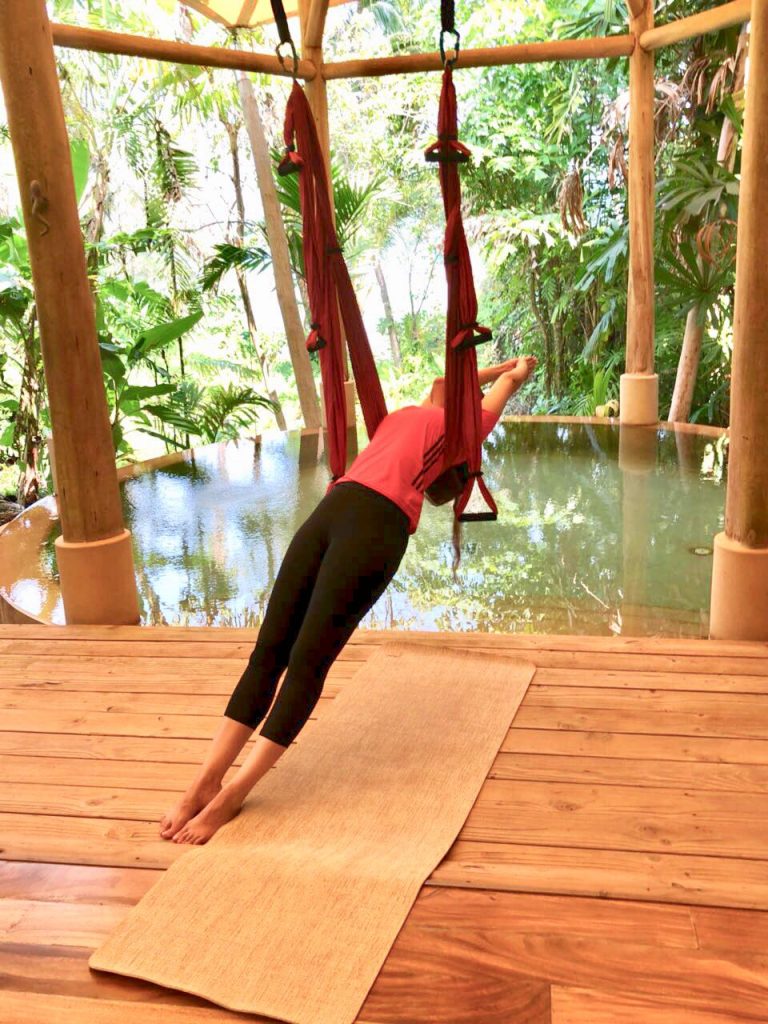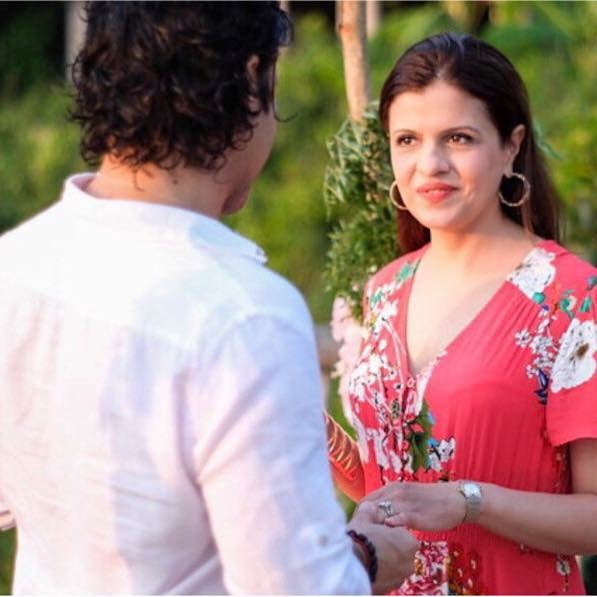 Over the next few days at the resort, our time was very well spent. With Khun Chompoo by our side, whenever we needed any assistance. With the very attentive and caring staff at Soneva Kiri, I couldn't have chosen a more remarkable resort hotel in the world to spend my birthday. We went snorkelling at Koh Raet, dined at 'The View'and even enjoyed a special event called the Asian Street Market dinner at 'The Dining' room one evening. And Laveena and I renewed our vows. At a fairytale celebration, a surprise, put together by Godfrey Vas, the GM, Laveena and I were led onto to a wooden terrace with magnificent views of the ocean. A makeshift bamboo canopy was beautifully decorated with pink flowers and was draped with white cotton sheers. A young Thai lady in her royal national dress stood by as the ring bearer. And Godfrey Vas, a certified priest I got to learn that day, helped us renew our vows in a ceremony which was deeply romantic and fulfilling. As we looked out to the horizon and watched the sunset, Laveena and I held each others hands and thanked God for blessing us infinitely with a life which was truly beautiful.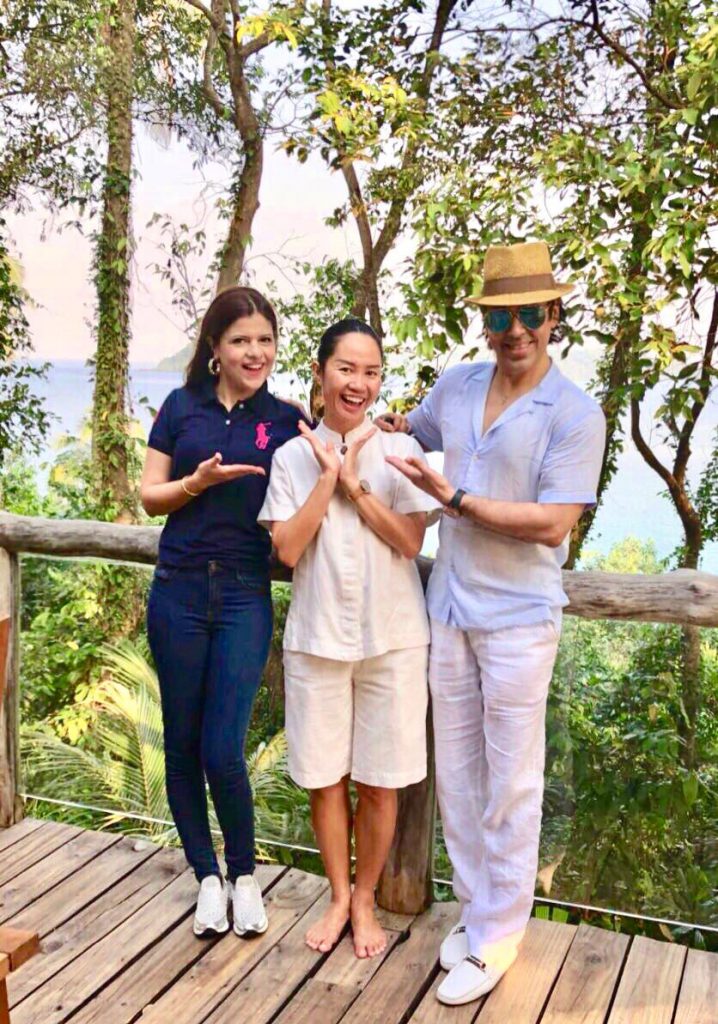 I couldn't think of a more complete and special celebration to mark my landmark 50th birthday. Soneva Kiri made it look so effortless as if making a guest feel like he is on top of the world, is the most natural thing for them. Clearly to Soneva, it appears as if it is. For they make every guest of theirs feel wanted and special. Their attention to every minute detail and their commitment to luxury, makes a stay at Soneva truly memorable. As we bid our goodbyes and hugged our Ms. Friday, Khun Chompoo goodbye, we promised to rerun to Soneva Kiri soon. Meanwhile, we would re-live often, my birthday celebration, through sharing our experiences with friends and re-visiting the 100s of photographs we took while at this magnificent resort.
---
SONEVA KIRI
---
• Location:
Google Maps
• Address: 110 หมู่ 4 Tambon Ko Kut, Amphoe Ko Kut, Chang Wat Trat 23000, Thailand • Hotel website:
SONEVA KIRI
---
Our Rating
---
Location: 9/10
Food and Cuisine: 9/10
Design: 9/10
Rooms: 9/10
Service: 9/10
Overall experience: 9/10
---
Articles you May Love To Read
---
SONEVA FUSHI
---
SONEVA JANI
---
Follow me on
Facebook
,
Instagram
and  
Twitter
 for some amazing travel posts
---