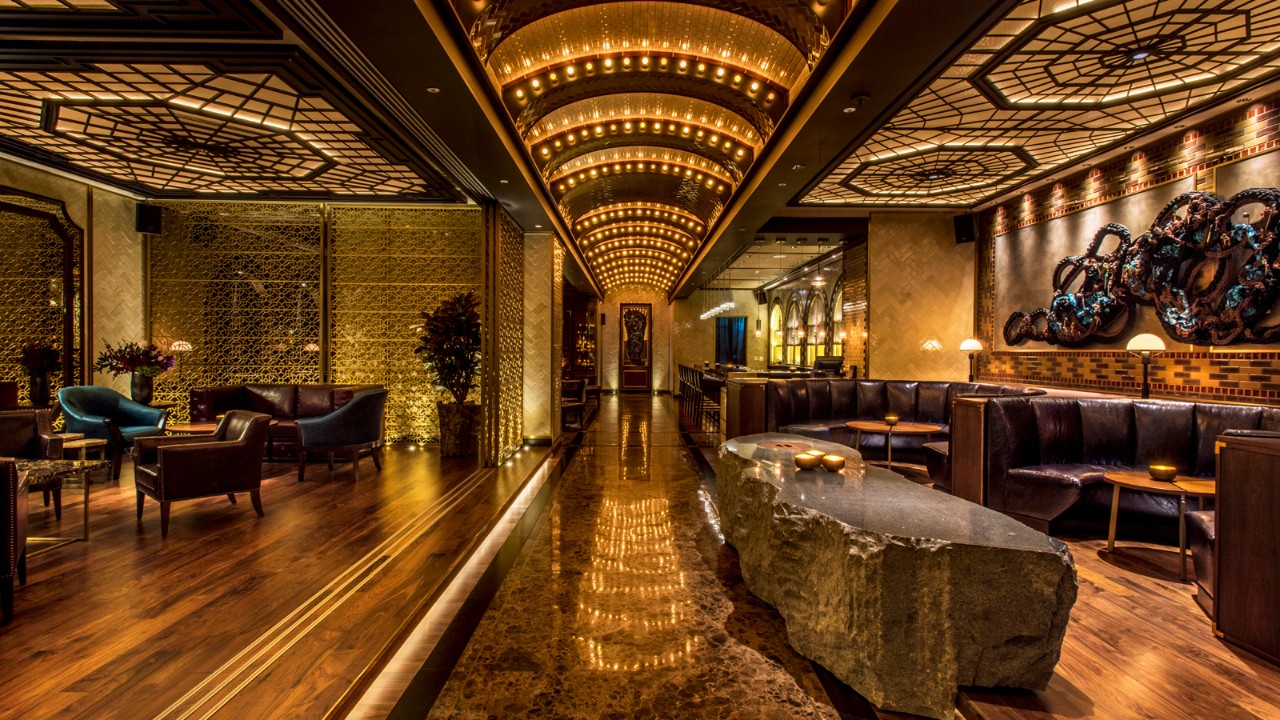 NOVEMBER 03, 2018 BY SAJJID MITHA
Stylish Elegance at the Four Seasons Hotel, Seoul
On a recent business trip to Seoul, South Korea, I chose to stay at the Four Seasons Hotel. Not only had I heard from friends, that the relatively new glass-and-steel hotel, designed by Su Sin Tao of Singapore, offered guests a perfect blend of luxury and style, but also that the location of the hotel on Seoul's north Bank, was hard to beat.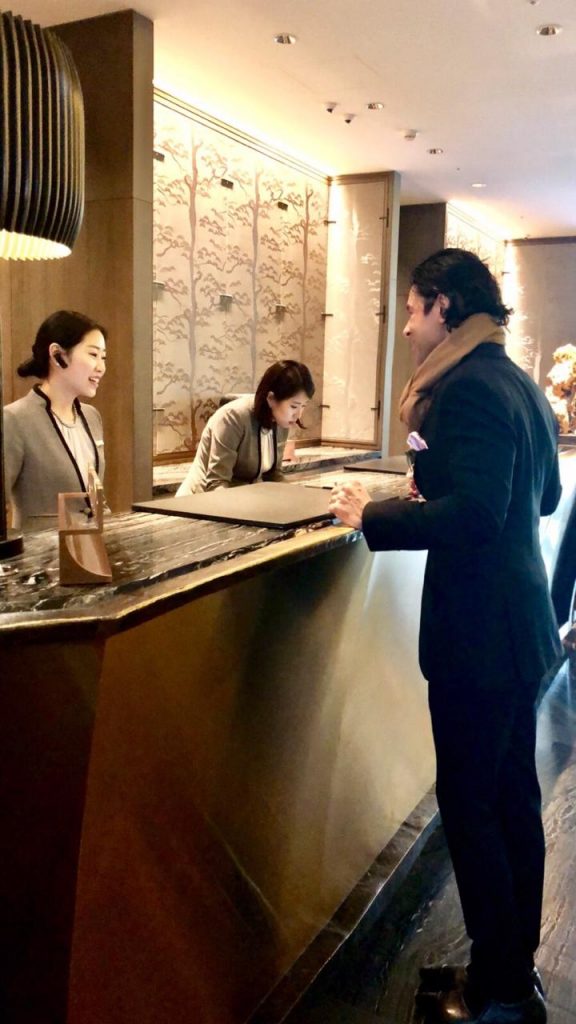 I was very warmly welcomed at the hotel by Ms Sui Kim, the soft spoken and charming Hotel Assistant Manager and was smoothly checked in and shown to my room. I was delighted to be upgraded to the large 900 sq ft, studio suite, although the views I was looking forward to and had heard so much about, were sadly not to be from the room I had been allocated. Friends had told me about the magnificent views they had enjoyed of the Gyeongbokgung Palace and the green hills of Samcheong from their floor-to-ceiling windows. All I could see were skyscrapers and an under construction building, although the sound proof windows, thankfully kept out all of the outside noise.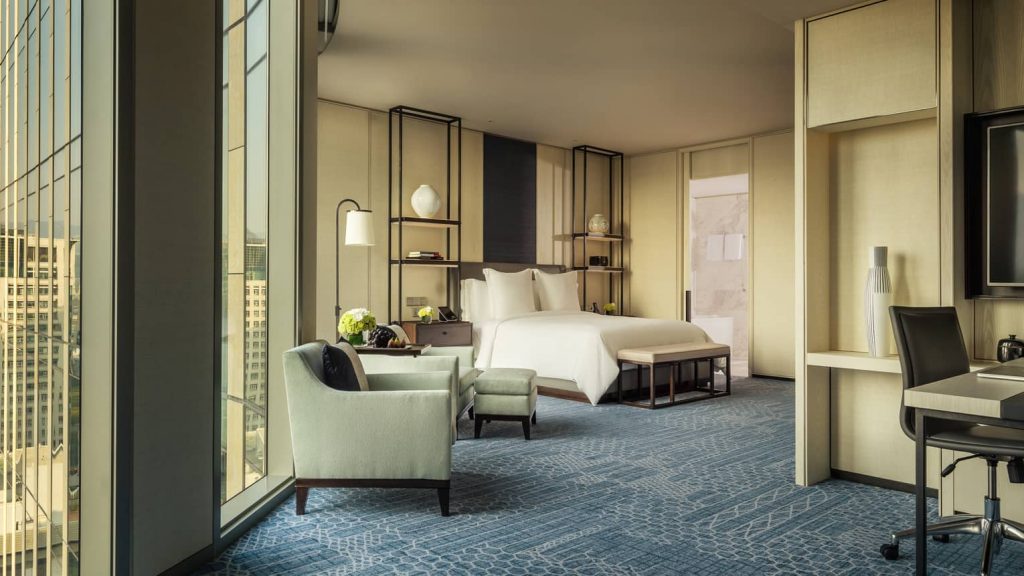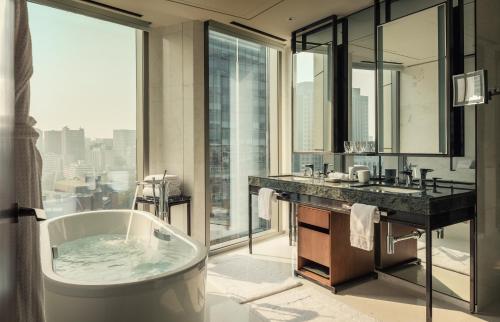 The room itself was neatly decorated with warm soothing colours. I was thrilled to see an espresso machine and a bathroom made entirely of white Italian marble. The complimentary Lorenzo Villoresi amenities in the bathroom were also a plus while the King-sized bed was supremely comfortable with large soft pillows and a mattress which was neither too soft nor too hard.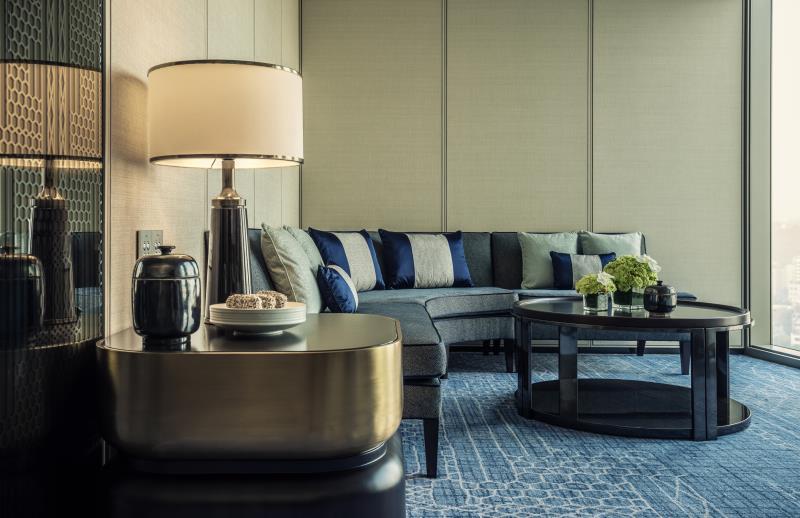 Once i settled in, I took a walk to the Cheonggyecheon stream, which was a short distance from the Four Seasons hotel, Seoul. Cheonggyecheon, is a 10.9 kilometre, public recreation space which is popular with locals and offers some super photo opportunities of peace and quiet within the urban sprawl.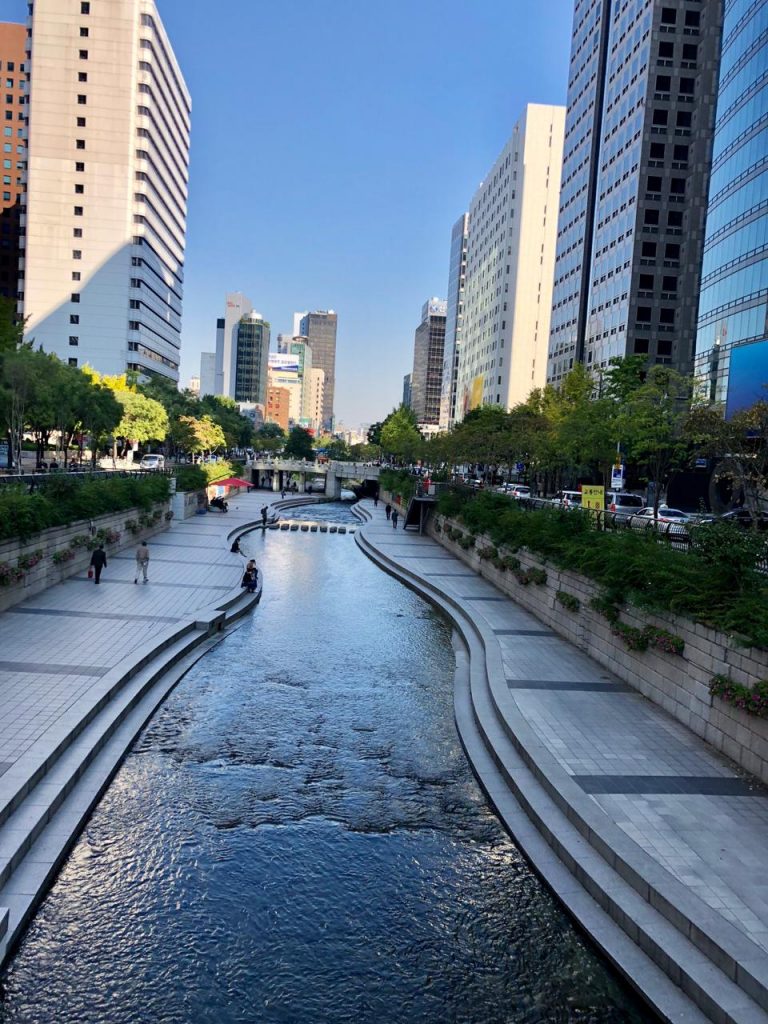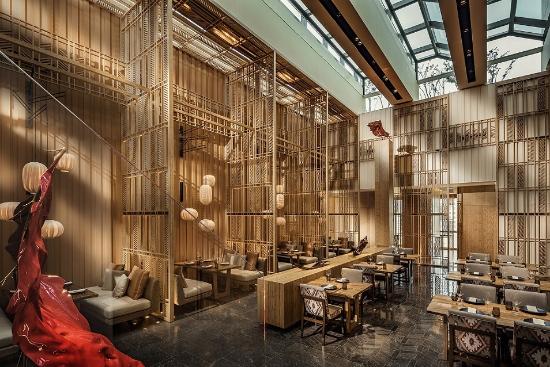 I had a late afternoon meeting at the executive lounge at the hotel so I returned for lunch and chose to have my meal at Kioku, a high-end Japanese restaurant built on two levels. Although I love Sushi, I gave it a skip and chose to eat at the Kyoto style area of the restaurant. And the food cooked up by Michelin starred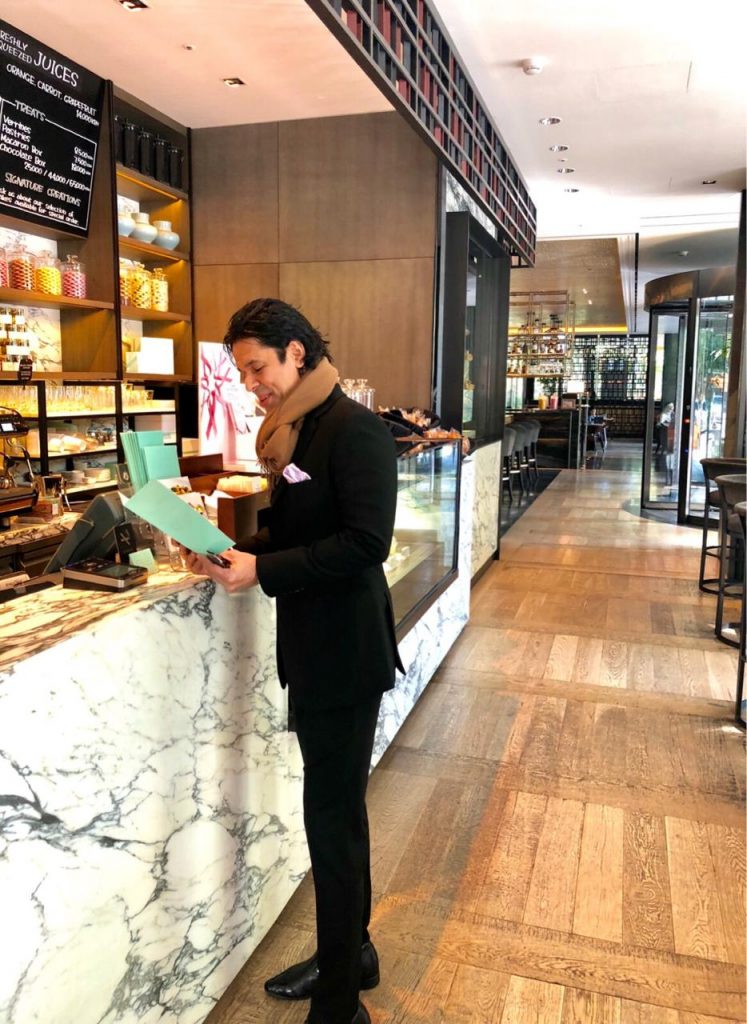 Chef Koji Sawada was beyond top-notch. Post lunch I stepped out for a short walk and for some fresh air. And then I returned and sat in the hotel lobby where I was to meet my business guests. The lobby at the Four Seasons hotel, Seoul, is elegant and stylish and is built around a fireplace which rests on a bronze sculpture representing a map of the Korean peninsula. The high ceiling, the fabulous flower arrangement by Nicolai Bergman and the plush sofas, complete that feeling of distinct and refined luxury, the Four Seasons brand is so well known for. While waiting for my guests, I grabbed a coffee at 'Confections by Four Seasons' on the lobby level.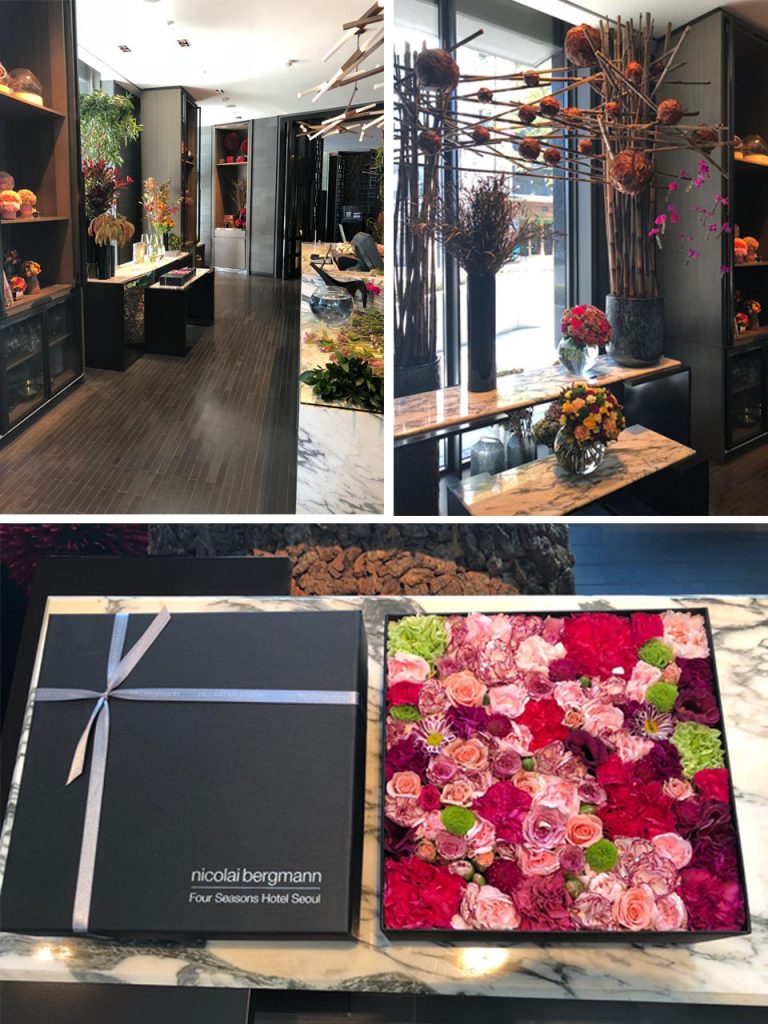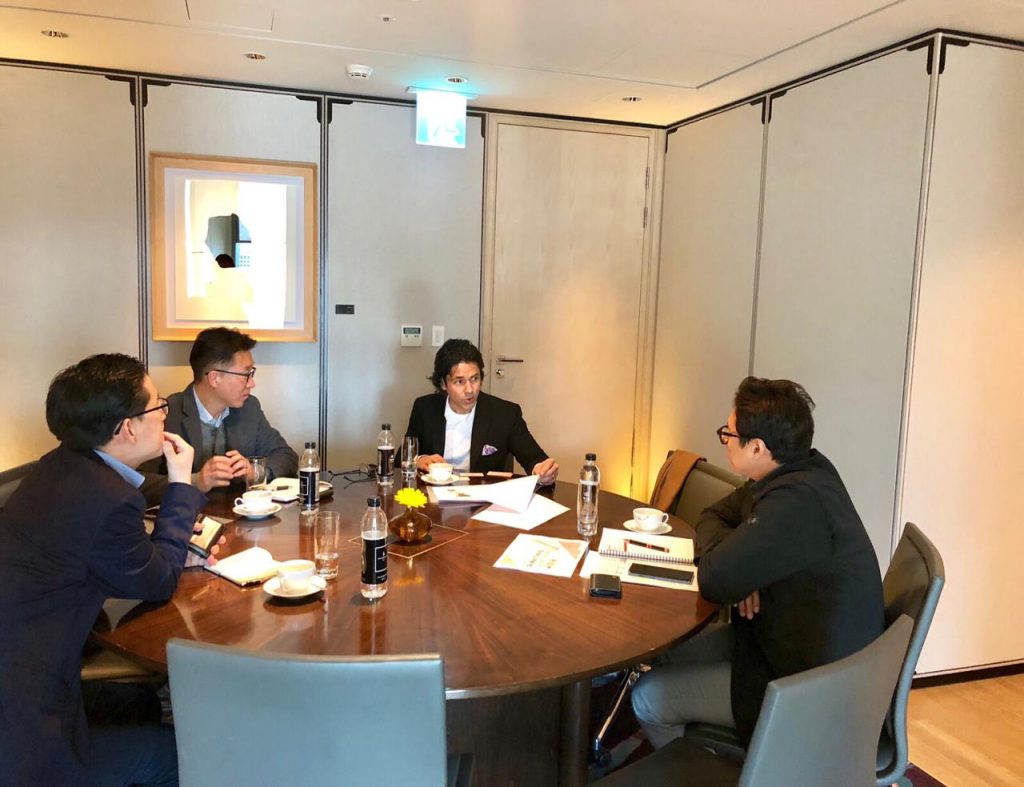 When my guests arrived, we immediately went up to the executive lounge on the 28th floor of the hotel. A private room was set-up for our meeting and the lounge staff offered us tea and coffee and politely excused themselves and offered us privacy to carry on with our business meeting. The executive lounge at the Four Seasons, Seoul, is lovely and from one section overlooks the Gyeongbokgung palace. I planned to return to the lounge the next morning for breakfast and then again for evening cocktails. Sadly, I did not have time for the elaborate afternoon tea I was told about, as I had previous work commitments.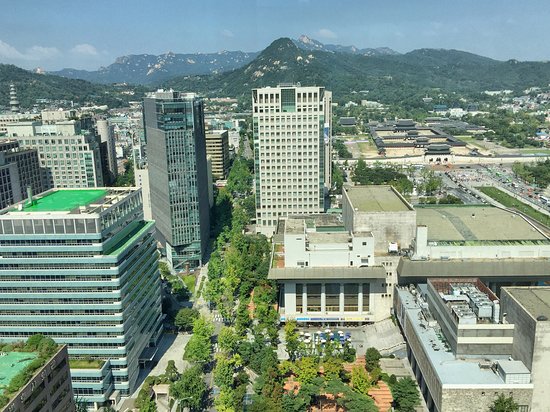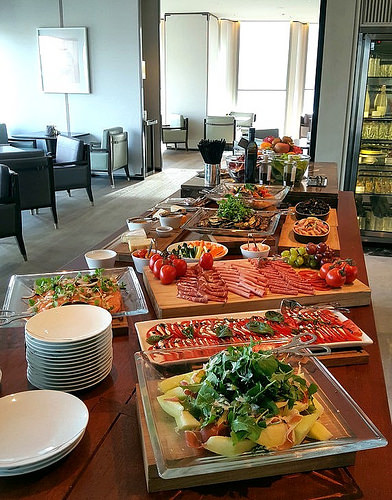 Breakfast at the lounge was fantastic. From the many different club lounges I have been fortunate to have experienced, I would rate this as one of my top 5, given that the breakfast buffet spread includes many well known Korean dishes which my palate finds very appealing. And while some may find the local spices to be a trifle bit alien to taste at that early hour of the morning, I have developed a liking toward Asian tastes, especially pulgogi, which is a delicious Korean broiled beef.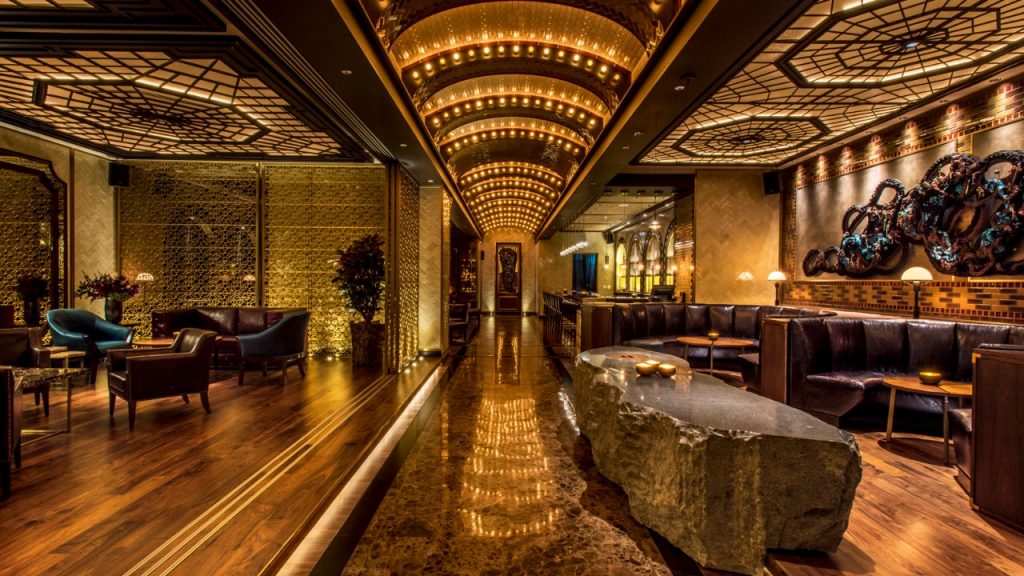 While at breakfast at the executive club lounge, I was lucky to have met the very lovely and elegant hotel manager, Ms. Esther Kostecky, who walked over to my table and introduced herself. I remember having interacted with her husband, James Kostecky, when he was the GM at the Four Seasons, Chiang Mai, in Thailand, many years ago. Charming and ever so welcoming, Esther shared some wonderful tips with me about the area and recommended I visit the Charles H bar, located behind an unmarked secret door at the basement of the hotel. She said that it was rated as one of Asia's top bars.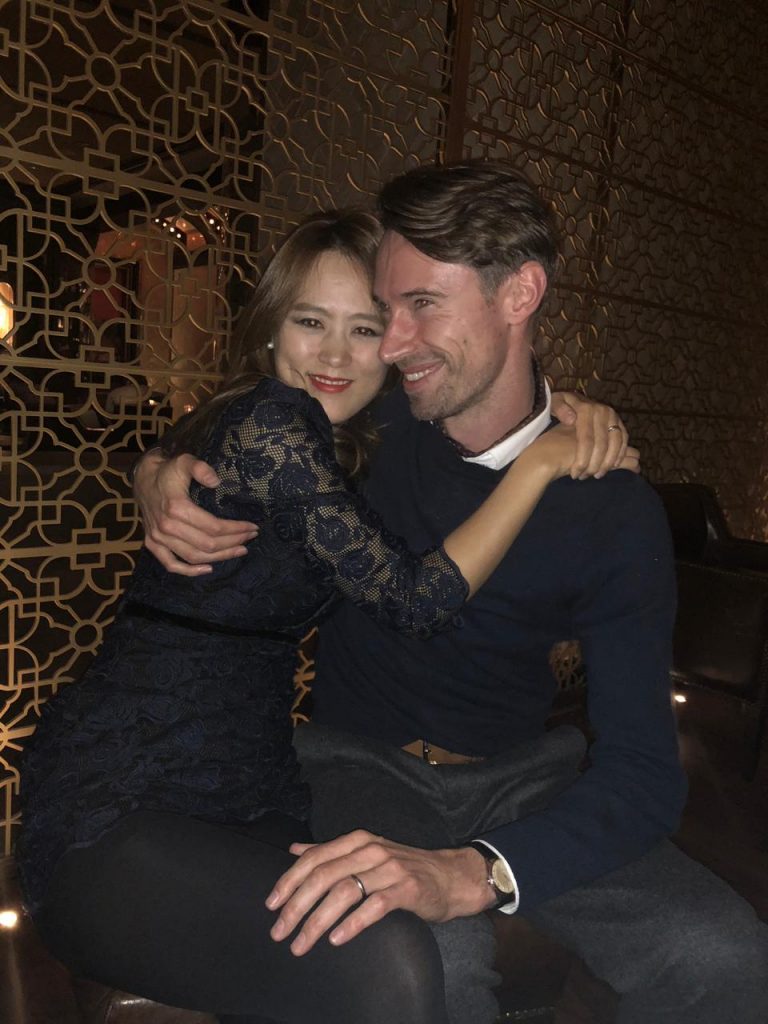 After spending the day out at work, I returned to the lounge for a drink in the evening and while pouring myself a delicious French bordeaux at the lounge bar, I met a most affable and endearing couple, who I ended up spending most of my evening with. Rohan Moore and his pretty Korean wife Ji Seon, are super successful entrepreneurs and the humble owners of the renowned English Clothing brand, 'Olive'.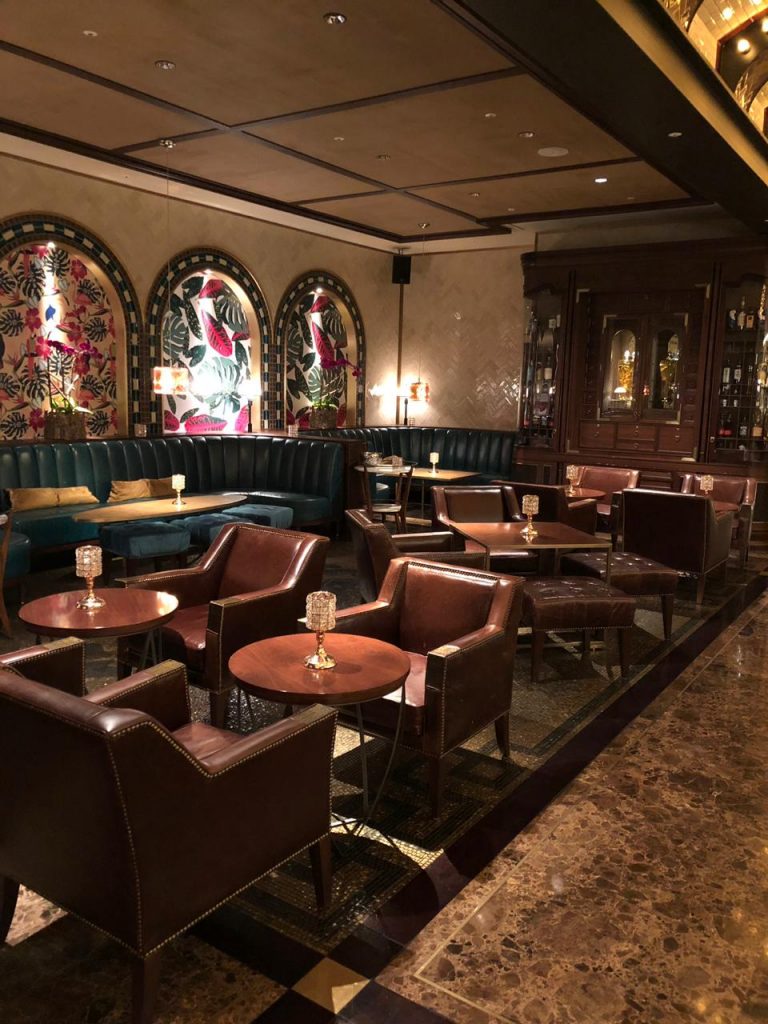 The Moore's travel to Seoul every year and their choice of hotel, for their usually long, 3-week stays, is always the Four Seasons, Seoul. After spending an interesting hour in conversation at the lounge, Ji Seon, Rohan and I headed down to the famed Charles H bar, a tribute to the famous cocktail 'bon vivant' Charles H, who wrote for Esquire in the 1930s . He is known to have traveled to Korea way back in 1931 from where, like on his travels to other parts of the world, he collected drink recipes which he shared with his readers. My choice of drink for the evening was the 'Manhattan flight', a classic cocktail, made from rye whiskey. I found the drink to be delicious, almost dangerously so, with it's strong, cool and sweet taste which helped it retain a slight edge over the common martini.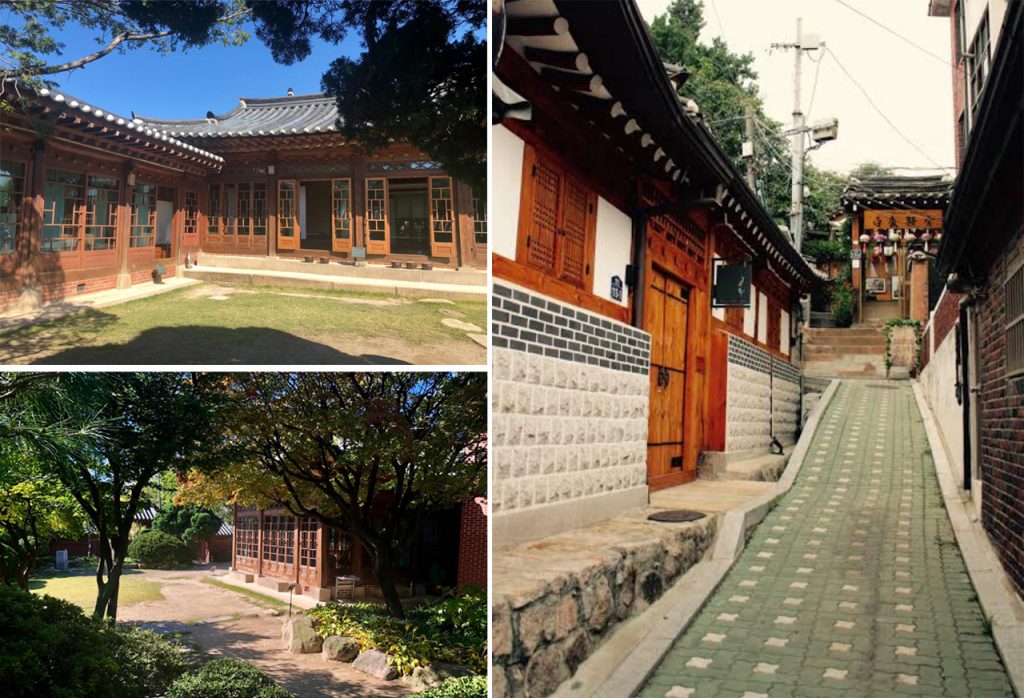 The next day I was up early. My meetings were scheduled to begin at 11 am, so I had a few hours to explore the city. I put on my sports shoes and jogged over to the Bukchon Hanok Village, a traditional village in Seoul, located on the top of a hill between Gyeongbok Palace, Changdeok Palace and the Jongmyo Royal Shrine. Since it was early, there were very few tourists and I was therefore able to capture some precious shots of empty streets and what life may have been like in ancient Korea. The fascinating designs of the homes, offered a peak into the culture of Korean life. Given the ideal location of the hotel, a visit to this village is an absolute must.
Later that evening, I chose to dine at Micheline-starred Yu Yuan, a fine dining restaurant at the hotel, done up in a grand and distinct style of Shanghai in the 1920s. With private rooms, a favourite of local celebrities, the restaurant offered a delicious Cantonese menu put together by Chef de Cuisine Koo Kwok Fai. The live Abalone and the Beijing Duck rated high on my choice of favourites from the menu and I cannot wait to return to the restaurant on my next visit to Seoul.

The staff at the hotel stand tall above other luxury brand hotels, in that they are extremely polite, courteous, attentive and caring. I was lucky to have met with Yoony Song, Director of Guest relations, Claire Kim, assistant guest relations manager, Sui Kim, Assistant Hotel manager and of course the lovely Esther Kostecky, manager at the Four Seasons, Seoul. This Four Seasons hotel, Seoul, which offers an alluring mix of spanking new with a mysterious twist of tradition, in my opinion is by far the city's best luxury hotel on offer. Value for money with a wide choice of restaurants to dine at, superior interiors with great hotel facilities including a 8700 sq ft fitness centre, a lovely outdoor garden terrace on the 15th floor of the hotel, a traditional Korean Sauna, comfortable guest rooms, is perfect whether you're in Seoul on work or pleasure. I haven't stopped talking about my experience at the hotel and I plan to return soon with Laveena, so that she too can experience the magic of this grand hotel property.
---
 STYLISH ELEGANCE AT THE FOUR SEASONS HOTEL, SEOUL
---
• Location:
Google Maps
• Address: Saemunan-ro, Sinmunno 1(il)-ga, Jongno-gu, Seoul, South Korea • Hotel website:
THE FOUR SEASONS HOTEL, SEOUL
---
Our Rating
---
Location: 9/10
Food and Cuisine: 8/10
Design: 9/10
Rooms: 9/10
Service: 9/10
Overall experience: 9/10
---
Follow me on
Facebook
,
Instagram
and  
Twitter
 for some amazing travel posts
---