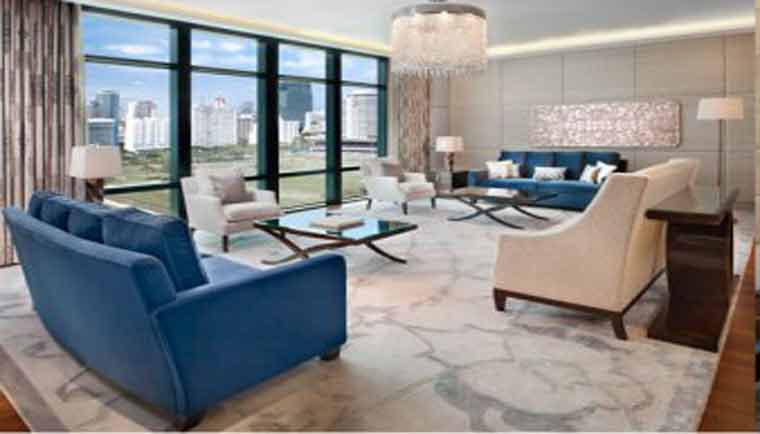 JULY 11, 2014 BY SAJJID MITHA
Embrace luxury at the St Regis Bangkok
In the heart of the city of Bangkok there lies a pearl. Elegant in its opulence, sophisticated in its décor, the resplendent 47 story St Regis Hotel at the prestigious Rajadamri road, reaffirms the Starwood Group's world renowned luxury brand image and makes guests feel like royalty from the word go.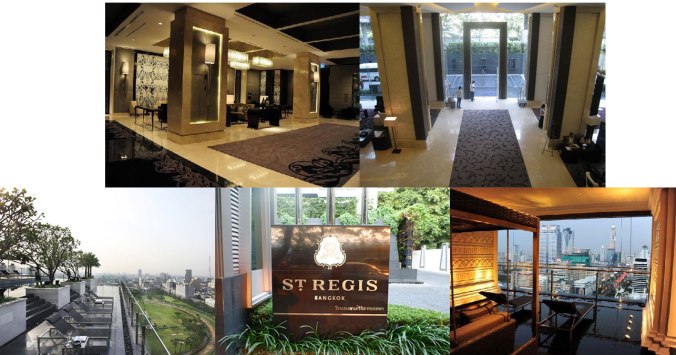 Well located, just minutes away from the city's best shopping malls, the hotel features 227 guestrooms, including 51 suites and 53 residences. Each room has access to a St Regis signature butler, the first of its kind service in Bangkok.
From the moment you walk through the grand glass doors, you are ushered into Starwood's world of special care and attention. Well trained staff greet you with the now famous Thai hospitality touch and guide you to the reception at level 12.
I have an SPG platinum card and hence enjoy many privileges at the SPG brand hotels which include the W, St Regis, Le Méridien, The Westin and Sheraton.

Once we were checked in we were shown to our room. The rooms are spacious, ranging from 45 to 250 square meters and are elegantly styled and lavishly appointed. Floor to ceiling windows offered unparalleled views of the city skyline and of the Royal Bangkok sports club with its lush green golf course expanse.
I asked for a tour of the hotel and noted that each room was designed tastefully, blending ornate artistry and local materials inspired by Thailand's culture with contemporary décor, all put together in a perfect harmony of very pleasing colours in hues of browns and greys. Natural wooden floors accented with soft lush carpets completed the interiors and made for very comfortable and uber luxurious living.
Our bed had Egyptian linens while our large sized well designed bathroom with two wash basins had an inviting tub. Super soft and fragrant bath towels lay neatly folded below the wash basins while bathrobes fit for royals were waiting to be worn.

Ample wardrobe space in our walkthrough closet and a tasteful choice of toiletries allowed me to tick off one more star on my list of ratings. The suites have two flat screen cable televisions, wireless internet and the signature suite we were in had a generously appointed pantry with an espresso making machine adding to that touch of finesse and class.
And then there is your Butler. The well trained English speaking steward with impeccable manners, offers you supreme round the clock service with all the care and attention deserving of a King.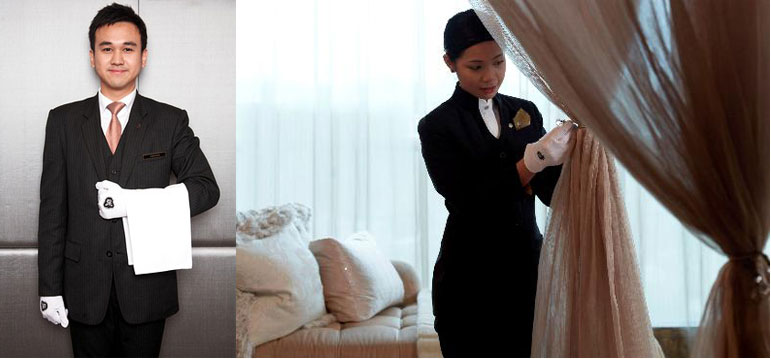 Your butler offers to help you unpack, polish your shoes, bring in your favourite morning cup of latte and even keep you updated regarding the days weather forecast. If you're too lazy to pick up the phone and ask the concierge for theatre tickets, your butler is ever willing to be of assistance. This kind of special attention is a rare but welcome feature at any hotel and at St Regis they have perfected the art of making you feel important and well cared for without the butler appearing to be obtrusive.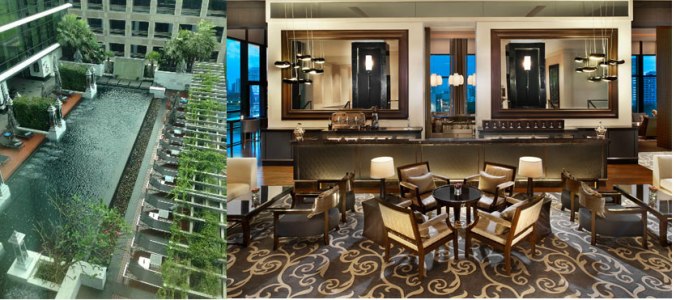 The St Regis Bangkok also offers ample choices to satisfy the discerning diner with restaurants offering both local and international cuisines. The lavish breakfast spread at Viu promises a treat to even the most demanding guest. The restaurant doubles up as an international grill where guests enjoy access to the Sky Lounge and a very impressive menu. JoJo is an Italian restaurant and is already a favourite with the swish local Thais while Decanter is for the wine connoisseur, with a wide variety of reds and whites hand picked from the world's most celebrated vineyards.

The Drawing Room is a refined haven where one may meet over afternoon tea and scones or unwind with an early evening drink. The St Regis Bar is yet another delightful venue for those wishing to set the mood for the evening while the world famous Japanese restaurant chain Zuma is located on the ground level offering a delectable fare.
The St Regis is also home to South East Asia's first Elemis Spa, one of only four in the world. Its spa experiences are for those select few who love to be pampered. If you need a break from the fast tempo of city life and your body needs rejuvenation post a series of business meetings, there is nothing more relaxing than a few hours spent at the Elemis spa at the St Regis Bangkok. Located on the same level as the outdoor pool and fitness centre level you will be transported into a world of complete luxurious indulgence where wellness treatments will be offered to you in exquisite surroundings with the mesmerizing sensual affects of the orient. There are fifteen therapy suites, each decorated in calming sand and cream tones with accents of soft white leather and silvery Thai silk.

With direct access to Rajadamri BTS station, the St Regis Hotel is ideally located. Many of Bangkok's best restaurants are in the neighbourhood while the city's famed entertainment district is also nearby. The hotel is ideal be it for the business visitor or for the tourist, whether you are traveling with family or as an individual. This is the new address in Bangkok to call your home away from home.