OCTOBER 07, 2014 BY SAJJID MITHA
Air India - Scare India
Laveena and I, like most of our friends, love to travel. And the adventure for us begins, not on arriving at our final destination but in choosing an airline, finalising our hotel, shortlisting restaurants, planning our sightseeing trips and of course deciding on what is required to be packed depending on the weather conditions at the place we're visiting.
Over the years, we have experienced the comfort of many airlines, our favourite being Qatar. Singapore airlines comes in a close second, followed by a fleet of others like Etihad, Emirates, Thai, Swiss, Korean, Turkish and Cathay. We even flew Kenya Airways to East Africa last December and were impressed with the in flight service standards.
Our flights within India are often on Spice Jet, Indigo, Jet and Go Air and we believe that our experiences on all of these local airlines have been excellent.  Air Asia flights from Bangkok to domestic destinations within Thailand, to Cambodia and to Bali and Virgin America flights within the US have also impressed.
So, most of you may have noticed that the name of my National carrier, Air India, is sadly missing from the above list. This has been deliberate, as repeated bad press and disappointing personal feedback from friends has kept us from risking flying Air India. Until last week, when my travel agent informed us that Thai Airways was unable to confirm our return flight from Bangkok as they were overbooked. Jet too was fully booked and the only choice we had was to fly Air India. After all, how bad could it be right?
Ahead of my flight I did do some ground work and called the PR department at AI informing them that I planned to write about my experience and that I was flying AI for the first time in more than three decades. On Wednesday last week, I received an SMS apologising and informing me that my flight to Bangkok was delayed. This was followed up with a personal phone call where the gentleman at the other end sounded genuinely apologetic for the hour long delay. I didn't think much of it as just the week before my Cathay flight had been delayed over 3 hours from HK to Mumbai and an hour didn't seem so bad. Moreover, flights are delayed all the time right? Late that evening, I got another message asking me what time we would arrive at the airport. When we finally did get to terminal 2, we had a lady from AI ground staff and a baggage attendant waiting to greet us. The moment we walked through the doors of the terminal, a second, more senior lady, Aiyona, politely welcomed us and assisted us through what can best be described as an extremely pleasant and smooth check in procedure. Laveena and I felt special and prepared ourselves for what we believed would be an excellent flight experience to Bangkok. We were seated in the lounge and when boarding was announced, we were yet again escorted to the gate by the ground staff.  So far, truly very impressive.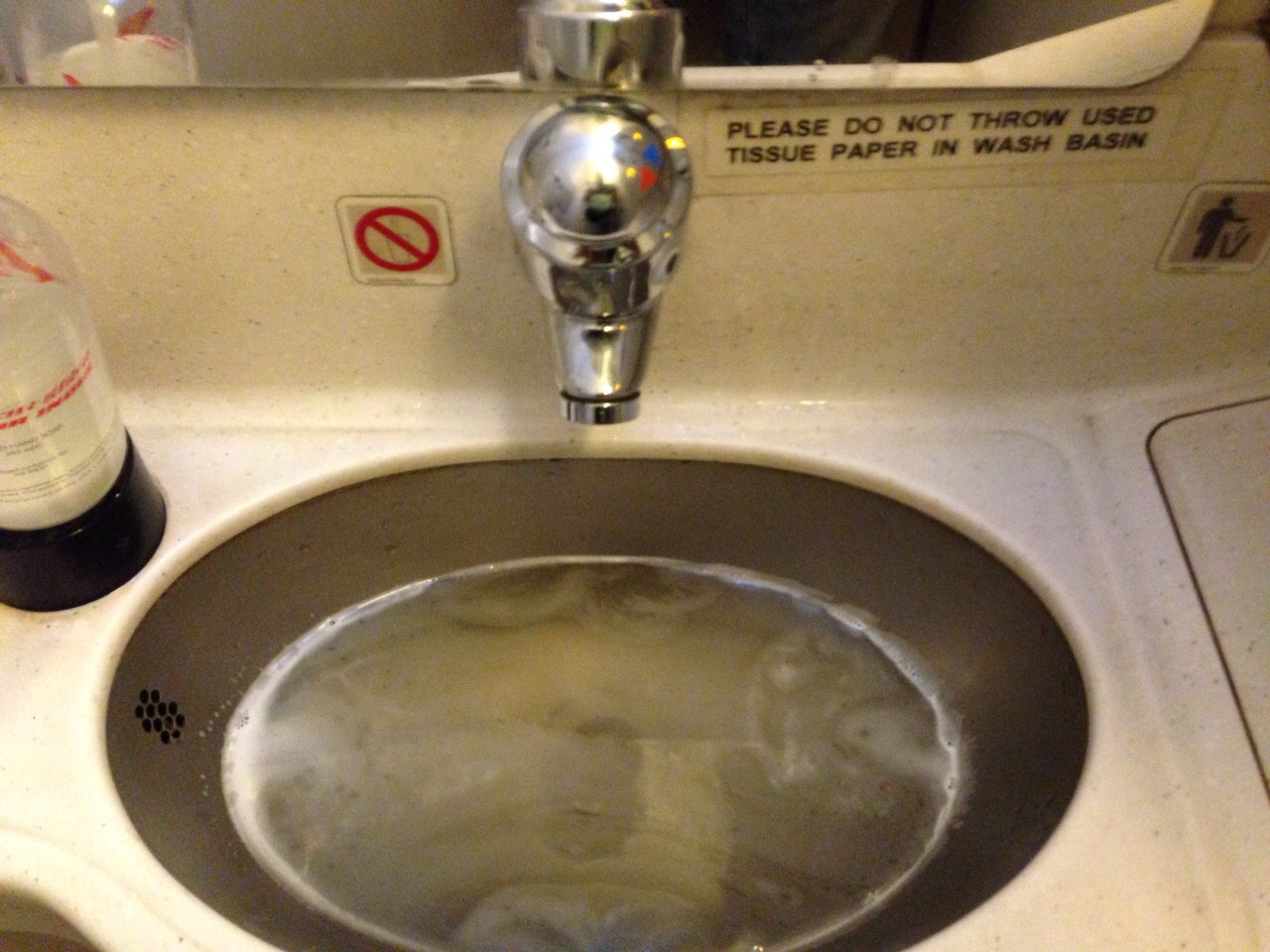 And here is where our ordeal began. When we boarded and were shown to our seats, we immediately realised that the aircraft was old and the interiors sadly dated. The seats in business class barely reclined. Also, there were no footrests. We were seated in the 1st row in business class and the personal TV screens on the walls were tiny. However, we consciously decided not to be too harsh or too critical as the flying experience in itself could lift our spirits. I thought I would check out the toilet before take off. It was filthy and wet and the basin was clogged with chewed betel nut. I summoned the air hostess who said that she would attend to it once we were airborne. I returned to my seat and grimaced.  Waiting for the entertainment system to start up, I reached for my seat pocket to look for the food menu. I was keen to find out what emperor's spread my "Palace In the Sky" had planned for me that evening. Other than a crumpled in flight magazine, head phones and a safety instruction card, I found nothing. Once the seat belt signs were switched off, I asked our hostess for the menu. She said that on the Mumbai Bangkok sector, they didn't print special menus, even though this was an international sector. Instead she rattled, "sir, would you like some whiskey, vodka, beer or wine?" I asked for my usual flight drink, a large vodka and tonic. I was amused when she said that there was no tonic on flight, but I could have it with soda instead. I declined and asked to see the wine list.  She glared at me as if I was being totally unreasonable. Finally I settled for some red wine which was served to be in a water glass.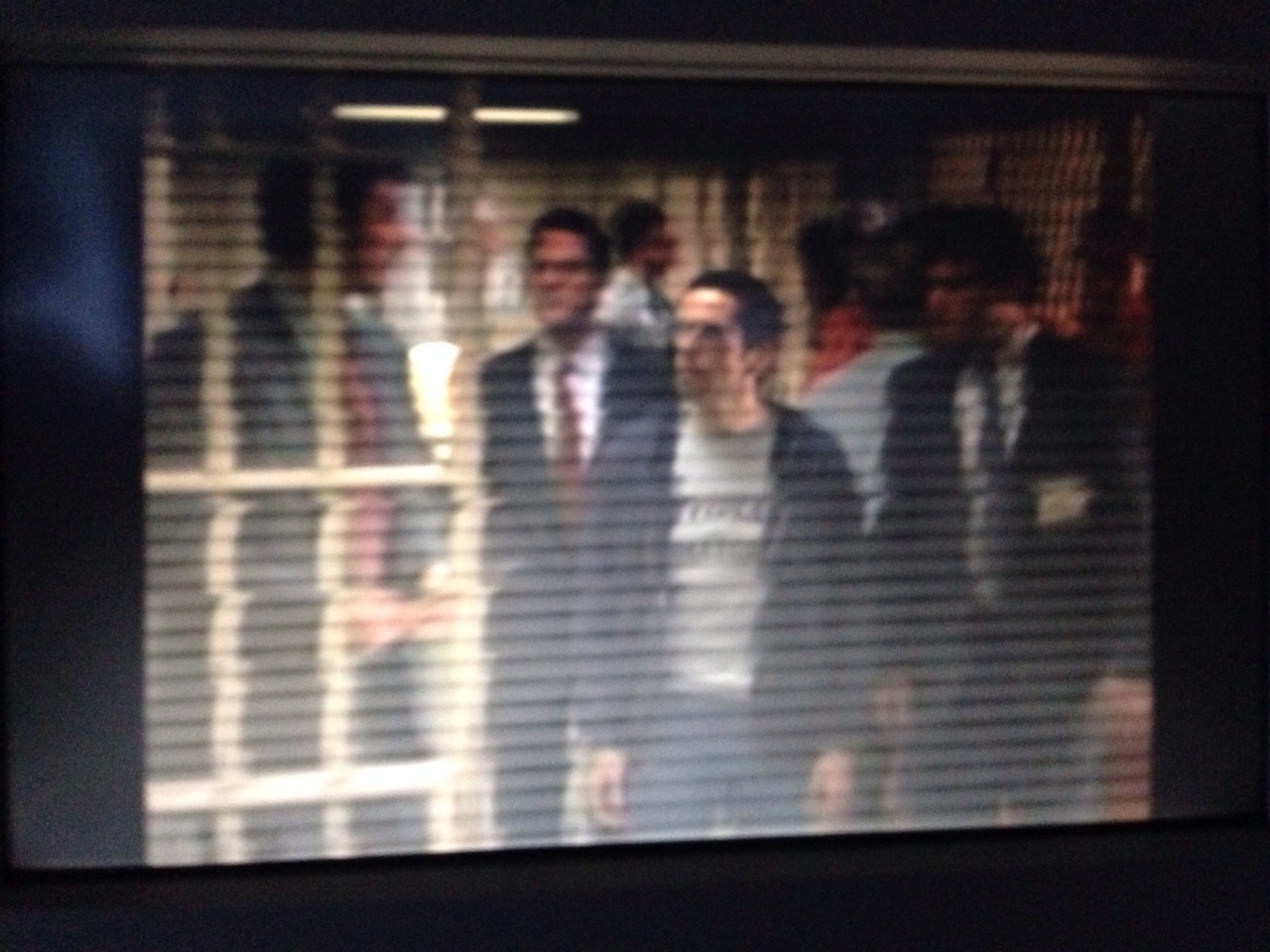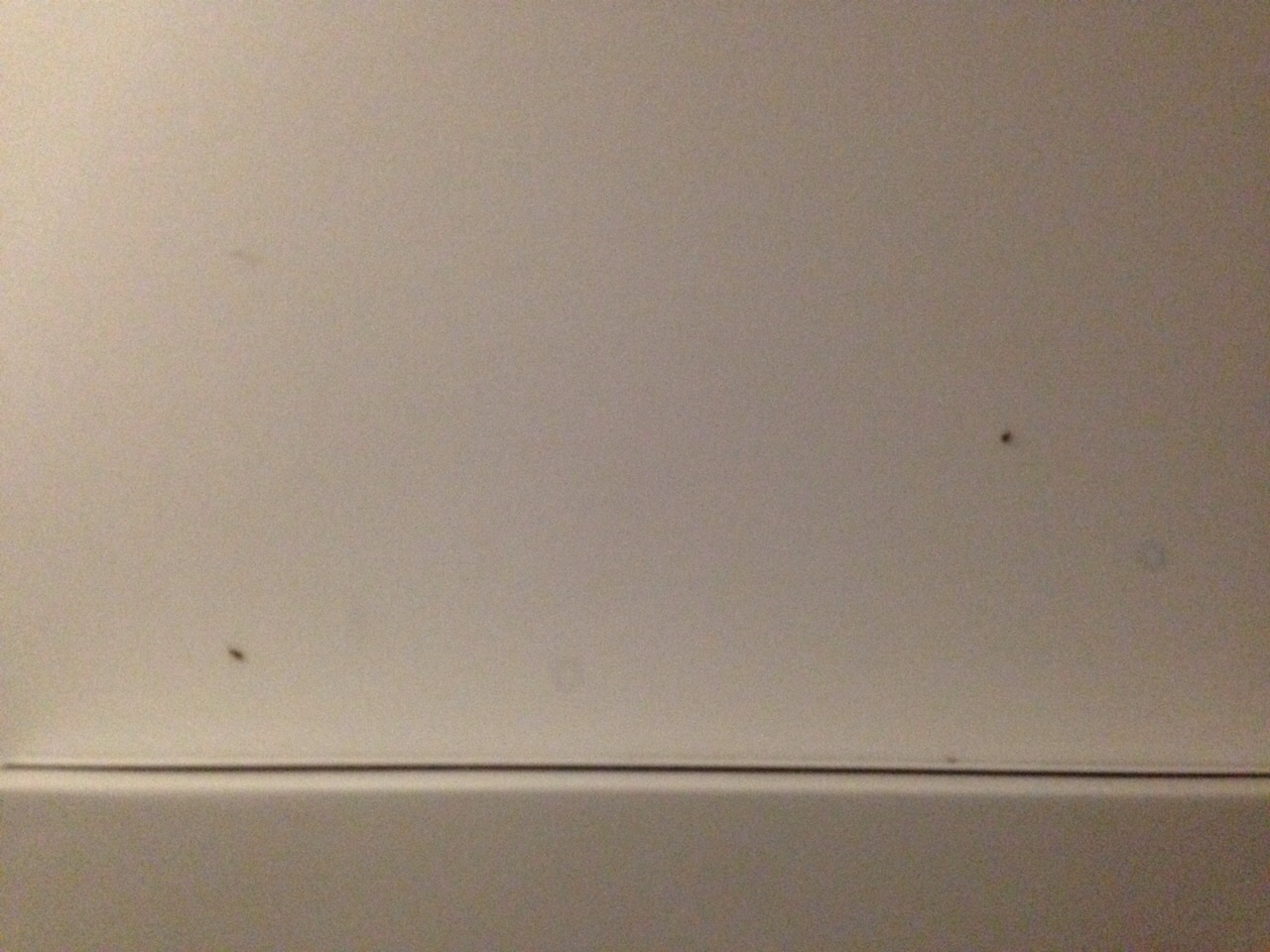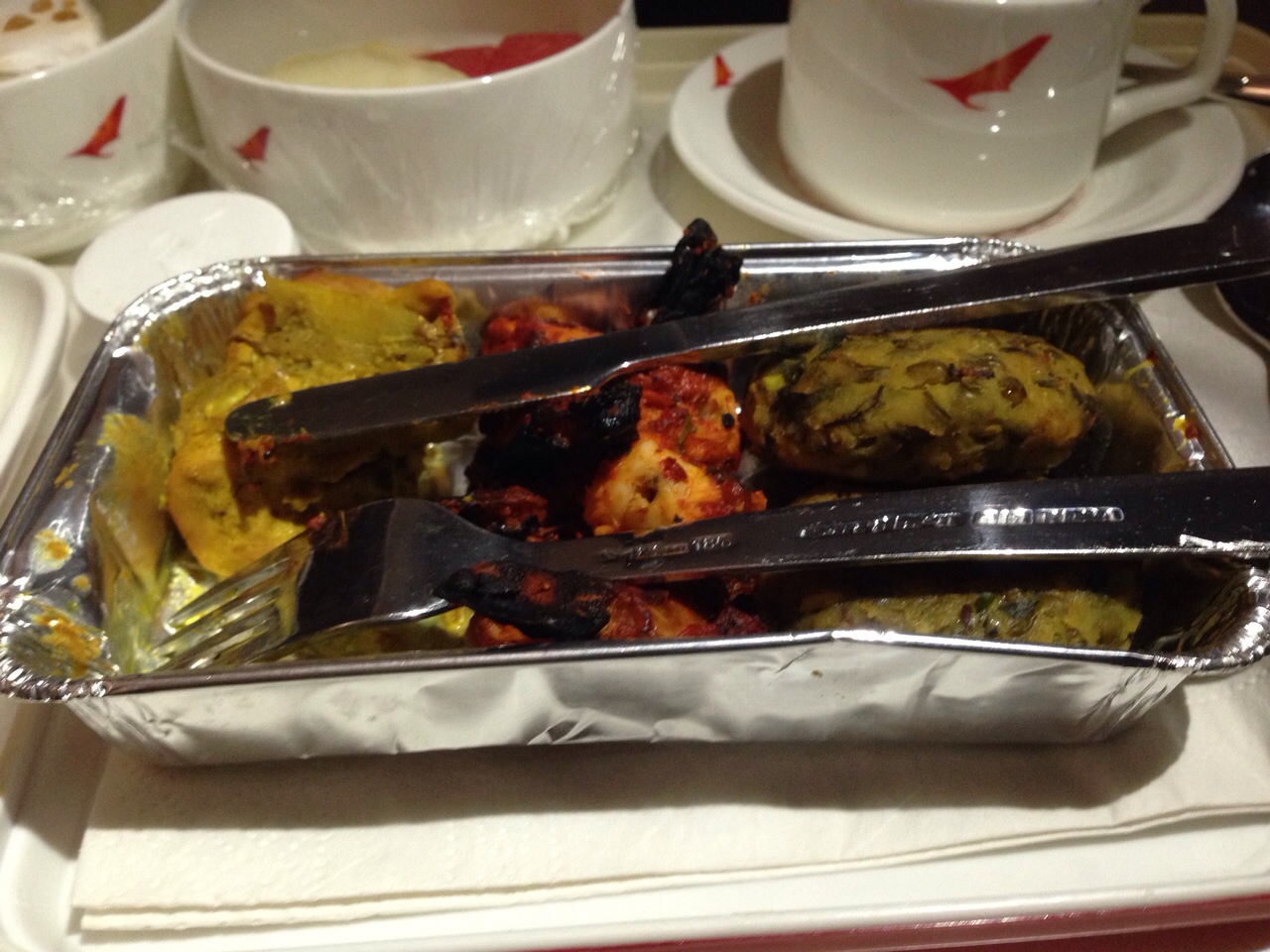 Later, when I asked about the in flight movies, she said I had a choice of 5 entertaining channels. Three hindi and two english. I settled for a film starring Adam Sandler, however I had no idea which film it was as I did not have the option of pausing, rewinding or forwarding the film and the movie according to the air hostess had started 15 minutes ago. A further 20 minutes into trying to enjoy the film with a very poor picture quality, the system auto switched off. Frustrated and angry, I called the stewardess once again and asked what my dining options were. As if on cue, two tiny roaches appeared out of nowhere,  just above my TV screen, almost as an audience to the response which was to follow.  I brought this to the notice of the stewardess who said that was the job of maintenance. She said it was them who had to ensure that the aircraft was properly fumigated. Nonchalantly she went on to say that I had a choice of Veg or Non Veg. My Non veg platter of dry and tasteless kebabs were served in foil. One would think that a national carrier, already battling bad publicity, would make some effort in presentation, but sadly, here too they failed miserably.
All along, Laveena quietly observed my interactions with the Air India staff. Finally she did share her views on the experience thus far. Her response was short but it hit home hard. She said that even if she won a free first class ticket to London on AI, she would politely decline the reward and would instead pay full price to travel on an airline of her preferred choice.
Meanwhile, I brushed off the experience as a one off bad flight. I was confident that our return journey would be better. On our way back from Bangkok last evening, the aircraft was as dilapidated and old as the one which flew us to the land of smiles. Before take off, I noticed a passenger was seated in the jump seat, usually earmarked for the air hostesses. Later when I spoke with the passenger, she said that since it was a full flight she was asked by the crew to occupy the jump seat. I thought I had heard it all, when the purser voluntary shared information with me saying that the flight was to have 8 crew members, but they were flying with only 5 as three jump seats were reserved for passengers. Is this even legal?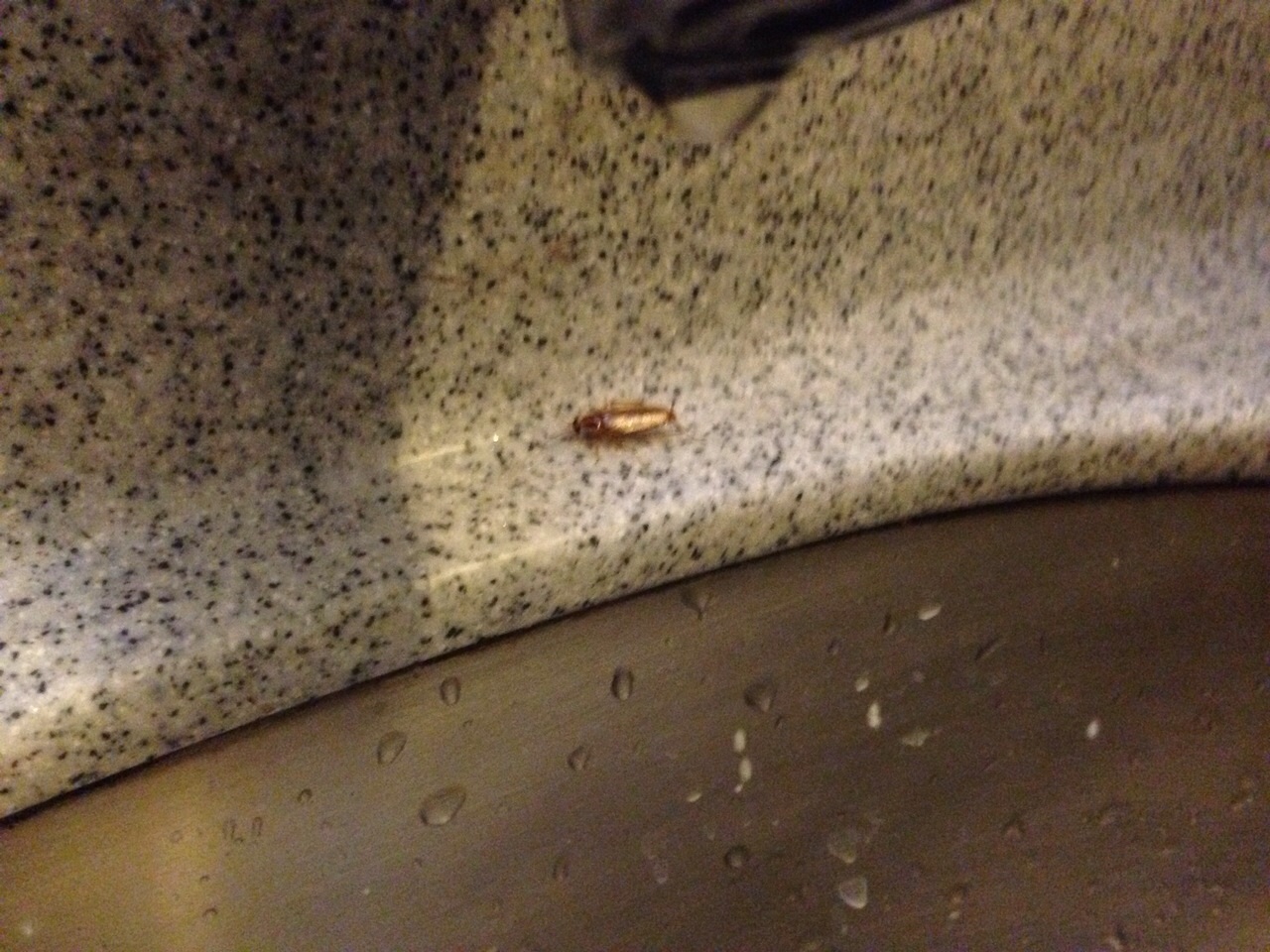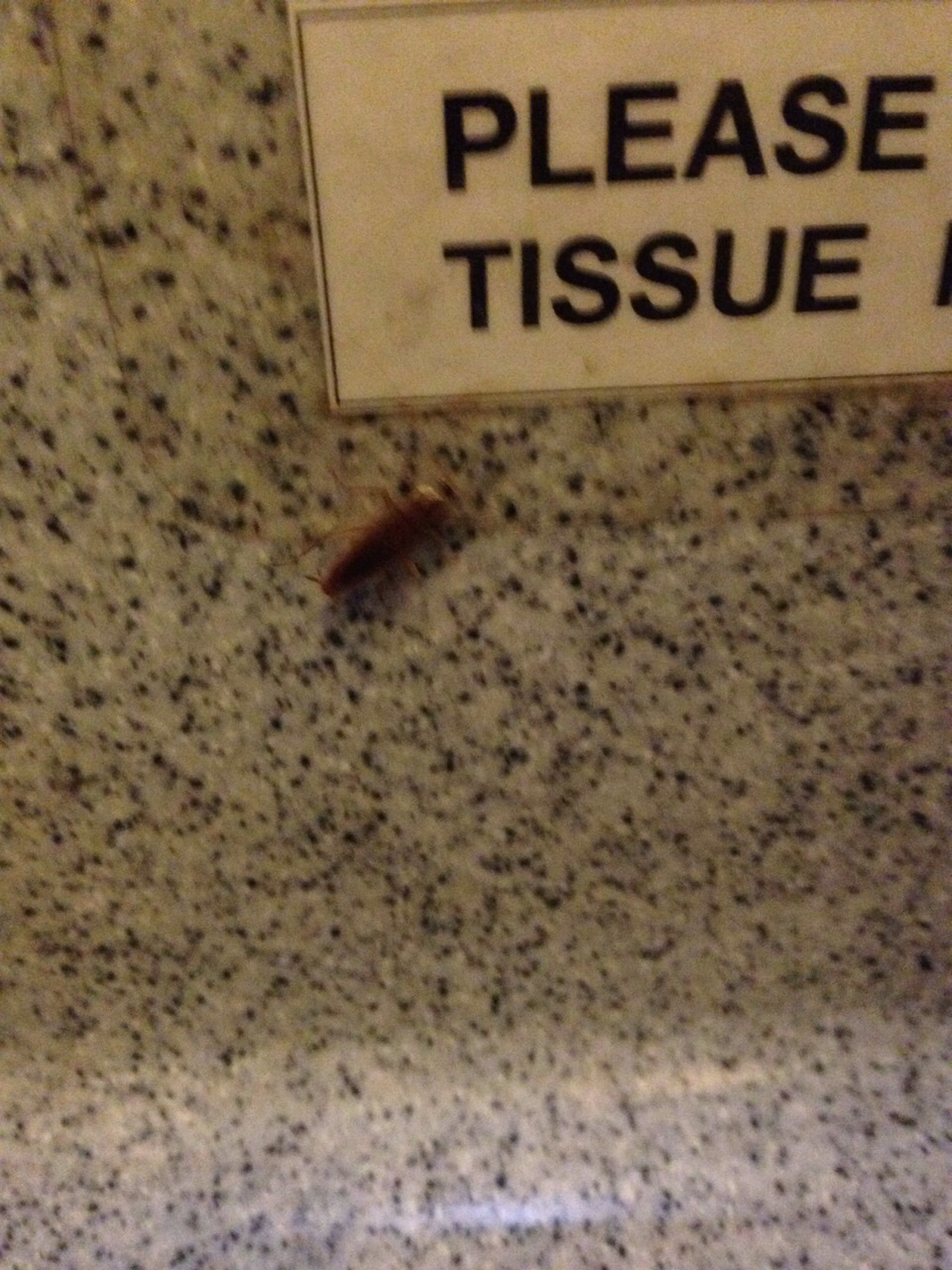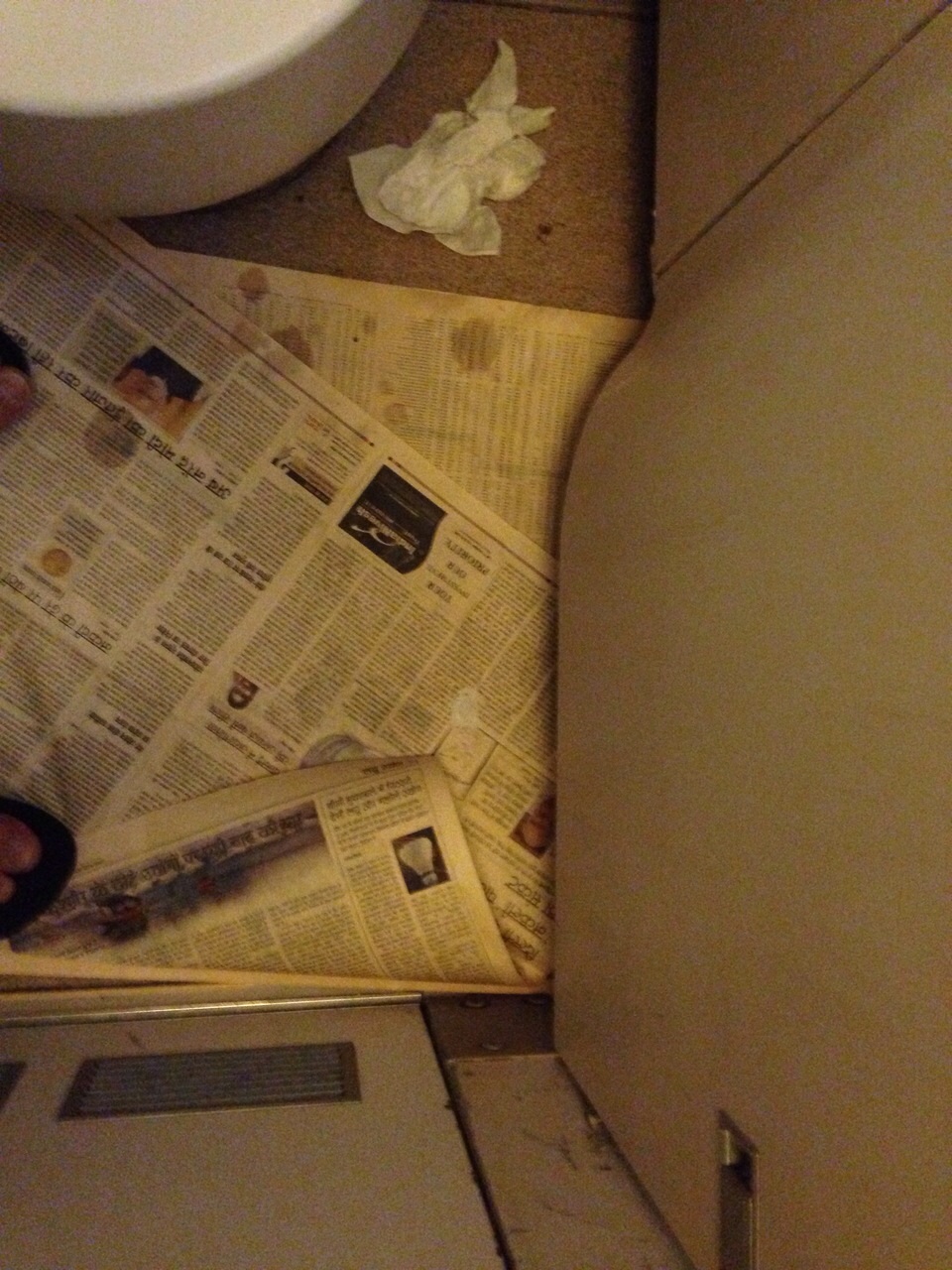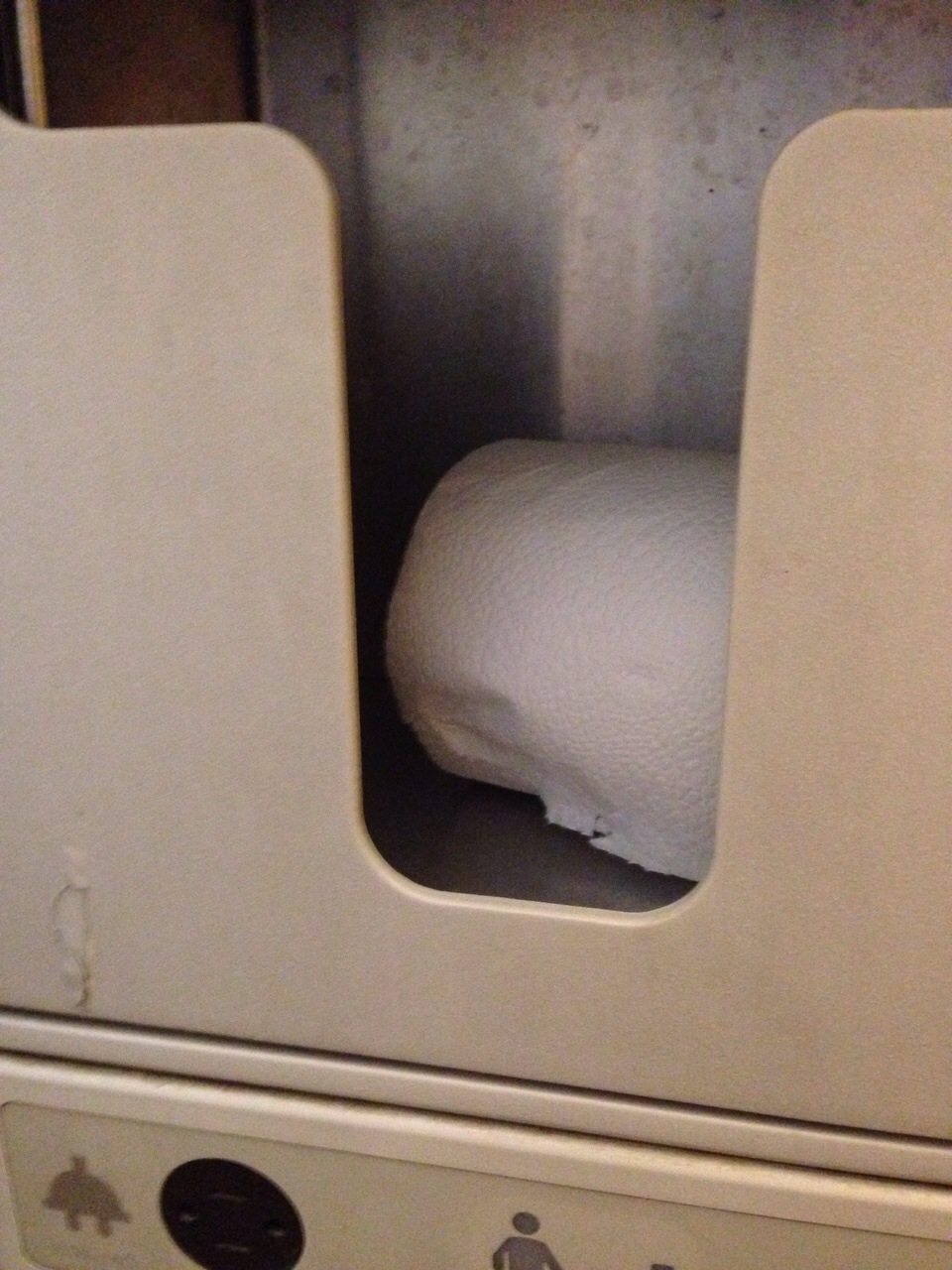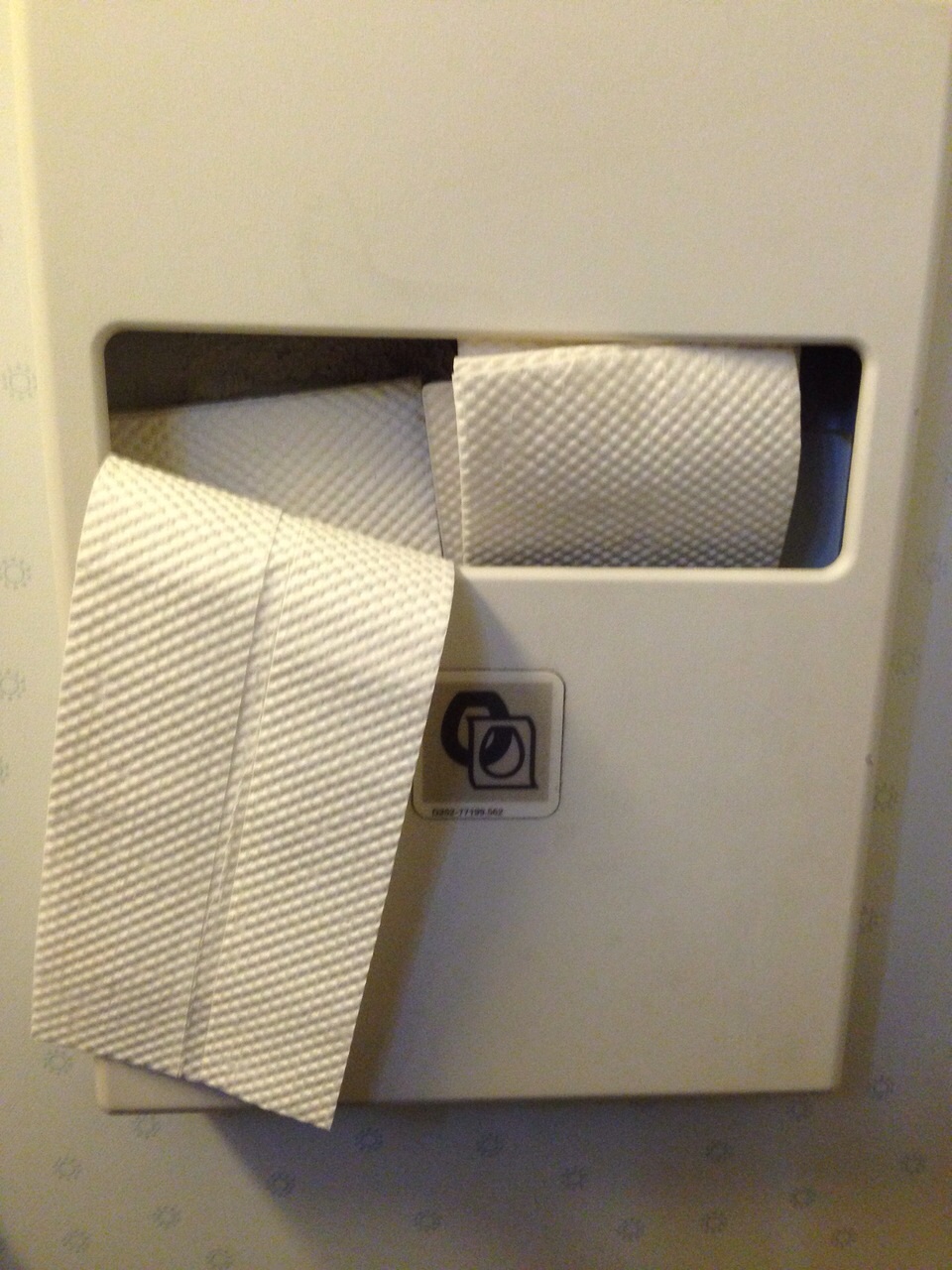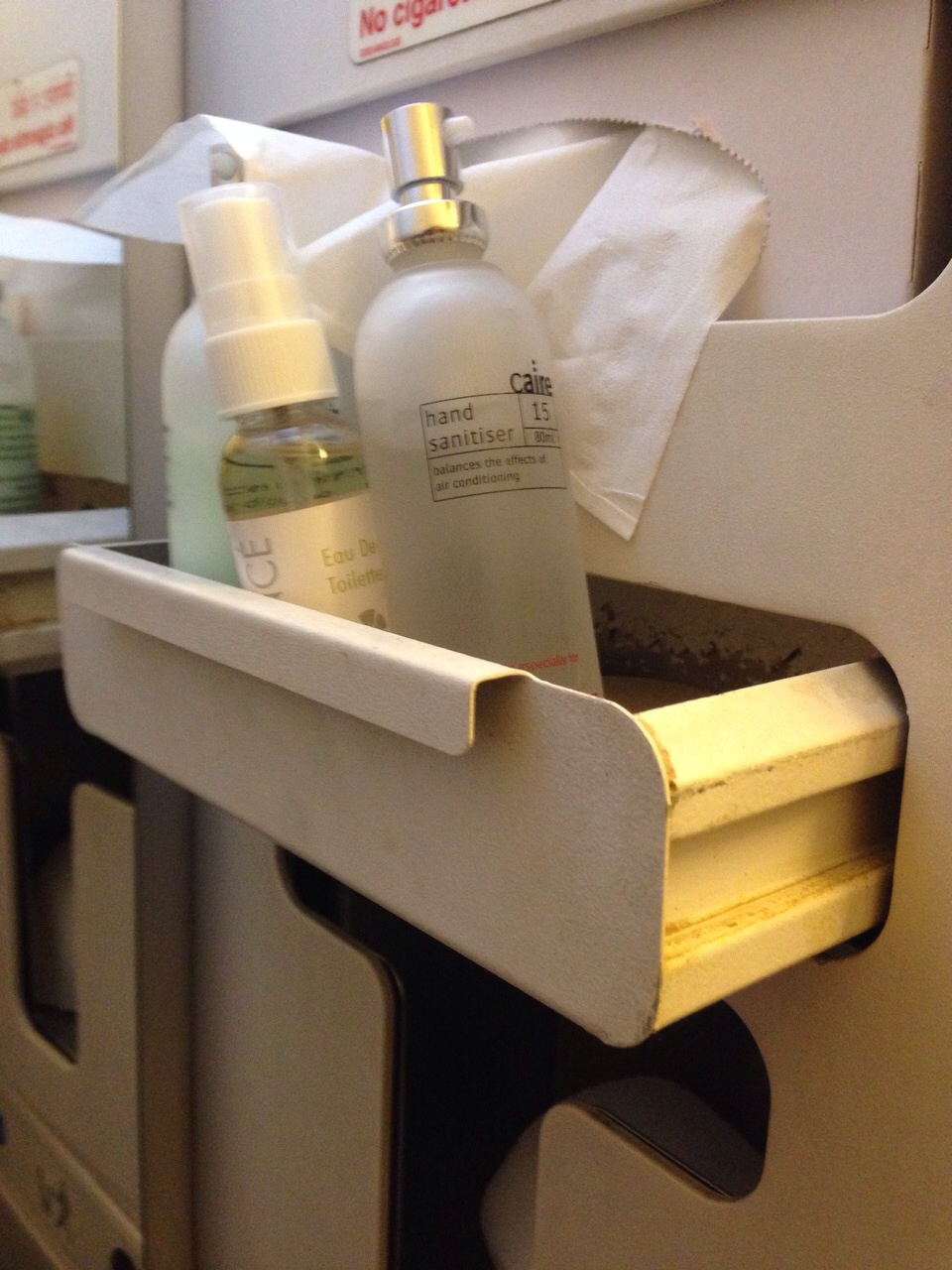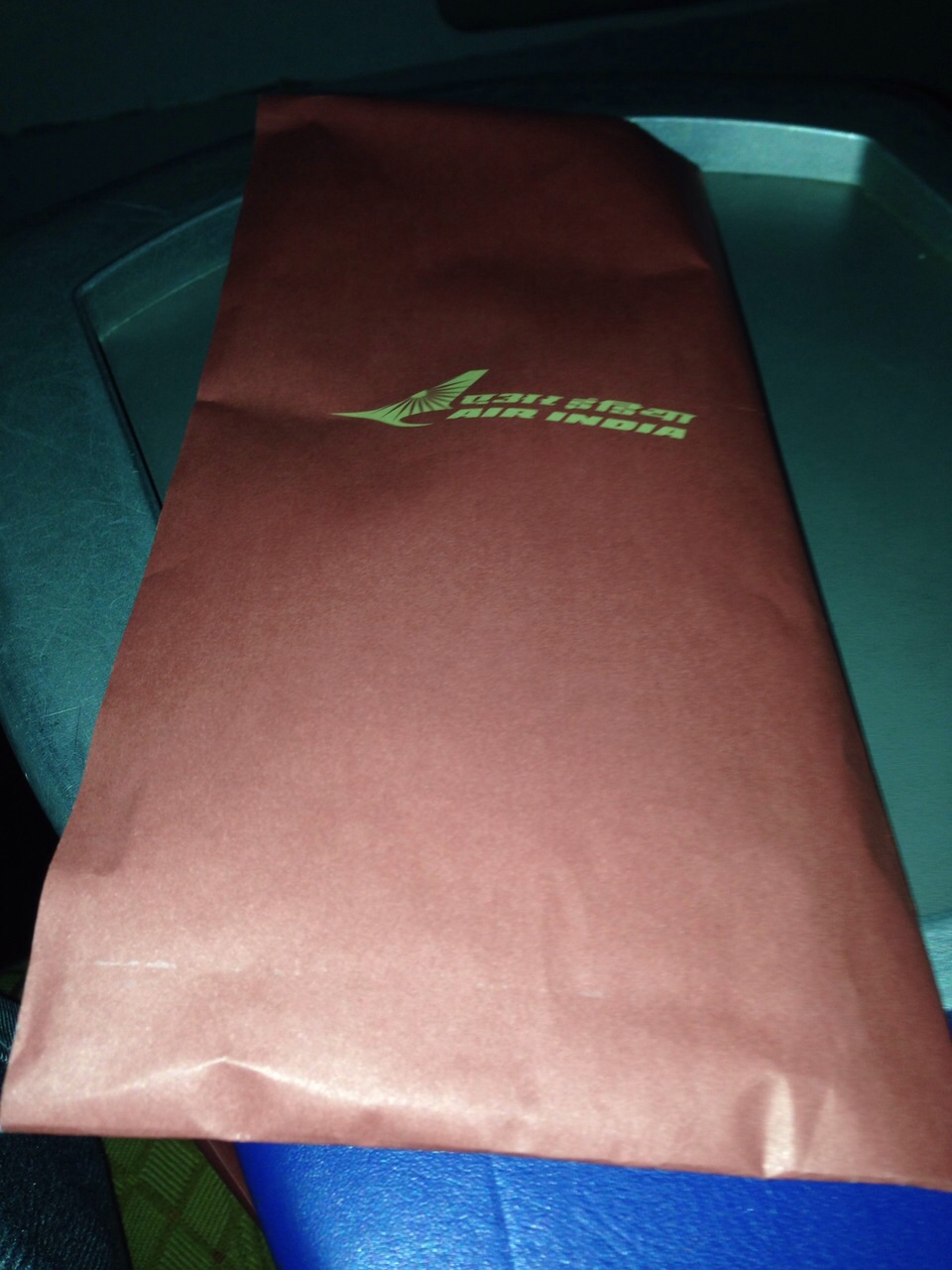 The bathroom had roaches, the water leakage from under the sink was dried by the crew with newspapers.Where the toilet seat covers are to be kept, there were paper towels, hastily arranged, a used toilet paper roll was thrown onto a storage shelf, a bottle of hand sanitiser and an eau de toilette bottle were clumsily stored in a draw which was clearly not meant for open storage. The aisle was filthy, the cabin socks and eye masks were packed in paper. The business class fare on Air India is only marginally less than Thai or Jet. But the service standards are so pathetic and the interiors so depressing, we would have been happier cramped in a hot air balloon ride back home.
All in all I could not wait for this nightmare to end and was glad when we finally touched down in Mumbai. Our National Carrier is a national embarrassment. Air India should be re-christened 'Scare' India. Despite countless negative reviews, the airline has done little to improve it's service standards. I believe that the Star Alliance network should drop them from the membership list as they do not belong there with some of the stellar names the network boasts of. Air India is a reflection of what plagues progress in our great nation and how some selfish people in power, blatantly abuse their position without a care in the world.