SEPTEMBER 26, 2014 BY SAJJID MITHA
Did I enjoy my Cathay Pacific flight to San Francisco?
Skytrax may have voted them airline of the year 2014 but in my opinion Cathay Pacific is lagging behind the competition and needs an urgent interior design upgrade. The airline may have once been the pride of the skies. With the aggressive and fast mounting competition, not anymore.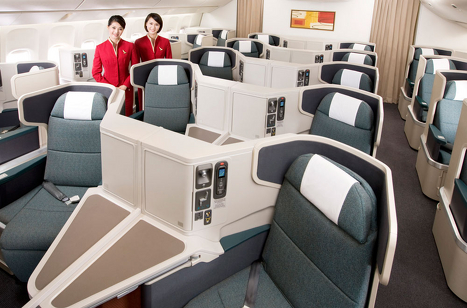 I recently flew Cathay to the US West coast (CX 870 HKG-SFO) and was not impressed with the overall look and feel of the cabin interiors. First the positives. Cathay has thankfully ditched the high walled seats and has opted for a more open design.  The seat configuration of 1 2 1 in business class is good as every passenger is afforded ample privacy. Moreover, the seats are comfortable. However there are negatives too. The toilets on the 777s are tiny and are a depressing pale green colour. The wash basin and water faucet look dated while the housekeeping standards during the flight need improvement. The cabin itself needs an interior designer to rethink the now overdone and dull green colours. Luxury air travel is getting a new face everyday with the A 380s and the dream liners which offer fab amenities to passengers across all classes, have celebrity chef's chosen favourites on the menu and a wine list which is sure to impress even the most discerning of wine connoisseurs.  Cathay on their 777's unfortunately lack many of these luxuries.  Although I must admit I did enjoy the wine they served, immensely .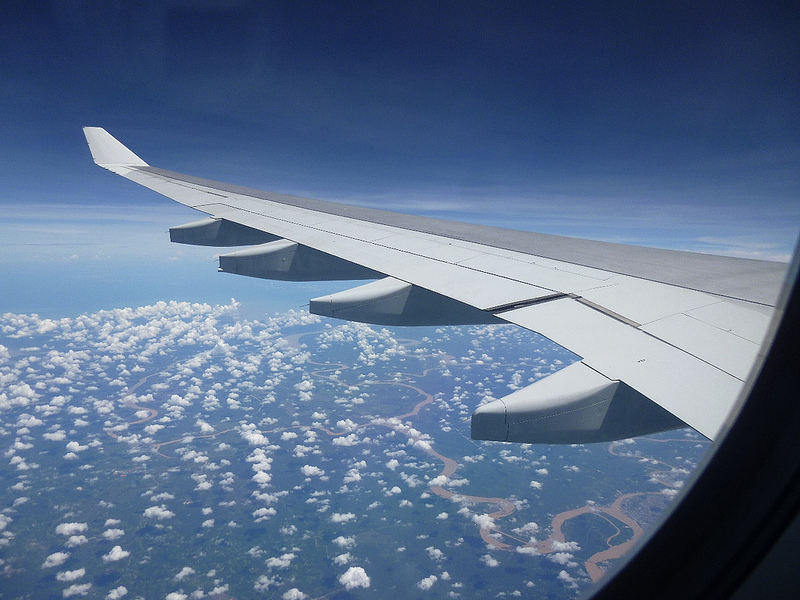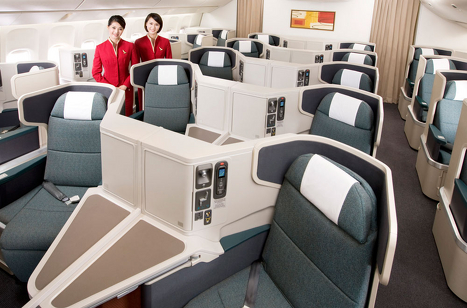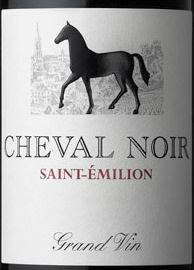 The service standards on Cathay were thankfully high and made up for the unappealing cabin furnishings. The inflight service manager on my Hong Kong to San Francisco sector was Prudence. She was courteous and had an affable personality. She inquired about my food preferences well ahead of lunch service and also ensured that my glass of Cheval Noir Sain Emilion 2011 Grand Vin was never empty. Senior purser Donna was equally attentive and pleasant while Candice, junior crew, kept up the pace of the pleasing service.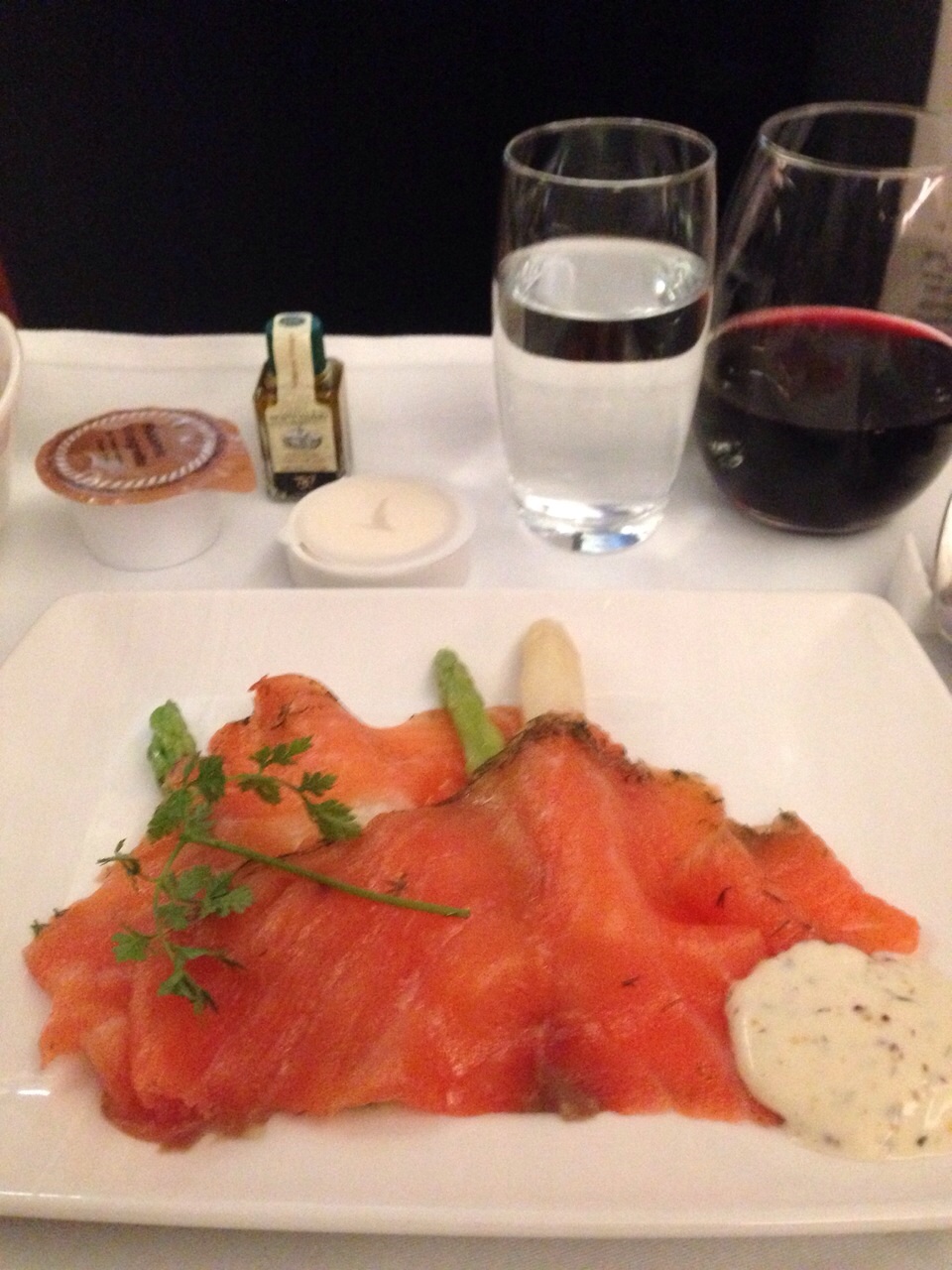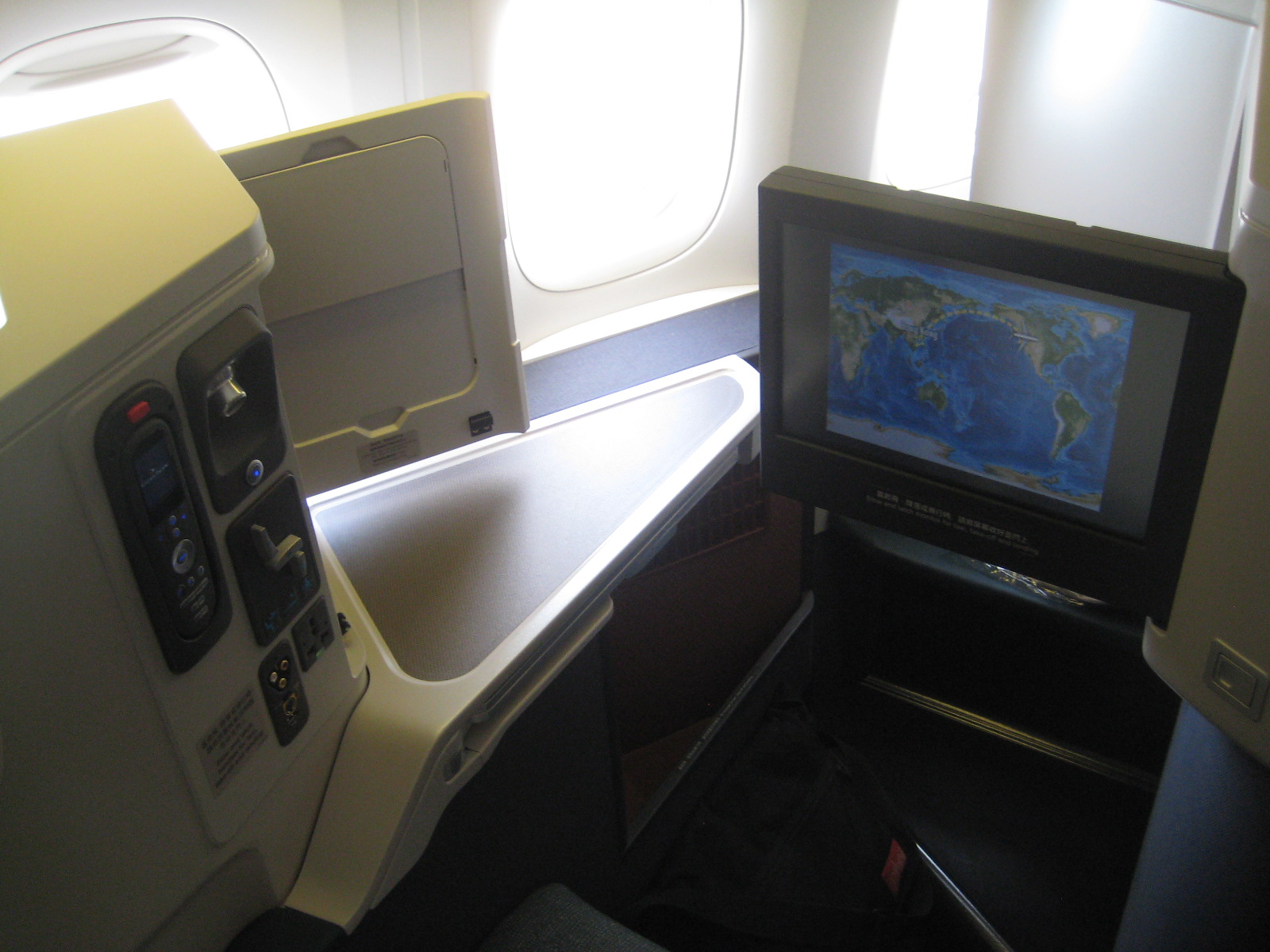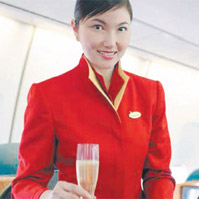 For lunch, we were served smoked gravlax salmon with green and white asparagus. The salmon was fresh and tasty but the asparagus was not. For the mains I chose the wok fried seafood with ginkgo nut in fish sauce, steamed jasmine rice and Shanghainese Pak Choy. Not a bad choice. I skipped the cheese and dessert and asked for chocolate instead. Ever smiling Prudence got me a box full of delicious chocolates and said I could take as many as I liked. I settled for two delicious noir treats which were enough to satisfy my sweet craving pallet. I relished these as I finished watching 'Noah' starring Russell Crowe on Cathay's inflight entertainment system Studio CX. The choice of films on Cathay are limited in comparison to many other airlines. In my opinion Studio CX  needs some urgent upgrade if it wishes to impress.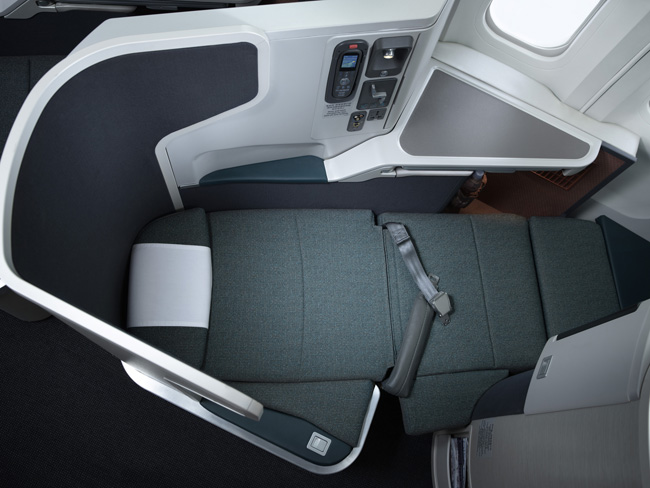 I was soon ready for bed and asked Donna for my in flight bedding. I was told that Cathay does not provide this, despite the 12 and half hour long flight. I was given a second pillow though and this did assist in me falling asleep. With so many flights to the west these past few years, I feel I have mastered the art of battling jet lag. While many flyers sleep for several hours, I plan my sleep time depending on the time of arrival in the country of my visit. If I am scheduled to arrive at night, I will sleep less on flight. While if I am scheduled to arrive in the morning, I will sleep for a minimum of 6 hours on flight.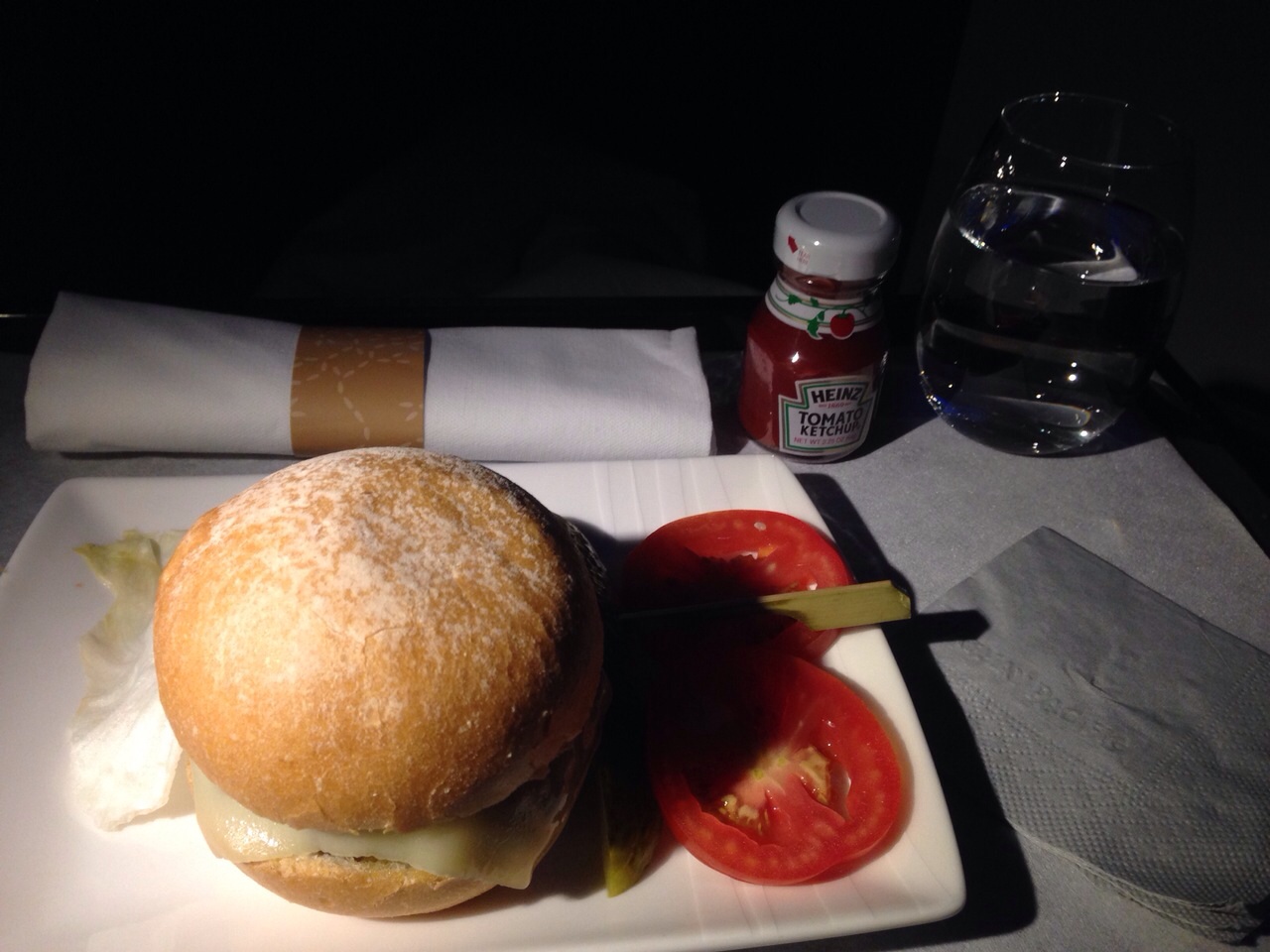 When I woke up, I was hungry.  I knew that brunch was to be served just prior to arrival and we still had several hours of flight time left. I decided to choose something from the anytime snack menu. I had a choice of Shrimp wantons and noodle soup and a grilled Australian prime grain fed beef burger with Swiss cheese and pickled gherkin. I chose the latter. It was delicious. I was lucky to have ordered it when I did, for an hour later I heard the gentlemen seated behind me order the same, only to be told that it was over. When I inquired about the limited stock of the beef burger,  I was told that the airline packs 20 percent of one of the anytime snacks and only 10 percent of the other. This shocked me as there are 40 passengers in business class. This means that there would be only 8 noodle soups and 4 grilled beef burgers for all passengers. I believe this ratio can be improved though I am not sure what the norm is on these long haul flights.
I went back to my inflight entertainment and chose a 2013 Hugh Jackman film, Prisoners.  When I started my third film, ' The Immigrant', brunch was served. The orange juice I asked for wasn't fresh.  I did get my muesli though and that made me happy. I also ordered the pork siu mai with scallop, shrimp dumpling and the chicken and chive dumpling with chilli sauce. The Dim sum was delicious. Overall, my experience on Cathay was quite pleasant. I feel if their management takes the competition more seriously, there will be improvements. Cathay Pacific has won the 'World's Best Airline' award for the fourth time, more than any other airline. This tends to result in complacency and I believe that the dull colours in the toilets on flight are a reflection of this.
---
CATHAY PACIFIC FLIGHT TO SAN FRANCISCO
---
• Website:
CATHAY PACIFIC 
---
Our Rating
---
Food and Cuisine: 8/10
Design: 9/10
Service: 9/10
Overall experience: 8/10
---
Follow me on
Facebook
,
Instagram
and  
Twitter
 for some amazing travel posts
---