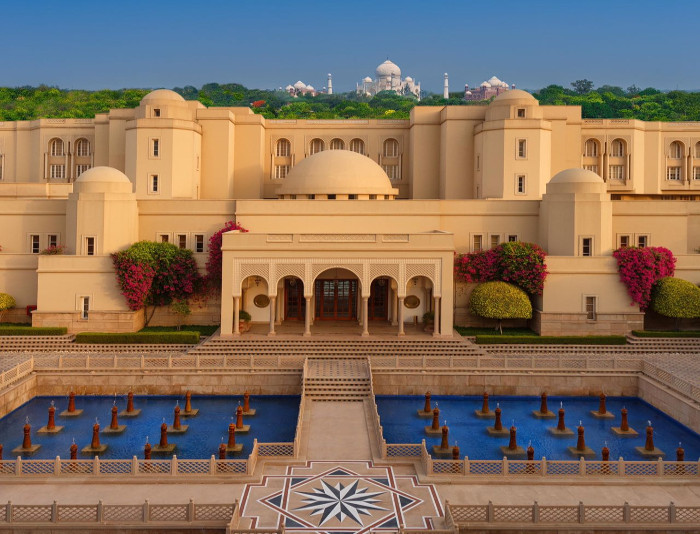 AUGUST 31, 2017 BY SAJJID MITHA
The Oberoi Amarvilas - Living the Romance of the Taj Mahal from Dawn to Dusk
A comfortable 3 and a half hour car ride from Delhi, on the Yamuna expressway, got us into Agra on a Friday afternoon. The traffic on Friday is thin in Agra, as it is the one day in the week that the Taj Mahal is shut for tourists. As we drove along a sweeping approach road, surrounded by native trees, through the gates of the Oberoi Amarvilas, we were met at the main entrance, by a young hotel staff member who guided us past the grand quadrant style forecourt, into a lobby where a crystal chandelier hung from a blue-and-gold dome, showering its glittering light onto the marble floor.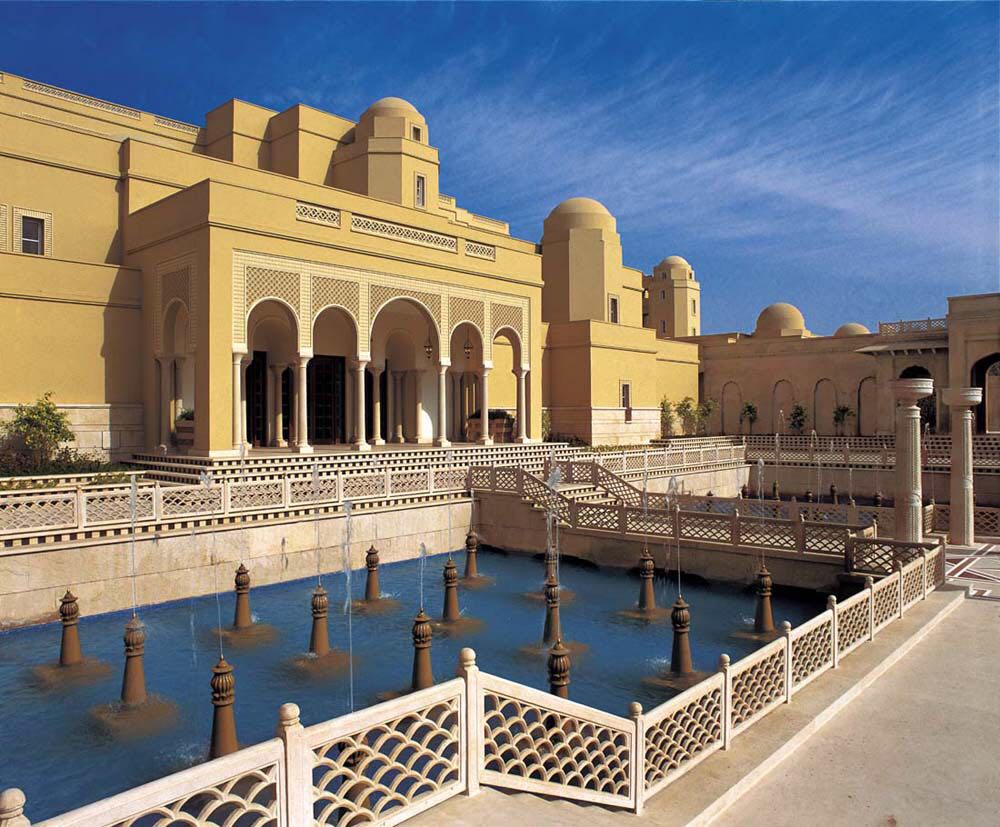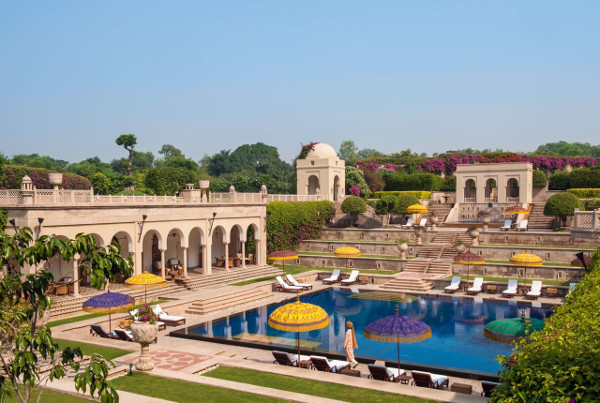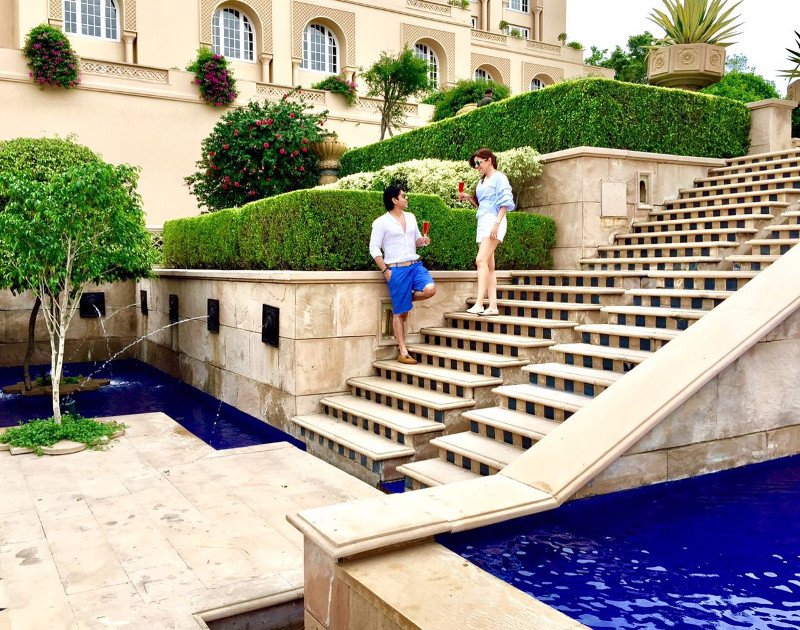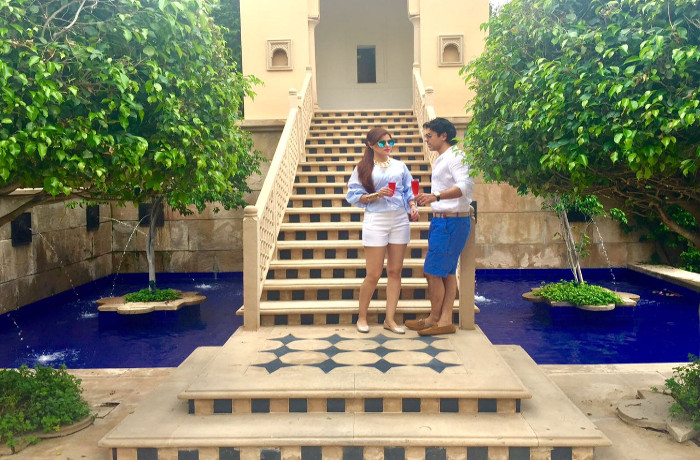 Laveena and I were given a traditional Indian welcome with an Arti while a garland of jasmine flowers was placed around our necks and a tikka was gently smeared on our foreheads for good luck. Standing in extreme contrast to a dusty city bathed in muddy colours and located only 600 meters from the magnificent Taj Mahal, stands the Oberoi Amarvilas. This luxury hotel is a Mogul inspired work of art which epitomises grandness. The look and feel of the place reminds one of the other luxurious Oberoi Vilas properties with their typical sandstone and lime plaster finished external architecture. The interiors of the Amarvilas with its gold accents, filigree mesh screens, arches, high domed ceilings and marble flooring, showcases the rich artistic and traditional talents of the local craftsmen. It is sheer poetry from the moment you walk in. And then, your eyes come to rest upon the white marble symbol of eternal love. The Taj Mahal. The Amarvilas is the only hotel in Agra which offers unobstructed views of the magnificent Taj Mahal.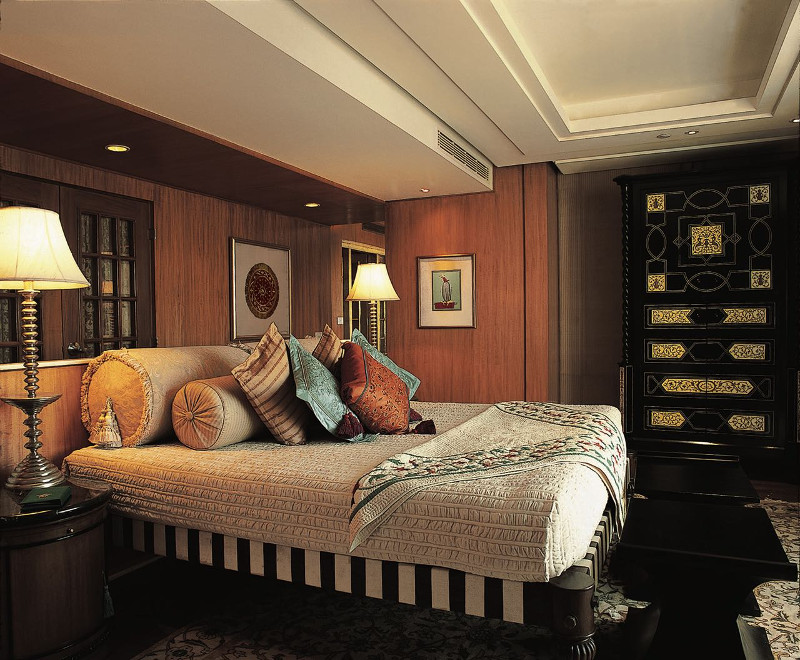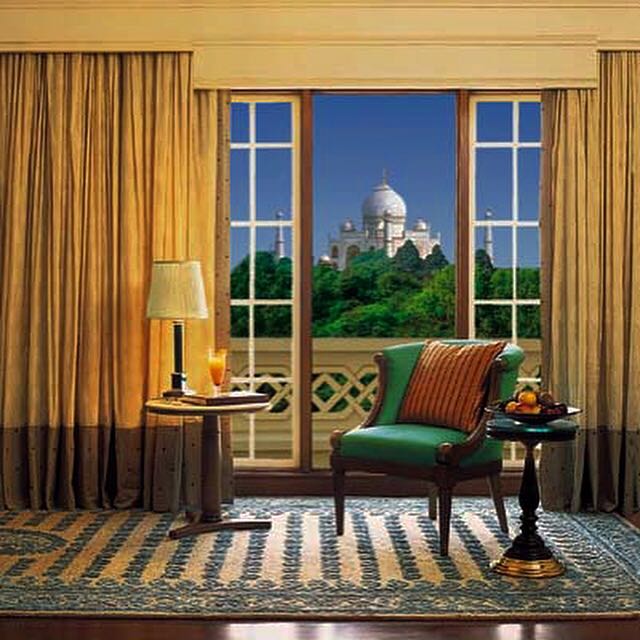 We were checked in at The Lounge terrace. From this vantage point, guests have views of the hotel fountains, the terraced garden pavilions, the well-manicured lawns, the swimming pool and of course the Taj Mahal. The Amarvilas gives guests that special feeling of mystical peace and natural serenity. It was during our check in that we were introduced to the young, dynamic and impeccably dressed General Manager of the hotel, Mr. Abhishek Panshikar, who recommended we plan an early morning visit to the Taj Mahal in order to avoid crowds. With our welcome drinks in hand, we did a quick walk around a part of the hotel property in an effort to stretch our legs after the long car journey. A short while later, we were shown to our suite,  which was richly decorated with period themed furniture, tables inlaid with marble, hand-knotted rugs, flooring made of Burma teak, teak-wood armoires, a spacious marble bathroom with both a bathtub and a separate shower cubicle,  a basket of Forest Essential Ayurvedic toiletries, a signature of the Oberoi hotels and a King-sized double bed with the most breathtaking view of the Taj Mahal.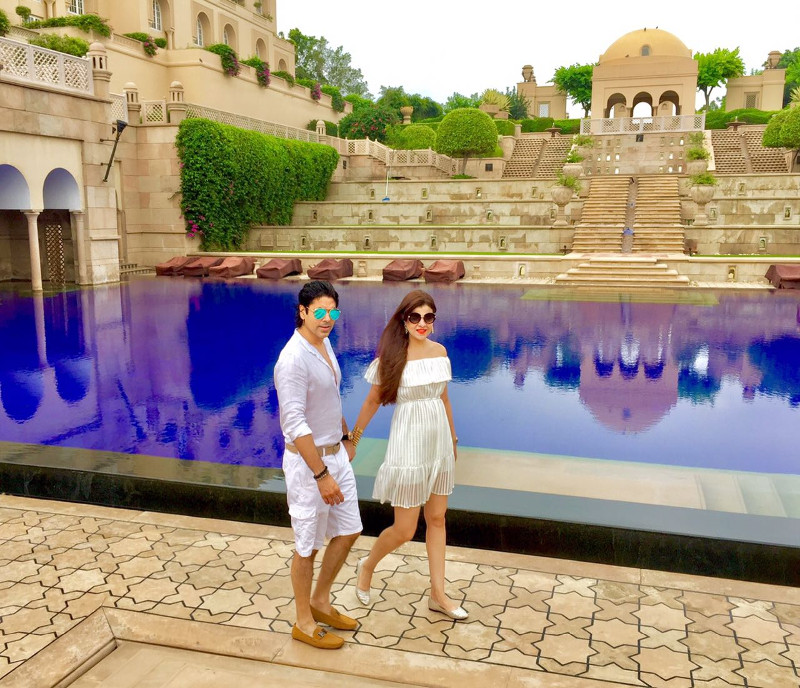 After freshening up and taking in several more awe-inspiring views of the Taj Mahal, we made our way down to Bellevue for lunch. We both feasted on dosas stuffed with minced meat and masala shredded chicken which we enjoyed thoroughly. A post lunch walk around the property saw us descending down a flight of steps to the pool which had the signature blue tiles seen at several Oberoi hotel properties. From where we stood, I couldn't help but think that the finest new monuments in India are built by the luxury Oberoi hotel chain. And the Vilas properties of the Oberoi have come to represent the highest definition of excellence in guest care services.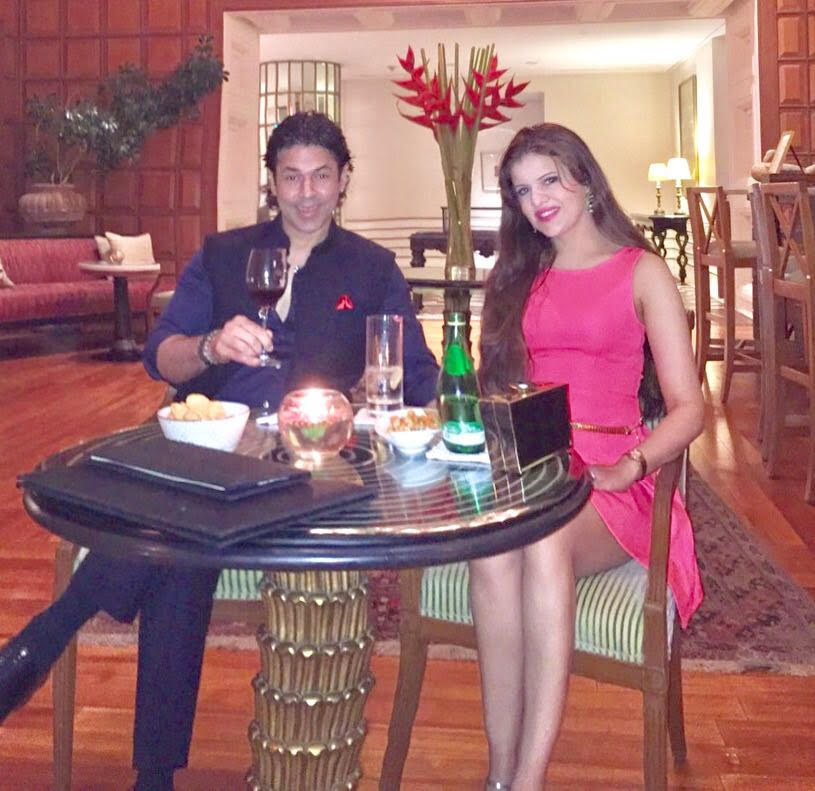 When the sun was about to set, we settled in our chairs on our large verandah. With wine glass in hand, our eyes marveled at the picture perfect marble tomb built by Emperor Shah Jahan for his beloved wife Mumtaz Mahal. My wine, soft on my palate, was smooth and well balanced. It was a delicious Australian red, a 2009 Cabernet Merlot. Later that evening, while at the Indian fine dining restaurant Esphahan, I stayed with the 2009 Chinkara wine which perfectly complimented the spicy Indian food making for an enjoyable 'jugalbandi' between Merlot and Makhanwala. The talented santoor player completed the setting of India and helped make our first day at the Amarvilas, a memorable one.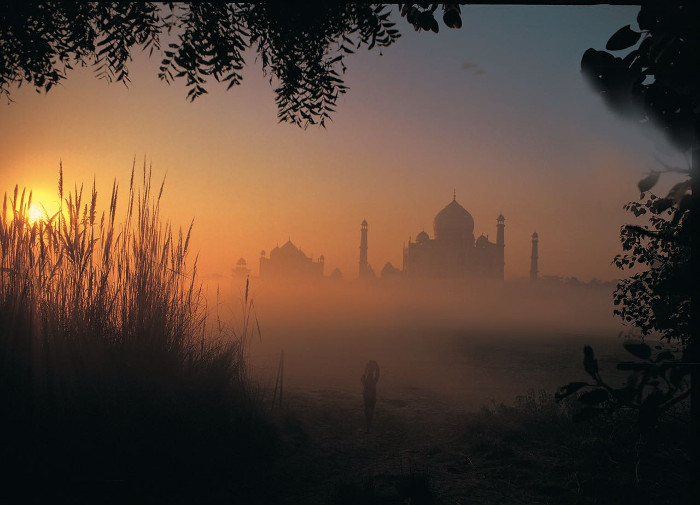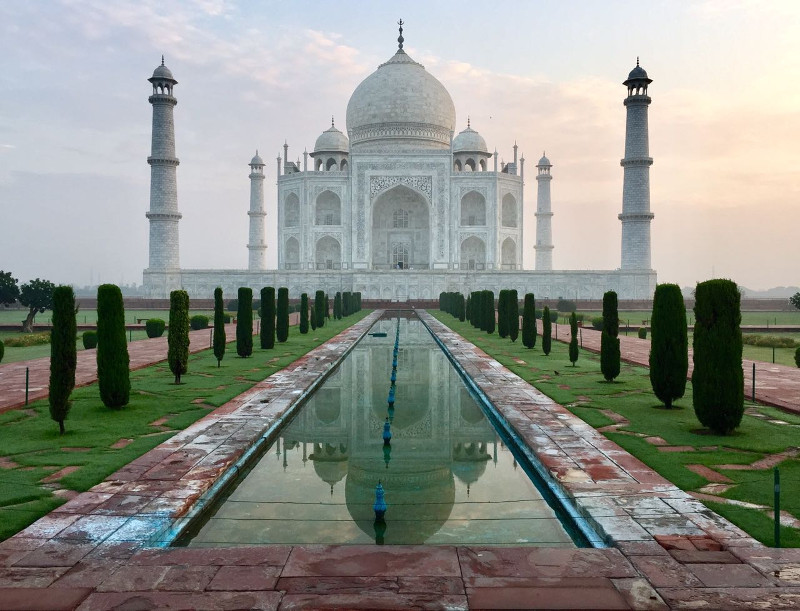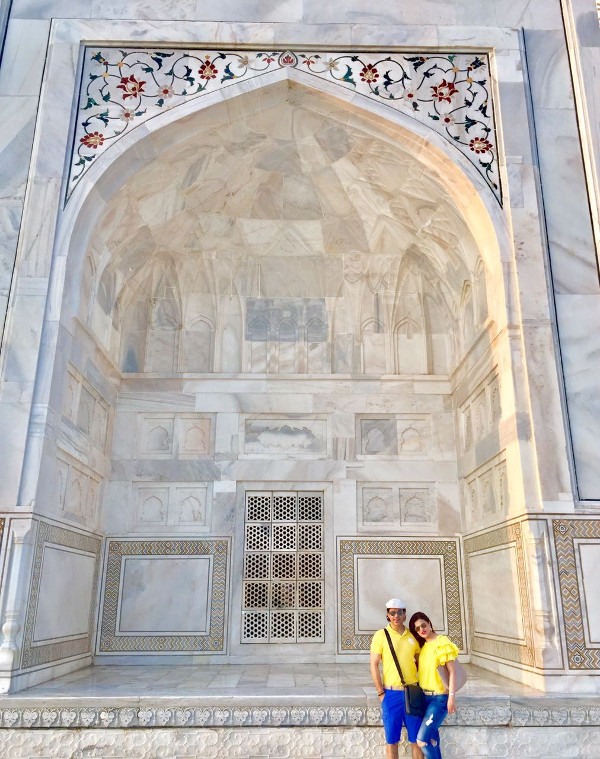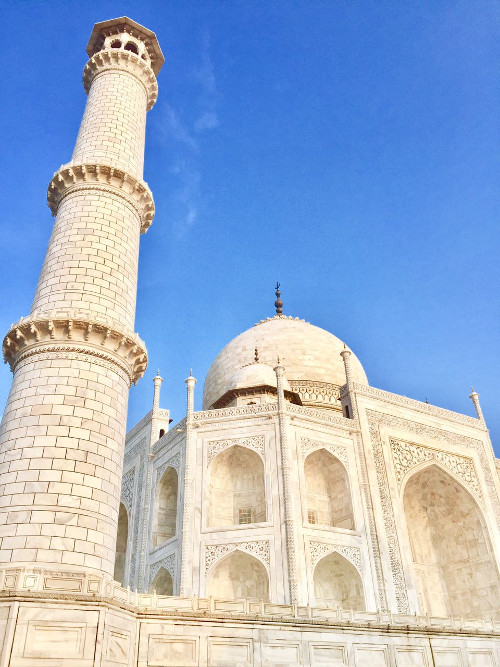 We woke up very early the next morning as we had a date with romance and history. Our tour guide, the very knowledgeable, soft spoken yet articulate Mr. Kishore Gupta, met us at the hotel lobby at 5:30 am. An Amarvilas golf buggy drove us the short distance to the grand entrance of our planet's most astonishingly beautiful tribute to love, The Taj Mahal. At this early hour, there were a few European tourists who had got to the main entrance gate before us. On seeing them lined up, I had an idea. I told Laveena and our tour guide Kishore, that the moment the gates would be opened up to let us in, we should run to where the grand marble monument stood, as I was sure that the tourists from Europe would linger on at the entrance, where the grand history tour usually begins. We, on the other hand, would have the Taj Mahal all to ourselves and would use this unique opportunity to capture many beautiful and private photographs. When we raced to the marble bench in front of this rare jewel of Islamic architecture in India, we were spellbound by its sheer beauty. Up close and personal, it looked even more spectacular than it did from our hotel room and we now understood why it was admired as one of the Seven Wonders of the Modern World. Truth be told, nothing I write to describe the Taj Mahal, can actually bring its magnificent beauty, alive. The Taj Mahal has to be experienced first hand. It is hard to describe in its entirety what one feels when you first look past the manicured lawns and the pools, toward this grand monument. Built entirely in white marble by the famous Mughal Emperor Shah Jahan, the Taj Mahal's chief architect was Ustad Ahmed Lahori. It is said to be the most beautiful Mughal monument to have ever been built and it represents the zenith of Mughal architecture. The mausoleum was declared a UNESCO World Heritage site in 1983.
The English poet Sir Edwin Arnold described it as "Not a piece of architecture, as other buildings are, but a proud passion of an emperor's love wrought in living stone." Rabindranath Tagore called it "A teardrop on the cheek of time", and US President Bill Clinton said, "The world is divided into those who have seen the Taj and those who have not."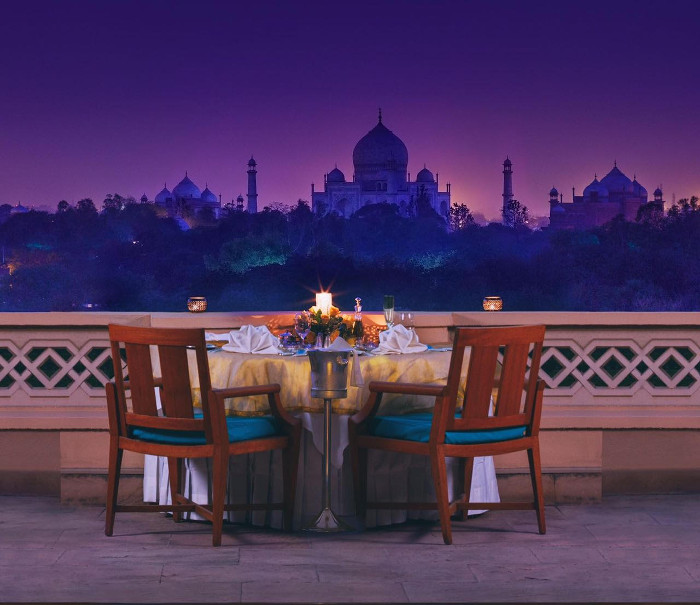 That evening we had a romantic dinner for two planned on our suite terrace. We were requested by the hotel staff, not to step out of our bedroom for at least 30 minutes, during which time our living area and our verandah were both beautifully decorated with rose petals and 100s of candles. When we finally got a call from our butler, we stepped out of our room and were instantly transported into a magical 'Arabian Nights' world of beautiful Princesses and Princess, magic carpets, Moorish-Moghul art and architecture and in the middle of it all was this opulent table setting for two against the backdrop of the Taj Mahal. It couldn't get more 'dream-like' for us as we celebrated life over wine and enchanting conversation, served by two charming, attentive and polite Amarvilas staff, Kaushiki and Sudhanshu. The dishes presented to us in a royal Indian thali style were all delicious and complemented each other to perfection. We took our time over dinner, which started at 9:00 pm and did not end until mid-night.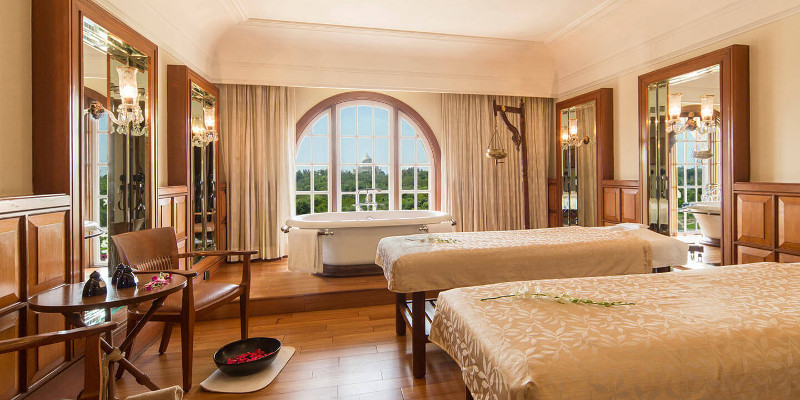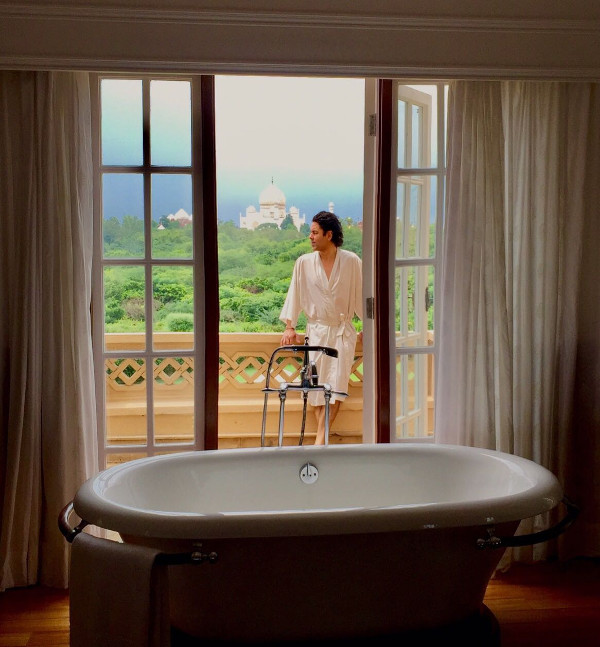 On our last day in Agra, we had a couples treatment scheduled at the hotel spa at 11 am. We had an array of therapies to choose from and we settled on a Mughal inspired royal aroma ritual which refreshed and replenished our senses and got us prepared for our long journey home. As we bid adieu to the fantastic staff at the Amarvilas, the memories we carried back were of the two of us waking up to the mesmerizing sight of the magnificent Taj Mahal, bathed by the first romantic rays of dawn and later, equally enthralled, we were swept away by her romance at dusk.
---
The Oberoi Amarvilas (India)
---
• Location:
Google Maps
• Address: Taj East Gate Rd, Paktola, Tajganj, Agra, Uttar Pradesh 282001 • Hotel website:
The Oberoi Amarvilas
---
Our Rating
---
Location: 9/10
Food and Cuisine: 8/10
Design: 9/10
Rooms: 8/10
Service: 9/10
Overall experience: 8/10
---
Articles you May Love To Read
---
THE OBEROI DUBAI
OBEROI RAJVILAS
---
Follow me on
Facebook
,
Instagram
and  
Twitter
 for some amazing travel posts
---