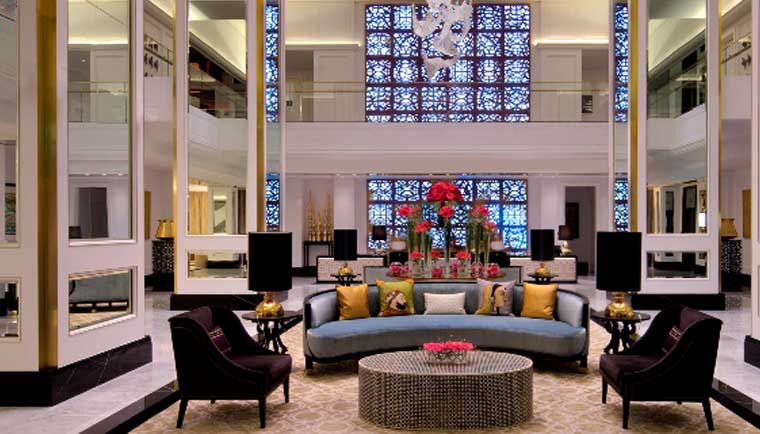 JANUARY 07, 2017 BY SAJJID MITHA
Time Honoured Traditions of Devotion and Hospitality Come Alive at the Taj Dubai
After a memorable 5 day stay at the Four Seasons Seychelles, Laveena and I routed our return home via the UAE. Air Seychelles has a code share with Etihad Airlines so our entry point was through the capital, Abu Dhabi. A comfortable limousine ride brought us to Dubai in under an hour and we had a warm and welcome check in at the Taj Dubai, fabulously located in a city, we so dearly love.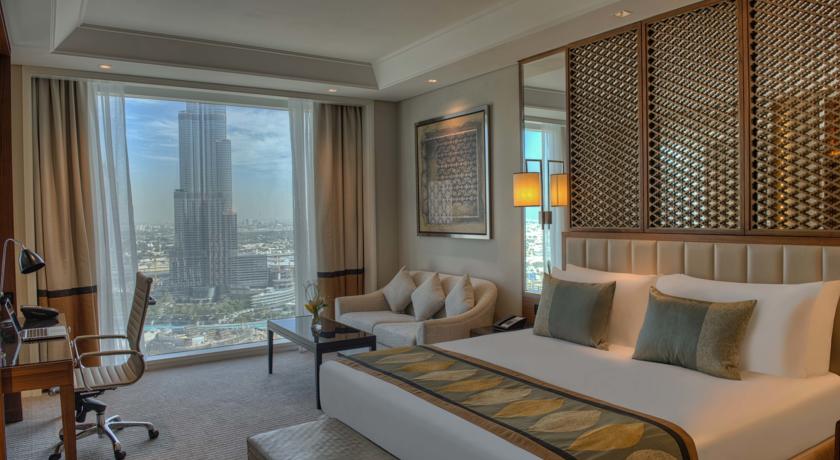 An intoxicating fusion of extravagance, heritage and contemporary style, the Taj Dubai occupies a prime location, in the Emirates' most famous city. The hotel's 296 lavish rooms offer an interesting mix of rich Indian artistry and traditional influences with majestic views of the Burj Khalifa. Once Laveena and I were settled in, we decided to head out to the Dubai Mall, which is a short five-minute drive from the hotel. The Taj offers a shuttle bus service, at periodic intervals, to the mall which makes the location of the hotel, nothing short of perfect, with the international airport only nine miles away.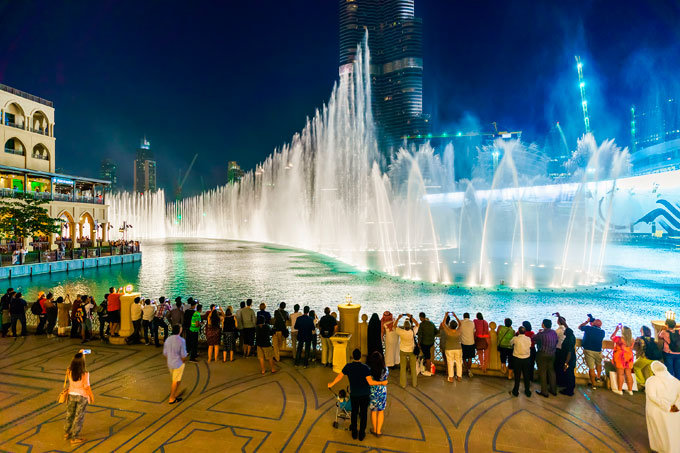 After spending a few very successful shopping hours at the mall, we returned to our room and were thrilled to catch the magic of the dancing Dubai fountain, the captivating water, music, and light spectacle which though we had seen a few times before, never failed to impress us. The Dubai fountain is the world's tallest performing fountain at over 900 ft in length. It is situated on a 30-acre lake with 6600 wet super lights and 25 colour projectors which help create a visual spectrum of over 1000 different water expressions. The fountain performs to a range of different songs and one can never tire of watching what has come to become one of Dubai's most compelling tourist attractions.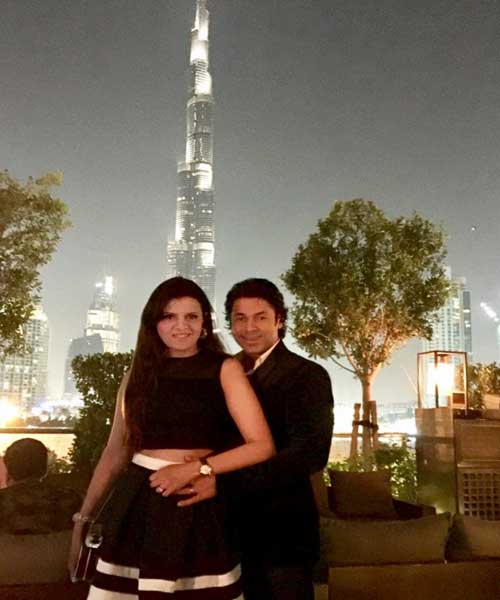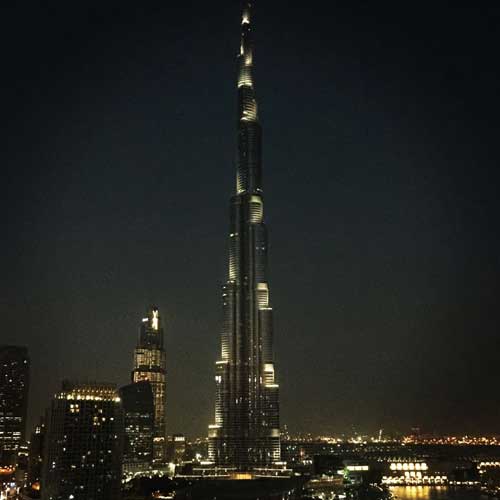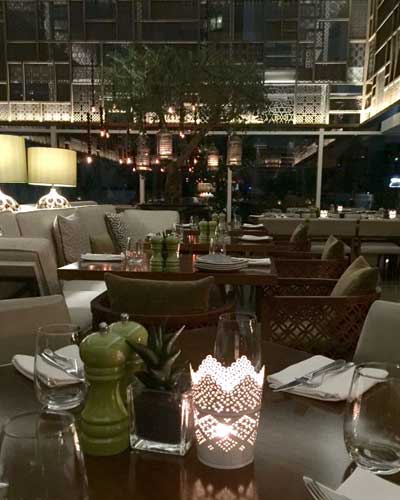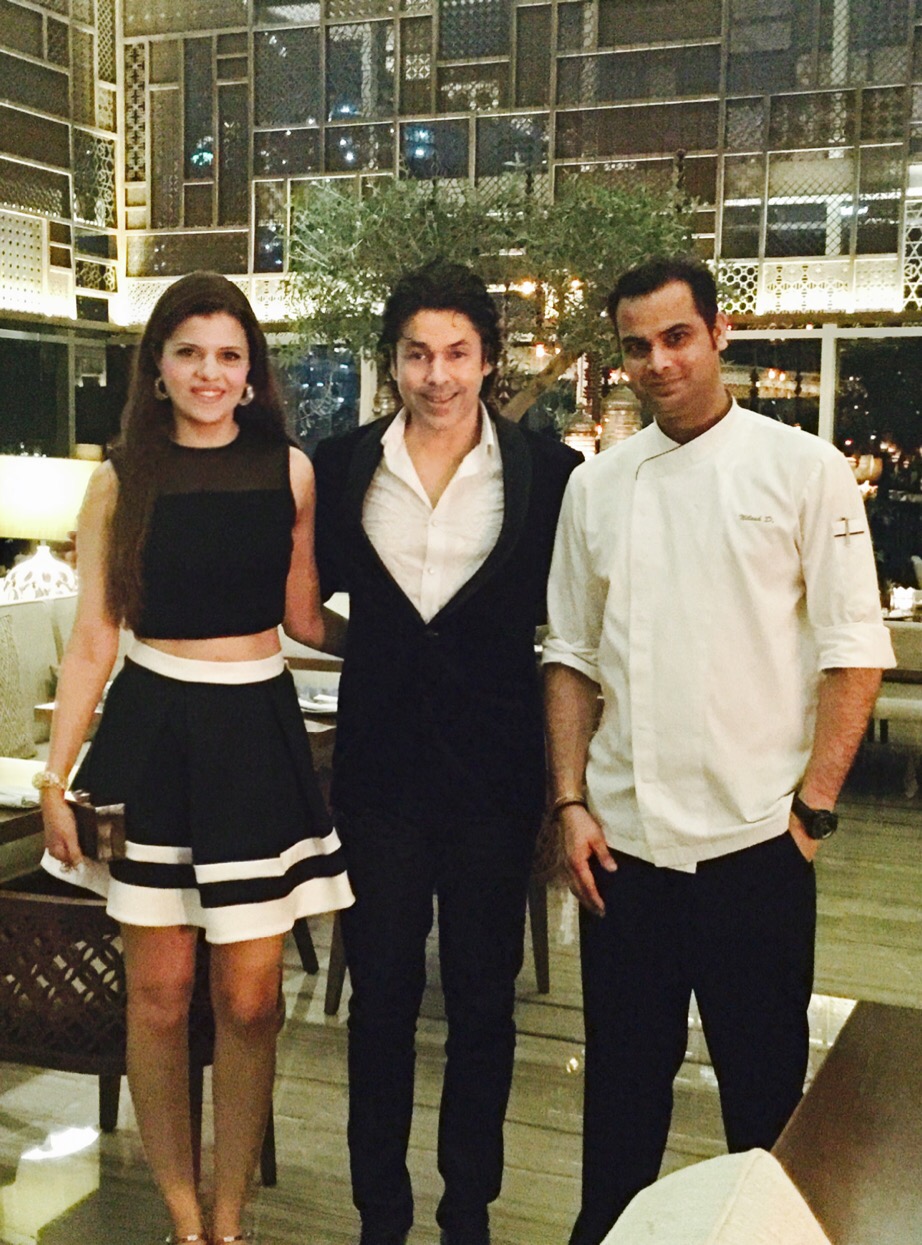 We showered and headed down to Tesoro for dinner. Before dinner, we both had a glass of champagne at the Treehouse to celebrate Laveena's soon to arrive birthday. The Treehouse is a rooftop open air lounge crowded with effortlessly chic people  and decadent views of the Burj Khalifa. From this urban hideaway with a rich lush decor, the city of Dubai looks fabulous with its bright shimmering lights and tall glass buildings. After a quick drink and a brief photo-shoot at the roof top lounge bar,  the gentleman waiting on us guided us to Tesoro where a table was elegantly decorated and set up for what promised to be an exciting dinner. We found the decor of Tesoro very appealing. The eye-catching metal and glass conservatory kind of look against the backdrop of the shining lights and the glitzy and glamorous nightlife of downtown Dubai added a sense of opulence to the restaurant which is very popular in the city and is known to be a melting pot of several cultures and cuisines.  Chef Nilesh worked his magic with the Black cod which Laveena ordered. His years of experience and training under Iron Chef Masaharu Morimoto was brilliantly presented on the plate with flavours which distinctly stood out as a reminder of our favourite dish at Wasabi at the Taj Mahal Palace, Mumbai and yet in many ways, we preferred his twist to this legendary dish. I ordered the kheema pav (minced spiced meat with soft bread, an absolute must for the culinary thrill seekers).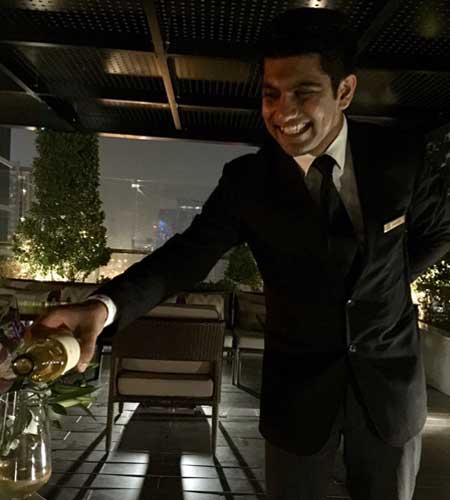 Siddharth Chopra was our butler during our stay at the Taj Dubai. His commitment to please was evident as he would appear out of thin air each time he was needed. At breakfast at the club lounge Siddharth was always there to serve us, he would guide us to hotel restaurants for lunch and would also attend to other requirements we had such as our laundry needs. He helped pack and unpack our bags and helped in neatly laying out everything in our walk in wardrobe. Supremely efficient and impeccably sensitive to ensuring high standards of service and hospitality at all times, Siddharth was truly one of the highlights of our stay at the Taj Dubai. He made the Taj Club experience a very special one and even helped make the necessary arrangements for a surprise pre-birthday dinner for Laveena at the Chambers terrace.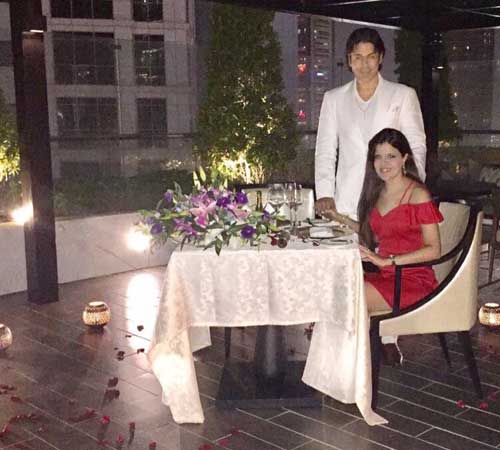 On the night of November the 4th, as we rode the elevator up to the club floor, Siddharth waited to welcome us to Laveena's pre-birthday dinner. He led the way through the glass doors onto the terrace where at the far end a table for two was beautifully decorated with purple, pink and white flowers and fine silver cutlery and crockery. Adorned with a silk cloth, the table had two menus rolled up in an intricately designed cylindrical cone. Rose petals were strewn along the floor while white candles in silver holders with ornate filigree work on them were artistically laid out on the terrace which was entirely booked for our very private dinner.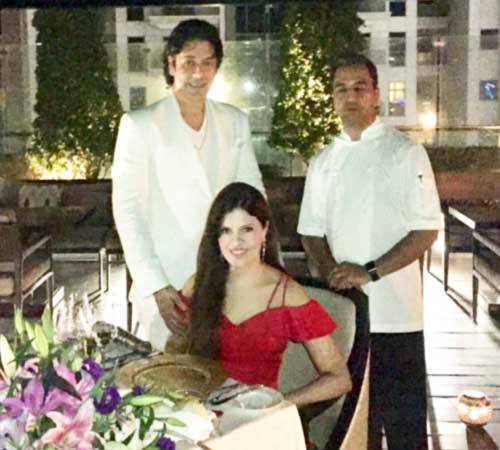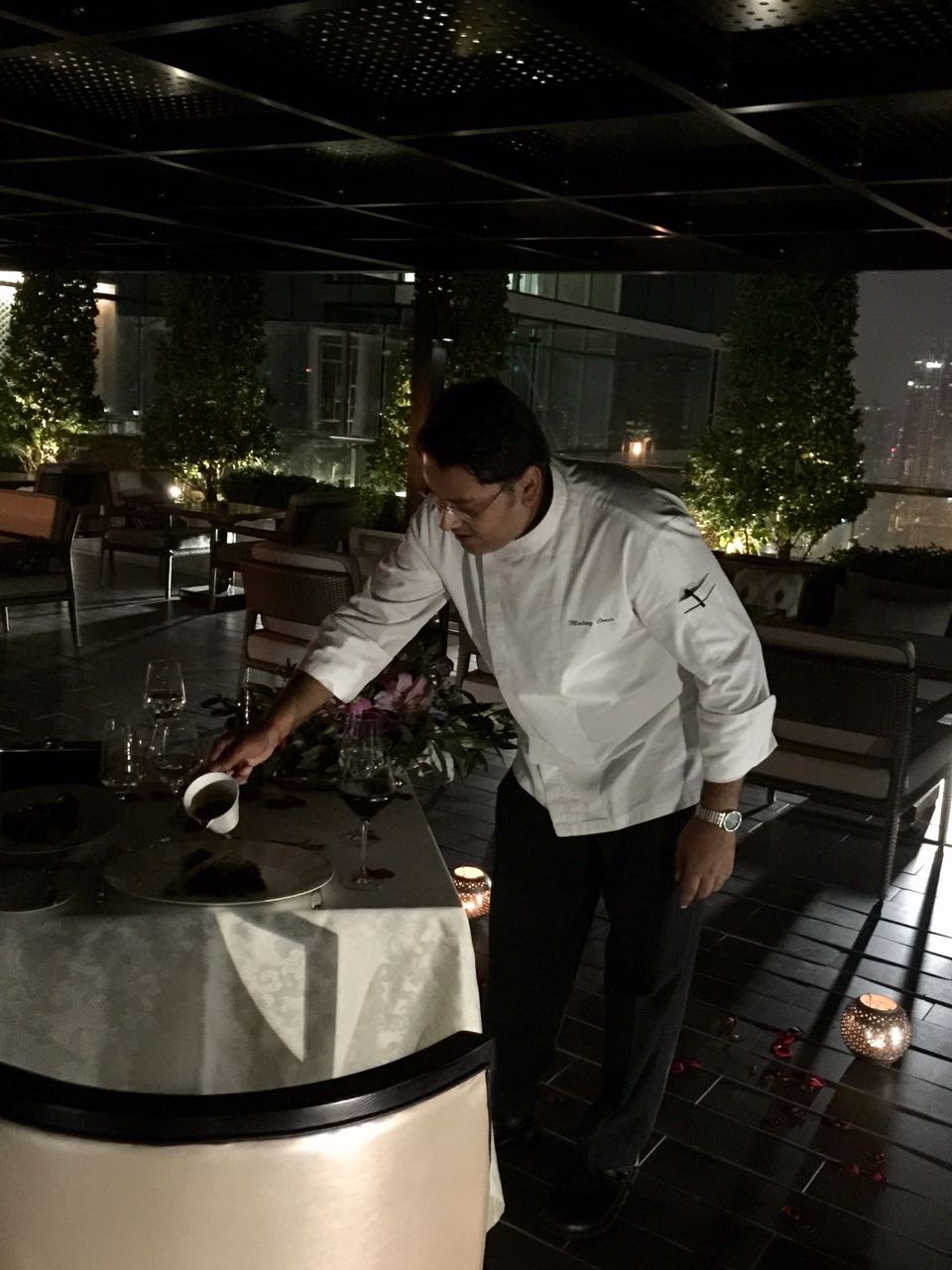 The club degustation menu for the evening started off with a selection of bread with Basil Hummus, Guacamole, and olive Tapenade. This was followed by a Nikai Tuna Ceviche, Classic Hamour and Scottish Salmon with green tiger milk. We then had the Jerusalem artichoke and Atlantic bay scallop, Miso black cod with edamame and shitake ragout and finally slow cooked beef cheeks with sweet potato puree, cream cheese and chives stuffed jumbo morel mushrooms honey glazed parsnips. The meal was fit for a King and Queen and we tried our best to do justice to this awesome and delectable spread. We asked for dessert to be delayed as Laveena and I walked around the Chambers terrace, hand in hand, eternally grateful for this royal feast . The menu for the evening was personally styled by the supremely talented Executive Chef of the Taj Dubai Jitin Joshi and Chef de Cuisine Malay Omer. We spent more than 3 hours on this magical gastronomical adventure as we discovered the signature wizardry of these multi-talented culinary artists with wines masterfully paired with every course. The finale for the evening was the cold chocolate soup and a pistachio floating island with ice cream.
When you have perfected the craft of hospitality and have refined your attention to detail like no other, when you have captivated guests for over a century and tattooed their hearts with your distinct and devoted style, when visitors are treated like royalty and time honoured traditions are intricately woven into every niche and corner of your grand hotels, we as loyal patrons wonder....can it possibly get any better? Our stay at the Taj Dubai convinced us that there is no limit to greatness. We were beguiled at the whole heard commitment at the hotel toward the group's philosophy of 'Tajness'. It had that purity, freshness, and promise which only the Taj can offer. We cannot wait to return.
---
Taj Dubai
---
• Location:
Google Maps
• Address: Burj Khalifa Street - Dubai - United Arab Emirates • Hotel website:
Taj Dubai
---
Our Rating
---
Location: 9/10
Food and Cuisine: 8/10
Design: 8/10
Rooms: 9/10
Service: 9/10
Overall experience: 8/10
---
Articles you May Love To Read
---
THE TAJ CAMPTON, SAN FRANCISCO
---
A UNIQUE 'RUNWAY' STAY-CATION AT THE FABULOUS TAJ SANTACRUZ
---
WEEKEND INDULGENCE AT THE TAJ MAHAL PALACE, MUMBAI
---
Follow me on
Facebook
,
Instagram
and  
Twitter
 for some amazing travel posts
---