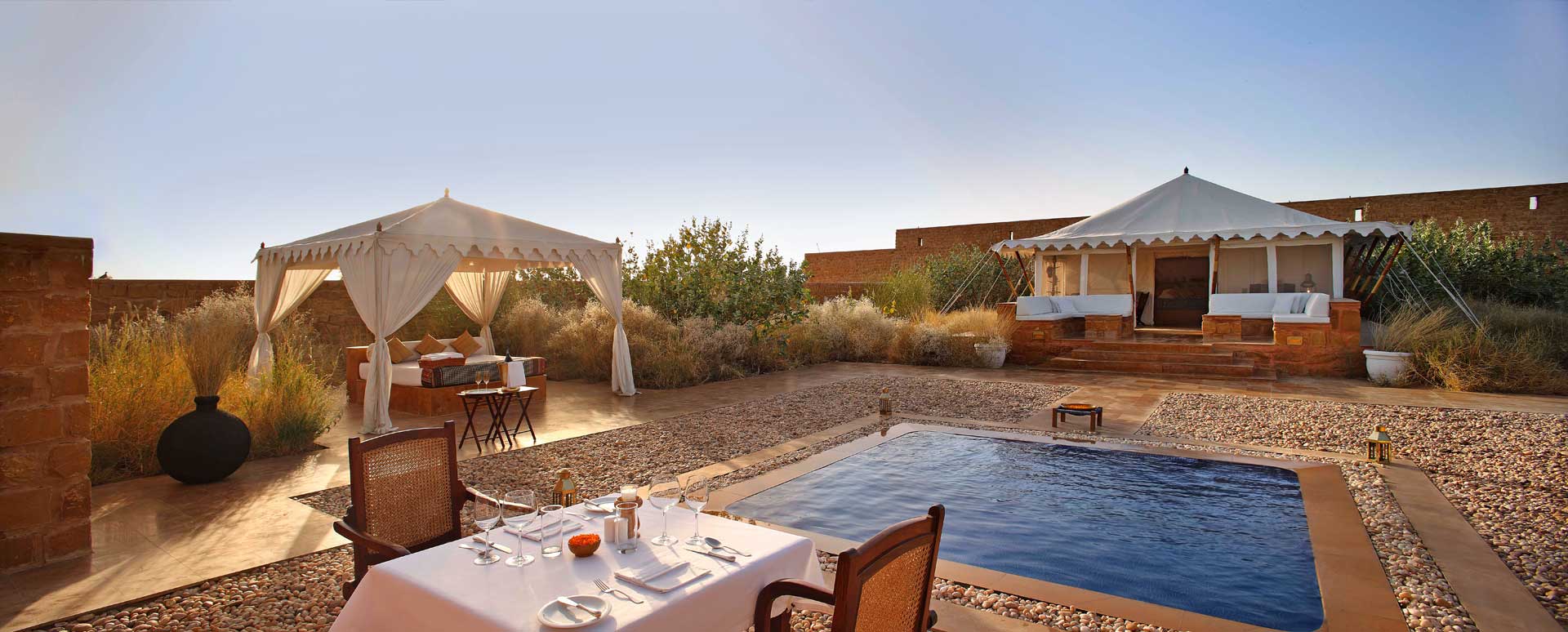 MARCH 07, 2019 BY SAJJID MITHA
The Serai by Sujan luxury
In February this year Laveena and I checked in at a luxury tented camp located in pristine wilderness, in India's magnificent Thar desert in Jaisalmer, Rajasthan. Representing the very best in Indian hospitality, The Serai by Sujan luxury, impressed us both from the moment we arrived, effortlessly standing out as one of India's finest luxury hotel resorts and helping re-affirm the word 'incredible',  in Incredible India.
We were at 'The Serai' to celebrate my birthday, but through the length of our stay we realised, that when at 'The Serai', guests were reminded that each day was a celebration and a blessed gift.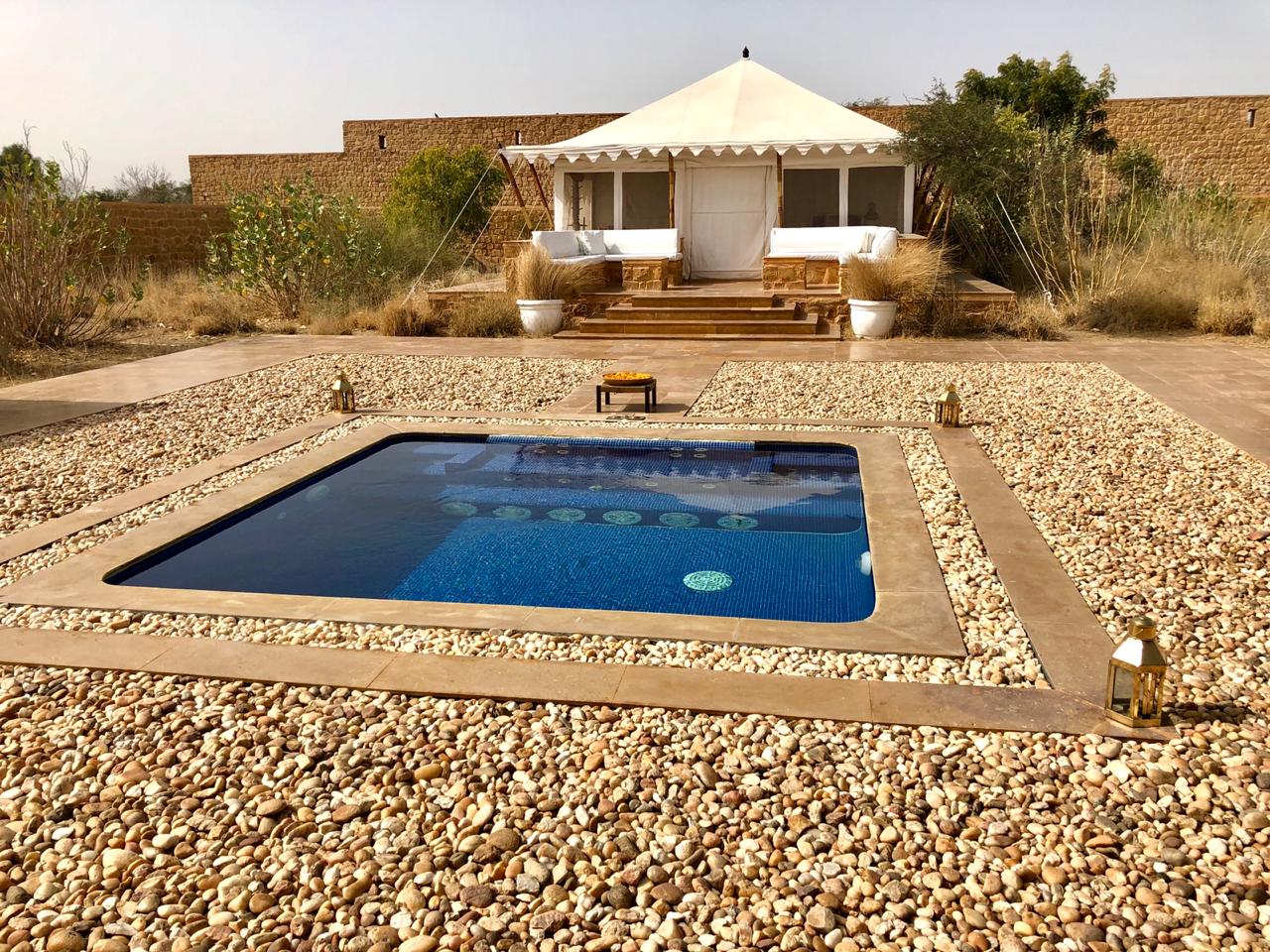 Not only did the luxurious tented camp offer us an opportunity of a vacation of a lifetime, with a myriad experiences to savour each day, but the high standards of service at 'The Serai', too, were impossible to match. Each and every member of the staff we encountered during our 4-day long stay, was seen committed to make the guest experience exceptional.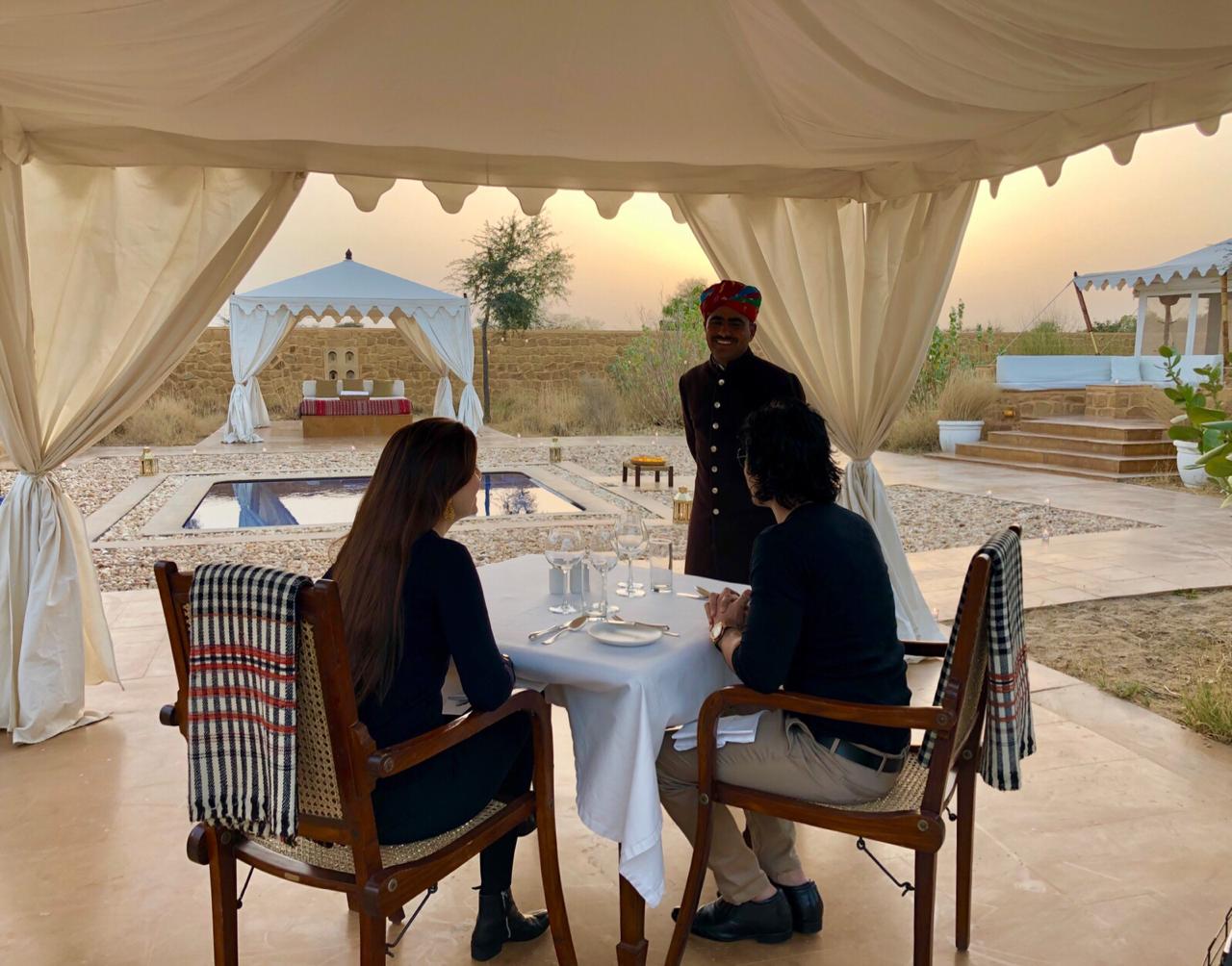 While at this luxurious dessert camp,  on day one, we had a splendid dinner at the Royal Tented Suite, underneath clear skies with countless stars shining brightly in their stately constellations.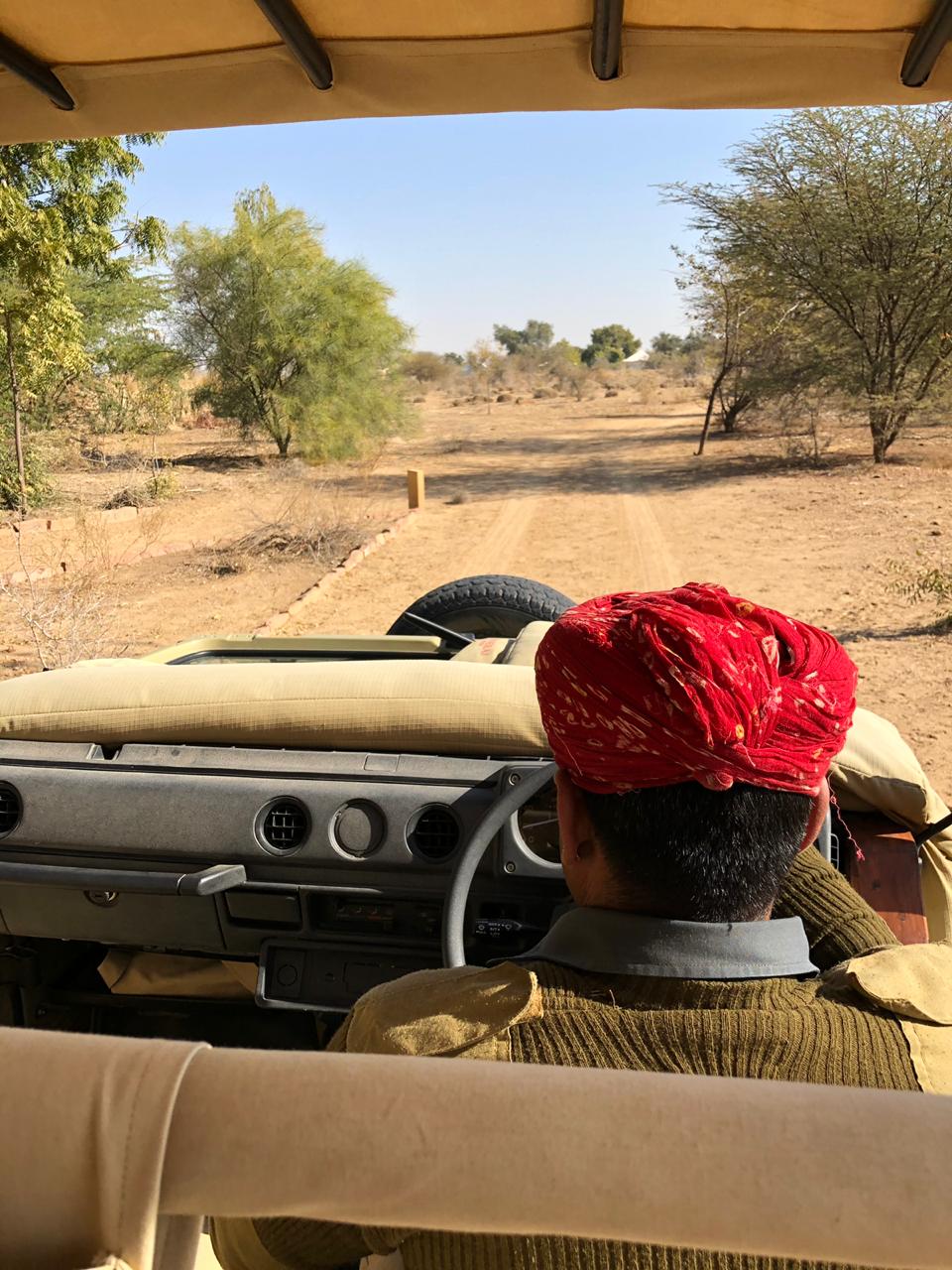 The next morning we woke up to an orchestra of bird sounds, most of which we had never heard before. Breakfast was a short drive from the camp, at a stunning farm located on 'The Serai' estate.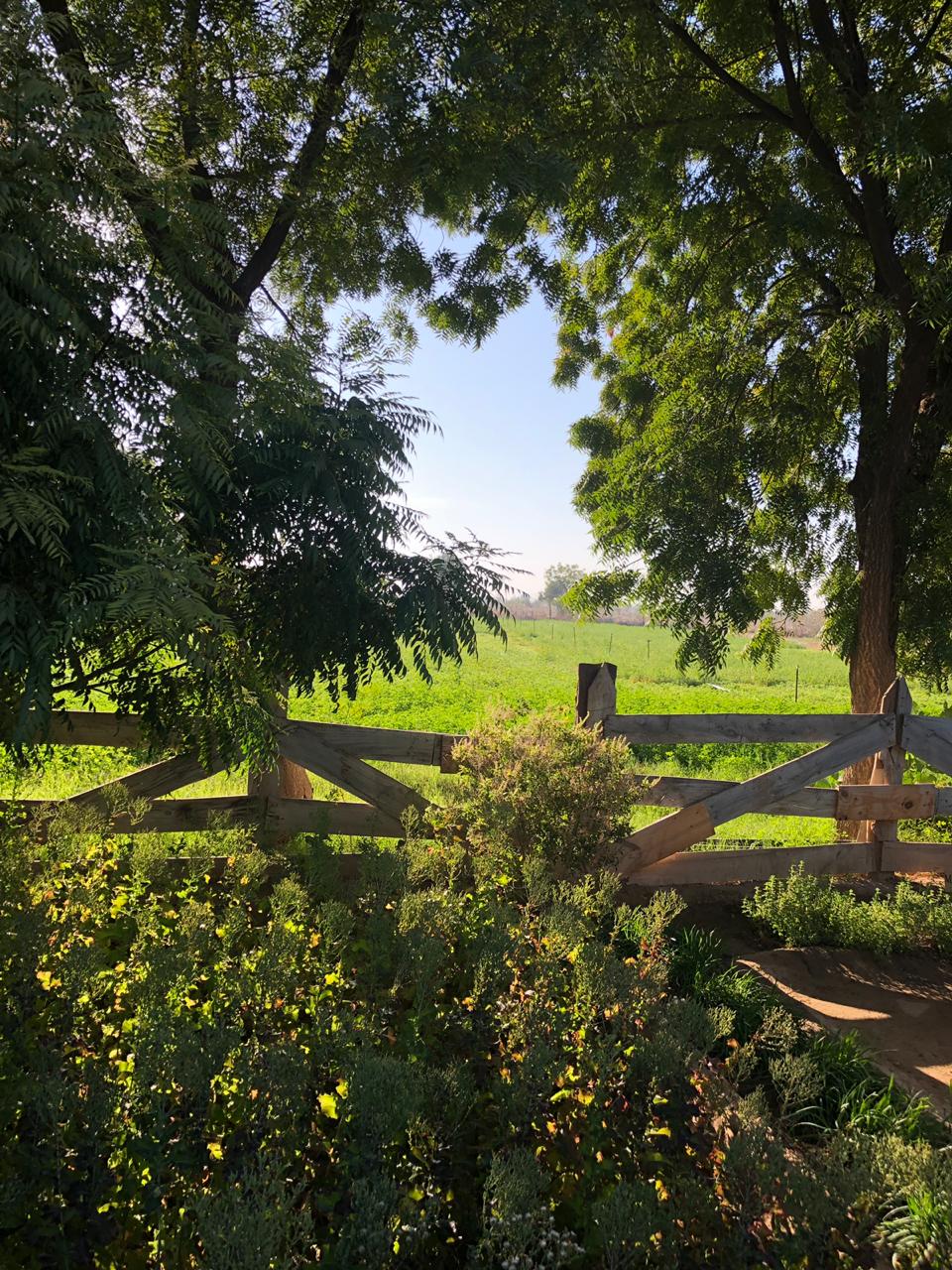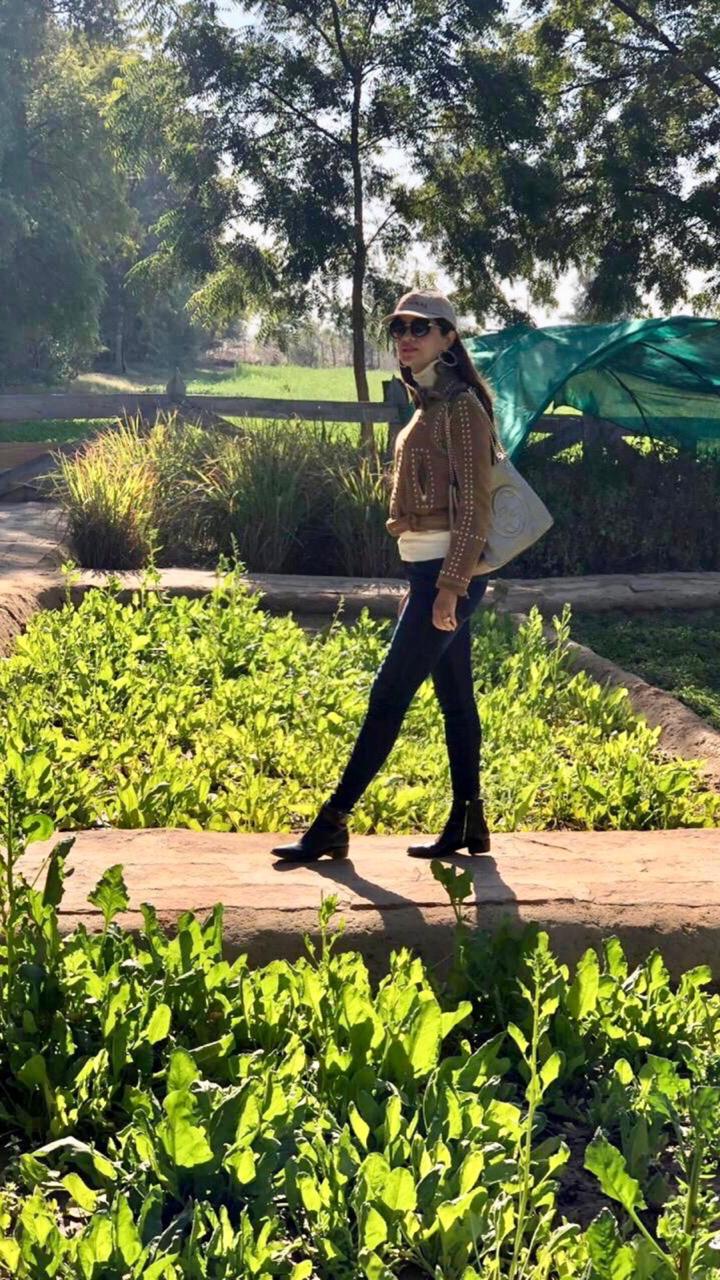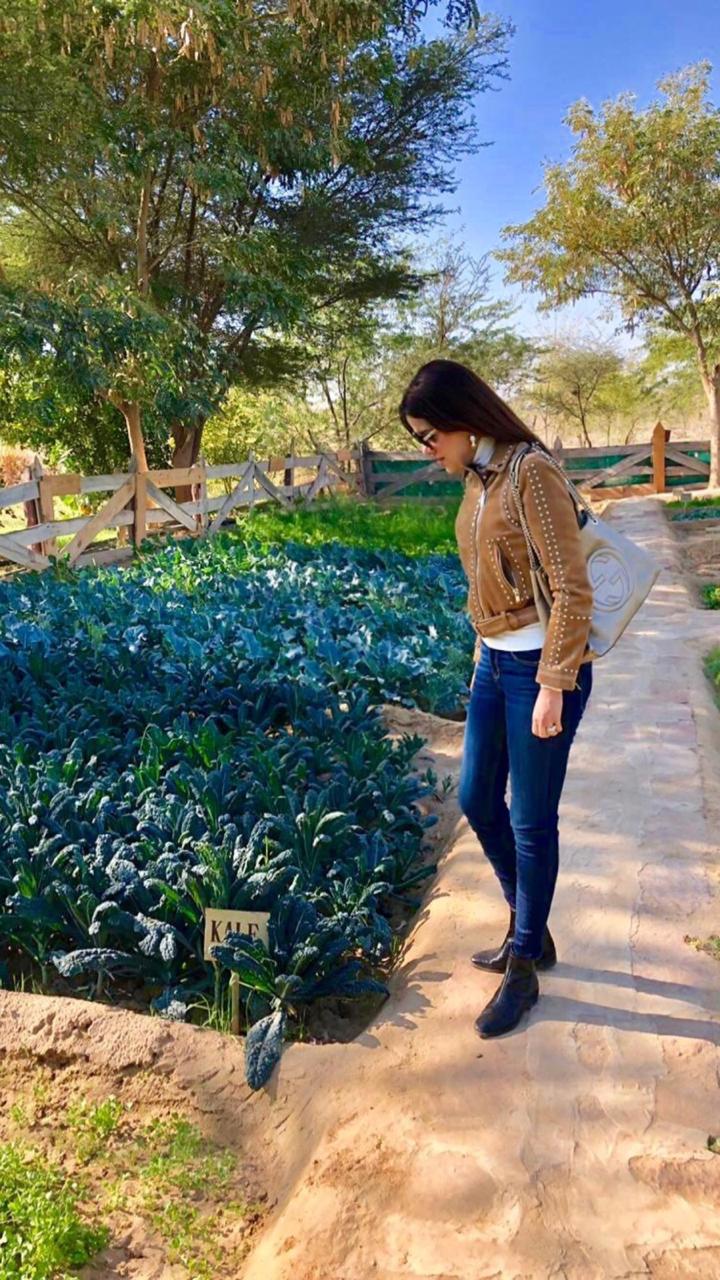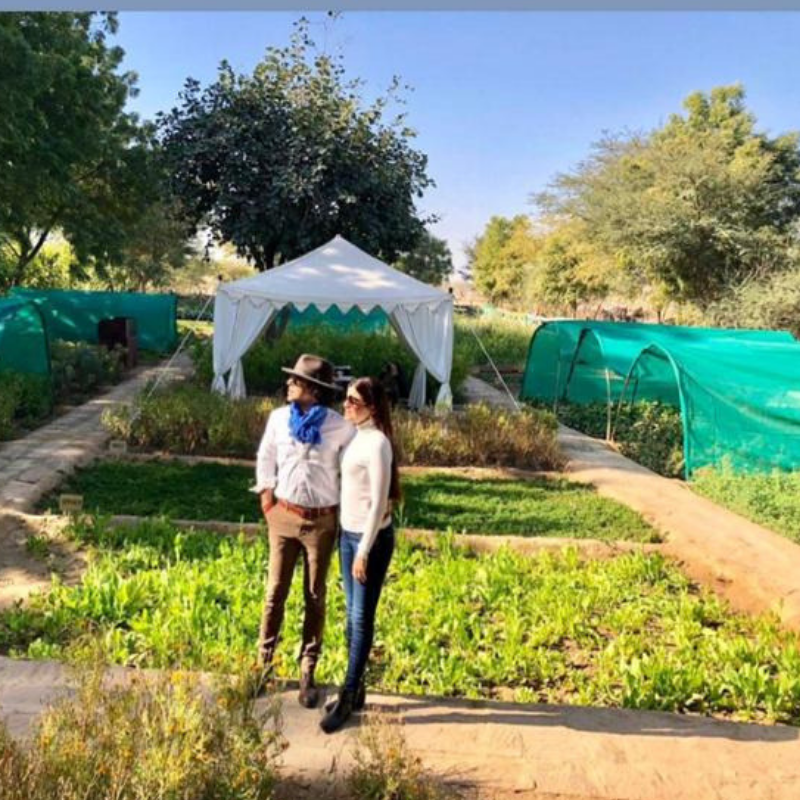 Surrounded by beds of fresh vegetables and lush green trees, we feasted at this Oasis in the desert, on a magnificent spread fit for Kings.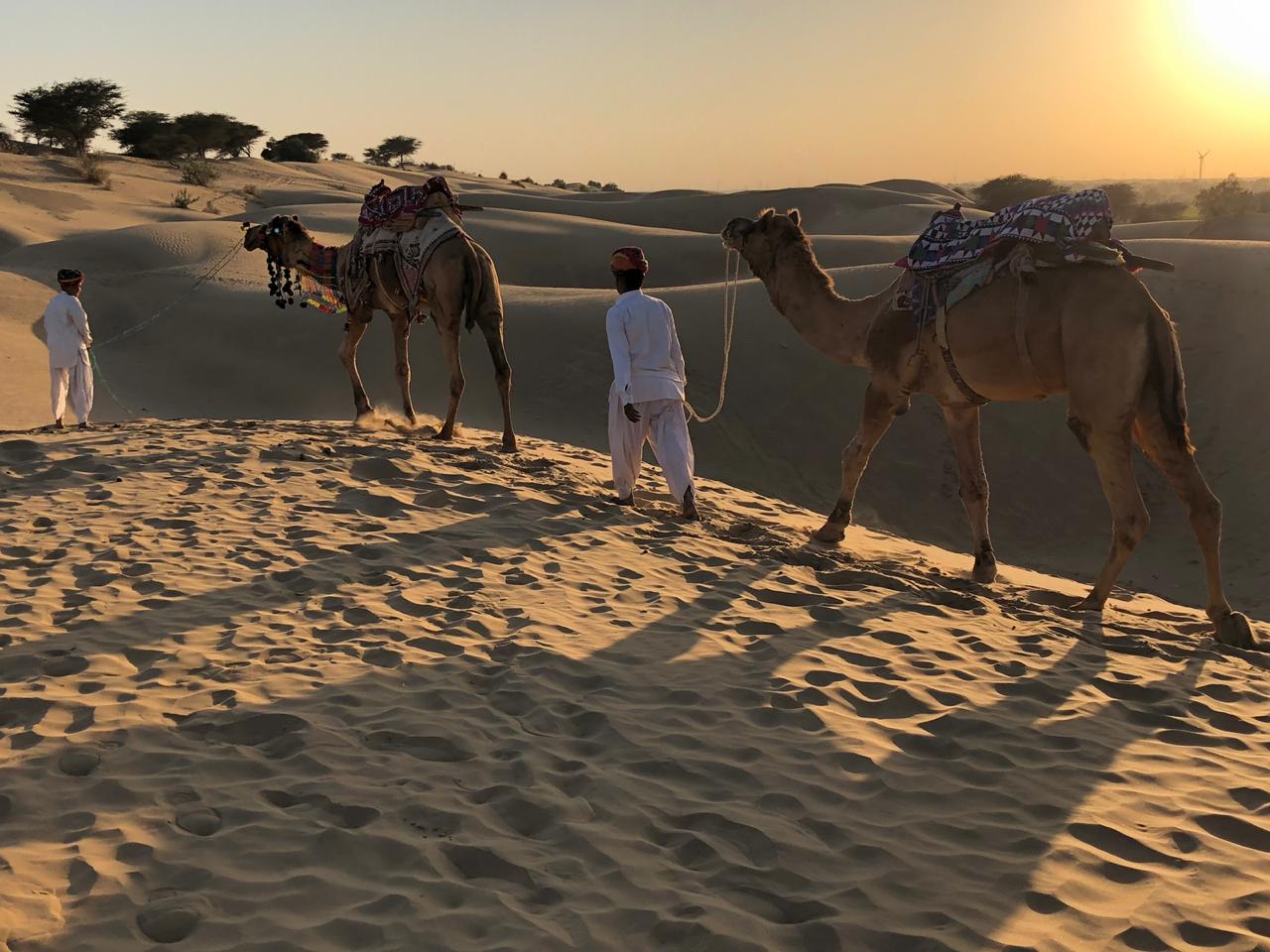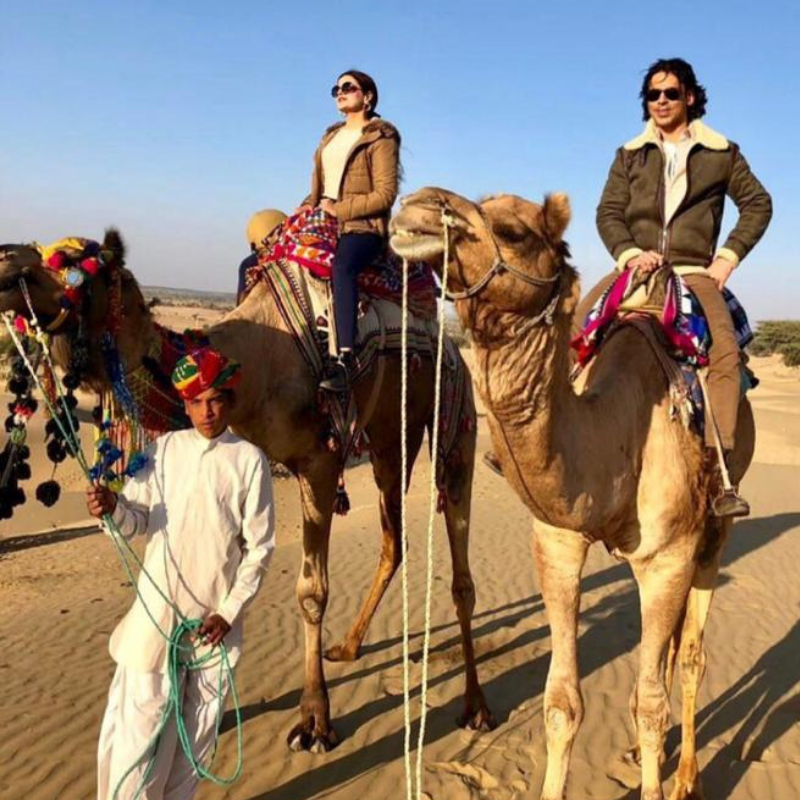 For sundowners, Laveena and I were driven about 30 minutes away from the resort, deeper into the desert. When our vehicle finally came to a halt, we were invited to mount two camels, who were being tended to by local camel herders from the village of Barwa.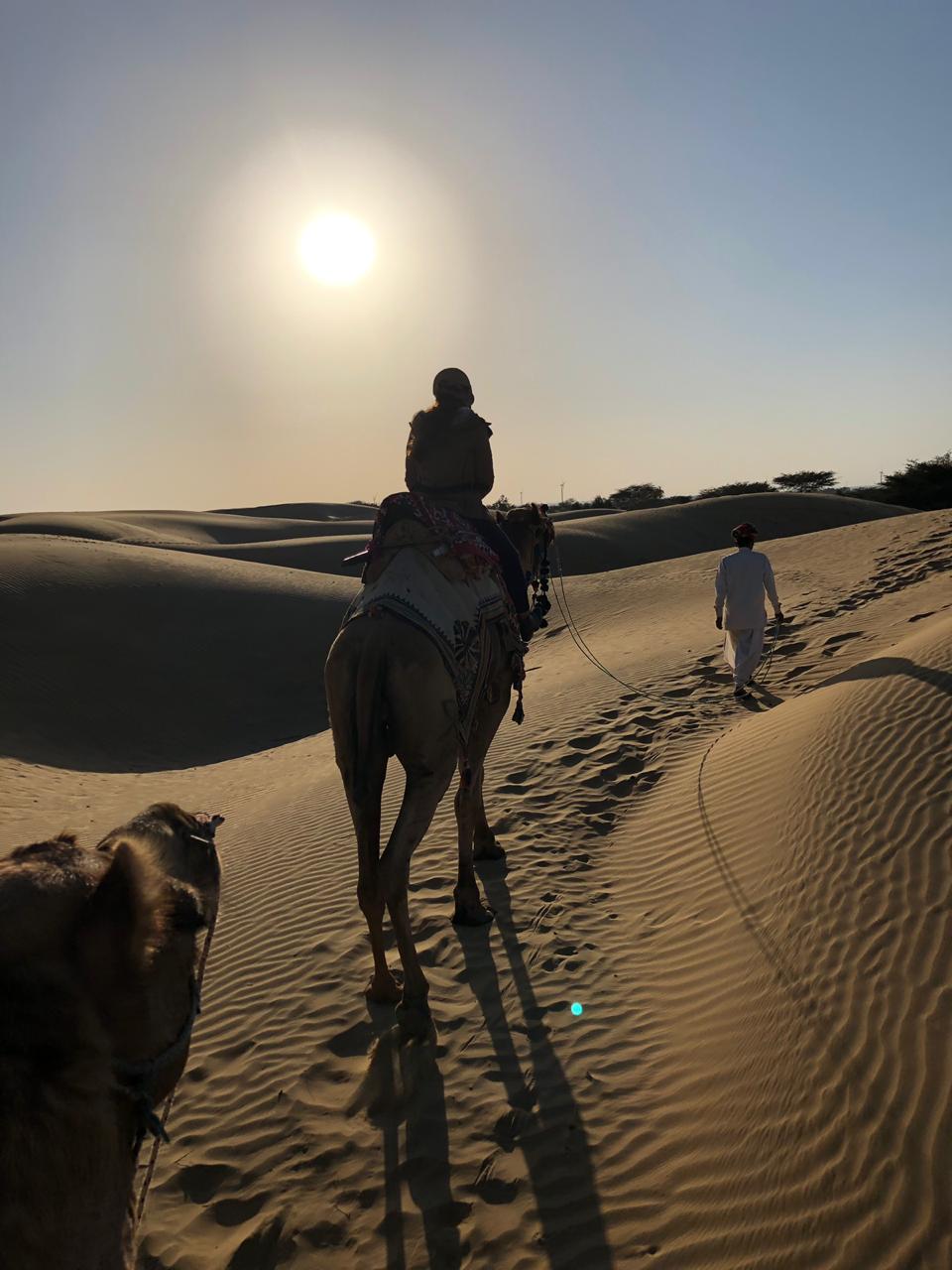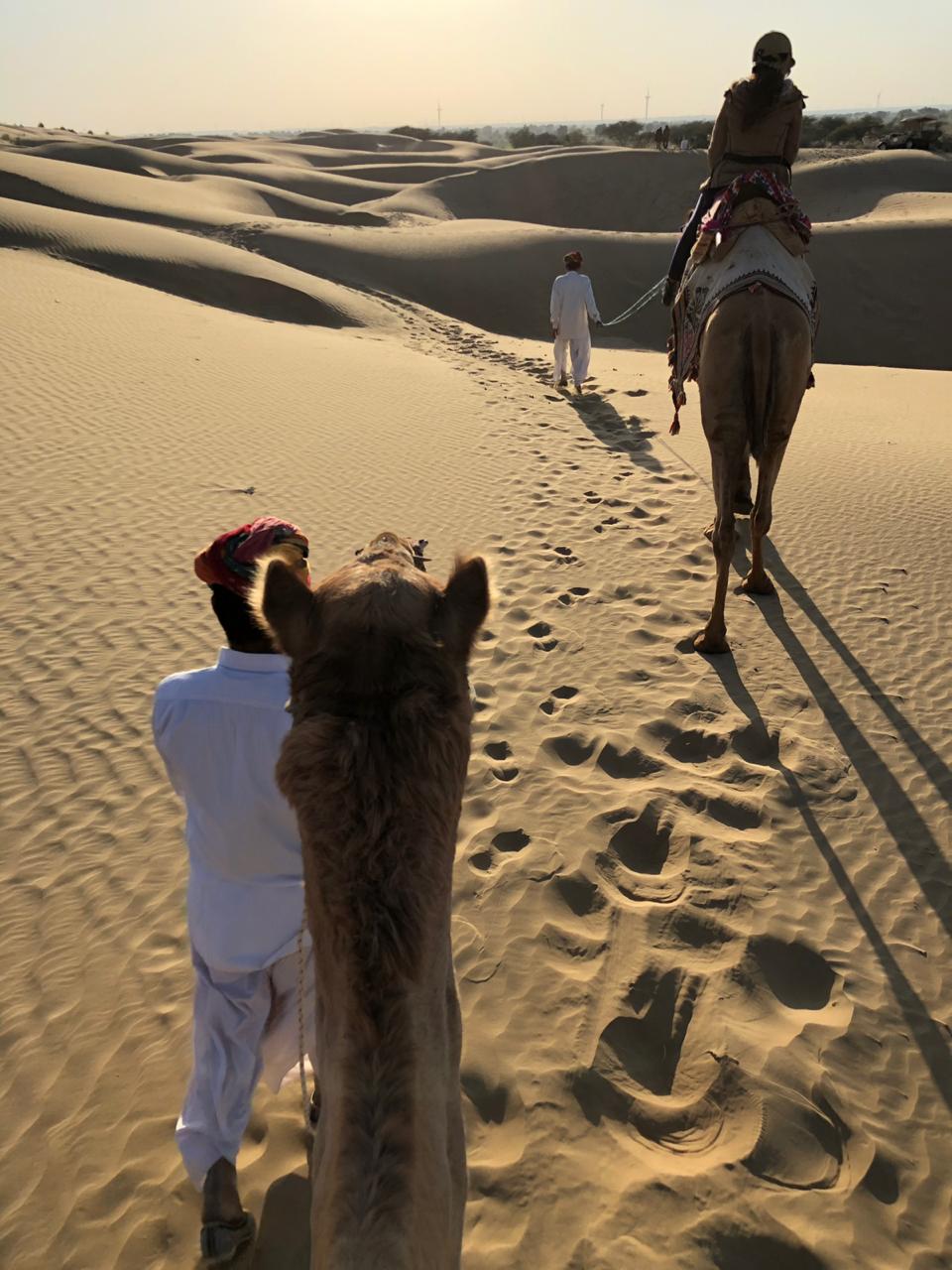 Our camel ride to the sand dunes was an adventure in itself, as the slothful swaying of these 'ships of the desert', allowed us the opportunity of taking in the vast beauty of our golden, parched and sandy surroundings.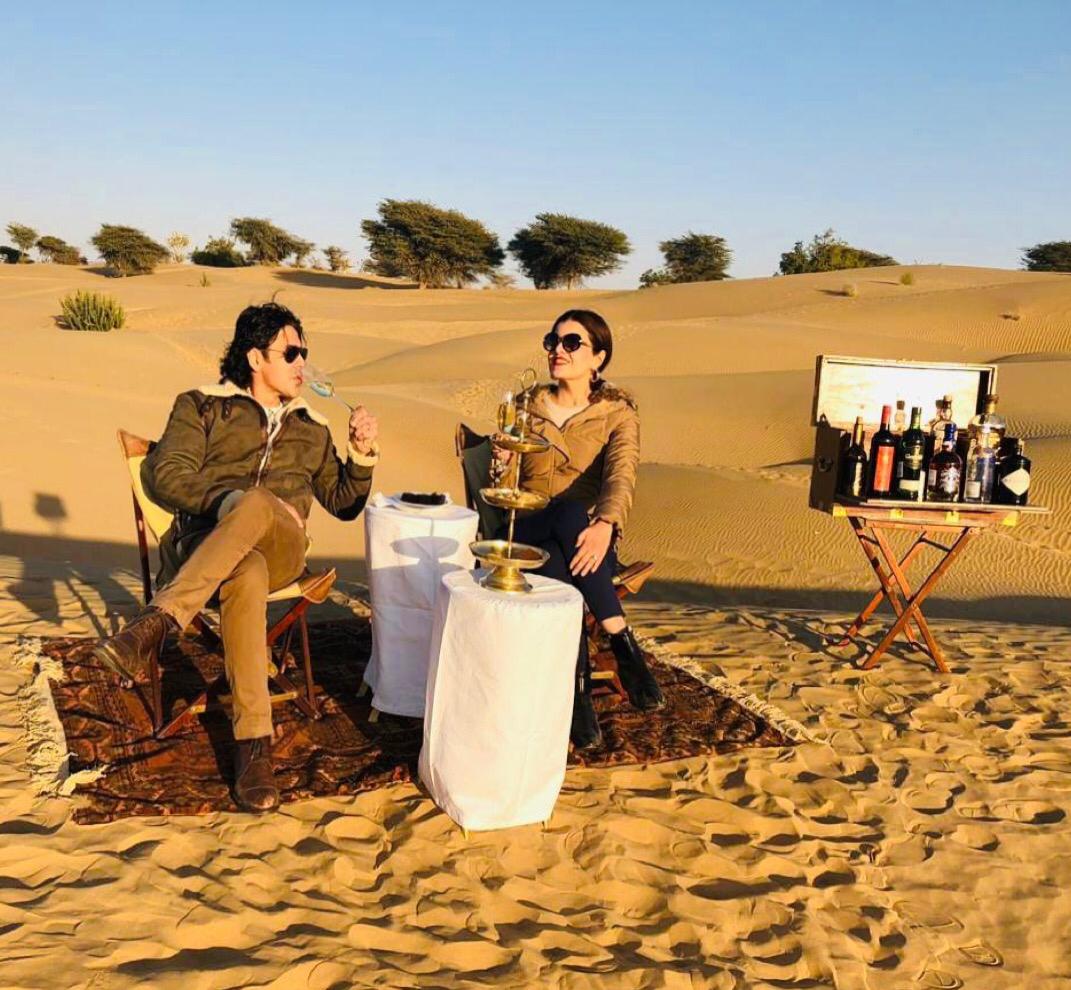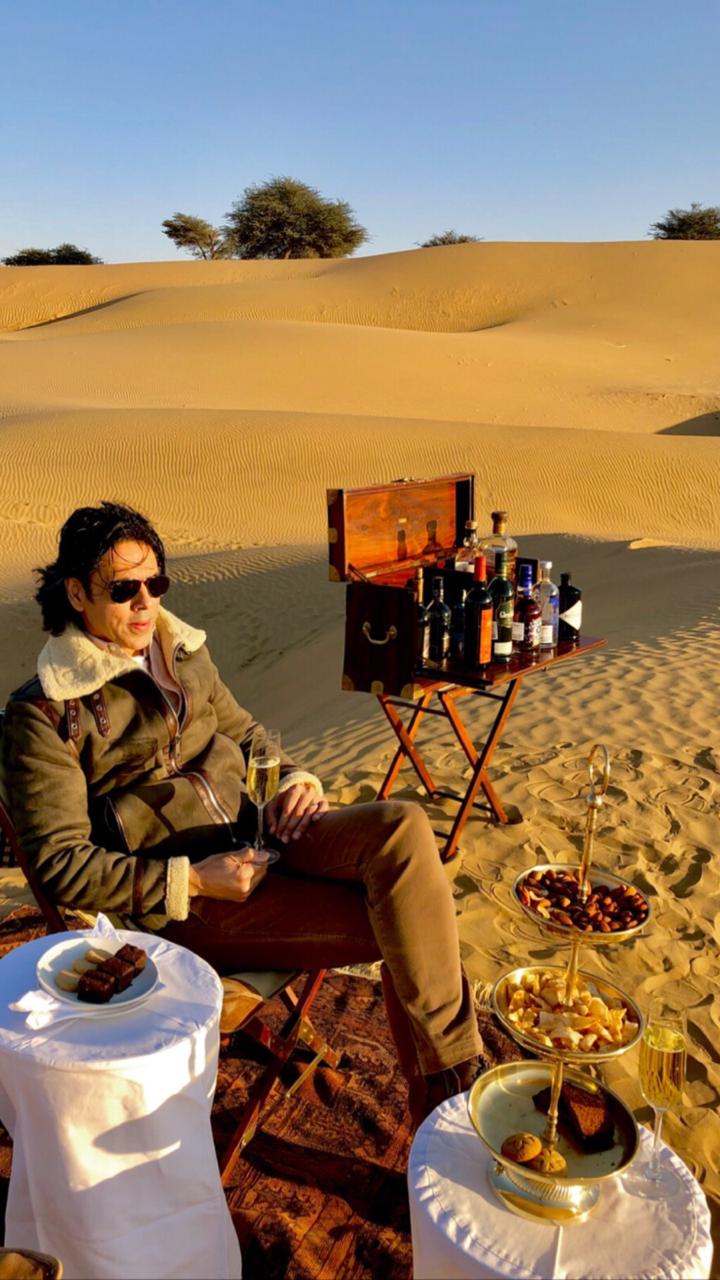 When we finally arrived at the earmarked dune for our evening sundowner, we saw that a bar had been set up in the sand for us. Two foldable camping chairs were neatly placed on a rug, facing the bright sun, which was steadily setting, signalling to us that it was time to pop the champagne and prepare to make a wish. The evening and the experience were both magnificent and memorable and we spent our time appreciating the miracles of travel and what our blessed world had to offer.
On my birthday eve, Laveena and I were asked by Mr Pradyut Chaterjee, the camp manager, to climb onto an open jeep which drove us to a mystery location in the midst of the Thar. As our desert vehicle manoeuvred through shrubs and cacti, in the dark and cold night, we were given blankets to protect ourselves from the fast falling evening temperatures. Suddenly in the distance appeared a clearing, surrounded by a few date palms, 1000s of dancing tea-lights and a brightly lit camp fire.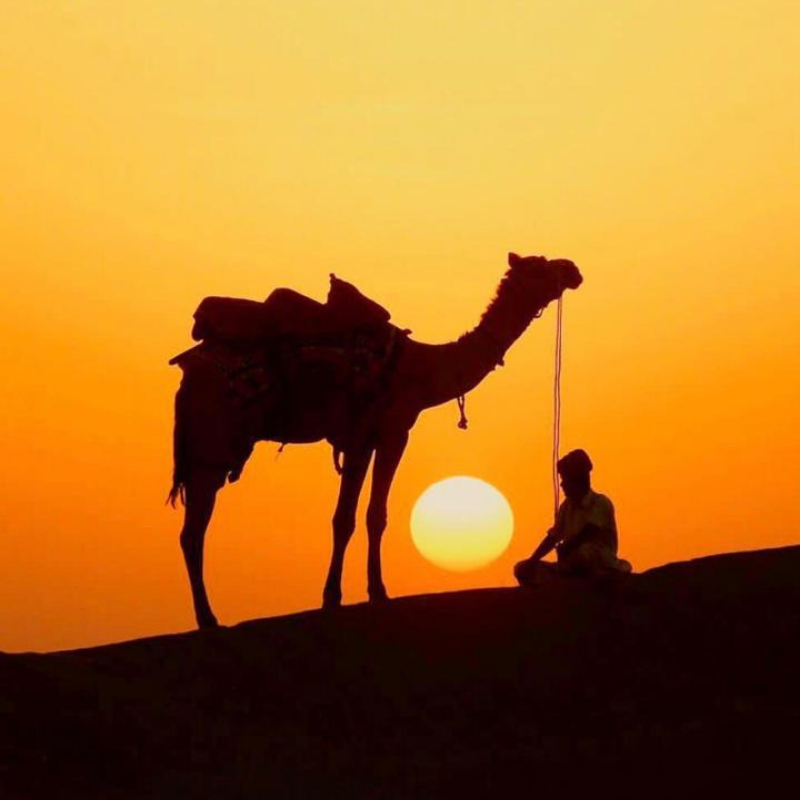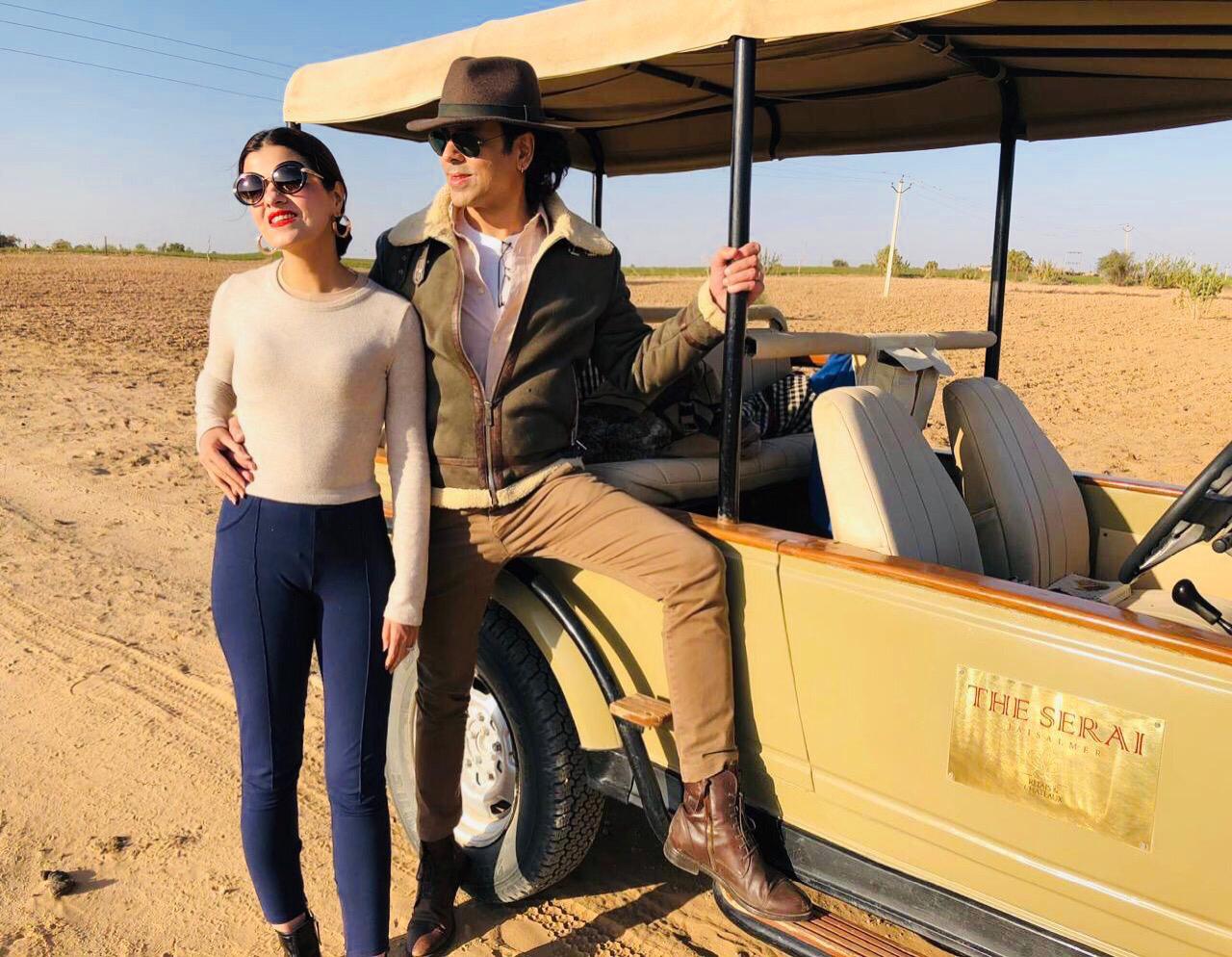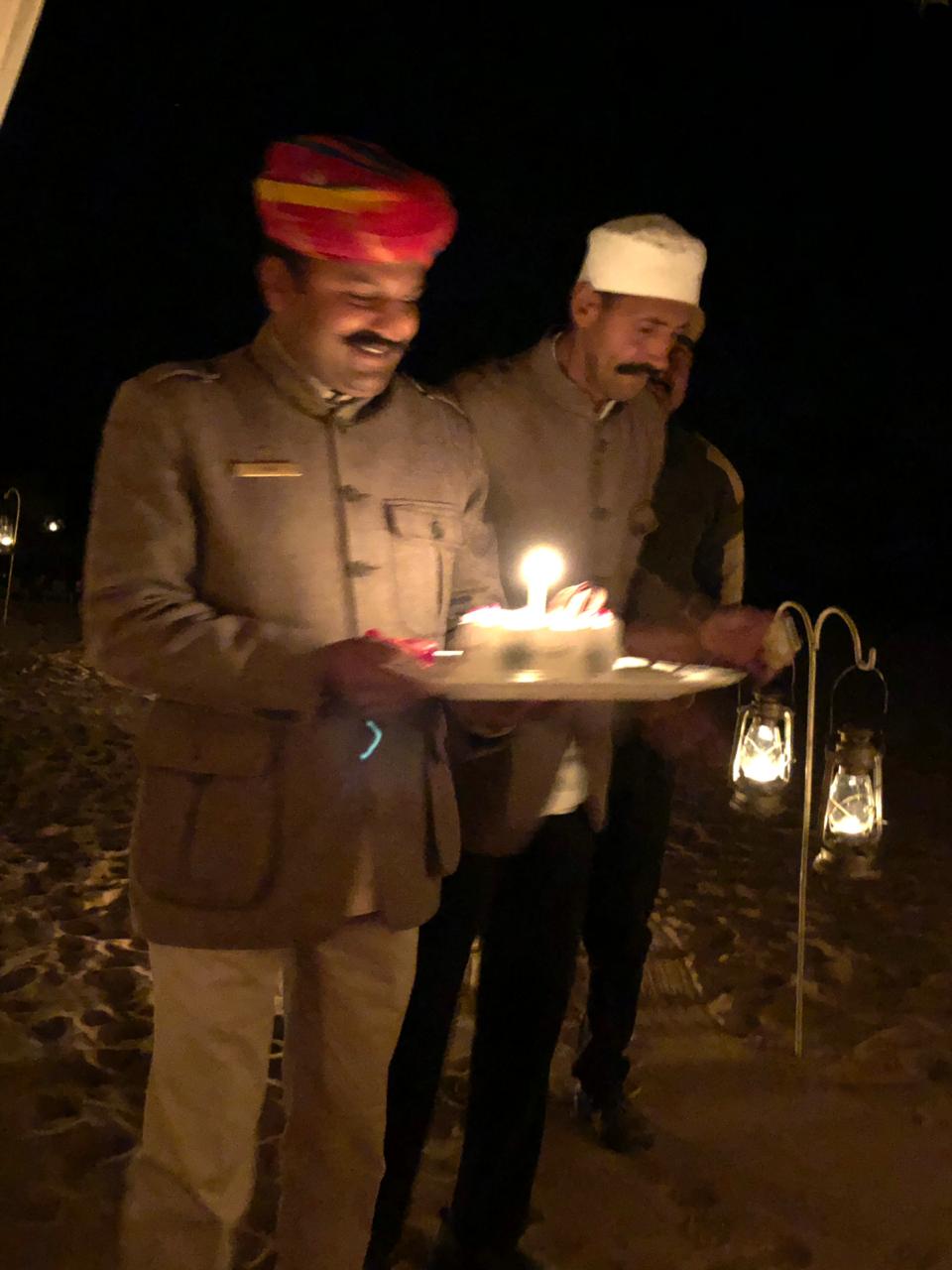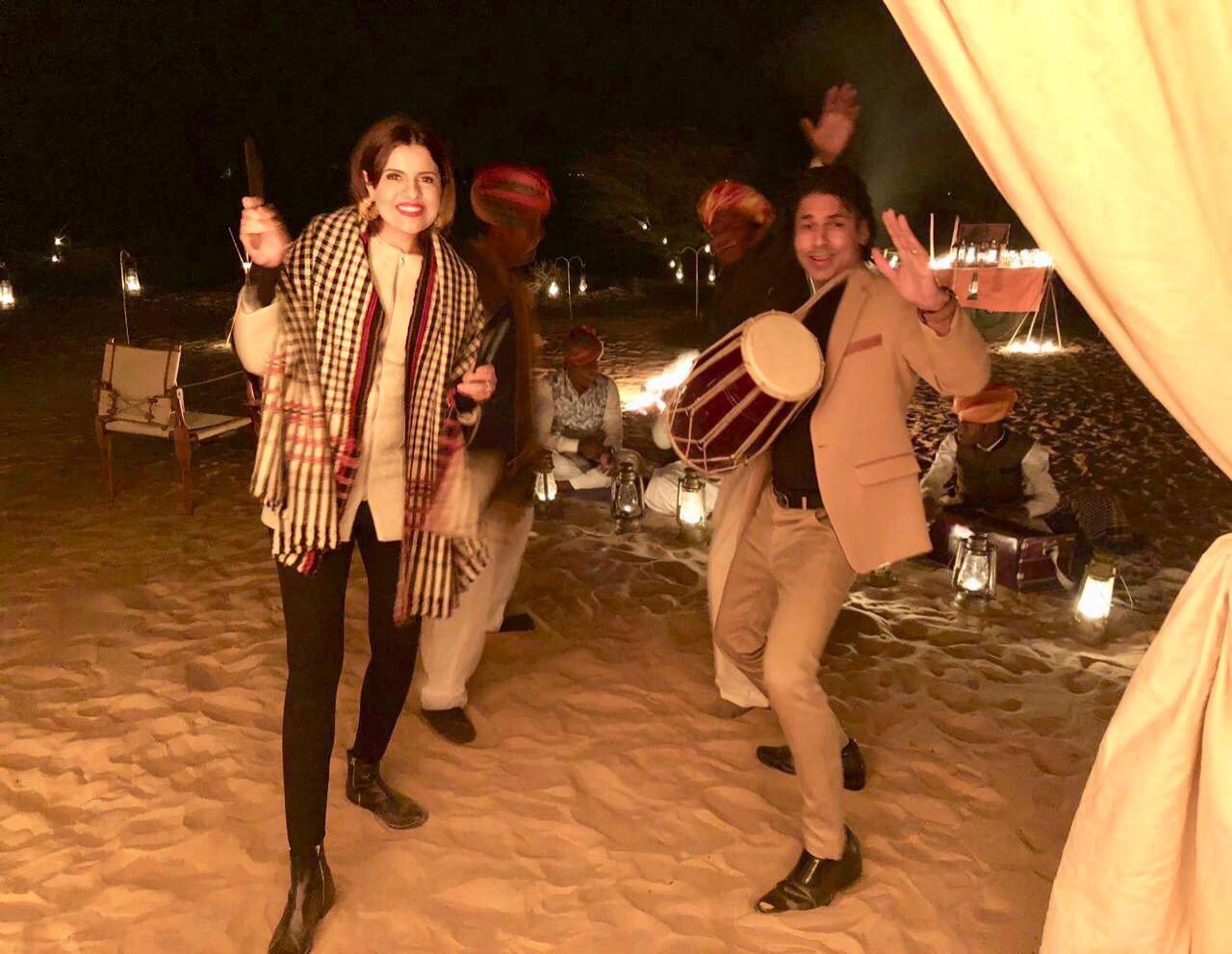 A table for two was set up underneath a white canvas tent while a group of Rajasthani folk singers belonging to the Manganiyar tribe were seated on a rug behind a line of lanterns set down on the cold and soft sand. They sang in their throaty mellifluous voices, songs to welcome us to our private celebration underneath the crescent moonlight.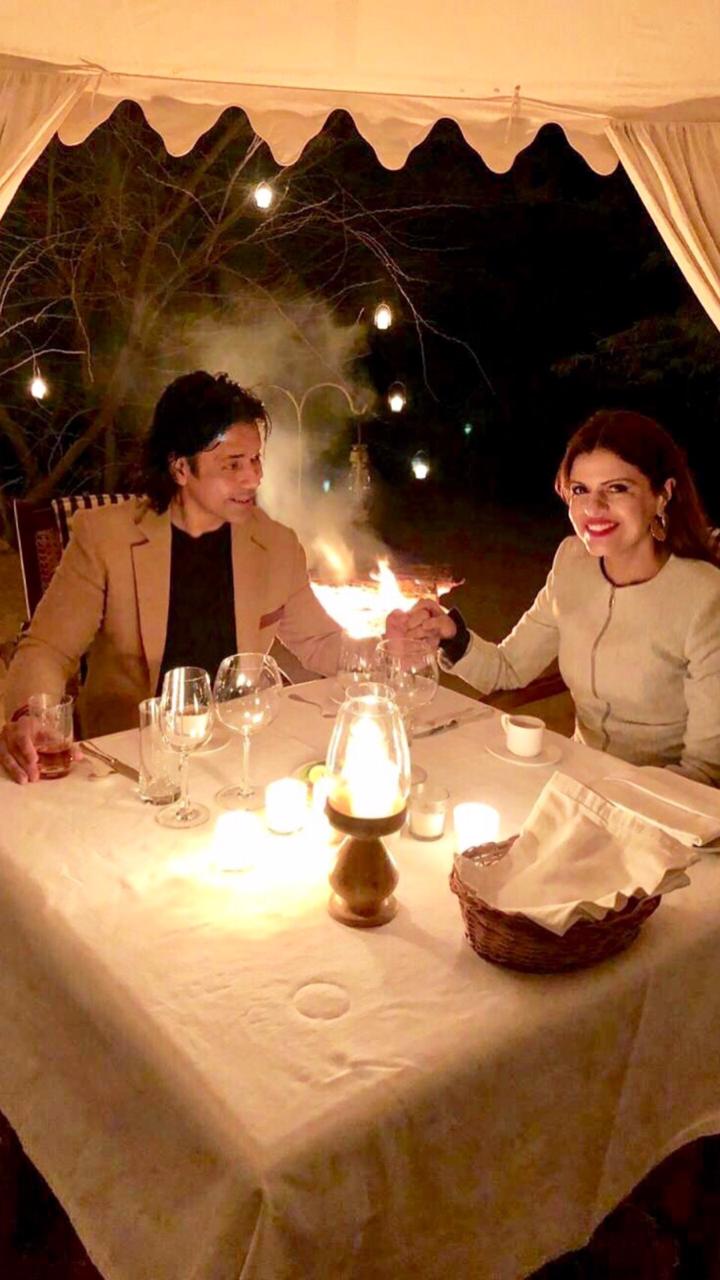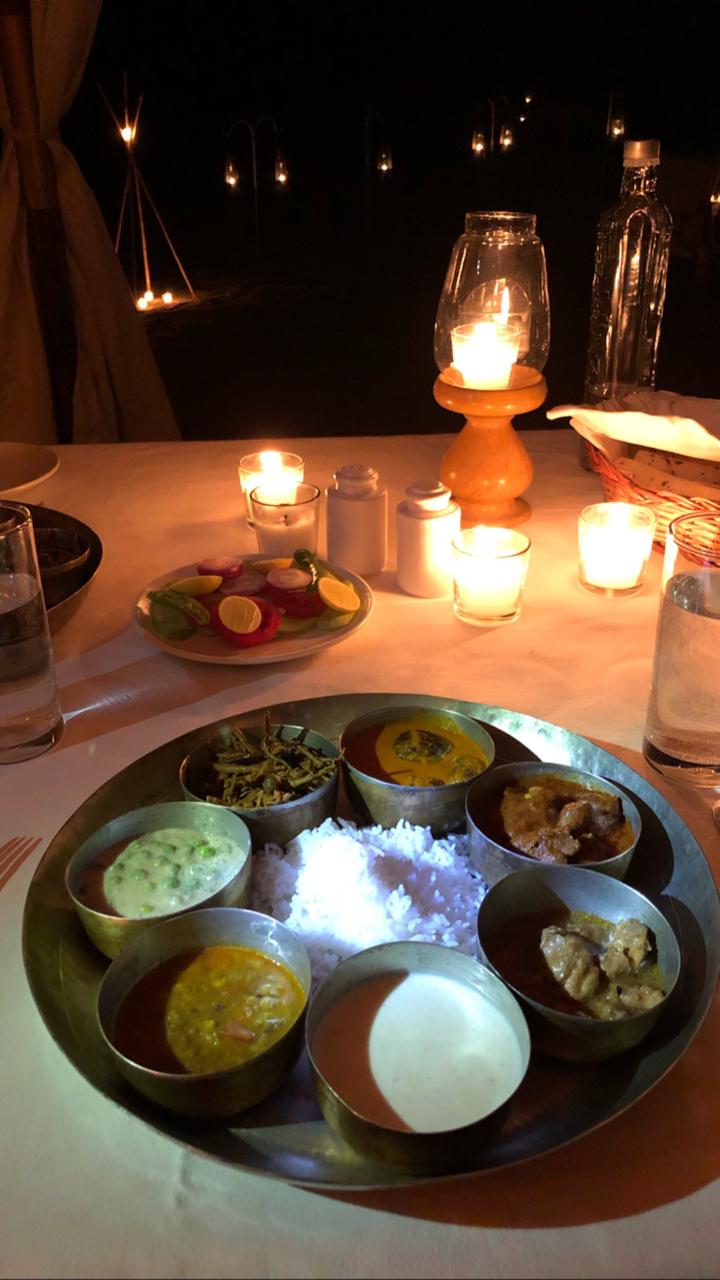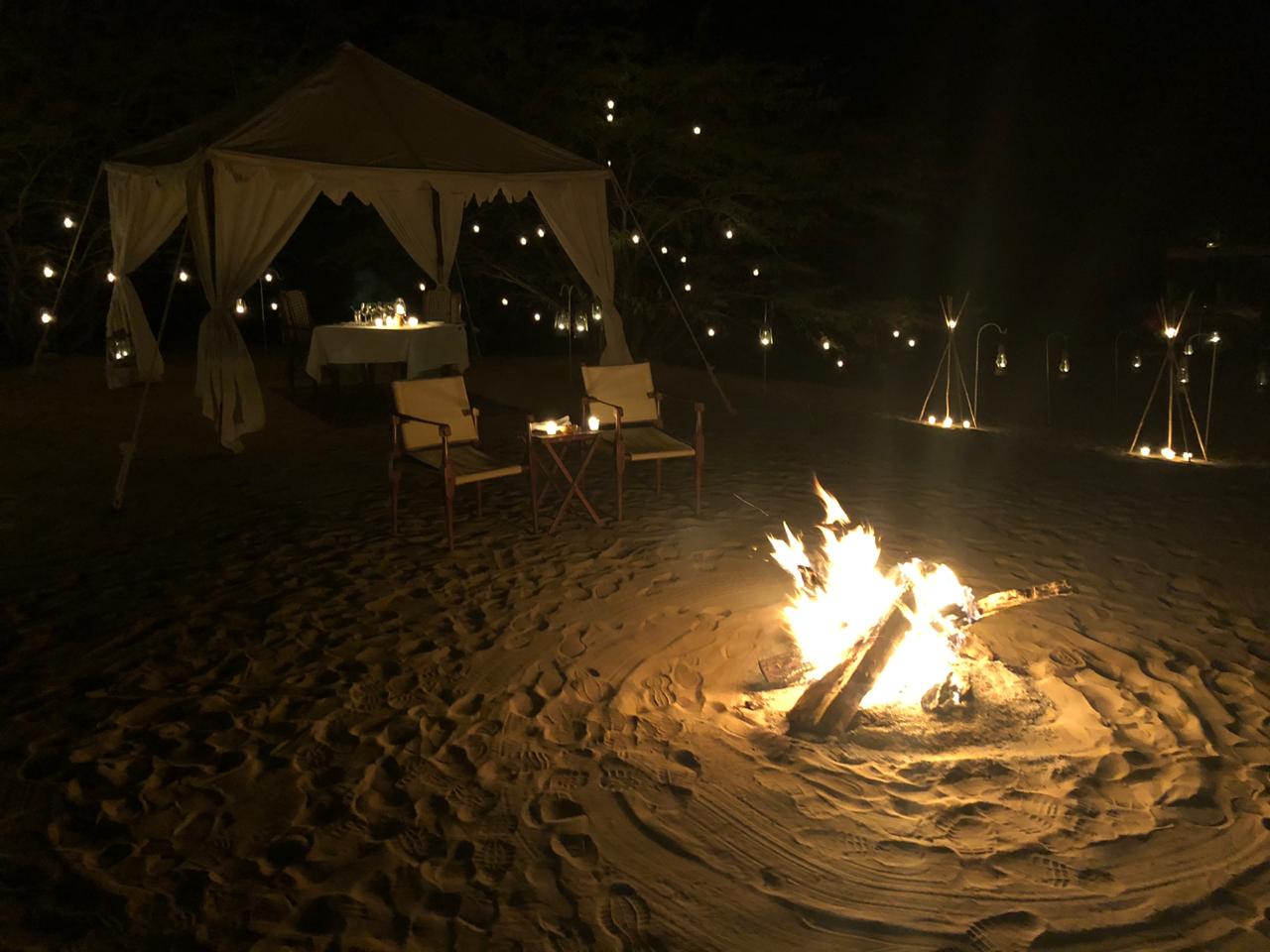 Fateh Singh our butler walked up to a fully stocked bar to pour us a drink and before long our night, turned out to be the most memorable, the most special and the most heartwarming personalised experience we had ever had.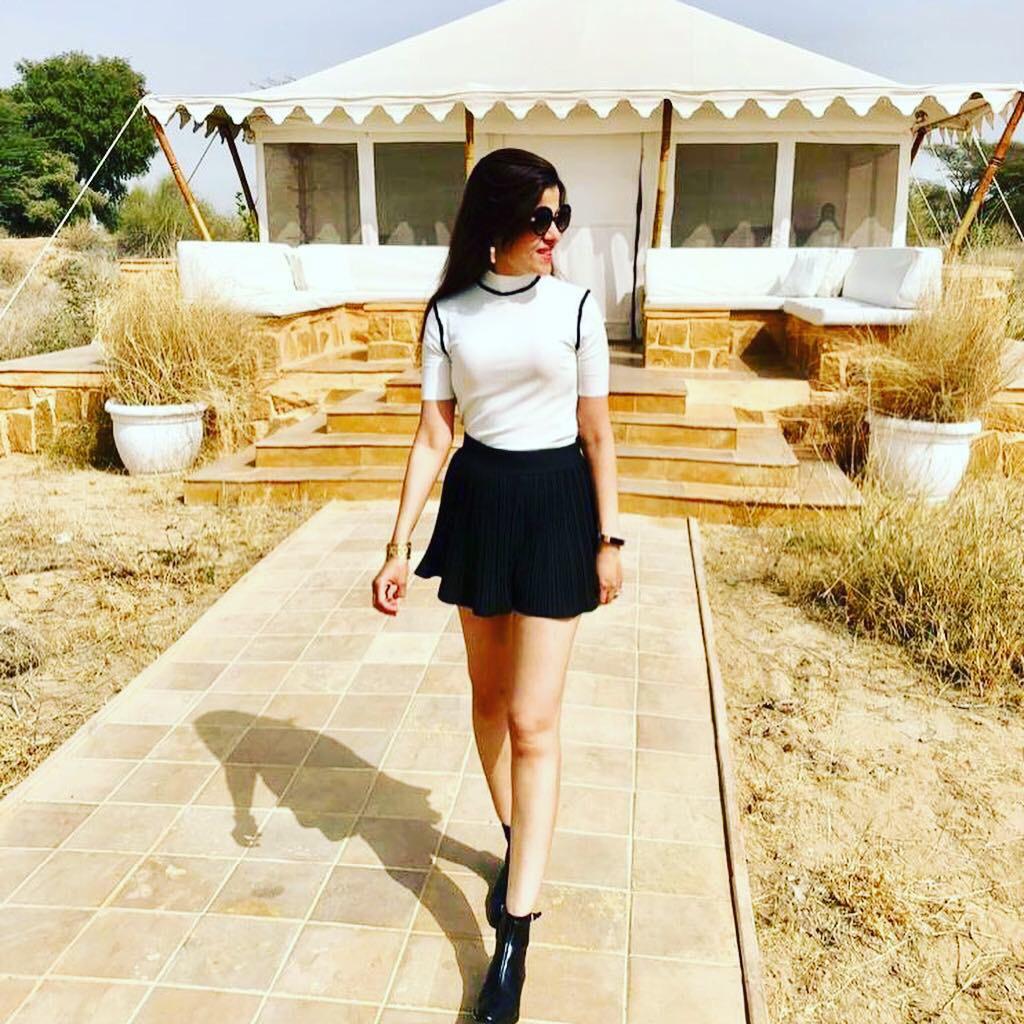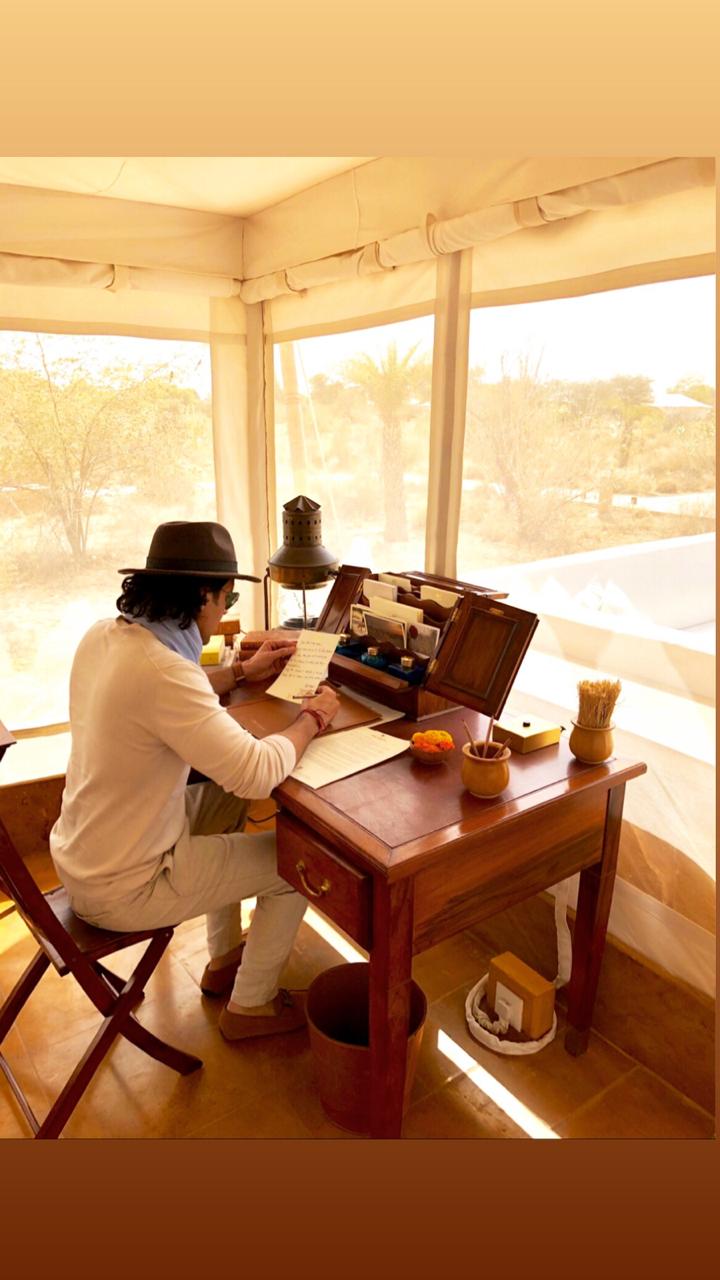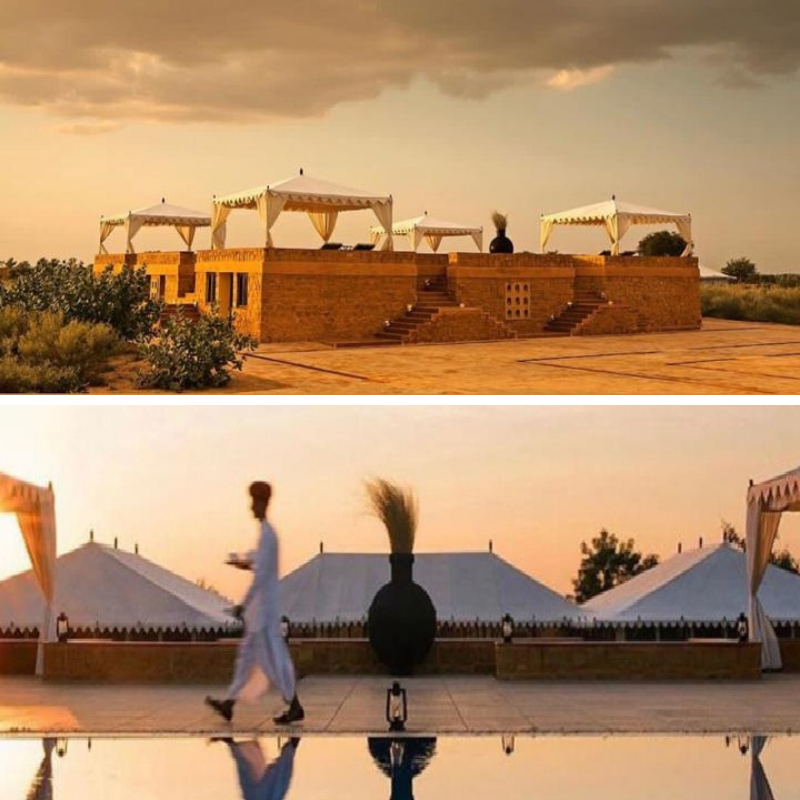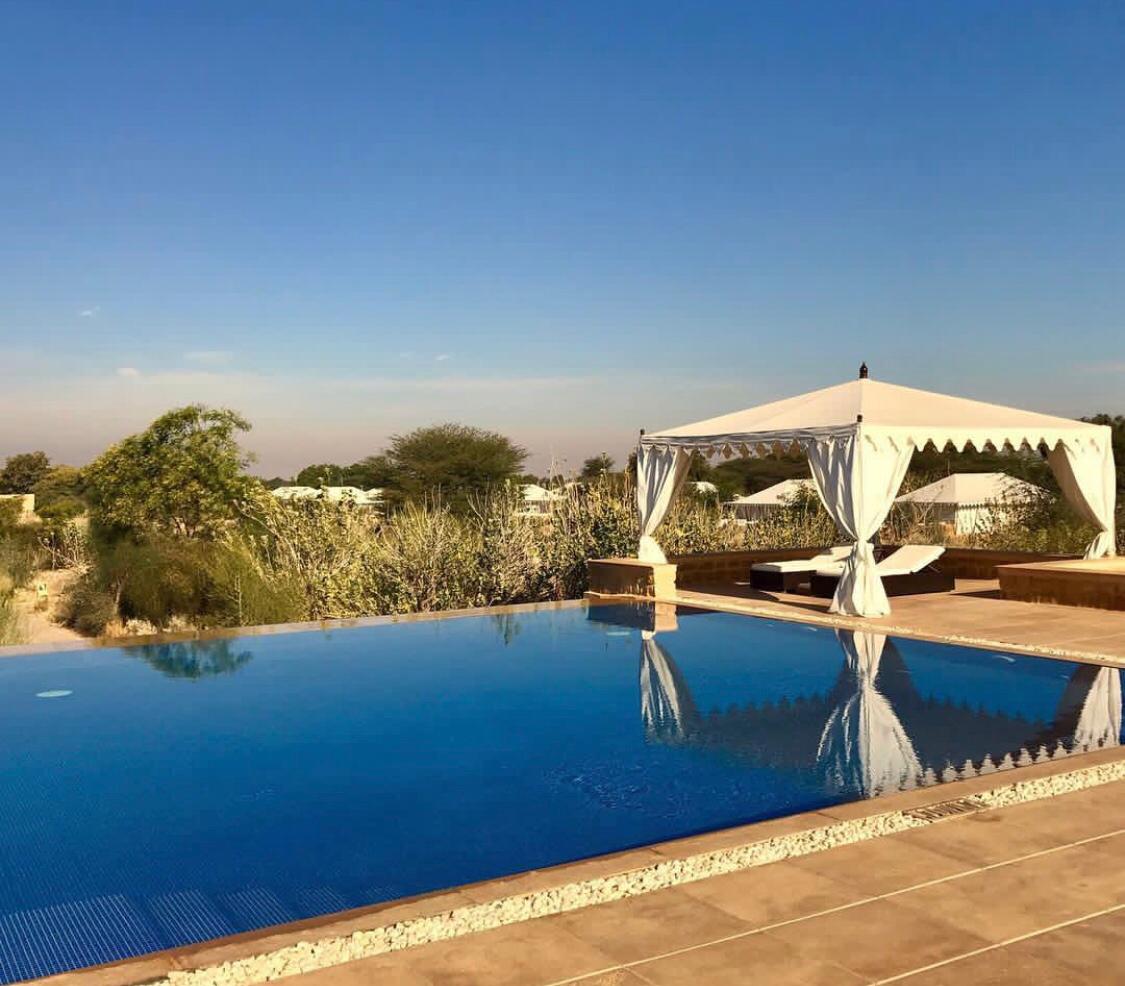 We have only just discovered the magic of Sujan, and would like to describe this luxury hospitality brand as India's pride and gift to the world of hospitality.  This is life, this is nature at its absolute best, this is 'The Serai'.SUJAN
---
The Serai by Sujan luxury
---
• Location: Google Maps • Address: Bherwa, Rajasthan 345001 • Hotel website: The Serai
---
Our Rating
---
Location: 8/10
Food and Cuisine: 8/10
Design: 9/10
Rooms: 9/10
Service: 9/10
Overall experience: 8/10
---
Articles you May Love To Read
---
A Rajasthani 'affair' to remember
---
Incredible India. Incredible Amanbagh
---
Follow me on Facebook , Instagram and  Twitter for some amazing travel posts
---