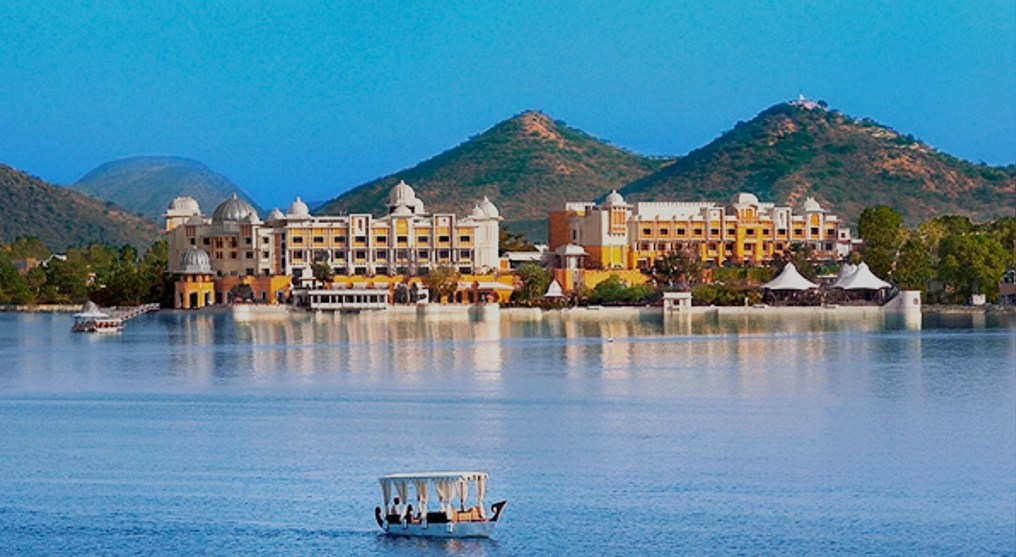 FEBRUARY 07, 2018 BY SAJJID MITHA
The Palace On Pichola - where you will find The Leela and Luxury in a royal embrace
As India celebrated it's 69th Republic Day on the 26th of January 2018, Laveena and I boarded a flight to Udaipur in Rajasthan. Udaipur, was founded in 1559 by Maharana Udai Singh II and was the former capital of the Mewar Kingdom. After a short hour-long flight from Mumbai, we landed at the Maharana Pratap airport, where we were greeted by Kamal Bhati, the regally dressed chauffeur from The Leela Palace, Udaipur. This was our first ever stay at a Leela property and we were beyond excited about what lay ahead.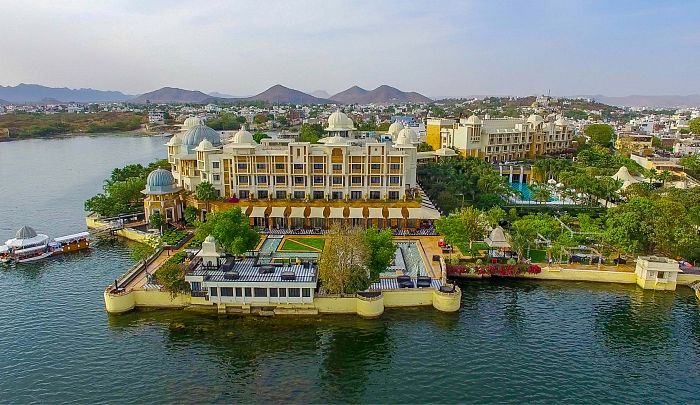 Kamal walked us to our BMW limousine and on our drive to the city, he shared with us, stories about Rajasthan's rich Mewar history. He told us about the five prominent lakes of Udaipur, Lake Pichola, Fateh Sagar Lake, Udai Sagar Lake, Rajsamand Lake and Jaisamand Lake. With a great sense of pride in his voice, Kamal said that Udaipur was known for its lavish palaces, its forts and universities. Kamal also asked if we were hungry and when we said that we were, he called up the hotel and connected us to the executive Chef Sujit, who helped us pre-order a late lunch, which he politely said would be ready to be served on our arrival at the palace.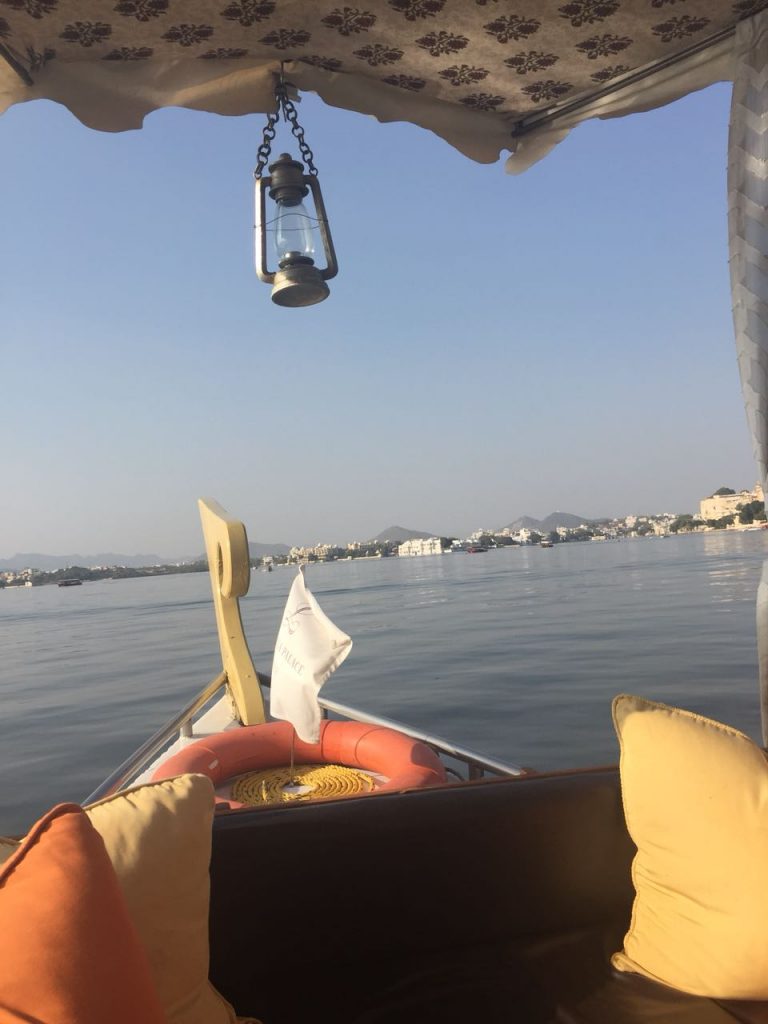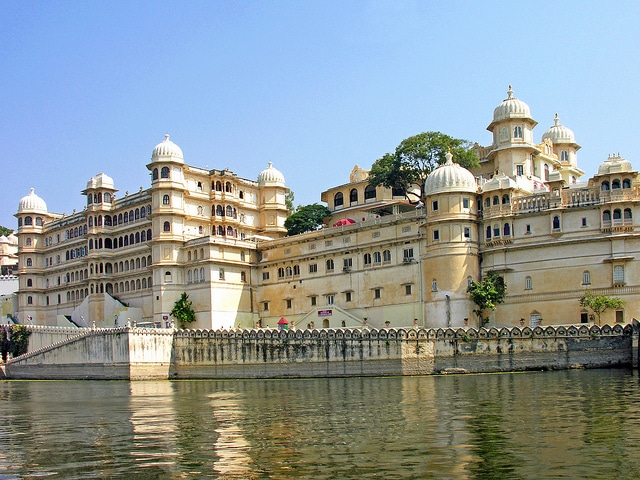 Our vehicle came to a halt on the banks of the famous Lake Pichola, where a palace boat was waiting to take us to the hotel. Roshan, the boat-man, helped load our bags and fired up the engine to life. As we started our journey along the serene, man-made lake, Roshan regaled us with stories about his life in Rajasthan including his role in the famous James Bond film 'Octopussy' which was filmed in Udaipur. On our way to The Leela Palace, our boat went past the famed Taj Lake Palace, which was built as a pleasure palace in 1746 by Maharana Jagat Singh, who was known to enjoy his evenings with ladies of the court. Since his father did not approve of his antics in the main palace, Jagat Singh built himself this romantic hideaway.
As we cruised along, views of the magnificent City palace, a confluence of Rajasthani and Mughal architecture, appeared. A number of palaces are known to be housed within the city palace. Among these, Shambu Niwas currently is the royal residence of Shreeji Arvind Singh Mewar, the 76th custodian of the Mewar dynasty.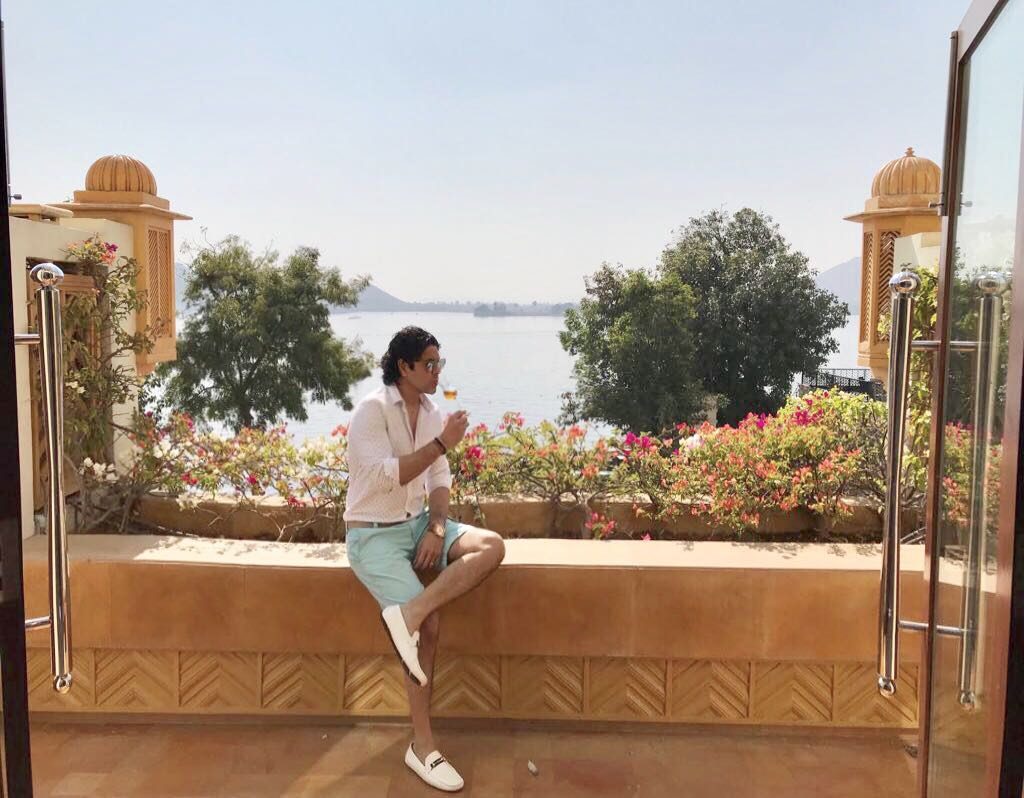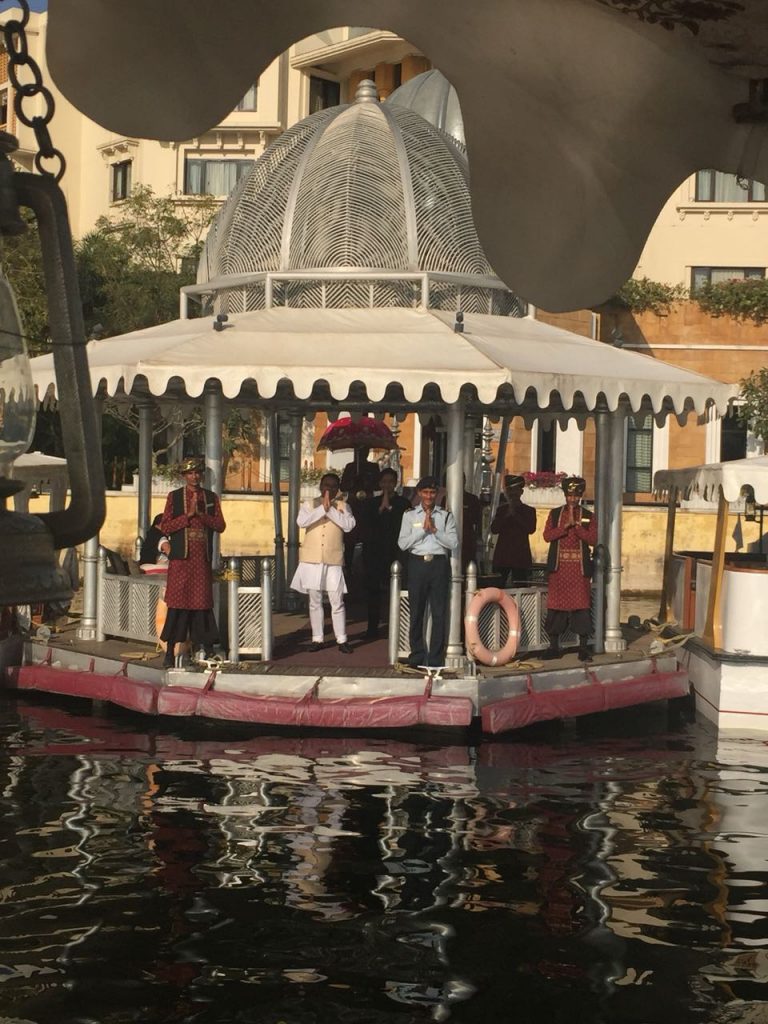 Roshan slowed the boat as we approached the grand and opulent Leela Palace hotel, our very lavish home for the long weekend. A weekend, Laveena and I were looking forward to given the immense praise showered upon the hotel by our very dear friends Lady Emily Lefkovitch and Lord James Collins, from London, who spent a few days at the Leela Palace, a few weeks earlier. The magnificence of the palace which lay before our eyes, looked even more beautiful in person, than the innumerable images we had seen on-line. Waiting to receive us was Rajesh Namby, the suave and energetic, young General Manger of the hotel along with the handsome and debonair young Prateek Virendra Swarup, Executive Assistant Manager. They walked us up the red-carpet laid along the boat ramp and through the magnificent entrance where local musicians, in their melodious voices, sang to welcome us, in a local Rajasthani dialect. With each step we took, hotel staff waiting in the dome balcony, showered us with a drizzle of fragrant rose petals, adding to the many touches of royalty we had already encountered. Rather than take us to our room, we were walked to the Dining Room, overlooking the outer courtyard, beyond which was Pichola Lake. Chef Sujit, walked up to us and introduced himself and said that his food thereon would do all the talking. We were famished and to us, Chef Sujit's Indian spread, didn't just speak to us, it went much further beyond. It presented us with a symphony of varied tastes and delicious flavours, a perfect culinary peek into the promised feasts that lay ahead. On Chef Sujit's menu was Ghareloo Kukad, Laal Maas, Murgh ke Parchey, Tabak Maas, Malabar Fish curry and Tawa Macchi all of which we paired with some delicious soft Kal Dosa and some crusty and flaky Naan bread.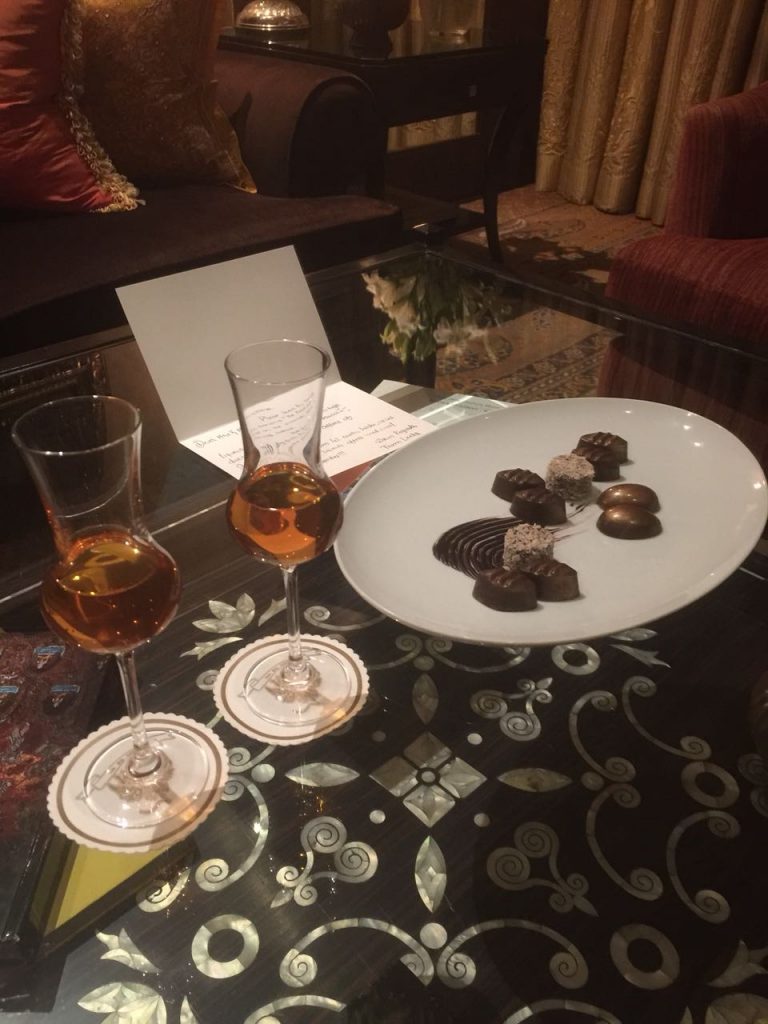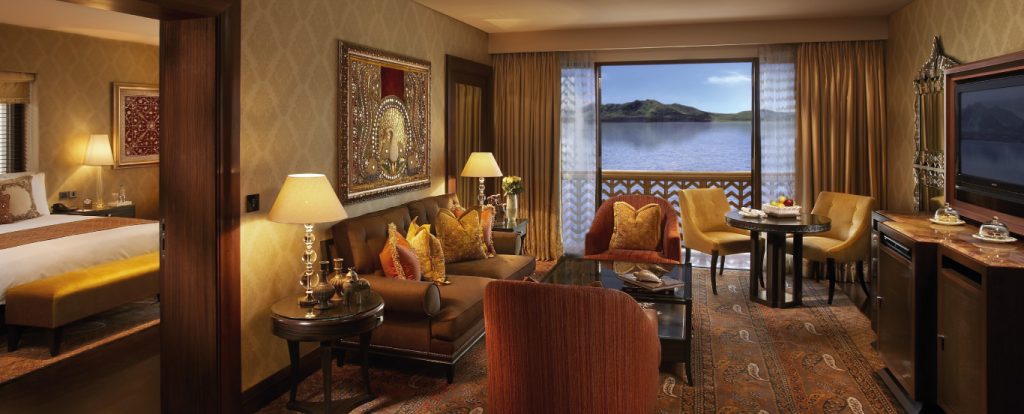 Soon after lunch, we were introduced to our butler Ramiz Meghani. Soft spoken, polite and deeply refined in his demeanour, Ramiz was eager to show us our room. On our way up, he hinted that we had been upgraded to a suite. Delighted, we quickened our pace, anxious to see what Ramiz promised would bring a smile to our faces. And it did. Our luxury suite was grand, luxurious and yet ethnic. With dark, teak wood floors, the spacious room was decorated in warm elegant colours. Being the corner suite, we had a huge wrap around verandah with unhindered views of the majestic Lake Pichola. A note from the GM, Rajesh Namby, read - 'Our Philosophy 'Attithi Devo Bhava', embodies an ancient Indian sentiment of treating our Guest like our God'. A chilled bottle of Moet Chandon and a tray of decadently delicious chocolates made in-house by the very talented pastry chef, coupled with the grand welcome we received on our arrival, convinced us that at The Leela Palace, Udaipur, they indeed did treat their guests with the reverence deserving of celestial beings. And for this reason, for three years in a row from 2013-2016, the hotel walked away repeatedly with TripAdvisor's coveted Traveler's Choice Award.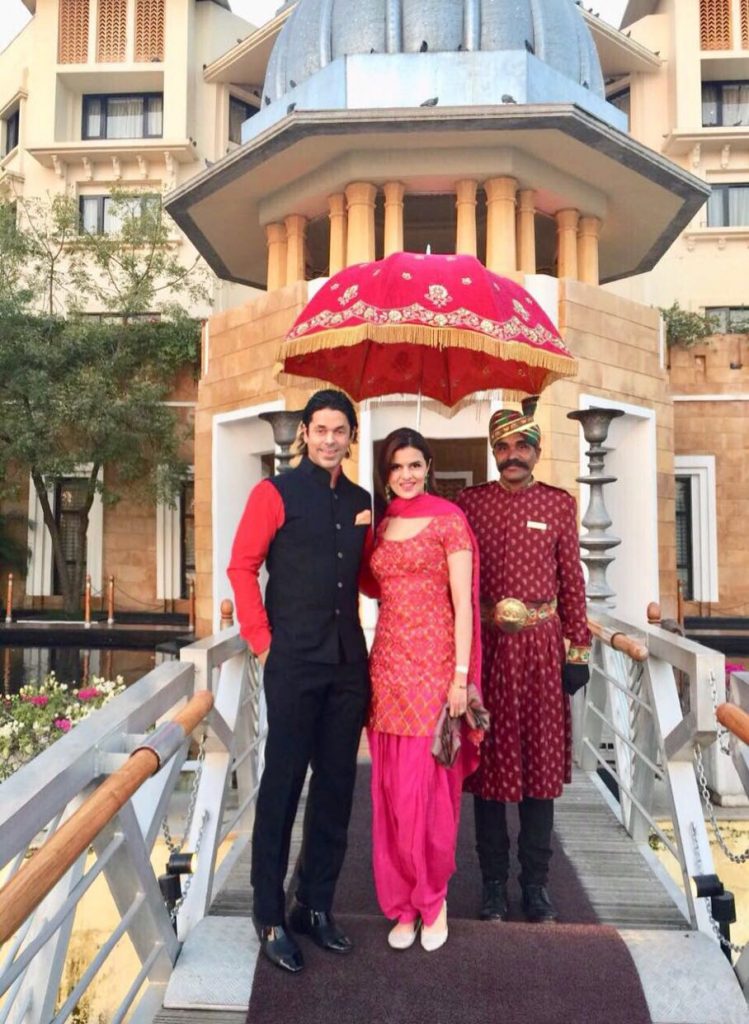 At 6 pm, we had a hi-tea planned on the picturesque Lake where we were promised a spectacular sunset boat ride with sights of Jag Mandir, City Palace and Gangaur Ghat. Since we were told that these experiences would be royally enriching, Laveena and I decided to dress in formal Indian wear, for the occasion. As we walked to the boat, the Rajasthani musicians began to play a folksong, which Ramiz explained was a rendition bidding us farewell and happiness, as we set out on a brief journey. The Darban, dressed in his regal finery, stood erect with a silk patterned velvet red umbrella with tassels and which had woven on it fine gold threads. Laveena and I stepped onto the gently rocking boat where we saw a beautifully decorated table for two with trays of delicious nibbles.
 After our heavy late lunch though, I wasn't sure if we would do justice to this elaborate hi-tea, although we couldn't stop gushing about this most perfect and romantic setting. Once on the tranquil lake, with the mighty Aravalli mountain range serving as a backdrop, the glorious sun began to set in the horizon. The sky turned a soft mix of pink, yellow and orange with hints of blue, and together, it created an almost magical cosmic reflection on the surface ripples of the gentle lake. The winter temperature was fast dropping and a light wind teasingly brushed against our faces, as Ramiz journeyed with us through the royal corridors of the past with deeply fascinating trivia on the Mewar rulers and the history of Jag Mandir and the City Palace.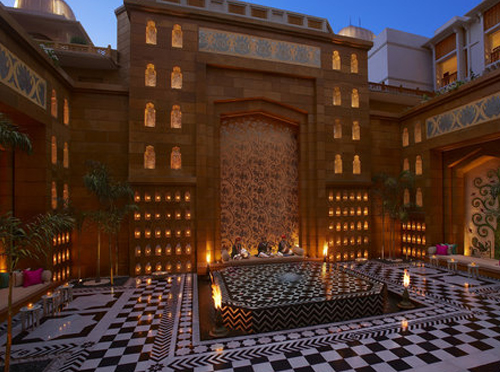 We returned to the hotel, just in time for the folk dance at the beautiful inner courtyard of the palace. Every evening, a talented group of local Rajasthani musicians and dancers, perform on a stage made of black and white marble stone blocks. During the day this serves as the base of the main water body in the centre of the courtyard square. In the evening however, the water spouts are switched off, the marble is mopped dry and the rich tiles make up the dance floor for the performers.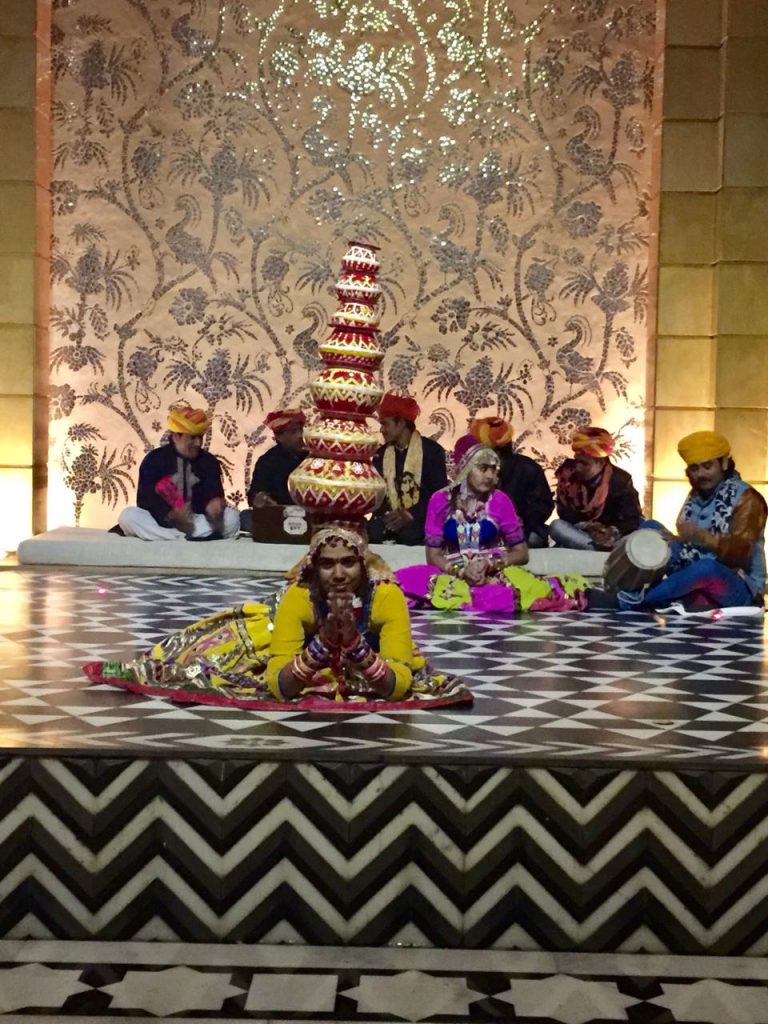 A group of turbaned musicians with their individual instruments laid out at their feet, begin singing local songs from their native villages, passed down generations. Each song has a story intricately woven through the lyrics and as the tempo of the song builds, a couple of village lasses, in their brightly coloured Indian garments with bells on their ankles, appear and begins to perform for the now enthralled hotel guests. Over the next 30 minutes, we were treated to some amazing talent.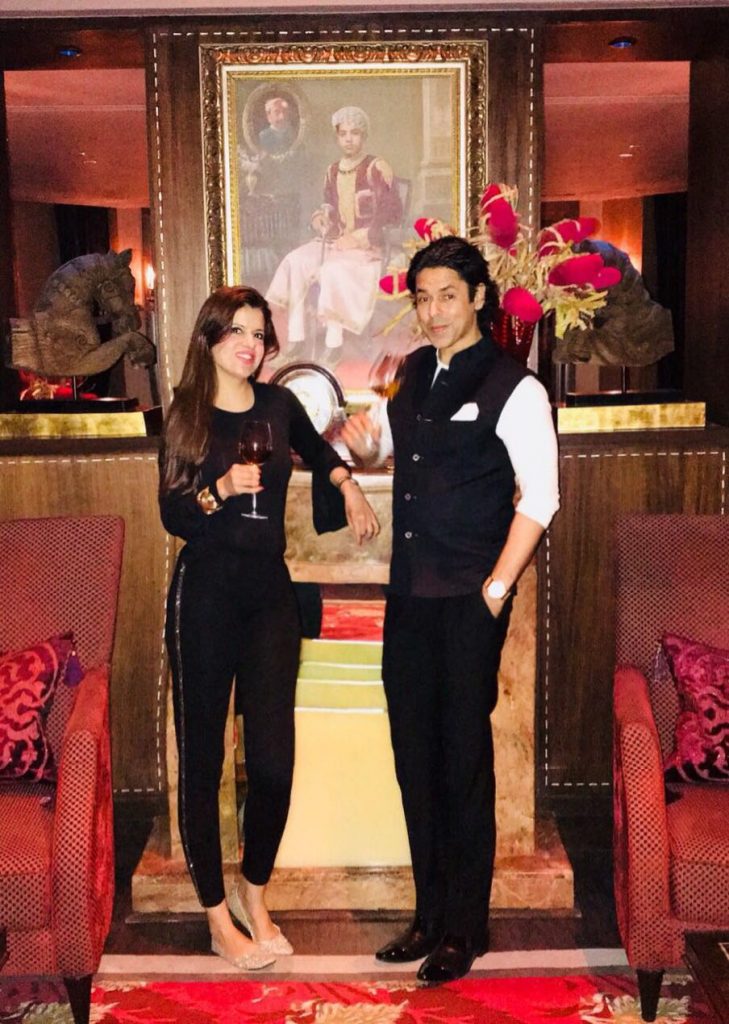 The dancing girls balanced on knives, on drinking glasses, they played with fire, balanced earthen pots on their heads, all of this and more while dancing to the rich and rhythmic beats of local Rajasthani music.
With the beat of Rajasthan's desert tribes adding a special spring in our steps, we walked over to the Library bar for a pre-dinner cocktail. Richly decorated with dark wood panelling, a valuable collection of artefacts, a fire place and paintings of the rulers of Rajasthan, the lounge was both intimate and luxurious. From the wide selection of vintage wines, we selected a Malbec which was recommended to us and we warmed our bodies while sipping on the delicious Tuscan Red.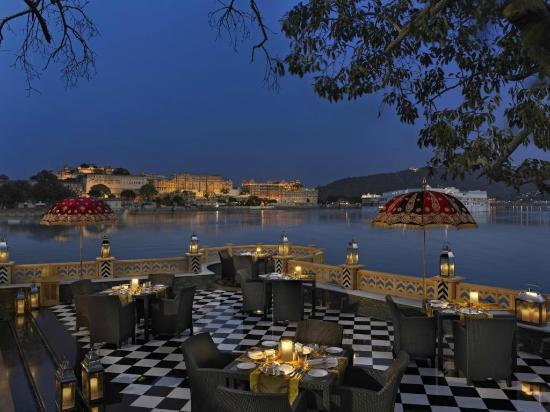 At around 10 pm, Laveena and I were ready for dinner. Ramiz, our butler, walked us to the Sheesh Mahal, possibly the most romantic open-air fine-dining Indian restaurant in the world. Overlooking the lake, the alcove is where our table for two was set up. Decorated with fresh flowers, and with scores of candles, the alcove is the section of the restaurant on the palace grounds, which juts furthest into the water.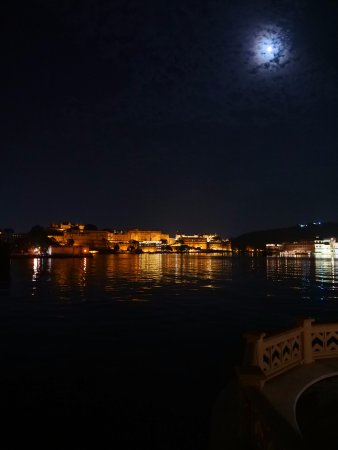 At this late hour, under the moonlit sky, the smooth surface of Pichola lake, looked like a dark mirror on which the lights of the City Palace and Jag Mandir performed a fiery dance. Sounds from the santoor, serenaded us into complete and total romantic submission, as we immersed ourselves into this perfect ambience, warmed by the heat from the burning lanterns. Chef Sujit once again met us at our table and prepared us for what he described as a ' true Indian feast for nobility'. That evening, seated under the stars, we were served by the charming young waiting staff, Kishan who treated us to the finest of north Indian cuisine with Rajasthani meats so succulent, masala curries so delicious and tastes so unique and delectable, that poetic couplets could have been penned down about each bite that Laveena and I relished with such pure joy. On the menu that evening was Tandoori malai broccoli, Sunehri jhinga, Murgh mirch kebab, Palak ghost, Macchi jaisamandi, and Dal e sheesh served with Makkai ki roti and Bajre ki roti with gur and ghee.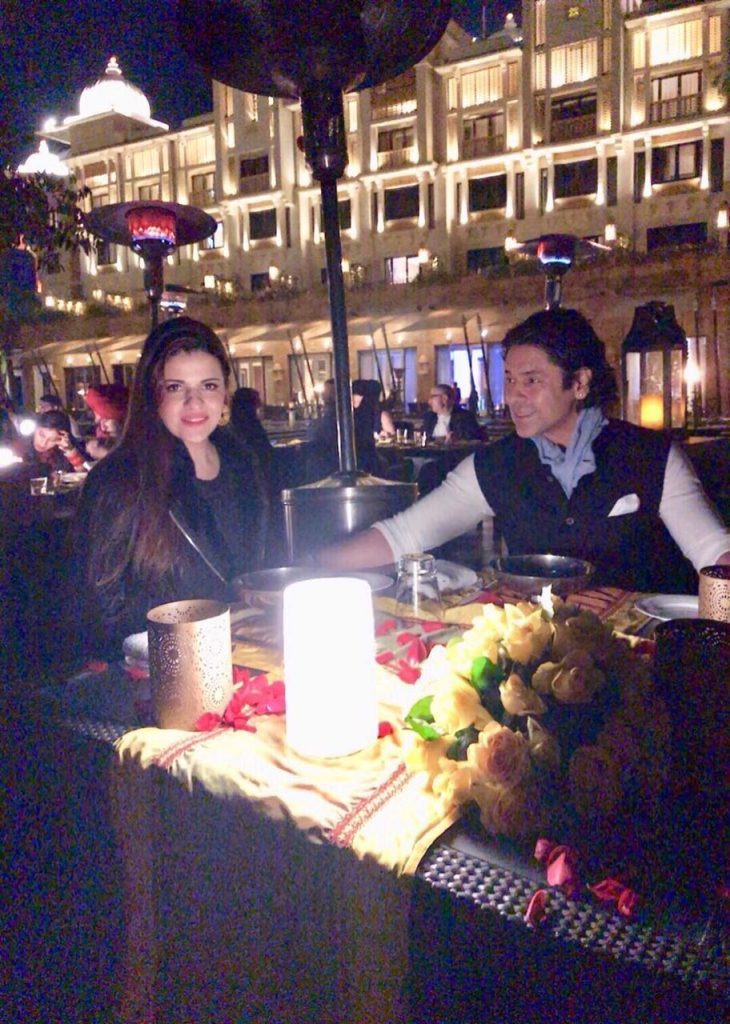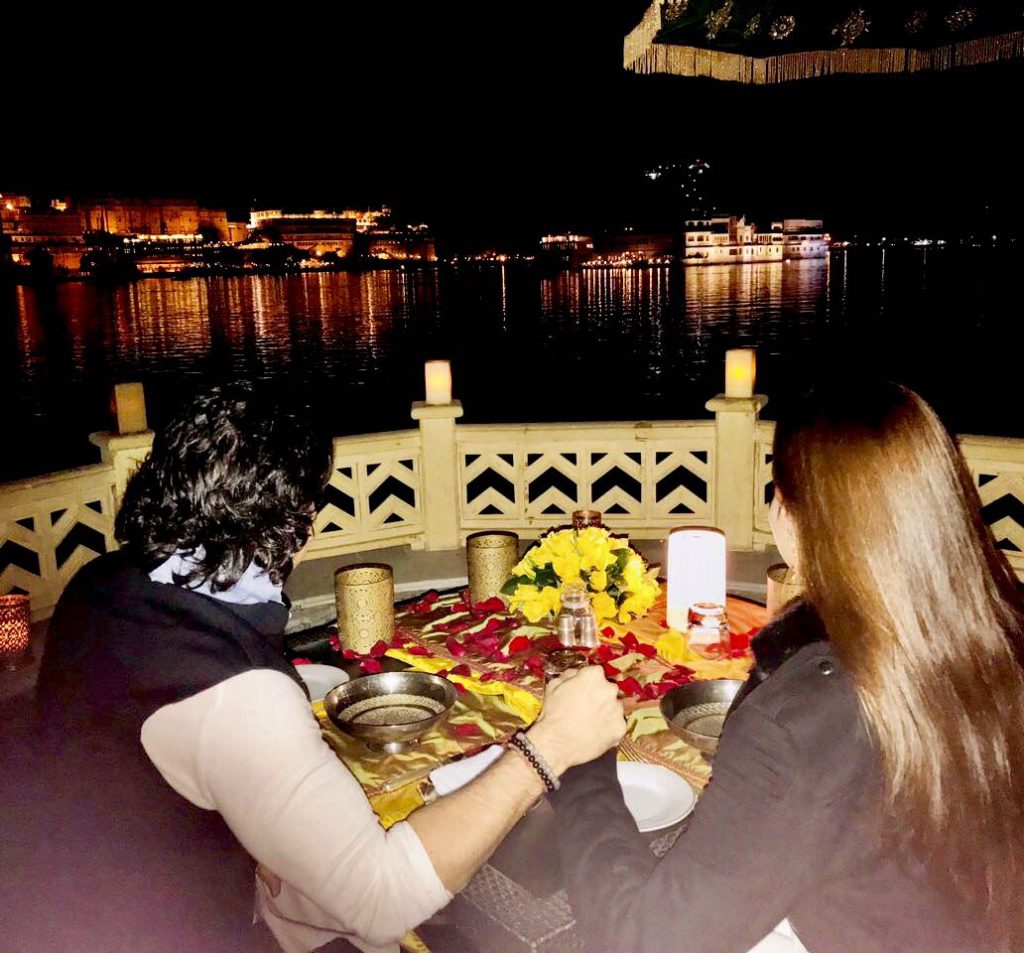 Early the next morning, we had a private Yogasana session planned at the Guava Garden. As we stepped out in search of a perfectly happy and peaceful start to our day, our yoga guru for the morning, Kuldeep ji, prepared us for something more meaningful. He said that he would introduce us to yoga, which would help us deeply connect with the universe and the many mystical secrets it offered. Through simple, yet effective breathing techniques and asanas we would perform over a 90 minute session, Kuldeep ji explained, our bodies would experience restoration and healing in ways we may never have imagined.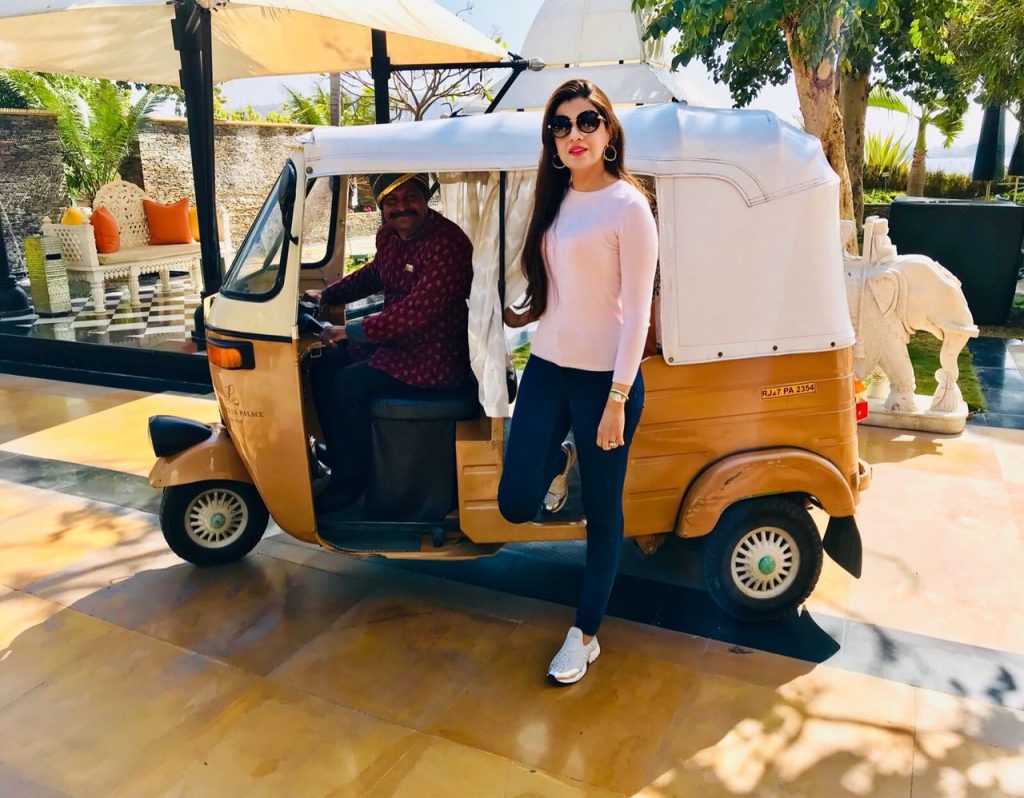 Energised and refreshed following our yoga session, we had a light breakfast and at 10 am, we set out in the Palace TukTuk, on an adventure through the old city. The ever dependable Kamal Bhati, the chauffeur who had fetched us at the airport, was our designated TukTuk driver. Kamal, said he knew every street and side street of Udaipur, and to prove his point, he skilfully raced and manoeuvred the three wheeler through the narrow and crowded lanes and by-lanes of the old city, whizzing by shops selling colourful cloth, traditional art, craft, musical instruments and jewellery. Kamal explained that if we saw an elephant and a horse freshly painted on the outside of a local house in the old town, it symbolised an ongoing or upcoming marriage in the family. It seemed that this was an auspicious time to be married, as we past by more than 4 homes in the old town with an elephant and a horse newly painted near the entrance door. Our tuktuk ride was an exhilarating rush from start to finish. The experience was very different from when seated in the comfort of an AC car. In a tuktuk, with the wind in our hair, the sights, sounds and smells of the city seemed to engulf and embrace us, something you miss when you're sheltered in the back of a 4-wheeler. The friendly locals with their wide smiles, shouted out a happy hello and waved out excitedly each time our tuktuk slowed at a corner of a store or went past a group of school kids in uniform, near the town market.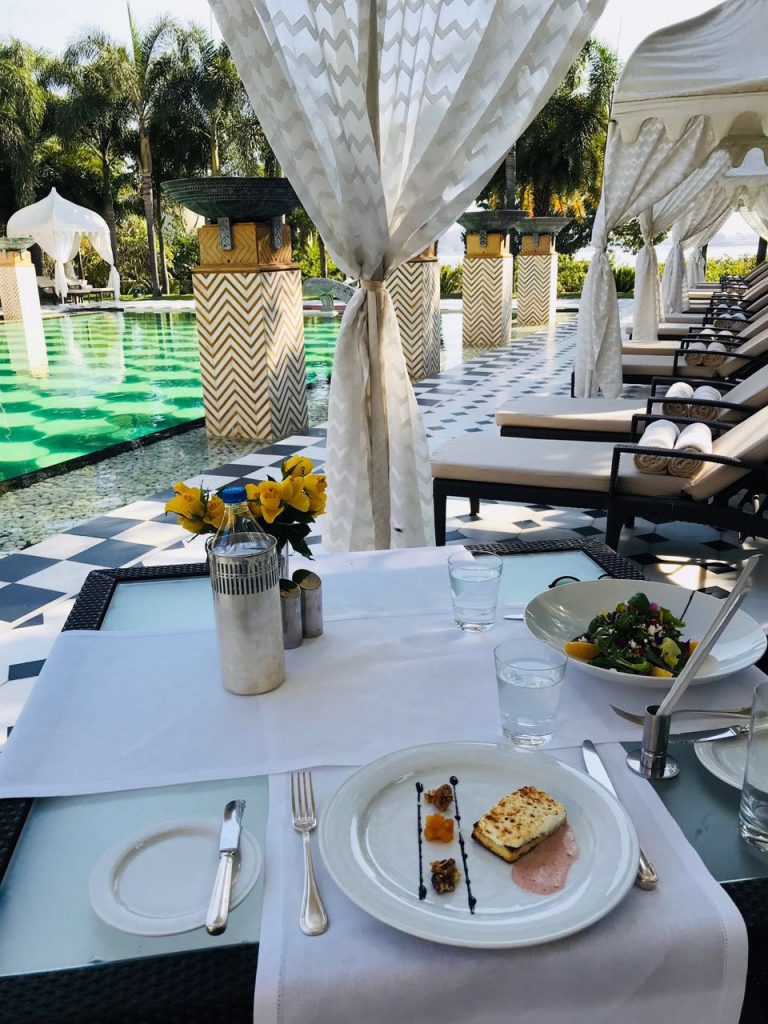 Over an hour later we returned back to our hotel where a delicious light lunch was served to us on a table set up underneath a cotton draped canopy, by the Palace pool-side. Black diamond tiles interspersed with white octagons, lined the dry area around the pool, while fire columns erected on either side of the swimming pool, added an air of grand opulence to this area of the hotel. Statues of two peacocks in white metal, flanked the head of the pool. While we were at lunch, Rajesh Namby, the GM, came over to say hello and we spent some quality time, getting to know this charismatic and friendly young man better. What struck us about him was the time he spent getting to know his guests, a quality which is not easy to find in the industry these days.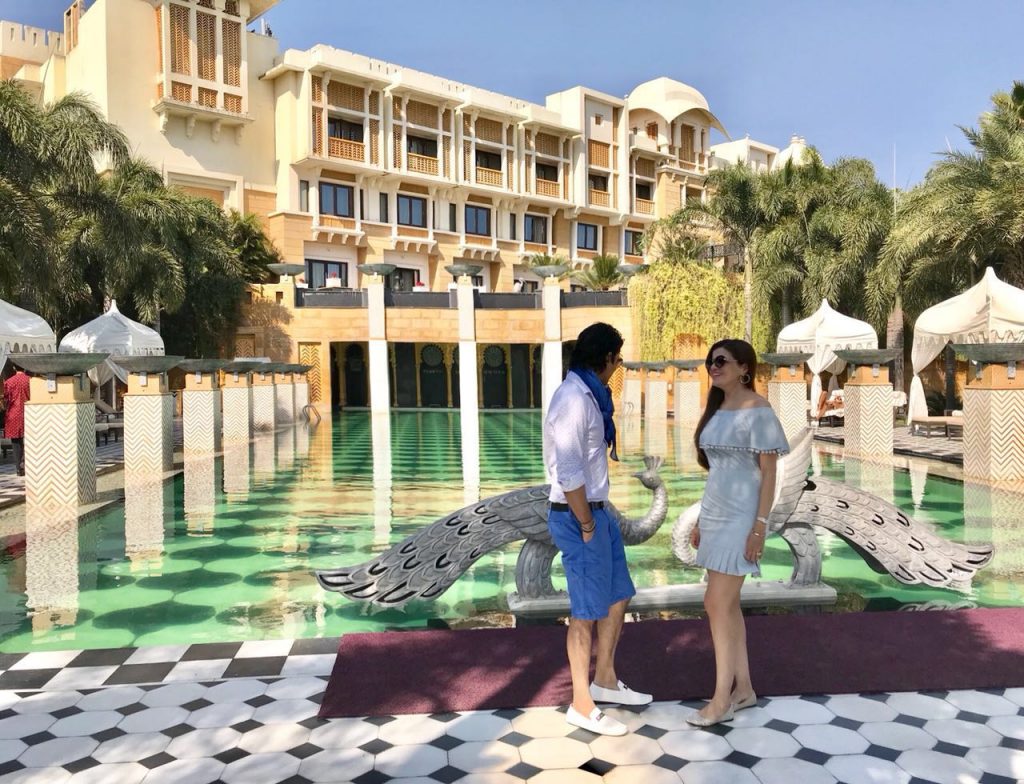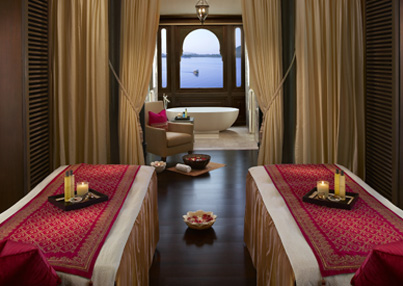 At dusk, Laveena and I headed to the Spa at The Leela Palace, Udaipur. Our well trained therapists pampered us with a soothing 90 minute aromatic massage which had a perfect blend of Ayurveda and the Orient. Both our treatments were designed to help us revitalise, truly relax and enjoy the benefits of the award winning ESPA. When we were finished, we were seated in the comforts of the living area of the lavish spa room, looking out at a private spa pool and the lake beyond and were offered hot ginger lemon tea with honey. Relaxed and rejuvenated, we sipped on our tea and talked about how richly intriguing, mystical and enchanting life may have been for the royals during the dynastic reign of the the Mewar rulers of Udaipur.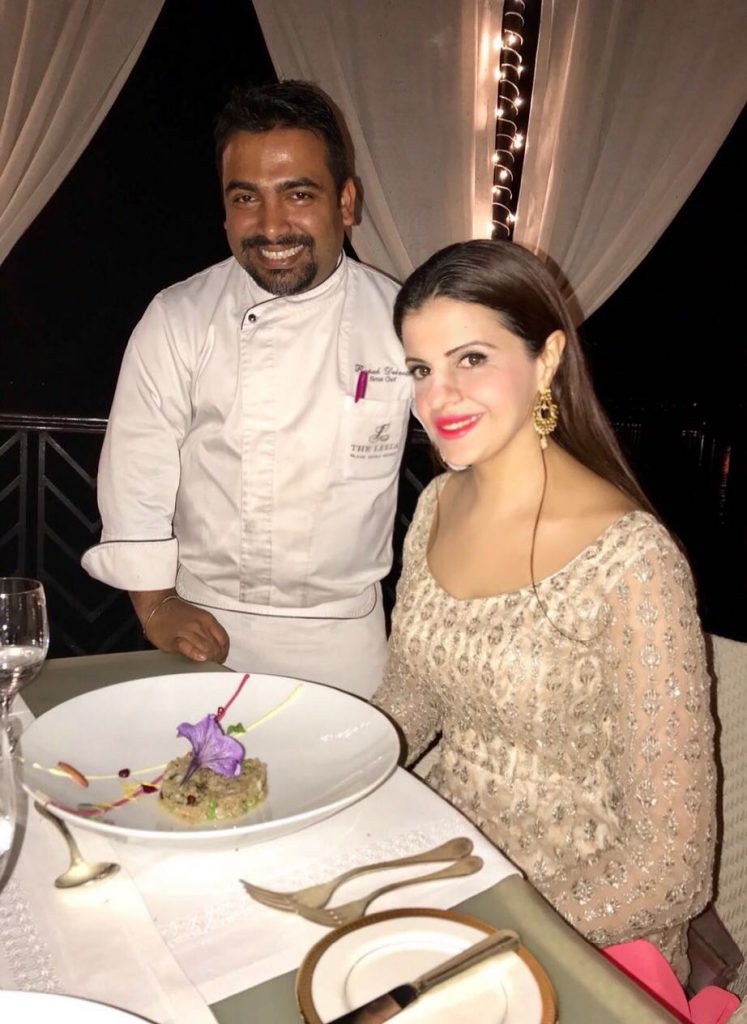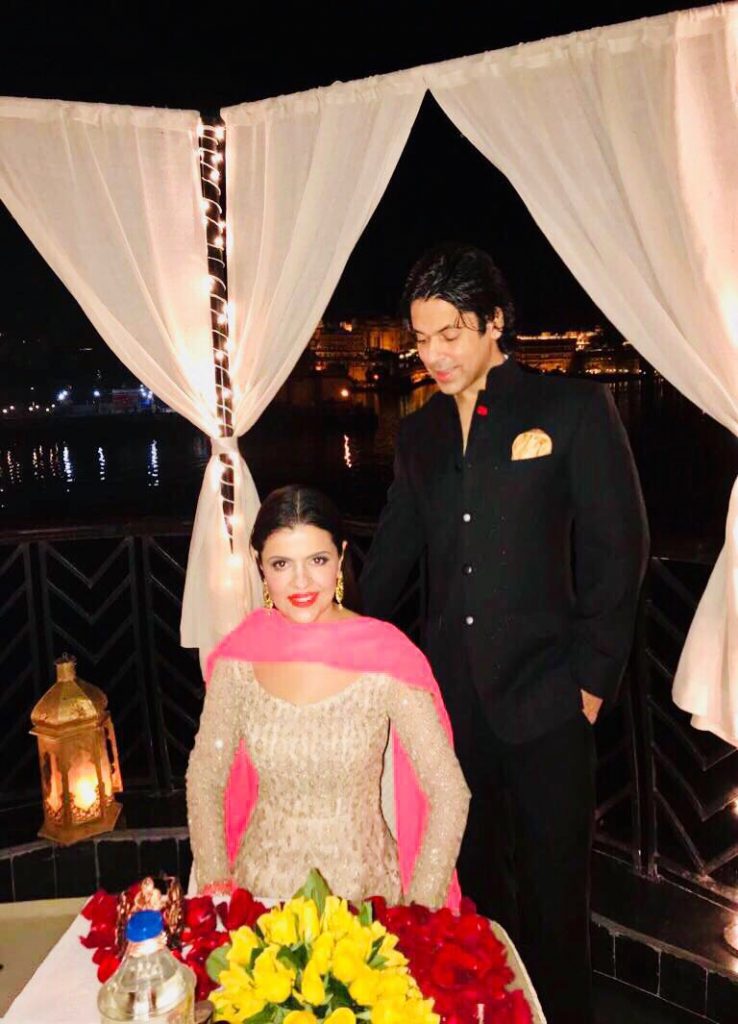 At 9 pm, there was an elaborate dinner planned for the two of us at the heritage section of the Leela Palace. We dressed in our Indian finery, Laveena in a gorgeous Anarkali by DesignNicks ( https://designikscreations.com/) and I in a traditional Jodhpur. Ramiz our butler, was waiting outside our suite, to walk us over to the venue, which he said was specially decorated for us for the evening. As we walked over to the alcove in the heritage section, we were delighted to see the entire area decorated with fairy lights, candles and lanterns. White curtains were draped around the metal bars around the open air alcove, making for a perfect Arabian-Night setting. Red and yellow flowers adorned our table and a carefully handpicked wine was uncorked, decanted and served. While we were taking in this enchanting setting with mesmerising views of lake Pichola, Chef Rupak came over and introduced himself, promising us a very special dinner presentation, which he said had been creatively crafted by him and his talented team in the Palace kitchens. We started off with a mouthwateringly delicious Quinoa salad with wine poached apricots and almond slivers. In the mains, Laveena was served a steamed salmon and silken tofu with asparagus spears ,wild mushrooms and a garlic plum sauce while I had the Herb crusted Australian lamb rack with potato fondant, roasted root vegetables and sweet onion glaze. The starry banquet could not have been more elaborate, nor the ambience any more opulent and royal. To end the evening we were served samplers of sorbet in a variety of flavours of rose, lemon and mint and a yummy mango and pepper. Not only did this lend colour to the table but the mango and pepper sorbet offered us an unfamiliar textured nuance which both Laveena and I relished till the last delicious bite.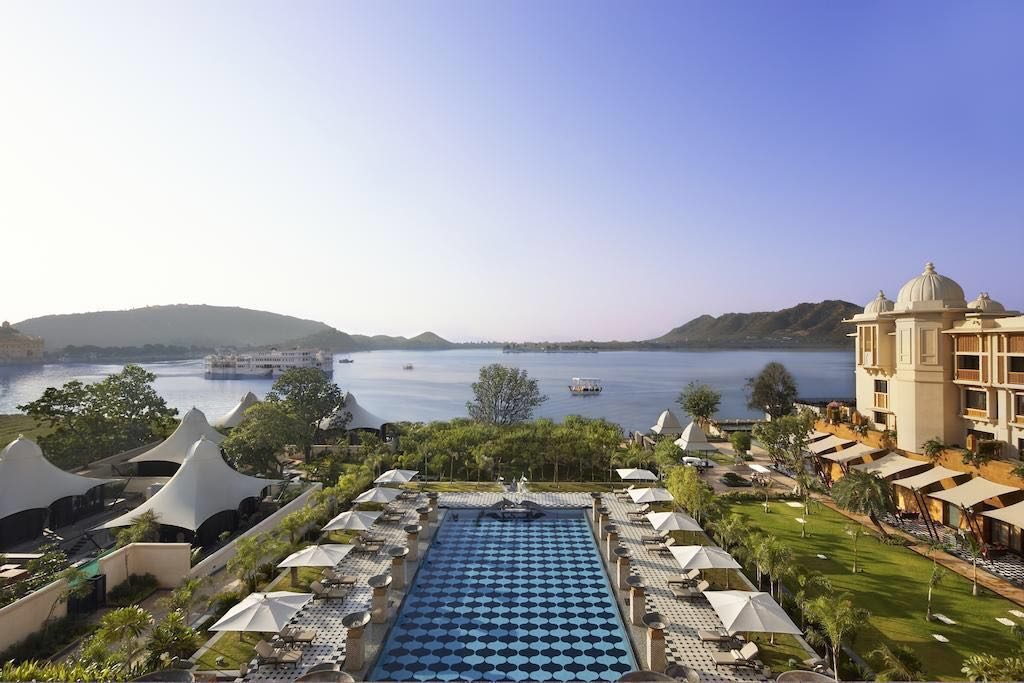 Our stay at The Leela Palace, Udaipur, was beyond ordinary. Hidden behind the grand opulence of this luxury property on the magnificent Lake Pichola, we saw something which we often see missing in other well known luxury hotel brands. We saw a 'soul' and a deep effort by the palace staff to build a meaningful 'connect' with every need of ours. And this is what made our stay at The Leela Palace, Udaipur, all the more memorable and special. This may have been the first Leela property, Laveena and I have experienced, but the memories we left the palace with, will be forever, and we cannot wait to add to these wonderful Leela experiences by planning our next visit to a marvellous Leela hotel in some other part of Incredible India, soon.
---
The Leela Palace Udaipur
---
• Location:
Google Maps
• Address: Pichola, Udaipur, Rajasthan 313001 • Hotel website: The Leela Palace Udaipur
(Click Here)
---
Our Rating
---
Location: 9/10
Food and Cuisine: 9/10
Design: 9/10
Rooms: 9/10
Service: 9/10
Overall experience: 9/10
---
Follow me on
Facebook
,
Instagram
and  
Twitter
 for some amazing travel posts
---