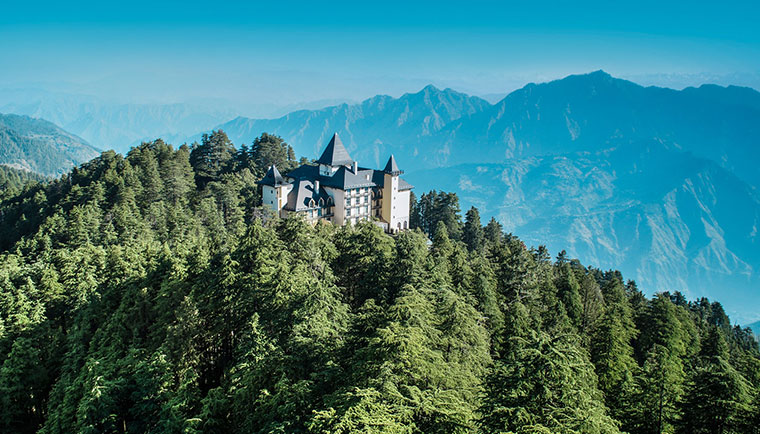 DECEMBER 23, 2014 BY SAJJID MITHA
A luxurious colonial style getaway in the Himalayas - Wildflower Hall
Tucked away in Chharabra, Mashobra, near Shimla, lies Wildflower Hall. Surrounded by fragrant pine and cedar trees, this mystical Oberoi property is situated on 22 acres of virgin woods and is located at a height of 8350 feet above sea level. The former abode of Lord Kitchener, Wildflower Hall has been grandly restored and is now a luxury hotel.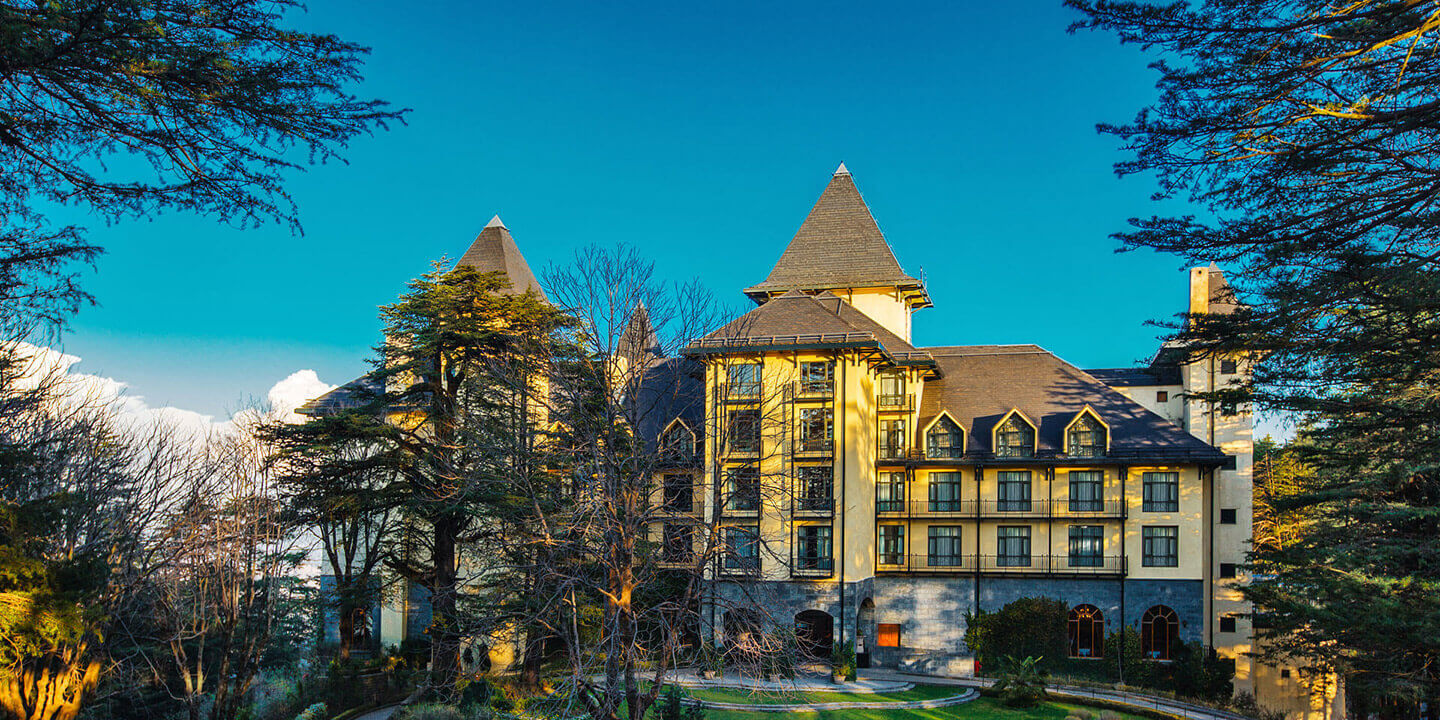 Last year in April, Laveena and I flew from Mumbai to Chandigarh where a hotel vehicle was awaiting our arrival. A pleasant four hour journey along a scenic drive, partly through woodland and hilly countryside got us to Chharabra, a small village, about 13 km from Shimla. Although the village has a tiny population of 500, it has a large helipad and the reason for this is that the President of India has a retreat here while the Governor also has a home in the village. Views of the Himalayas from Chharabra are unimaginably stunning. It is here in Chharabra, Mashobra where Wildflower Hall is.
The moment we entered the lounge area of the hotel, we felt like we had traveled back in time. Hand knotted rugs, the rich smell of dark teak wood, heavy draperies, a fireplace dating back to the British era and crystal chandeliers, all perfectly put together to make for a rich and opulent, colonial hill station home.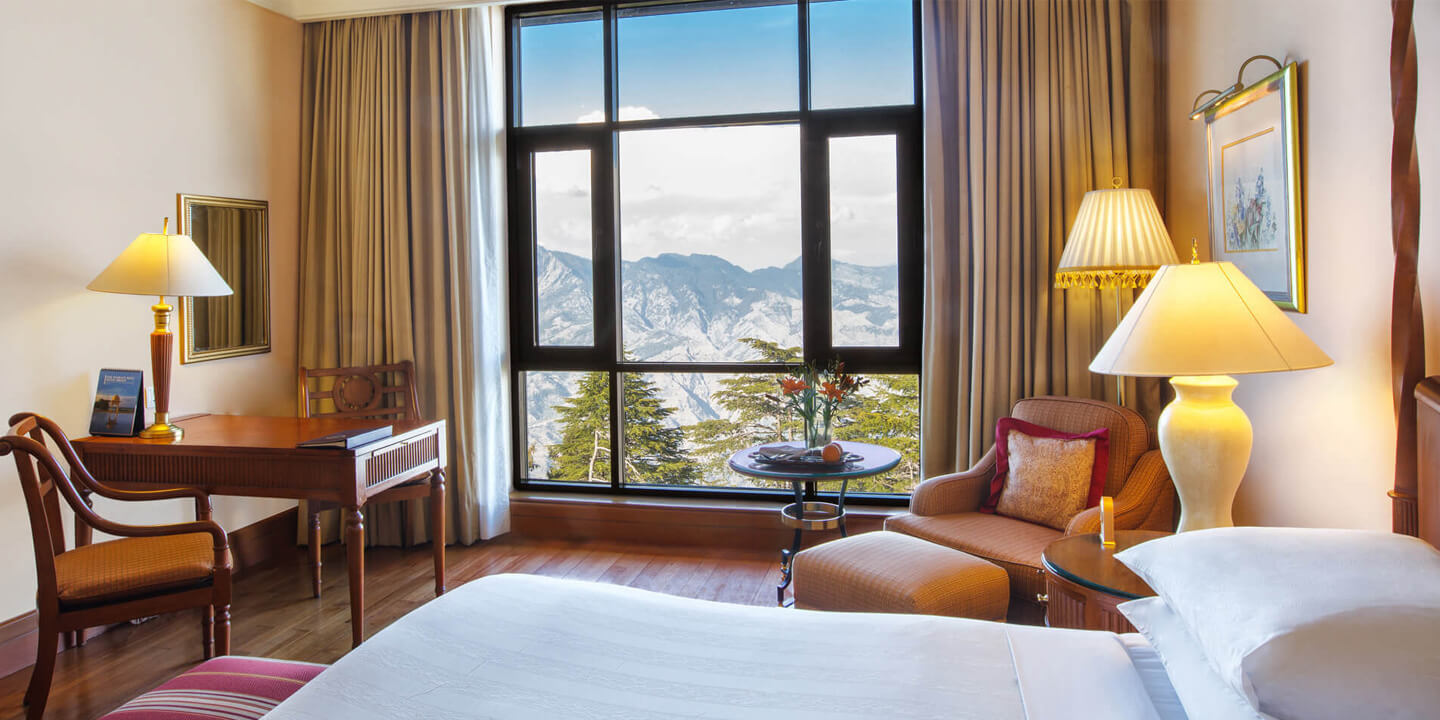 Mr. Abishek Sharma, the eternally charming General Manager and an absolute thorough Gentleman,  was there to personally greet us. We were treated to some hot chocolate as our welcome drink and light conversation followed, introducing us to our home in the Himalayas for the next few days. The cold mountain temperature complimented the steaming hot drink and soon we were shown to our room by a front office staff member, Moniza.
From our room we had magnificent views of the Himalayan mountains. A strong scent of cedar trees and a cool mountain breeze greeted us when we opened the windows. Our room was plush and was luxuriously furnished with Burmese teak wood flooring, a walk in wardrobe and a grand marble bathroom.
We rested for a while before heading down for a late lunch. The cool weather allowed us to be seated on the terrace from where we had stunning uninterrupted views of the Himalayan mountain range. Mr. Ashish Nehra, the affable FnB Manager at the hotel welcomed us at lunch. The Indian spread recommended by him was exceptional. The meats we were served were tender and perfectly spiced. He understood well that I wanted lunch to be light and what was served to us that afternoon was an out and out delight to our palates. While we waited for our post-lunch coffee, we enjoyed the clean and crisp air and generously breathed in the fragrance of the cedar trees as the afternoon sun bathed the mountain range so clearly visible to us, in a rosy light.
After a short nap, Laveena and I headed to the Cavalry Bar where we seated ourselves on a grand sofa, right in front of a marble fireplace. Falling evening temperatures prompted the barman to light us a fire and as the wood crackled to life and the burning embers comforted us both, we sipped on our wine and let our minds wander to the rich colonial past of India.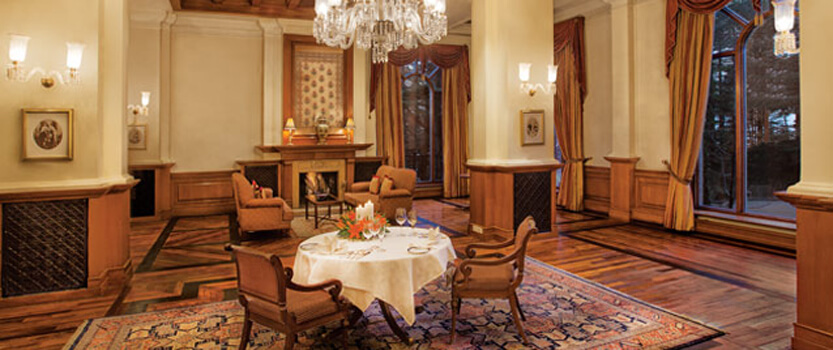 Dinner that evening was at the Lutyens, an intimate restaurant at Wildflower Hall with an equally impressive menu reminiscent of the days of the Raj. Overlooking the gardens, the interiors boasted crystal wall lamps, large wooden doors, chandeliers and an elaborate marble relief with intricate workmanship of flowers and trees. We were initially seated at a glass table with flower petals strewn across it and with candles. Here we were served a fine Champagne and were offered an insight into the history of Shimla and Wildflower Hall backed by a brief portrayal of how Lord Kitchener, Commander-in-Chief (1902–09) of the Army in India, lived.
Later we were guided to our table and were told that the head Chef had selected our menu for the evening. We were truly impressed with his choice of dinner that evening and after a luxurious meal, we were ready to retire to bed for a comfortable nights rest. We had planned to be up early as we had an exciting morning planned for us. At 7 am, we awakened to fragrances of fresh pine and cedar and views of an early morning mist through which we could see clearly the silhouette of the magnificent Himalayan mountain range.
Post a hearty breakfast of freshly squeezed orange juice, oats, bircher muesli, eggs and pancake, we set out on a forest trek. The ranger who accompanied us had a deep insight into the flora and fauna of the region and his explanation was detailed and very interesting. Despite the long trek, we did not tire as the natural shade from the trees helped temperatures on the forest floor remain cool.
About two hours into our trek, our guide, directed us to an unexpected opening where a table with two chairs was set up. A temporary archery range for recreation and best of all, a full sized tent was also pitched on the ground, while a picnic basket made from rattan cane was neatly placed on a rock. I had planned this for Laveena but was surprised at the trouble taken by the hotel to look into every little detail. After trying our hand at archery ( I mastered the art quickly and luck favoured me with a bulls-eye) we sat down for a forest lunch which turned out to be a delicious treat of salad, soup, grilled meat, and sandwiches. Post lunch the serving team left us on our own and we retired to the tent where we slept through the afternoon with only the forest birds for company.
The next day the hotel recommended we try our hand at river rafting on the Sutlej. It took us an hour of driving down a winding road to get to Tattapani. After we were appropriately suited up for the adventure, our paddling exercise began. Although the rapids were only grade 2, it was incredibly fun. The magic of racing along a river on an inflatable raft and navigating through an icy cold river is best experienced rather than read. We completed the 12 km stretch with mountains on both sides and saw a variety of birds along the journey. We then stopped on a bank where a picnic lunch was set up for us. The Oberoi takes the mantra of impressing their guests, very very seriously. Even by the river side, the service standards were impeccable and the food presentation impressive.
I have an aunt and uncle who have a home in Mashobra. On our drive back to the hotel, Laveena and I stopped by at their home. As soon as we drove through the gates, we were captivated by the typical English cottage style their appealing abode in the hills exuded. We were greeted by my uncle's secretary and the estate's caretakers who had been informed that we would be visiting. Fresh strawberries with cream, cucumber sandwiches and freshly baked scones with a pot of hot brewed coffee were laid out for us in the living room. When they noticed that my jeans were soaking from the white river rafting adventure, they brought in fresh logs and lit a fire to help me dry off.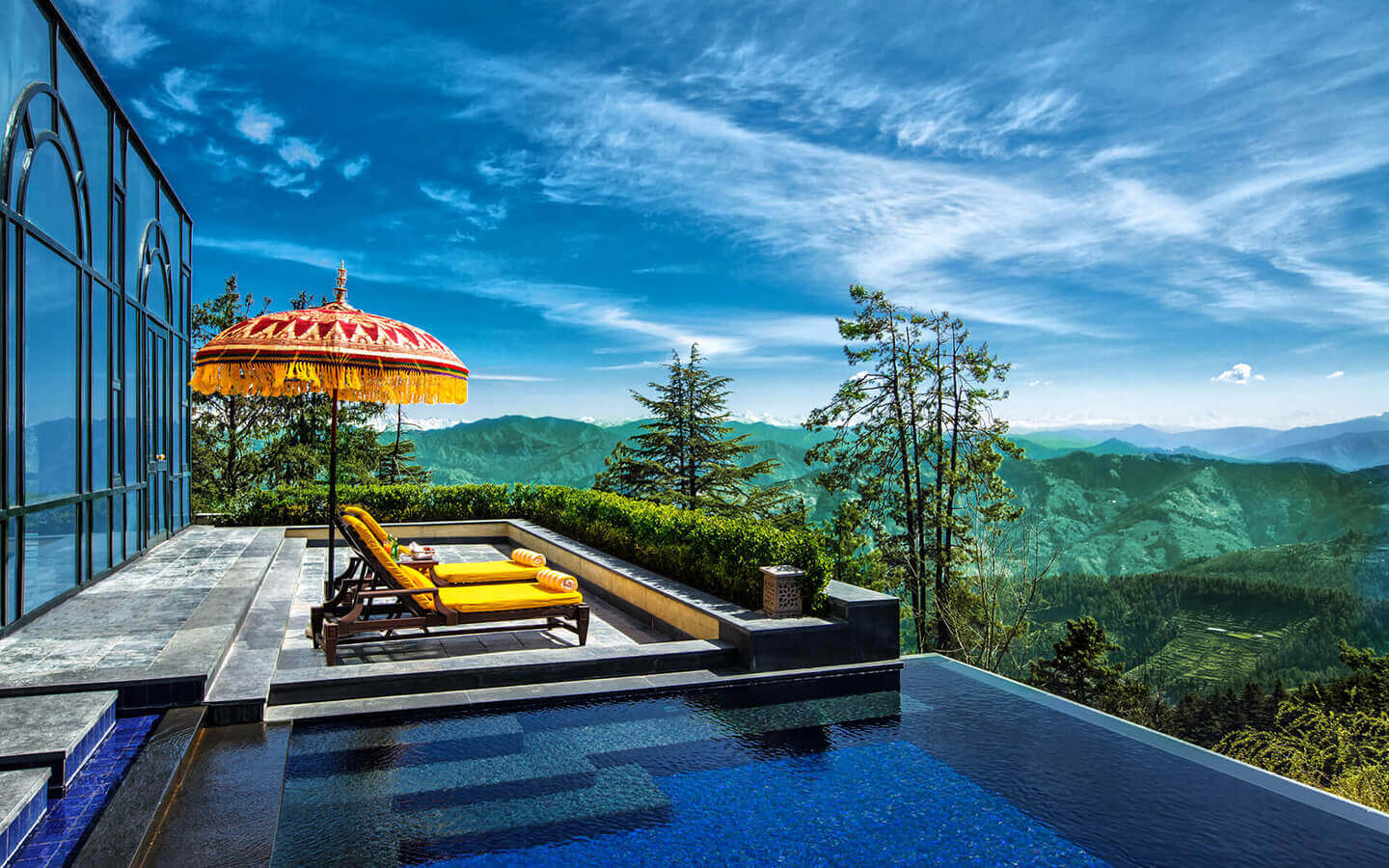 After spending a lovely evening at my aunt and uncle's holiday home in the hills, we returned to our hotel and decided to get some more exercise. But first a quick snooze. After a brief nap, we headed to the temperature controlled pool for a swim. The indoor pool has beautifully detailed mosaic floors with chandeliers hanging across the length of the pool. Views of the snow-capped mountain ranges from here are breathtaking. A few lengths later we braved out into the bone-chilling cold weather and dipped into the heated jacuzzi, where the temperatures were steaming and hot. The combination of the spectacular views of the Himalayas, the cold weather outside and the hot water in the jacuzzi made for a feeling of extreme pleasure. We had each others company for a while before another couple joined us. They were from France and said that this was their second visit to the Wildflower Hall. They loved everything about it and we couldn't agree more.
The following day we treated ourselves to a massage which was recommended to us by the management. An ayurvedic treatment with fragrant Indian oils helped us rejuvenate ourselves thoroughly.
Later that day we were sad to check out for our journey back home. We said our goodbyes and vowed that we would return in winter, a time which sees heavy snowfall and completely alters the look of the place. As we left we were told that when we returned in winter, it would be like visiting a different property but with the same friendly staff who truly made this holiday one to remember for eternity.
---
Wildflower Hall, Shimla
---
• Location:
Google Maps
• Address:
 Charabra, Shimla, Himachal Pradesh 171012
• Hotel website: 
Wildflower Hall
---
Our Rating
---
Location: 8/10
Food and Cuisine: 8/10
Design: 9/10
Rooms: 9/10
Service: 9/10
Overall experience: 8/10
---
Follow me on
Facebook
,
Instagram
and  
Twitter
 for some amazing travel posts
---